The current state of the economy has many people wondering if we are heading for another housing market crash like the one we experienced in 2008. However, several key differences between the housing market today and 2008 make a crash much less likely.
First, before we jump into the metrics, it is important for us to get a baseline of what actually happens to house prices during US Recessions. In tracking the last 6 recessions since 1978, we measured how long they lasted, the gross domestic product (GDP) decline, and also compared Jacksonville's home price appreciation during each. In 5 out of the last 6 Recessions, home prices in Jacksonville actually increased. The only recession where home prices declined was in 2008, which was caused by the housing market and loose lending practices- all other recessions were caused by other factors outside of real estate. With this data, you'll see that 2008 was the exception, not the norm.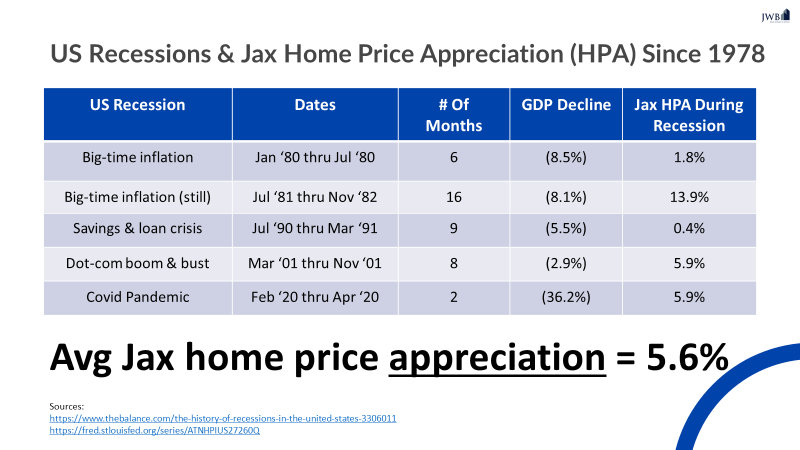 So, if recessions don't cause housing crashes, what could cause a crash? Here's a list of the most critical factors that would lead to significant housing declines.
Based on historical data, here's what can lead to a housing crash:
Loose lending practices, adjustable-rate mortgages, and "no money down" loans
Large, sudden increases in the monthly payments
High housing supply and low demand leads to high months of inventory
High unemployment
Lack of equity in homes
Population declines
Lack of investor interest
Lack of affordability
When we think about The Great Recession of 2008 and the housing crash that followed, it is easy to see many of these factors coming together in a perfect storm. However, it is a very different story in 2023.
If there were going to be a real estate crash in our immediate future, there would need to be a supply and demand imbalance. This means we would need to have a lot more houses in inventory on the market and way too few buyers providing demand. The great thing about real estate is that there are proven metrics that give a leading indicator of home prices over the next 6-12 months. This indicator is called "months of inventory" and to calculate it, you look at the number of homes on the market currently and divide it by the number of homes that sold the month prior. If you have between 6-7 months of inventory, history would lead us to believe you'll see normal home price appreciation for your market (Jacksonville's average home price appreciation rate is 4.6% per year since 1982.) If you see lower than 6, that's an indication of higher-than-normal home price appreciation. If it's higher than 7, that's an indication of lower-than-normal home price appreciation (not necessarily price declines.)
Here's how months of inventory have looked over the past year in Jacksonville. This is the number one reason why we just witnessed a 25% home price appreciation last year in the Jacksonville market.

Having MOI around 1-2 is unprecedented in Jacksonville real estate and that's what we've experienced for the last 2 years.. To put this in perspective, the average MOI for 2008 in Jacksonville was 16. That elevated MOI is what led to the significant price declines from 2008-2011. MOI under 3 months is a strong indicator that we are not going to experience a 2008-like real estate market crash.
If you're thinking about investing in Jacksonville real estate, now is a great time to do so. Prices are expected to normalize and rental demand is expected to increase which leads to a better risk-adjusted return on investment. JWB Real Estate Capital is the nation's only vertically-integrated real estate investment company, helping busy professionals from across the world invest in real estate in Jacksonville, FL. From sourcing turnkey rental properties to finding long-term residents, and comprehensive property management, our expert team offers a full-service solution for a truly stress-free investing experience. Because of our vertically-integrated experience, JWB clients have earned 79% home price appreciation more than the average Jacksonville investor since 2013. Check out our available properties and learn more here.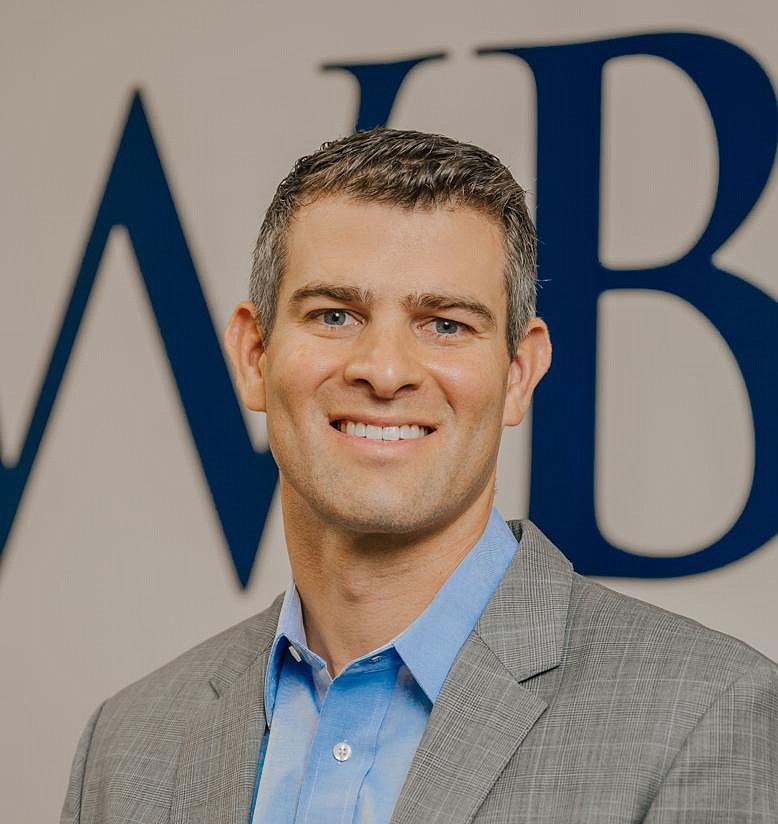 I love to talk about investing in rental properties! You'll often find me hosting the weekly Not Your Average Investor Show, contributing to the JWB Real Estate Capital blog, and in our Facebook group connecting with the community & sharing insights.