Watching the monthly fluctuation of the median price of single-family homes may be telling for the real estate market.
When the Northeast Florida Association of Realtors compiles monthly sales data it also includes the Home Affordability Index.
NEFAR measures monthly home sales statistics for the Northeast Florida market comprising Baker, Clay, Duval, Nassau, Putnam and St. Johns counties.
The Home Affordability Index is defined by NEFAR as "measuring whether a typical family earns enough to qualify for a mortgage on a typical home, based on current interest rates, median income and median home prices. A higher number means greater affordability." 
The closer the index is to 100 or higher, the better, according to NEFAR.
The Home Affordability Index for single-family homes fell steadily in 2022 from 104.5 in January to 69 in December. The index had dropped 34.9% in 12 months.
The trend reflects the cost of inflation and higher interest rates.
Throughout the year, prospective buyers were priced out of the market.
"As Realtors we are advocates for homeownership, so a reduction in the Home Affordability Index is a concern. The major factor in the lowering of the index throughout 2022 has been the dramatic increase in mortgage interest rates from around 3% to over 7% at the peak," said 2022 Northeast Florida Association of Realtors President Mark Rosener.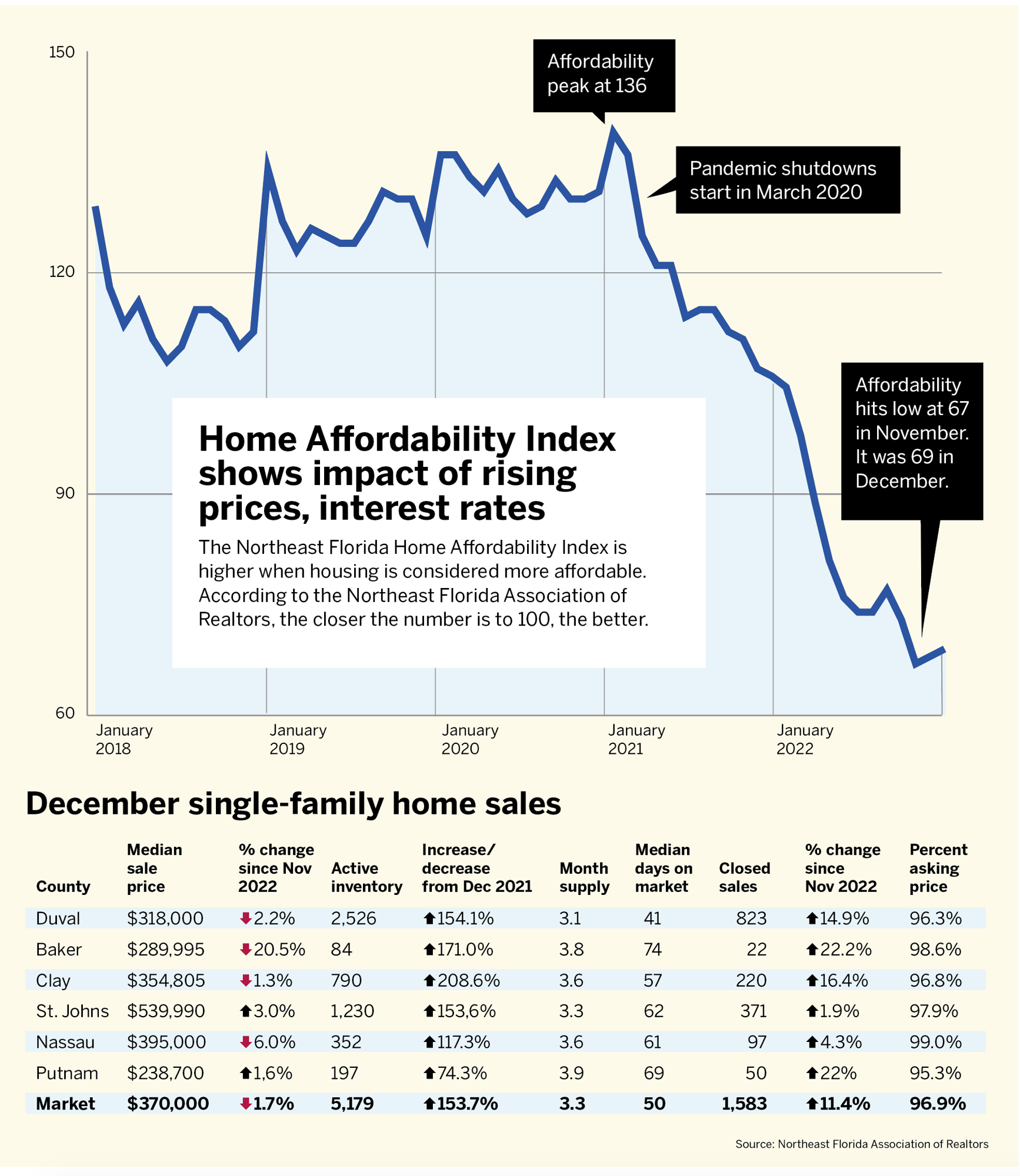 "While a factor, it is notable that the median price of homes has remained relatively stable since March 2022."
While the January 2022 index of 104.5 is above 100, in January 2021 it was 139 and has declined since then. It closed in December 2021 at 106.
From 2019-21, January's index hovered between 139 and 129.
There is some good news to NEFAR. After dropping to a low of 67 in October 2022, the index has grown by a point each month, rising to 69.
"I do see the HAI improving in 2023. Mortgage rates peaked in October/November of 2022 and have come down in recent months into the mid-6% range, and we should see them retreat even further to the mid-5% range by mid-2023," Rosener said.
"This should help to raise the affordability index. It seems that median price will remain stable so the key to HAI improvement will be more favorable mortgage rates," Rosener said.
A year of market turns
The index seems to have been the only constant in the 2022 real estate market.
The first half of the year showed increasing costs, low inventory and listings lasting little more than a week. 
The second half found median prices stabilizing, increased inventory and a greater number of choices for buyers.
"As we moved into early summer 2022 with rising mortgage rates, we saw a turn to a very different market. The second half of 2022 more closely resembled the more 'normal' market that we had experienced prior to the pandemic," Rosener said in a news release.
The median price of a single-family home fell 1.7% in December to $370,000 from $376,385 in November.
The December 2022 median price was 5.7% higher than in December 2021.
Single-family home sales usually fall in December because of the holidays.
December 2022 , however, was different from December 2021.
There were 1,583 closings, down 38.4% from 2,570 in December 2021.
Pending sales also showed a decline, with a 31.9% drop to 1,324 in December 2022 compared with 1,944 in December 2021.
"The closed and pending unit sales in the combined single-family, condo and townhouse market in Northeast Florida has been relatively stable for the past 3-4 months with just slight movement month over month as we would expect in line with the seasonality of a 'normal' real estate market," Rosener said.
"Days on market is now a median of 50 days, which is more typical for a balanced market while only (a) 3.2-month supply is still considered a 'sellers' market," he said.
The number of "new listings coming on the market is following the historic seasonality with fewer new listings during the holidays and an anticipation of an uptick in mid to late spring."
When condos and town home sales are added, the median price for the three home types combined was $345,00 in December, similar to the March 2022 median price of $350,000.
It peaked in July 2022 at a median of $375,000.
Rosener said there was no need for sellers to panic.
"Median price and appreciation/depreciation of property values are not the same thing," he said.
"What it does say is that median price has stabilized in the $345,000 to $350,000 range. I would anticipate slight movement month over month throughout 2023, with some months up slightly, others down slightly," Rosener said.
"This is very much in line with month-over-month movement in the years before the pandemic."