To stop a recent string of antisemitic displays, Jacksonville City Council approved legislation at midnight Jan. 25 making it illegal for anyone to project messages on private structures without the owner's consent.
The Council voted 18-1 to approve emergency Ordinance 2023-0044. It says "projections of text, graphics, logos, or artwork onto a building, structure or any other place (including public spaces) without the consent of the owner or person in control of the building, structure or space shall constitute blight and graffiti." 
Council President Terrance Freeman and District 5 Council member LeAnna Cumber filed identical bills Jan. 18 to ban the projections.
The Council passed Freeman's bill Jan. 25.
Before approving the legislation, Council dealt with the fallout of two lawmakers filing the same bill.
Time stamps on the legislation provided by the General Counsel's Office show Cumber's bill was filed first with the city Legislative Services Office.
Freeman asked a series of questions to City Deputy General Counsel Mary Staffopoulos to show he did not know Cumber was working on an identical bill with city General Counsel Jason Teal.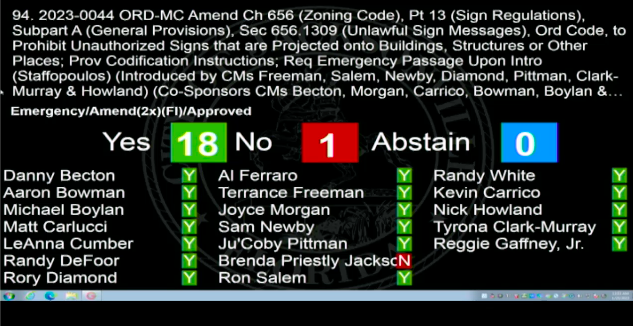 He also called out Council members who were making an issue of which bill came first.
"It's a shame that instead of focusing on that message (of unity) and sharing that message as loud as you can, you're choosing to go to a narrative of Council members arguing and fighting over who came across it first," Freeman said. 
Freeman then added an amendment to the bill to add all Council member names as bill sponsors in alphabetical order in an attempt to end the debate of who should receive credit for filing the bill. Brenda Priestly Jackson, who voted no on the bill because of the city's unresolved Confederate monument debate, had her name removed.
"I'm really glad that we're passing this bill. It's a great bill. We really need to do it," Cumber said. "And I know it's a great bill because I did write it." 
Council member Rory Diamond said the debate over credit was triggered by the 2023 mayor's race and the news media and "has now made people who want to divide us win."  
Cumber is one of seven candidates running for mayor in the upcoming March election. 
The two Council members filed their bills Jan. 18 with support of local Jewish community organizations, rabbi and faith leaders days after light projection was used to display a swastika on the facade of the CSX Corp. headquarters Downtown.
CSX Vice President of Corporate Communications Bryan Tucker said he was notified about the antisemitic projection on the company's building Jan. 14 while he was at TIAA Bank Field watching the final play of the Jacksonville Jaguars playoff victory.
"I went from excitement to being completely crestfallen and sad for our city and angry. And we immediately condemned what we all saw," Tucker said. 
The Jacksonville-based Fortune 500 transportation company released its official statement Jan. 15:
"CSX condemns in the strongest terms the antisemitic symbol depicted in the images of our building on January 14. The images are shocking and hurtful, and in no way represent our organization or CSX employees. CSX has been in contact with law enforcement and we will cooperate in any way we can to aid the investigation into this matter."
Jacksonville Sheriff T.K. Waters said Jan. 18 at City Hall that law enforcement offices know who projected the images.
The incident at CSX follows similar incidents in October during the annual Florida-Georgia game where scrolling projections that said "Kanye was right about the Jews" were displayed on the city-owned TIAA Bank Field and the privately owned residential apartment high-rise at 11 E. Forsyth St. Downtown. 
Daily Record news partner News4Jax.com reported Oct. 29 that another antisemitic message displayed on banners that read "End Jewish Supremacy in America" and "Honk if you know it's the Jews" hung from an overpass on the Westside off Chaffee Road and Interstate 10.
During a news conference Jan. 18, Cumber cited a string of instances of hate speech in Jacksonville over the last six months. 
She referred to an incident where individuals associated with hate group the Goyim Defense League distributed antisemitic propaganda in residential areas. In September, a sticky note with a swastika was left on of the dorm room door of a Jewish student at the University of North Florida.
If arrested and convicted under the provision, those involved could face a second-degree misdemeanor, which carries a minimum $2,000 fine and up to 60 days in jail.
Priestly Jackson, who voted no, commended her colleagues for taking the position against antisemitic speech. 
She said her vote was not against the effort to combat hate speech against the Jewish community. But she felt that it was a "double standard" that the bill did not consider the removal of Confederate monuments from public land. 
Whether or not to remove monuments honoring the Confederacy has been a frequent debate among during the public comments portion of Council meetings for nearly two years.  
The Jacksonville Civic Council, a business group of about 80 Northeast Florida CEOs, recommended in May 2022 that City Council enlist the University of Virginia's Institute for Engagement & Negotiations to facilitate a process regarding disputes over statues and historic markers that honor the Confederacy on city-owned land.
Freeman has said he intends to address the monument issue but has yet to schedule meetings or hearings on the topic.
"We rallied very quickly to address this, and we made promises when we were going to address the issues of ethnoracial reckoning and we have not fulfilled those promises," Priestly Jackson said.