Bernard Schmidt, Jacksonville Transportation Authority's vice president of automation and innovation and the executive who led the Skyway modernization Ultimate Urban Circulator project, has resigned. 
According to a resignation letter to JTA CEO Nathaniel Ford obtained in a public records request, Schmidt's last day at JTA will be July 28. 
In his letter, Schmidt said a recent reorganization at JTA put Senior Vice President and Chief Infrastructure & Development Officer Greer Johnson Gillis in charge of the automation division.
Schmidt's responsibilities at JTA included supervising the authority's Armsdale Test & Learn Facility, where the authority operates and tests prototype automated vehicles expected to replace the aging Downtown elevated Skyway monorail system.
He also was one of JTA's lead executives to procure and coordinate design/build services for the U2C, which could be a $400 million project. 
Schmidt's $278,491 annual salary was the second-highest-paid employee at JTA next to Ford.
The resignation letter is dated July 6. 
"The past few months have been reflective for me as I deliberated the trajectory of my career, the organizational leadership structure, the Automation Division, the Bay Street Innovation Corridor Project and the overall U2C program," Schmidt wrote. 
The JTA executive's letter compliments his automation and innovation team, Ford and JTA's current and past board of directors.
"I am certain now more than ever, that my contribution to this organization is complete. The most recent re-organization has already transitioned the Automation division to the leadership of SVP Greer Johnson Gillis which allows for continuity of operations and project management. This alignment under one vision and direction will allow the JTA to continue to thrive," he wrote.
Schmidt came to JTA in January 2019 after a year and a half as general manager for the Amazon fulfillment center at 12900 Pecan Park Road in North Jacksonville.
Schmidt's LinkedIn profile says before Amazon, he worked for United Arab Emirates-based UTC Aerospace Systems from January 2014 through June 2017 as a general manager.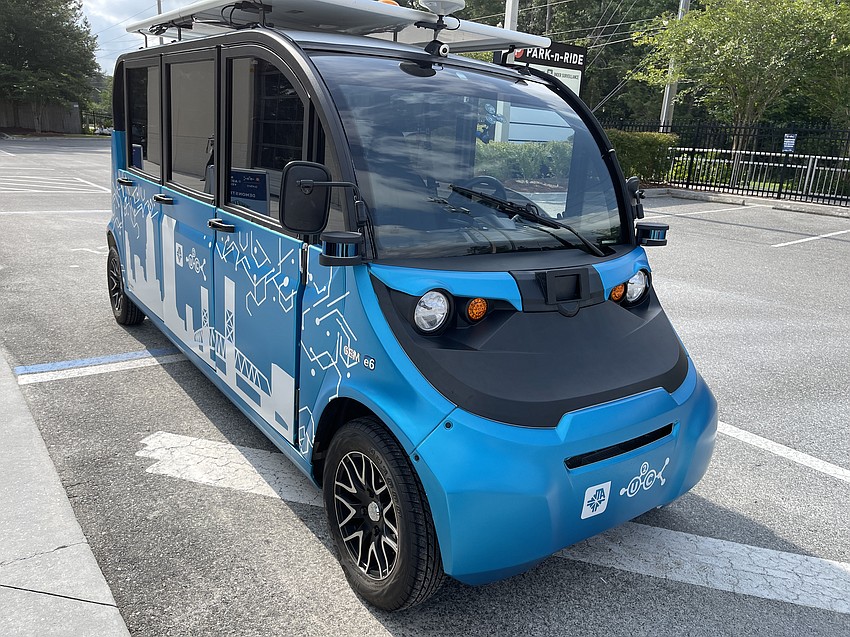 U2C project continuing
In an emailed statement July 12, JTA spokesperson John Finotti said the U2C project will continue to move forward.
"The JTA has a robust team of JTA staff and over a dozen private sector firms that are moving this project forward and will continue to do so," Finotti said. 
"Bernard (Schmidt) has successfully delivered the U2C project from concept to 60% design and now plans to return to the private sector and the JTA wishes him the very best." 
JTA has a 2025 deadline to put its autonomous vehicle program into service along Bay Street Downtown, the project's first phase.
At JTA's May 31 National Automated Vehicle Day event at the Armsdale facility, Schmidt said construction on the Bay Street Innovation Corridor will begin this year.
Schmidt said during an interview at the event that's when the U.S. Department of Transportation will require all federal funding for U2C's first phase Bay Street Innovation Corridor to be spent and rider service to start. 
JTA awarded a $49 million contract in January 2022 with Balfour Beatty LLC — Vision 2 Reality Team to design and build the Bay Street system for 12 to 15 autonomous vehicles.
The innovation corridor will create a 3.2-mile loop along Bay Street. 
Phase 2 will see the Skyway track converted to an elevated roadway for the U2C vehicles. 
About 30% of the phase 2 design will be complete within one year, according to JTA.
It's all part of JTA's estimated $379 million to $400 million U2C plan to replace the Skyway with a 10-mile automated vehicle network with plans to eventually reach San Marco, Brooklyn and UF Health Jacksonville in Springfield.
JTA, a city entity, and Balfour Beatty have not chosen the autonomous vehicle model.
The authority has worked with seven vehicles and four autonomous software platforms since 2017 at Armsdale. 
Schmidt said May 31 the innovation corridor will also need cabling, camera systems and new interactive U2C stops along Bay Street.
In May 2021, City Council dedicated $247 million from the local option gas tax increase that JTA will use for U2C second phase.
Schmidt said at the Armsdale event that the final cost of the conversion "will be a little north" of the amount appropriated by the city.