Jacksonville-based Miller Electric Co., in a partnership with CBRE, broke ground July 14 on an electric vehicle innovation design center in Southpoint.
The public facility will focus on EV and microgrid solutions for users seeking the right charging options and infrastructure, according to a July 14 news release. 
The center is on the Miller Electric Company campus at 6805 Southpoint Parkway.
The target date for the ribbon-cutting is Nov. 1. 
It will be the only client-driven center in the U.S. that welcomes public use, the release said.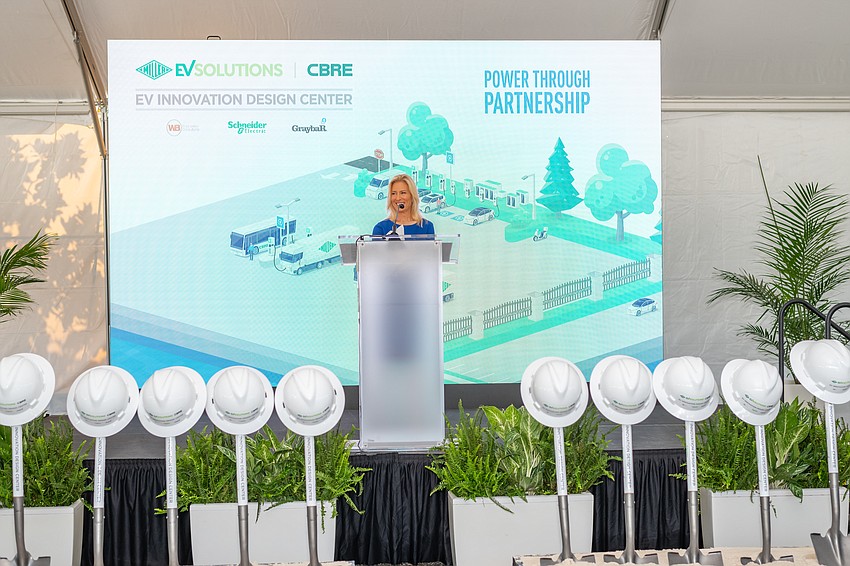 Electrical and technology contractor Miller Electric Co. is a leading EV solutions provider in the U.S., it said. 
Commercial real estate services company CBRE advises clients on rollouts of EV-charging networks as well as deployment and maintenance of EV fleets.
As a lead partner in the facility, CBRE will use the center to demonstrate EV-charging technologies and formats for its clients and as a training site for its technicians to stay current on charging technologies and software.
WB Engineers+Consultants, Schneider Electric and Graybar are supporting partners in the facility.
"The EVIDC represents the power of partnerships in creating value for our community, the EV market, and various industries," said Kerri Stewart, chief strategy officer at Miller Electric Co., in the release.
The center will have an array of EV technologies and microgrid solutions. 
Microgrids are decentralized energy systems consisting of a combination of renewable power generation, power storage and conventional power generation in order to meet a given demand, according to the Department of Energy website.
EV charging is classed at three levels: Level 1, Level 2, and Level 3, the latter being the fastest and most powerful, according to EVBox, an electric vehicle supply equipment company based in Amsterdam.
With four Level 2 chargers and seven Level 3 chargers, the Miller center will offer opportunities to test and evaluate different options, the release said.
In addition, it will have four pull-through charging stations specifically designed for buses and heavy-duty vehicles to serve commercial consumers.