Journalists in The Florida Times-Union NewsGuild held a protest rally June 5 and will walk off the job June 6 for a one-day strike. 
The move by the union-represented newsroom staff at the Jacksonville-based newspaper to protest stagnated wages and continued workforce cuts joined hundreds of other journalists at two dozen Gannett Co. Inc.-owned publications in at least seven states who began strikes June 5.
The walkouts were timed in conjunction with Gannett's annual shareholders meeting where, despite the protests, the company's board voted to keep CEO and board Chairman Mike Reed in place, according to The Associated Press.
Gannett, which is the largest newspaper chain in the U.S., has sold or consolidated 61 daily newspapers, falling from 261 to 200 since its merger with GateHouse in 2019, according to a June 1 news release from the Times-Union Guild.
The NewsGuild says Gannett cut nearly 20% of its journalism jobs last year. According to the company's 2022 annual report, Gannett employed  11,200 people as of Dec. 31, 2022. That's down from 13,800 reported in the company's 2021 report. 
Times-Union Metro Reporter David Bauerlein and Growth and Development Reporter Alexandria Mansfield said June 5 that the goal of the strikes was to convince Gannett shareholders to withhold their vote on Reed at the meeting and call for a change in company leadership.  
"Gannett must invest more in Jacksonville, not less," Bauerlein, co-chair of the Times-Union Guild bargaining committee, said in a news release.
"Gannett wants Times-Union journalists to lose ground, all for the sake of creating cash flow for its bottom line. The company says it wants to 'save local journalism,' but its own actions would keep hurting it."
According to the Times-Union Guild, NewsGuild-CWA represents more than 50 Gannett bargaining units, covering more than 1,000 employees, including 20 in the Times-Union newsroom. 
Two other Gannett newsrooms in Florida, The Palm Beach Post and The News-Press, which covers Fort Myers, Naples and the state's Southwest region, also held a one-day strike June 5.
Bauerlein said he has seen the number of newsroom employees drop substantially since he started at the T-U in 1998, when the newspaper was controlled by local ownership, Augusta, Georgia-based Morris Publishing Group. 
In 2017, Morris sold the newspaper to New Media Investment Group Inc., which operated its newspapers under the GateHouse brand and was acquired by Gannett in 2019.
In a May 16 letter to Gannett shareholders, the NewsGuild reported that the T-U had 90 newsroom employees in 2016. The number dropped to 62 in 2018, the year staff voted to unionize. 
By 2023, the newsroom staff dropped to 22, which includes two management positions not represented by the union, Bauerlein said. 
"Our argument is Gannett has saved a ton of money by cutting. It's time for Gannett to return some of those savings to Jacksonville and to the newsroom," Bauerlein said June 5.
 "They can afford to compensate reporters fairly who have gone five years without any pay raises."
A day before the strike, Times-Union NewsGuild members held an outdoor rally June 5 near the newspaper's office in the Wells Fargo Center at 1 Independent Drive Downtown.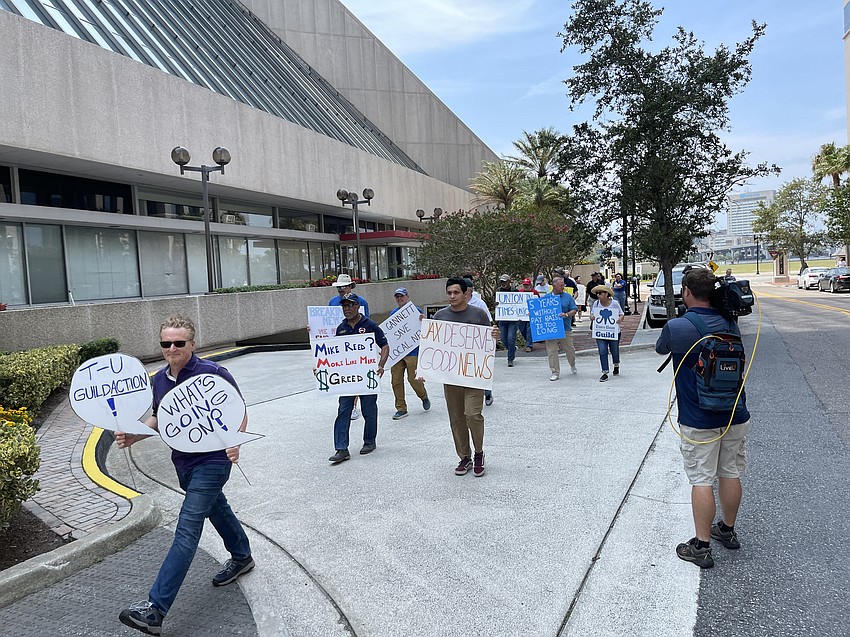 Newsroom employees held signs reading "5 years is long enough" and "stop cutting local news." 
The newsroom union has been bargaining with Gannett for five years and the two sides have not come to an agreement on an employment and compensation contract.
According to Bauerlein and Mansfield, the T-U's offer to Gannett would give newsroom employees a starting $40,000 salary that would increase with experience. That would increase to $45,000 after five years of experience and $50,000 after 10 years. 
Mansfield says the Times-Union NewsGuild's offer has not changed since 2019 despite post-pandemic economic inflation. 
The guild's offer would include job protections, but Mansfield added that the bargaining unit has a good relationship with local management.
"For those who do not get a pay raise as a result of the minimum salaries based on experienced, we are proposing increases in hourly pay. We decline to provide that figure at this time," Bauerlein said in an email June 5.
Gannett's offer is a $40,000 annual entry-level pay, $43,742 from five to 10 years of experience and $47,507 for 10 years. 
The Times-Union Guild also wants Gannett to continue its company match on retirement benefits. According to Bauerlein, Gannett wants to end the match with the possibility to bring it back at the company's discretion.  
"Our position is that there should be raises for everybody in the guild because everybody has dealt with five years of sky-high record-setting inflation that's eating our lunch," Bauerlein said. 
'Changing landscape' 
Bauerlein and Mansfield said newsroom employees are dealing with stagnant pay while trying to stay relevant in a changing media landscape.
Like many community newsrooms, reporters' duties on a story have been increasing to include multimedia content with fewer photographers and editors. 
In its letter, NewsGuild-CWA members also counted local stories in the Gannett newspapers on three dates over the last 10 years: the last Wednesday in April 2013, 2018 and 2023.
For the Times-Union, they found 41 local stories on that day in 2013; 31 in 2018; and 10 in 2023.
"And so on the one hand, yes, it's a different environment. On the other hand, Gannett is a company that's making money. It's making money in Jacksonville. It should reinvest some of that money in Jacksonville," Bauerlein said.
"The cuts have gone too deep too far, and it's time for them to change course in that regard."
Bauerlein says Gannett is in a position where reporters can look for other jobs in Jacksonville and other media markets for compensation. 
He said the shrinking newsroom has also made competing with the Times-Union more realistic. 
"Once it was this huge media organization in Jacksonville and if you wanted to compete against Gannett, you had to put all of this upfront investment into just making yourself competitive," he said. 
"Now you just have to go and be able to start a website with some funding and you're competitive with us because Gannett has shrunk its news-gathering resources."
Even with all the cuts, Bauerlein maintains the T-U's news coverage "punches above its weight." 
"So the quantity of stories is down, though we would say we believe the quality of our high-impact journalism remains," he said.
Daily Record Contributing Writer Mark Basch contributed to this report.