The Jacksonville Jaguars released conceptual renderings and a video June 7 for a renovated TIAA Bank Field that the team is calling "an economic generator that's been missing for too long" Downtown.
Conceptual video and photos posted at https://1stdowntownjacksonville.com/ show a revamped stadium with a shade canopy and what appears to be new mid-rise and high-rise development west of the stadium. 
The narrator describes a plan for a weather shade that will reduce the heat factor in the city-owned stadium by 70%.
The stadium improvements could cost $1.2 billion to $1.4 billion and the proposed development west of the stadium is estimated at $550 million to $668 million, according to a May 11 investment summary obtained in a public records request.
Plans include a "tropical Floridian park" at the entrance and a concourse that is four times wider than what is at the stadium today with "interactive social bars" and local food offerings.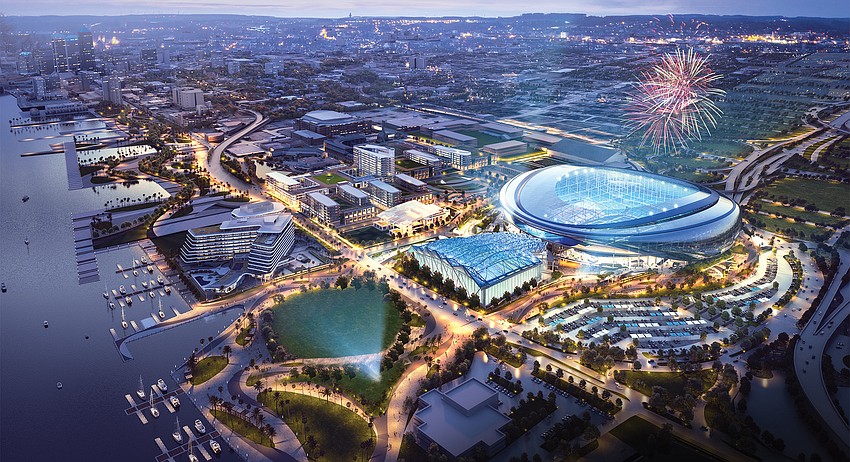 The concourse will be raised 30 feet above ground level to enhance view of the city and St. Johns River.
The Jaguars said the renovation could attract international sports and music events.
The video confirms the Jaguars are working to secure a proposed University of Florida graduate campus at the Jacksonville Fairgrounds site next to TIAA Bank Filed. 
Jaguars owner Shad Khan is under contract to buy the fairgrounds from the Greater Jacksonville Agricultural Fair Association.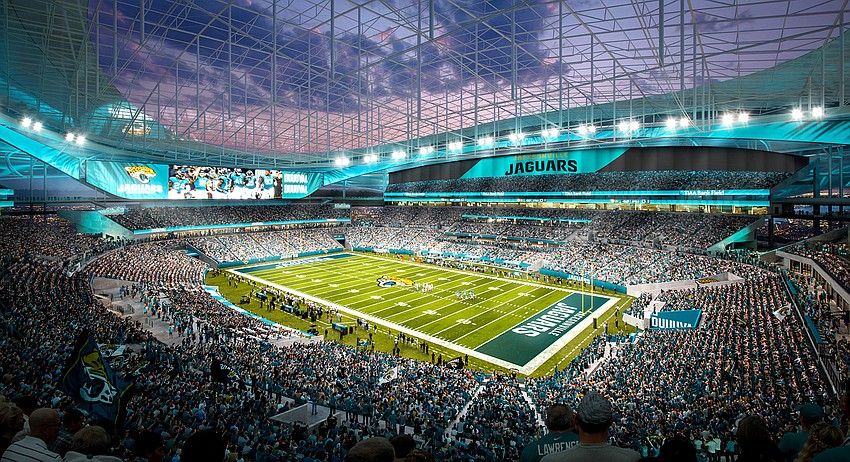 The Jaguars started exploring long-term stadium plans in July 2020 and worked with eight sports architecture firms beginning in December 2021 to provide conceptual plan for the city-owned stadium.
The NFL team announced in January it chose St. Louis-based design firm HOK as the project consultant.
The announcement did not include costs for the project.
The team wants to complete designs and planning for a full renovation of TIAA Bank Field "well in advance" of the 2029 season, when the team's current lease expires, and is negotiating a deal that would include public financing and private investment. 
This is a developing story.