Topped by Jaguars owner Shad Khan's $387.6 million Four Seasons hotel and office building and Fuqua Development's $250 million One Riverside retail and residential site in Brooklyn, there are $4.7 billion in projects in review, under construction or proposed in Downtown Jacksonville. Here is the status of seven of them.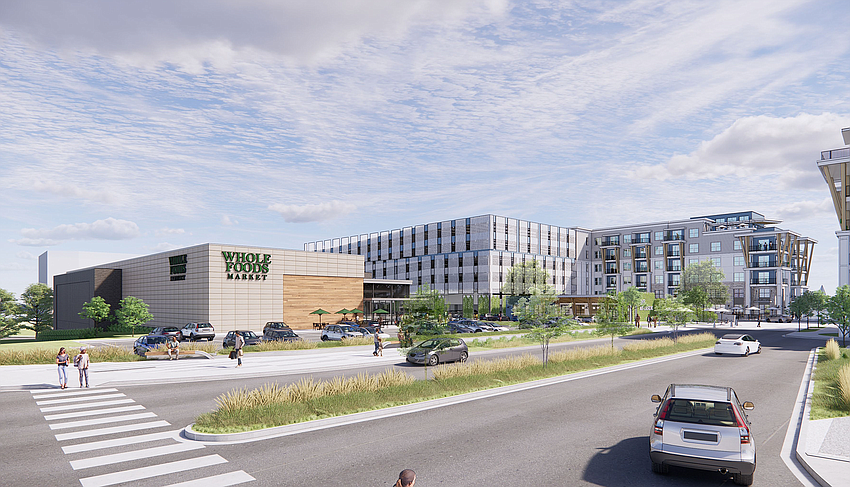 One Riverside
TriBridge Residential LLC broke ground Sept. 22 on the first phase of the riverfront apartment community on Riverside Avenue in Brooklyn and is working on site infrastructure and horizontal construction. The developer recently started vertical construction. 
Master developer Fuqua Development of Atlanta paid $25 million for the 18.84-acre former Florida Times-Union property in 2022 and immediately sold 4.3 acres to its development partner  TriBridge for $15.5 million for apartments and restaurants and 4.95 acres to the city for $6.04 million to restore McCoys Creek and build a public park.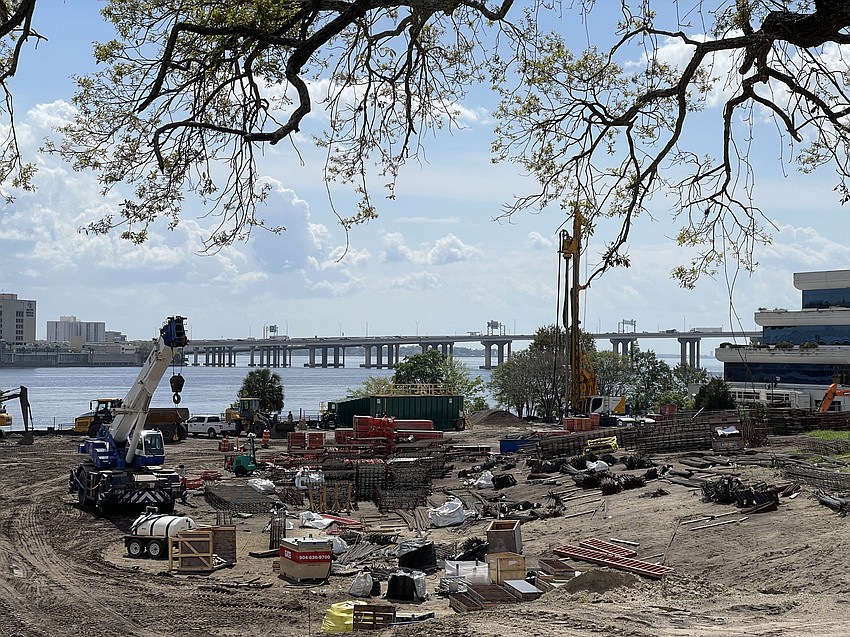 The first phase includes 270 apartments, a riverfront restaurant and a Whole Foods Market and retail stores.
Fuqua is the retail developer.
Plans for phase two include 125 apartments; restaurants; a city-owned public park; and a restored McCoys Creek greenway that will connect to the 30-mile Emerald Trail. 
City Council awarded the developers a $31.59 million incentives package in November 2021 for the project. 
According to the development agreement, the phase one retail is scheduled to be completed by July 31, 2024, and the residential by Sept. 30, 2025.
Designs for phase two have not been submitted to the city for design approval and permitting.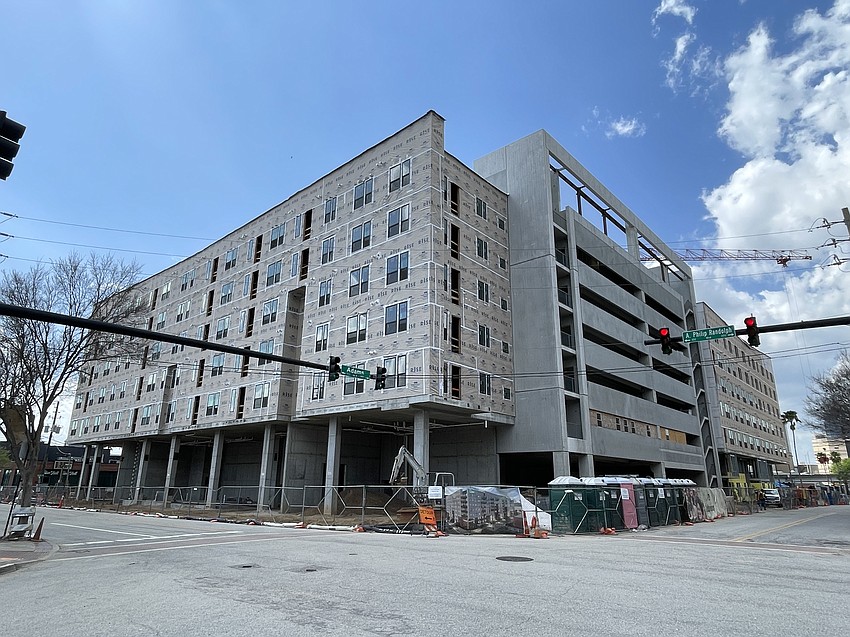 RISE: Doro
Rise: Doro at 102 A. Philip Randolph Blvd. is a mixed-used and conventional multifamily building in the Sports Complex. Jacksonville-based RISE: A Real Estate Company demolished the 107-year-old George Doro Fixture Co. building in March 2021 to clear the site for the project.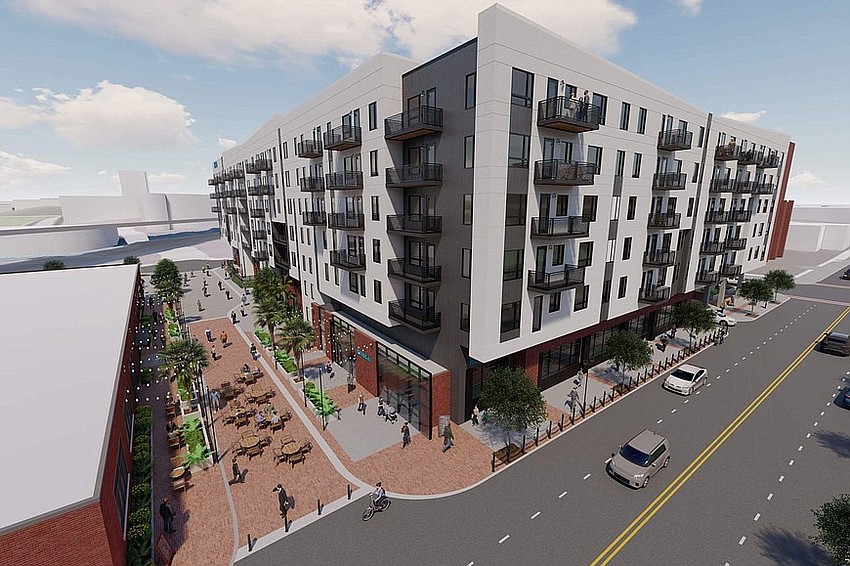 It is next to 121 Financial Ballpark and VyStar Veterans Memorial Arena and not far from TIAA Bank Field.
The $67 million, 247-unit building with ground-floor retail and a rooftop pool is expected to be completed by October 2023.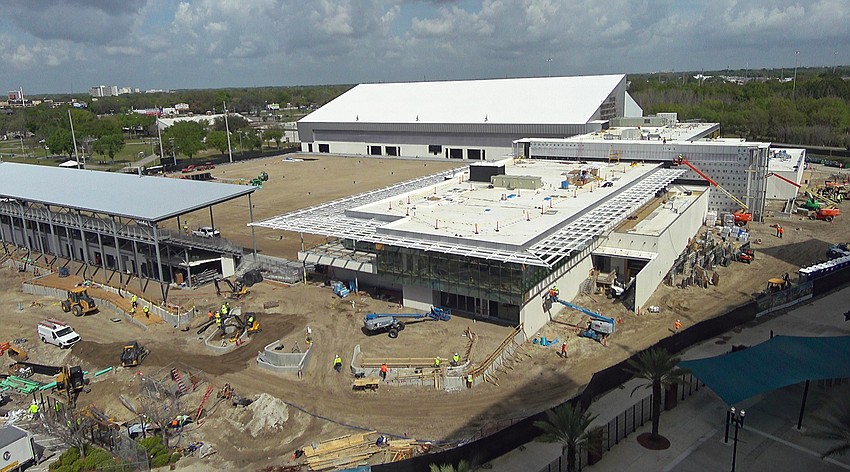 Miller Electric Center
Miller Electric Co.'s website says the Jacksonville Jaguars future practice and training facility, Miller Electric Center, is expected to open in summer 2023. 
Construction on the $120 million joint project by the city and the Jaguars started in early 2022.
The Jaguars organization considers the center as the first step in building what it calls "a stadium of the future."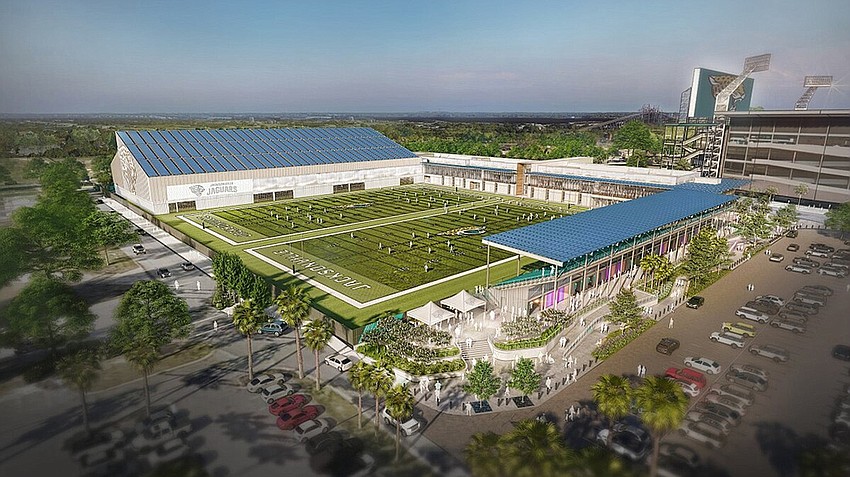 Since the training center was announced in 2021, Jaguars President Mark Lamping has suggested that moving the training, practice team and office needs out of the stadium would eliminate logistical challenges during a renovation of TIAA Bank Field. 
On Feb. 24, the city approved a permit to install a $1.82 million commercial rooftop solar photovoltaic system with 2,879 modules on the 127,087-square-foot complex.
The Jaguars awarded Jacksonville-based Miller Electric Co., an electrical and technology contractor, a 10-year naming rights agreement for the center. The Jaguars and City Council agreed in August 2021 to split the cost of development while the city retains ownership.
The NFL team plans to move its offices; an equipment room; weight training; and medical facilities from the stadium to the performance center.
The facility will have an indoor practice field; two outdoor natural-grass fields with about 2,300 bleacher seats; a team store; and concession facilities.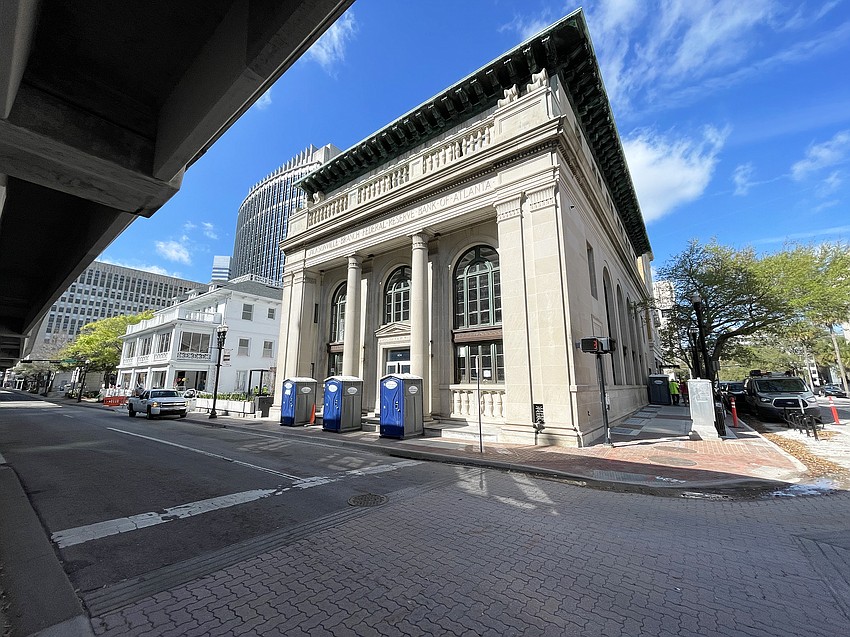 Florida Baptist Convention and Federal Reserve Bank buildings
JWB Real Estate Capital's nearly 2½-year effort to renovate and repurpose the historic Florida Baptist Convention and Federal Reserve buildings in the North Core neighborhood near City Hall is nearly complete.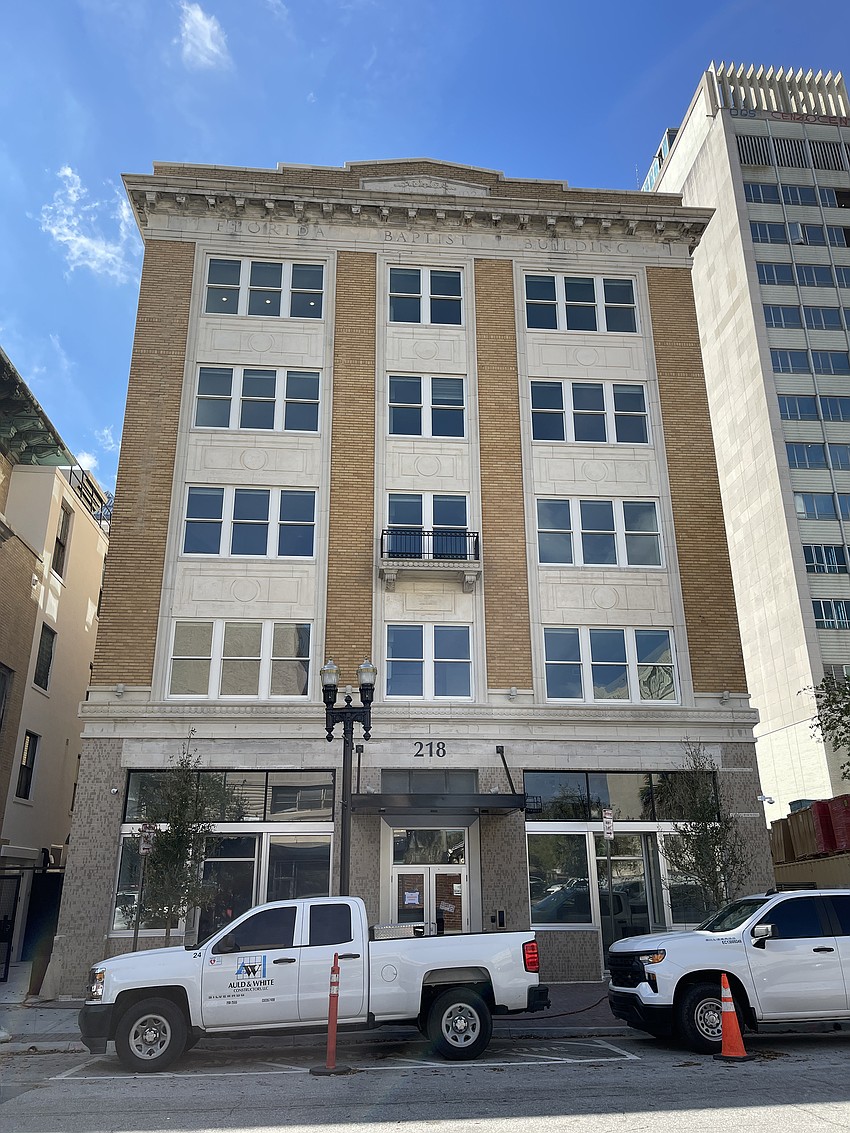 The estimated $20 million project will bring restaurant space, retail suites and 24 studio and one-bedroom apartments on the upper floors of the five-story, almost 26,000-square-foot Baptist Convention property.
The three-story Federal Reserve building will have restaurant and event space.
The Federal Reserve building is at 424 N. Hogan St. and the Baptist Convention building is at 218 Church St. 
JWB President Alex Sifakis said Feb. 27 he expected to start leasing the apartments in early March. 
Sifakis said JWB has a signed letter of interest from a food and beverage operator for the ground-level restaurant space and courtyard in the Baptist Convention building and another operator "doing a couple of different food and beverage concepts" and the event space in Federal Reserve.
The second commercial space in Baptist Convention is still available, Sifakis said.
He said tenant build-out for the two commercial spaces could start this year.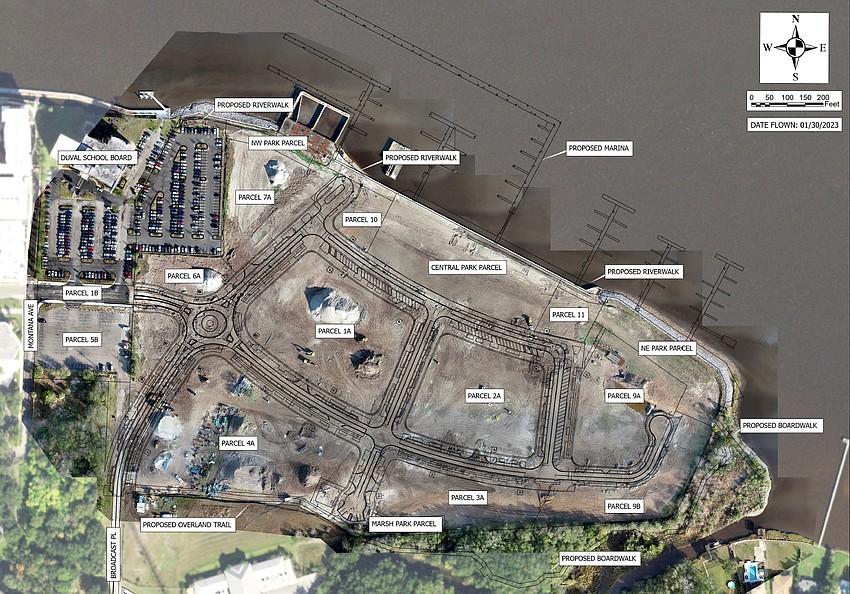 RiversEdge infrastructure
Ramiro Albarran, managing director of RiversEdge master developer Preston Hollow Community Capital LLC, said March 2 the Downtown Southbank "megaproject" site will be ready to start street work in summer 2023.
Nearly $32.22 million of site infrastructure construction and public park and amenity design, funded by the city Downtown Investment Authority and Preston Hollow through a Community Development District began in 2022.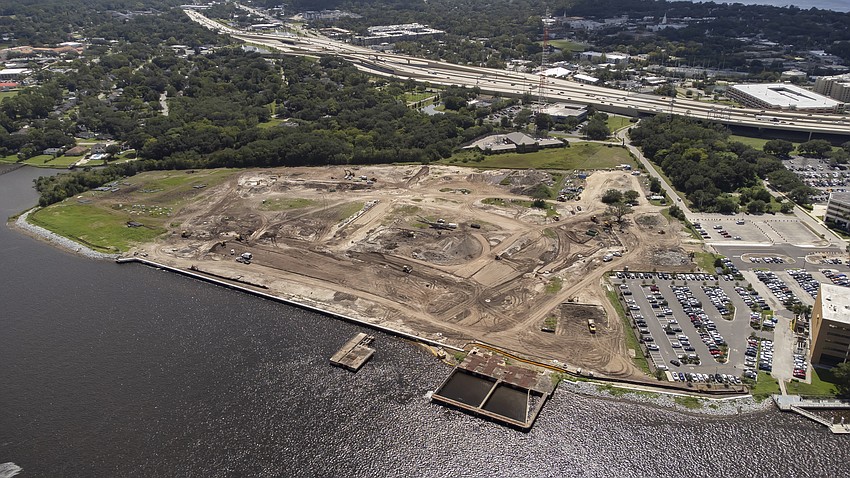 According to the site plan, the estimated $400 million to $500 million RiversEdge could comprise up to 950 residential units, 147 hotel rooms, 200,000 square feet of office space, 134,000 square feet of retail uses and a 125-slip marina. 
It will have three public parks along the St. Johns River and a fourth facing an adjacent marsh. 
Preston Hollow will hold a public presentation in May that could feature renderings of the RiversEdge vertical construction.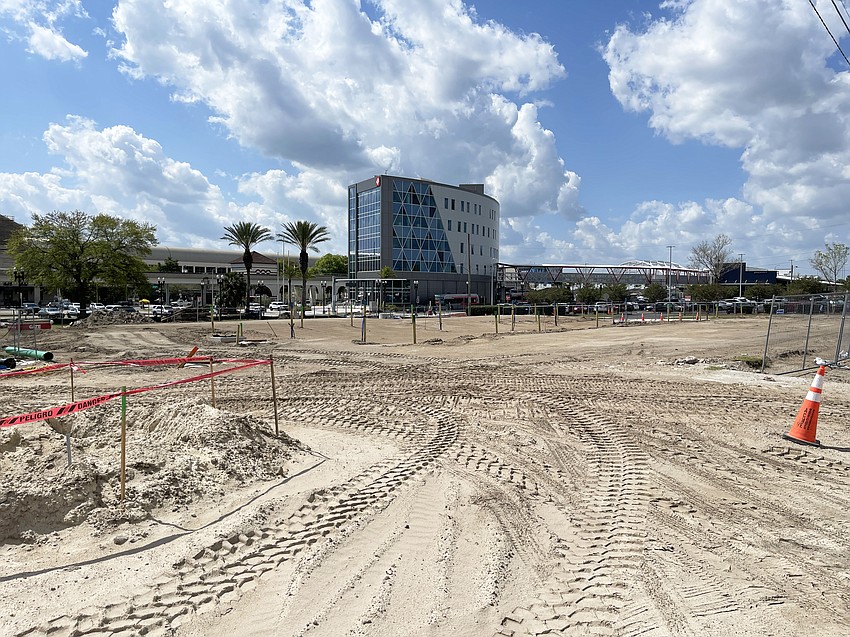 Johnson Commons and Lift Ev'ry Voice and Sing Park
The 91-unit for-sale LaVilla town home development, a joint project of JWB Real Estate Capital LLC and Corner Lot Development Group, is expected to be completed in summer 2025.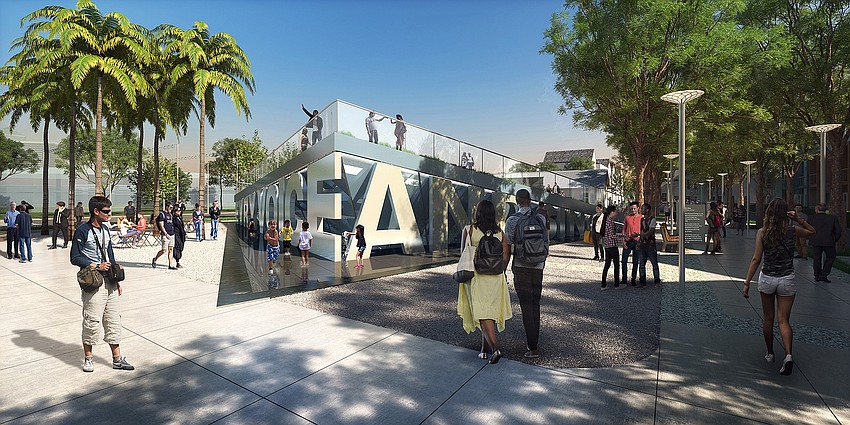 The $18 million to $20 million project broke ground in October 2022 on 3.45 acres in the historic Downtown neighborhood next to the city Lift Ev'ry Voice and Sing Park under construction. 
The $2 million park honors the song considered the Black national anthem and written from 1900-1905 by brothers and Jacksonville natives James Weldon Johnson and J. Rosamond Johnson.
The park was designed by landscape architect Walter Hood of Hood Design. Studio of Oakland, California.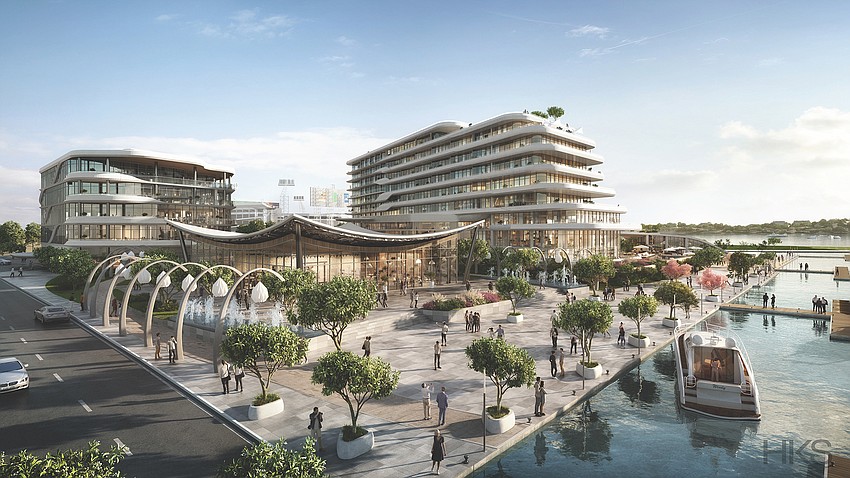 Four Seasons hotel, office building and city marina
In a February email update from its real estate development website 1stDowntownjacksonville.com, the Jaguars said bids closed Feb. 24 for subcontractors to do design assist and project pricing work on the Four Seasons hotel and residences, Shipyards office tower, public marina and marina support building. 
In January, Jaguars development arm Iguana Investments Florida LLC said through 1stDowntown that site work and horizontal construction included removal of underground gantry rails at the former riverfront Shipyard site on Bay Street near TIAA Bank Field.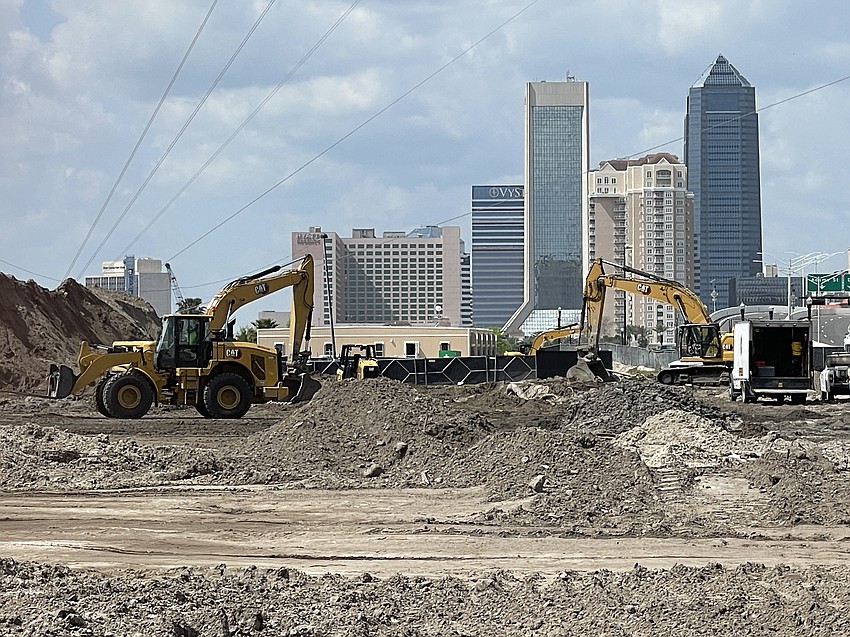 On Jan. 10, City Council approved a redrafted $129.75 million incentives deal for Khan's $387 million project comprising a 176-room Four Seasons with 25 for-sale luxury condominiums, a full-service spa and restaurant; a 157,027-square-foot, six-story, Class A office building; a city-owned marina support building; and a public marina. 
Construction Manager PCL Construction started site work in November 2022.
Iguana is required to complete the project by June 30, 2026. Khan's company must start vertical construction by Sept. 1, 2023.