Laura DiBella is positive about Jacksonville and its role in the economic growth of Northeast Florida.
Florida's secretary of commerce and president and CEO of Enterprise Florida said she saw the region's potential when she first came here as a commercial real estate broker 16 years ago.
"I used to say back in the day Jacksonville needs to decide what it wants to be when it grows up," DiBella said.
"And I think it has."
Jacksonville has become a fintech center and a logistics hub, not only for Florida but for the Southeast U.S., she said in a February interview before an event at Imeson Landing Business Park in North Jacksonville.
"It doesn't have to be one thing. It can be many things to many people," she said.
"Jacksonville has positioned itself as a formidable competitor in the Southeast arena, not necessarily in the Florida market, and I mean that in a good way," she said.
JAX Chamber defines its JAXUSA Partnership area as seven counties, which joined for economic development recruitment and growth. Duval, the city limits of Jacksonville, is the largest of the counties.
"I think once it embraced that and planned as a region how to really go after it, you're seeing what you're seeing today."
DiBella, 44, was named secretary of commerce and head of Enterprise Florida in February.
She is the first woman to serve as Florida secretary of commerce. 
She had been deputy secretary of the commerce department  since July 2022.
DiBella replaced Marc Adler, who had been acting secretary and acting Enterprise Florida president and CEO since October 2021, when Jamal Sowell resigned.
DiBella, a native of Fort Lauderdale, lived and worked in Northeast Florida several times before becoming executive director of the Florida Harbor Pilots Association in Tallahassee in 2019.
She graduated from the University of Florida in 2001 with a bachelor's degree in business administration and management and human resources management.
She first came to Jacksonville in 2007 as a commercial real estate broker with Holly Real Estate. 
DiBella returned to South Florida in 2009 during the Great Recession, "when the market was in the depths of despair," she said.
In 2011, she married and returned to Northeast Florida, then went back to Miami in 2013 after a divorce. 
She was lured back to the region to become executive director of the Nassau County Economic Development Board in 2014. 
"It was like, this is your next calling," she said. "I got bitten by the economic development bug and I never looked back. It was the best decision I have ever made."
She enjoyed the real estate business, but always felt there was something missing.
"It was very transactional. When the transaction is done, you move on," she said. 
"With economic development, not only are you a participant in the process, in the transaction, you also take care of everything on the back end, which is quite possibly the most rewarding part – when you see the job creation and you see the impact of that transaction to the local area and all that comes with it," she said.
"So it delivers a sense of purpose that I would never have seen before but I always kind of felt that I was a part of in a tertiary sort of way."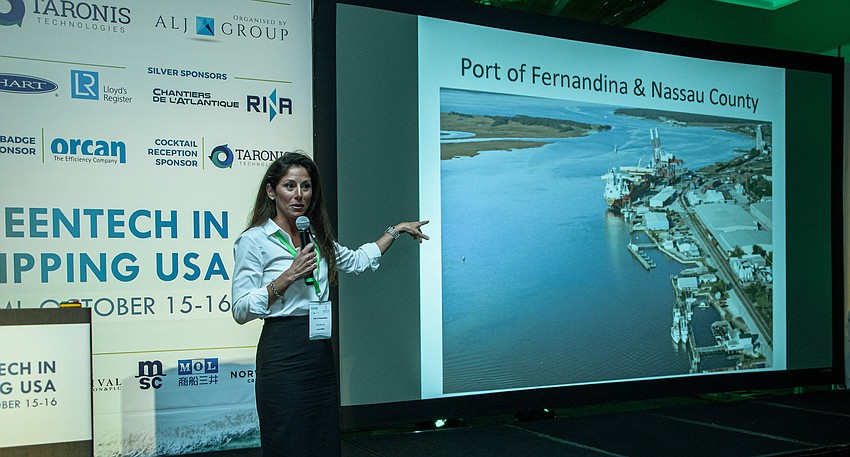 On to Tallahassee
In addition to the economic development role, DiBella was port director for the Port of Fernandina from May 2017 to November 2019. 
She left both jobs for Tallahassee in November 2019.
DiBella called her new job the opportunity of a lifetime.
"I understand this state from a very proprietary standpoint. I get it from the commercial side. I get it from the corporate side. I understand from the land side, I understand from the water side. So I get it in many different ways," she said.
"So I think, knowing all that and putting it all together, it's really a way to proactively take what you know and an amazing opportunity and just make it that much better."
When she started the job, "what I really wanted to do, personally and immediately, was support the talent that exists within the agency," she said. 
A personal goal included expanding the staff. The number has grown by 16 to a total of 79 since she came on board. 
Enterprise Florida 
Enterprise Florida is the state's business recruitment agency, and a public-private partnership of Florida's business and government leaders. 
The state created the agency in 1996 under Gov. Lawton Chiles when it converted its department of commerce into a 501(c)(3) in which business has a leadership role.
Florida became the first state to place principal responsibility for economic development, international trade, research and marketing in the hands of a business-government partnership, according to the Enterprise Florida website. 
Enterprise Florida took a hit in 2017 when House Speaker Richard Corcoran tried to abolish the agency. The Legislature negotiated with Gov. Rick Scott to keep the agency with reduced funding.
"Some cuts were made and the retention arm suffered because of it. Building that back is probably my biggest goal from an agency standpoint," DiBella said.
Enterprise Florida has again become a legislative target. House Speaker Paul Renner, R-Palm Coast, called for its elimination March 7 as the 2023 legislative session opened. 
A bill filed proposes shifting Enterprise Florida's funding to the state Department of Economic Opportunity.
Renner said the agency "has overpromised and underdelivered for years and drains funds from higher priorities," according to the News Service of Florida.
He later told reporters $13 million in funding this year for Enterprise Florida could be better used in other areas, the report said.
In a response emailed to the Daily Record, DiBella said: "It is not our role to publicly comment on any legislation. Like any agency, we serve at the pleasure of the Governor, our board, and our governing statutes."
She said proposed measures are usually starting points, "so we will continue to monitor HB 5 and other proposed legislation as they make their way through the legislative process."
In the meantime, she said, "our singular focus remains squarely on Florida's economy and serving businesses that want to grow, trade, and relocate in Florida."
She said that in fiscal 2021-22, Enterprise Florida and its statewide partners established 61 economic development projects representing 12,564 new and retained jobs and more than $2.5 billion in capital investment.
"Additionally, EFI continued to showcase Florida companies on an international stage, resulting in $1.5 billion in actual and expected export sales in Fiscal Year 2021-2022."
Fight for deals
The easy part of pitching Florida is the quality of life, along with the beaches and weather and "the fluffier stuff, if you will," that the state has to offer, DiBella said.
Still, "we fight for every single deal, so we're never going to get comfortable in the position that we're in right now."
She said Florida's business policies are helping give the state traction to bring in new companies.
"Companies cannot operate any longer in a free fashion where they are, be it New York, Chicago, Washington state, Washington, D.C., or Virginia, Maryland, California," she said.
"They're coming to us from all over the place because the regulatory environment is becoming so prohibitive and onerous that they're getting choked up and choked out, basically. It's very unfortunate for them, it's wonderful for us."
She sees opportunities for refining the mission.
"We have some work to do on the manufacturing side. We need to raise the bar on our recruitment of manufacturing," DiBella said.
"I'm not saying that we're not doing that. We have quite a bit of manufacturing that is descending upon our state," she said.
"But we have a lot of room to improve there. And the biggest opportunity on that front is with our rural partners, our rural communities."
Asked whether Gov. Ron DeSantis' polarizing political presence is affecting Florida's ability to do business, DiBella said it is not, and his pro-business stance continues to be an asset.
"You don't see it as much when you're in-state because we're all here," she said.
"But you really see it and recognize it when you're out of state."
She said DeSantis' reputation "is a significant driver behind what is going on here. Being pro-business and remaining open (during the pandemic) when a lot of people largely were not – and not largely were not, when they just flat-out were not and have just recently opened up – has greatly benefited us."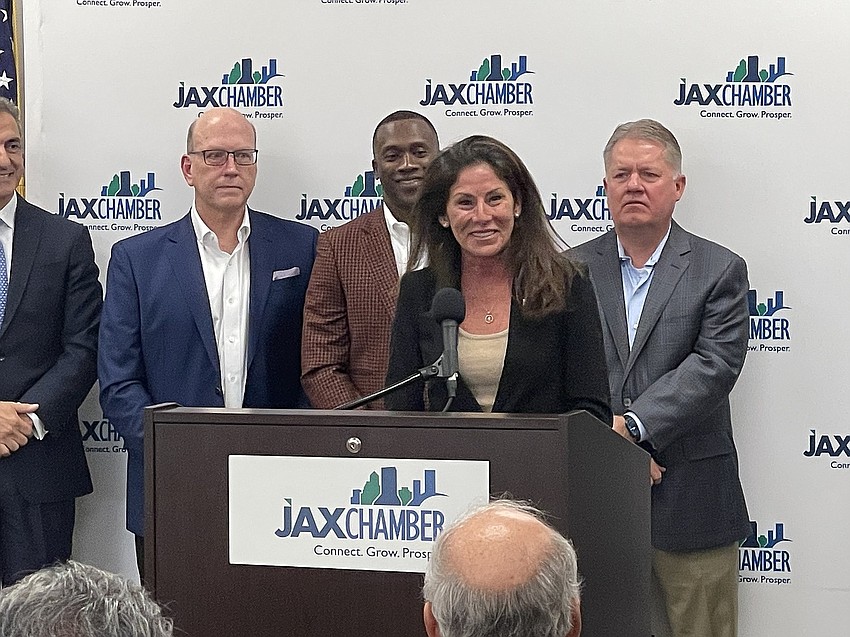 Paysafe deal

DiBella was deputy secretary of commerce when London-based Paysafe Ltd., a financial technology company that offers payment services, announced Nov. 14 it will open its North American headquarters in Jacksonville and hire 600 workers.
"It was a big deal in the sense that it was an international company choosing Jacksonville over anywhere else," she said. 
"As I had said at the ribbon-cutting, I remember when you couldn't get anybody to pay attention to Jacksonville on the international side. Back in the day, it was Miami, Miami, Miami."
DiBella said "it actually kind of tickled me that Jacksonville is now on the international radar, and will remain so."
DiBella said Northeast Florida "is the logical way to go" for business growth in the state.
"It does not resemble anywhere else in the state, and that's what makes it so special," she said.
"From a dynamic standpoint, it has more than really anywhere else because it has the ability to be peninsular Florida and the Southeast at the same time."
DiBella cited the region's assets.
"Do you want to remain on the East Coast and take advantage of the transportation assets that exist? We have everything here," she said.
"Every rail partner comes into Jacksonville. We have JaxPort, which has every opportunity to compete against Savannah. It has the room to grow. It has the channel depth that they can continually work on. ... They have a tremendous amount of expansion opportunities. We have our little Port of Fernandina, we can't forget about them, they play in their own little space."
DiBella said Northeast Florida "has A-rated schools and higher education."
"We have everything. It's definitely not a secret anymore, as you can tell by the growth that is happening here. But there is plenty of runway ahead."