The city is reviewing a permit application for the estimated $800,000 build-out for Mr. Chuy Taqueria and Cantina, the first restaurant announced for the Exchange at eTown.
The PARC Group and Skinner Bros. Realty announced Aug. 5, 2022, the restaurant will open in fall 2023.
They followed up in October by announcing The Dolly Llama Waffle Master will open in the center in summer 2023. That permit is in review for an estimated $150,000 build-out of 1,500 square feet by Baxter Restoration LLC of Orlando.
Mr. Chuy and The Dolly Llama ice cream shop are two of five tenants in a retail building next to Publix Super Markets Inc.
Mr. Chuy is in an end unit with Grand Nails Lounge, opening in the fall, on the other side and Dolly Llama in the center.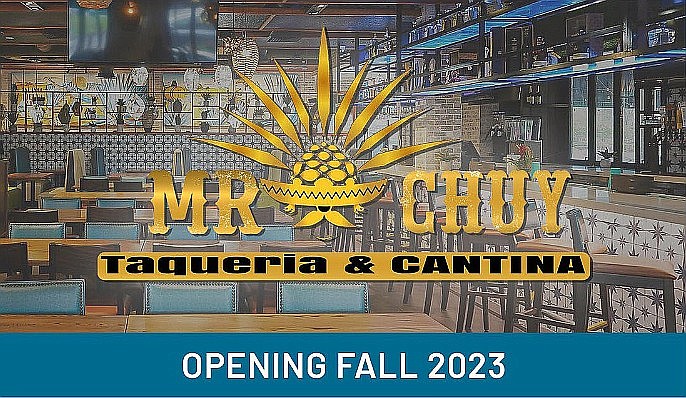 Publix anchors the Exchange. The supermarket's website says it is "coming soon" to 11025 eTown Parkway, Unit 100.
The Exchange at eTown is east of Florida 9B in southern Duval County. E-Town is a master-planned community designed for up to 2,000 homes 
The PARC Group is the master developer of eTown in conjunction with the Davis family. The retail center is being developed through a joint venture with Skinner Bros. Realty. All are based in Jacksonville.
The Mr. Chuy building permit application shows RPC General Contractors Inc. of Atlantic Beach will build-out the restaurant space at 11025 eTown Parkway, Unit  206, as one of five tenants in the building.
Mr. Chuy will lease 4,627 square feet of interior space and 1,619 square feet for outdoor dining in an end unit. There will be 262 seats, comprising 171 inside and 91 outdoors.
There is a bar, bar seating and dining areas.
Doherty Sommers Architects Engineers Inc. is the architect. Codes-ABC Inc. is handling code compliance.
The August news release said Mr. Chuy is owned by Jesus and Blanca Valencia, owners of Añejo Cocina Mexicana in Ponte Vedra Beach and Nocatee.
"Mr. Chuy Taqueria and Cantina is a highly stylized restaurant that brings a fun, high-energy vibe and flavorful menu to Florida," the release said.
"eTown residents can expect a menu that embodies traditional and modern elements of Mexican cuisine as well as an extensive tequila selection," the release said. 
"Mr. Chuy's chefs have mastered their craft through many years of experience and are carefully selected to match the restaurants' mission, objectives, and authentic recipes."
The PARC Group announced Aug. 16, 2022, that Publix, with a drive-thru pharmacy, will open in early 2023 to anchor a new shopping center in Exchange East in the eTown Village Center.