Room revenue at Duval County hotels reached an all-time February high of $46.3 million, 15% above 2022 and about $8 million more than February 2019.
Properties also reported more rooms sold than in the past few years, including pre-COVID demand in February 2019, according to data from the analytics firm STR released March 21 by Visit Jacksonville.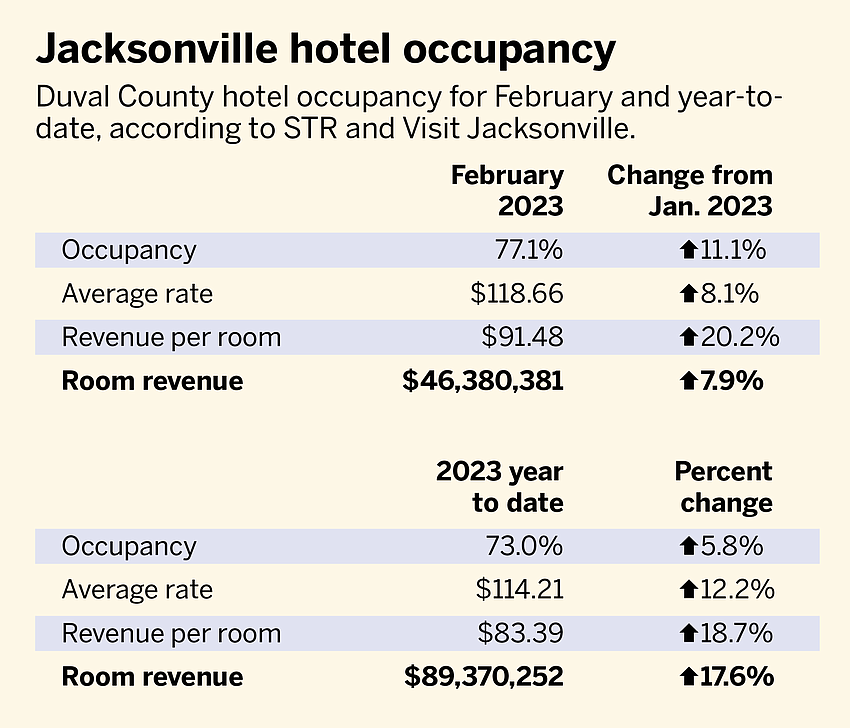 Downtown hotels had the largest revenue-per-room growth for the month at 30%, indicating convention and group business is returning to the Duval County hospitality market. The percentage of change year-to-date is 28% greater than 2022.
Overall occupancy for the month totaled 77.1%, which was 3.9% higher than 2022. 
The average nightly rate was $118.66, which was $12 higher than in February 2022. 
Most areas of Duval County reported growth in all three performance measurements. Westside hotels saw growth in average rate and room revenue, but a slight loss in occupancy.  
Year-to-date, room revenue is $89.3 million, a $12 million increase from 2022. Occupancy in the first two months of the year averaged 73% with a $114.21 average rate.