Erik Kasper, president and principal architect of kasper architects + associates Inc., is confident that he is one of few people who knew what they wanted to do for their career at an early age and followed through with the plan. 
His father was a handyman who was always building something and his mother was a designer.
"I took a drafting class while I was at Orange Park High School and knew then that I wanted to be an architect," Kasper said.
His father served in the U.S. Navy and his mother was a civilian employee with the military. They moved to Orange Park when Kasper was in the third grade.
He enrolled at the University of Florida because it had the only architecture school in the state that offered a master's degree program, he said.
Like many young graduates, he decided his first job should be far away from home. He joined HOK in the global architecture, design, engineering and urban planning firm's Southern California office with high hopes for the future.
"I moved to LA to become a famous architect," Kasper said.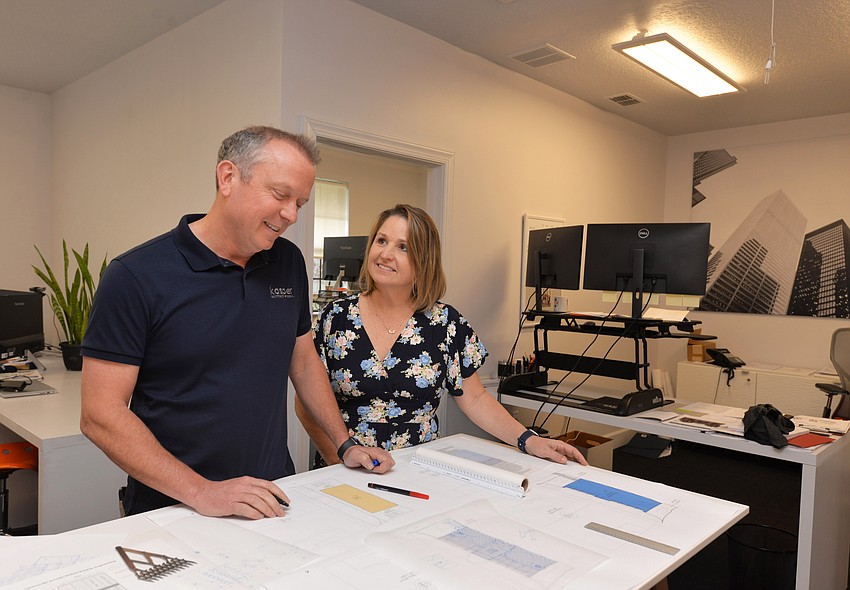 After about four years on the West Coast, he and his wife, Carman, the firm's chief financial officer, decided to start a family and that Northeast Florida is the best place to raise their children.
Kasper, 53, worked at Jacksonville-based Rink Design Partnership from 1998-2004, when he decided to run his own business.
The firm has grown to comprise Kasper, the principal architect, two partners and 27 associate architects, interior designers and drafting technicians. The office is at 10175 Fortune Parkway near The Avenues mall.
The first project was a simple 144-square-foot concrete block pump enclosure at Sawgrass Country Club. 
The firm is currently working on a 300,000-square-foot vehicle processing facility for Southeast Toyota Distributors.
Kasper and his firm also are part of the design team for the new Museum of Science & History on the Northbank Downtown and another nearby project.
That one is three floors of space for the Jacksonville Jaguars corporate operations in the office building component of team owner Shad Khan's Four Seasons hotel project being developed near TIAA Bank Field.
Designs completed recently include Fore Score Golf Tavern in San Marco Square, a warehouse at Lane Industrial Park in West Jacksonville, the lobby renovation at Wells Fargo Center Downtown, W.W. Gay Mechanical Contractors Inc.'s new headquarters building in Riverside, and Parkway Place at Durbin, a mixed-use retail facility in Northern St. Johns County. 
In the past 19 years, the firm's clients include Baptist Health, CSX Transportation, D.R. Horton, First Baptist Church, Florida East Coast Railway, JM Family Enterprises, the Northeast Florida Builders Association, Miller Electric Co., Tote Maritime, the University of North Florida, Winn-Dixie supermarkets, Wounded Warrior Project and others.
Six years ago, Kasper added an interior design studio and additional professionals to the firm.
"We do as much interior design as exterior. When we receive an award, we like to design the entire project," Kasper said.
The firm's motto is "Good design equals good business."
"We work with our clients to make sure our design helps them be more successful in business. We are responsible for the owner's money, so we make decisions like it's our own checkbook," Kasper said.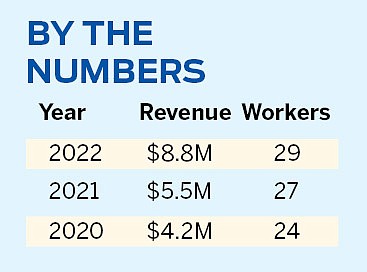 The firm's in-house philanthropic initiative, Kasper Cares, encourages the architects and associates to explore ways to find their purpose and help others.
Kasper said there are nearly 30 nonprofit partners including the MaliVai Washington Foundation; Rethreaded; the Jacksonville Humane Society; Dreams Come True; Read USA; HabiJax; and Habitat for Humanity in Raleigh, North Carolina, where kasper architects + associates has a branch office; and others.
"We believe we can have a positive impact in the community," Kasper said.
He makes sure he and his team have time for community service by implementing a four-day, eight-hours-a-day workweek model.
With a three-day weekend built into everyone's workflow, "we have one day to inspire, one day to play and one day to rest," Kasper said.