When he went into business for himself nearly 50 years ago, Ron Chamblin dedicated himself to personifying the "independent" part of operating an independent bookstore.
Just one semester away from graduating from the University of North Florida with a degree in history, Chamblin put down his textbooks in favor of used books in 1976 to open his first store.
The 1,300-square-foot space, named simply "Bookmine," was the beginning of the business that has grown to 25 employees in two stores with more than 35,000 square feet of books and a Downtown coffee shop and cafe, generating 2022 revenue of $2.5 million.
"When I opened the store, I felt good if I sold $20 worth of books in a day. Now, on a really good weekend, we might hit $25,000," Chamblin said.
"Having the bookstore has turned out better than anything I could have done with a history degree."
A member of the 1960 inaugural class at Nathan Bedford Forrest High School, now known as Westside High School, in the Wesconnett neighborhood in West Jacksonville, Chamblin entered the Navy two weeks after graduation and was trained to be an aviation electrician.
Following four years of military service, he took a job in Fort Lauderdale writing technical manuals for Northrop Grumman Corp.'s components used in NASA's Apollo moon exploration program.
After six years in South Florida, Chamblin came home to Jacksonville where he went to work as a mechanic in a motorcycle shop and then began taking night classes at UNF.
Chamblin met Cy Crawford, who collected books and sold them out of his home. He visited Crawford a few times a week to browse through the boxes.
"I wasn't raised in a book family. Books were always mysterious to me, but I fell in love with books and wanted to be around books. I saw opening a store as the way to get out of the motorcycle shop," Chamblin said.
Crawford, 76 years old in 1975, agreed to transfer ownership of his inventory.
"For some reason, Cy liked me, so he sold me his collection for $7,500 and let me pay it off at $100 a month," Chamblin said.
Start small and keep growing
Working alone, he rented a storefront and operated Bookmine at 4148 Herschel St. seven days a week. At first, there were no shelves, so the books were separated into categories by genre and stacked on the floor.
Chamblin sells some new books and a few hard-to-find first editions signed by the author he acquires from collectors and estates. The core of the business model, then and now, is for customers to buy used books for 50% of the cover price. Many people bring in books they have read and exchange them for store credit for books they want to read.
That increases the selection with no shipping charges.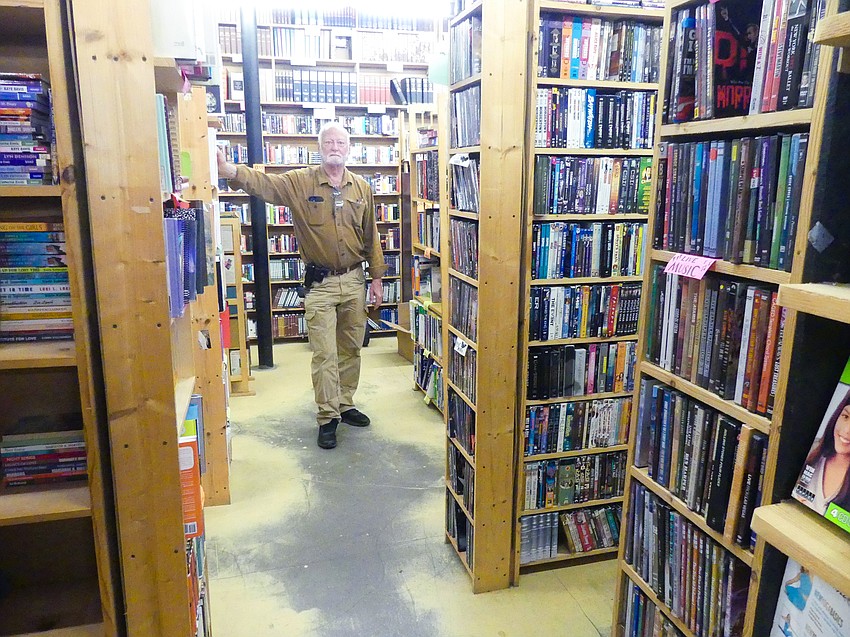 "People find books and they bring them to me," Chamblin said.
Customers traded in so many books the business outgrew the space, so in 1987 Chamblin rented a location about twice as large two blocks away along Herschel Street, where he worked with three part-time employees.
Four years later, the second storefront was filled from floor to ceiling, so Chamblin became a property owner, buying the former Consumers Warehouse building at 4551 Roosevelt Blvd. near Lakeshore and Ortega.
The selection was so extensive by that time that Chamblin placed a small sign next to the door: "Used, rare and non-existent books."
It was about twice the space he needed for the inventory when he moved in, Chamblin said.
That space was filled to the rafters by 2004, so Chamblin bought a building next door and connected Bookmine to the new space to increase the footprint to 23,000 square feet of books.
Chamblin currently is working with designers and contractors, planning a 6,000-square-foot addition to Bookmine that will give him space to continue growing the inventory.
Bookseller becomes Downtown developer
In 2006, Chamblin bought the two-story, 12,000-square-foot building at 215 N. Laura St., a block from the Main Library Downtown.
The early-1900s-era structure had a dirt floor and a large section of the second level had collapsed years earlier and lay in a pile.
Chamblin said his contractor advised him that the city might be able to partially subsidize the renovation through grants and loans available for adaptive reuse projects in the urban core.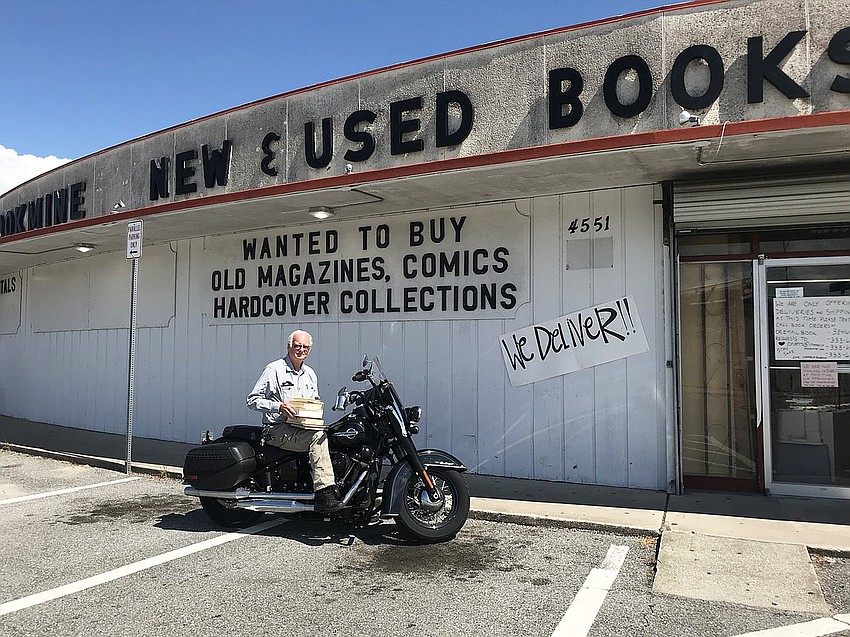 After reviewing the application and how the subsidies work, he decided against taking that route.
"The process was such that I felt it would cost me more in time, aggravation, meetings and attention to what was required over the two or three years to incrementally receive the money than it was worth. I could better spend time and energy on improving the business operation than on the grant process," Chamblin said.
He learned to rely only on himself at an early age.
"My father taught me to be independent and aggressive on pushing things through via my own energy and skills, depending on nobody else if possible. This is not a bad habit to have gained, as it makes one less dependent on any entities. I've always had the feeling that if the city will just leave me alone, I will get things done," Chamblin said.
Part of the retail strategy was to add a coffee shop and cafe to the bookstore concept Downtown.
"You have to offer more than one product or service to draw people or you won't last long. The primary thing is books, and we have a big variety, but people can also come here to socialize and meet people or have business meetings. They can get coffee and lunch or a snack," Chamblin said.
Chamblin's Uptown opened in 2008 and Chamblin decided to close the Roosevelt Boulevard store on Sundays to encourage his customers to shop Downtown.
Chamblin also bought a warehouse in Brooklyn/Riverside in 2008 where he stores hundreds of pallets of books that won't fit on the shelves.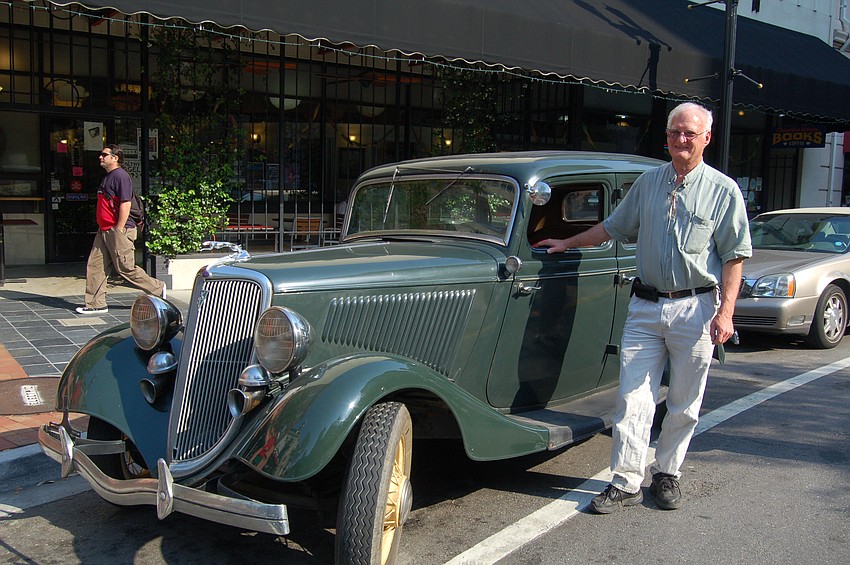 Combining what is in the two stores and the warehouse, the inventory totals between 4 million and 5 million books, Chamblin said.
"People want to be able to find the books they want. I never turn down the opportunity to buy books in good condition as long as we don't already have too many copies," he said.
Nearly 50 years later, a succession plan
In 2012, Chamblin bought the three-story building next door to Uptown, the former site of Gus & Co. shoe and luggage repair.
He began interior demolition, working on the project for several years only when the bookstores made enough profit above monthly expenses to finance the cost.
The plan was to convert the upper two floors into apartments with a restaurant on the street level.
The coronavirus pandemic sidelined those plans so Chamblin sold the building in 2022 to a bookstore customer who plans to complete the renovation.
Proceeds from the sale allowed Chamblin to retire all of his commercial debt and also set up a plan for the future of the business.
The key component of the succession, Chamblin said, is a core group of people who have worked for him for as long as 15 years while he taught them the principles that make the business thrive.
"I'm working with my attorneys to come up with a plan to give the business – other than the real estate – to my workers. It will be employee-owned and they will have shares."
Chamblin, who will be 81 this year, said he has taken only five weeks off since opening his first store, including two weeks when he didn't leave home because he had COVID-19.
He plans to continue checking in with the stores and delivering books about five days a week, but the transition will give him the opportunity to enjoy spending more time at his home in Fleming Island. He is looking forward to working on his collection of vintage Ford automobiles while knowing the landmark retail operation he built will continue to be a valuable resource for his customers and a viable career for his loyal employees.
"My objective is to perpetuate the business. I think if I just sold it to somebody, they would probably run it into the ground," Chamblin said.