Stanford University professor and economist John B. Taylor addressed a key question May 17 at a meeting of the World Affairs Council of Jacksonville:
"Are we entering era of high inflation?" 
"That's the question we're all trying to address," said Taylor, professor of economics at Stanford and a senior fellow at the Hoover Institution, the university's public policy think tank. 
Taylor said the short answer is "yes" unless policymakers maintain a strategy consistent for a 2% inflation goal, which would maintain credibility. 
"Let me say, something that the research and experience has shown is that the more credible the central bank is, the more convincing it is. The more demonstrative it is," he said.
"Surprise increases are much more problematic than gradual increases. That's the idea."
The Federal Reserve sets U.S. monetary policy to promote maximum employment and stable prices.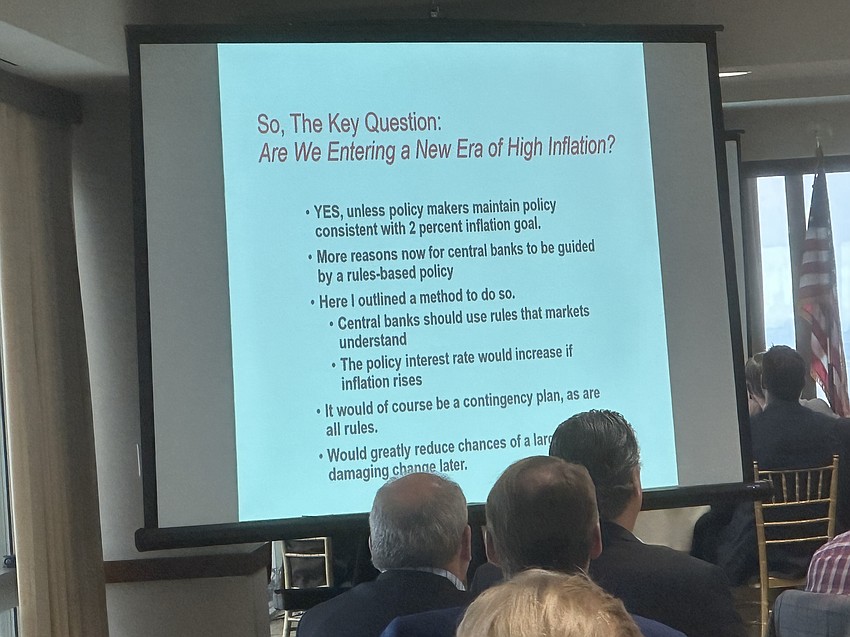 NBCNews.com reported May 3 the Federal Reserve announced it was raising its key federal funds rate to more than 5% — a 16-year high — as it continues its fight against persistent inflation.
The Fed raised its key interest rate by a quarter-point, but signaled it may pause its streak of 10 rate hikes, which have made borrowing for consumers and businesses steadily more expensive.
In an effort to lower inflation, the Fed, which is the nation's central bank, has raised the key short-term rate by 5 percentage points since March 2022.
The move raised the benchmark rate to roughly 5.1%, which can lead to higher borrowing costs, which affects consumer spending, which in turn affects inflation.
APnews.com reported May 4 that inflation has dropped from a peak of 9.1% in June 2022 to 5% in March 2023 but remains well above the Fed's 2% target rate.
According to federalreserve.gov, the Federal Open Market Committee judges that inflation of 2% over the longer run, as measured by the annual change in the price index for personal consumption expenditures, is most consistent with the Federal Reserve's mandate for maximum employment and price stability.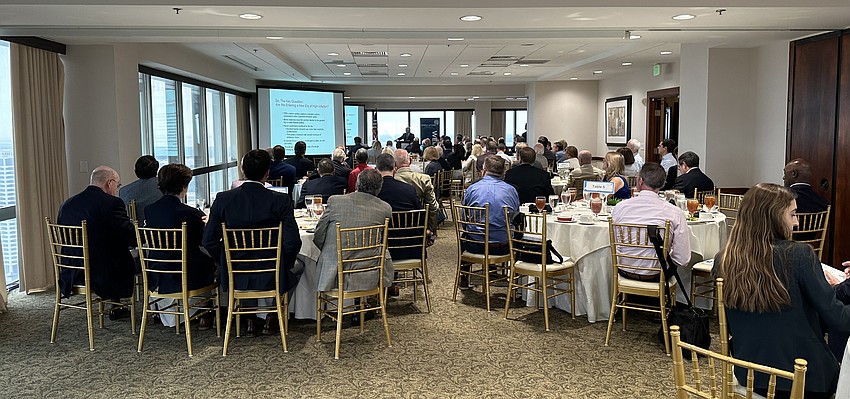 The site explains that when households and businesses can reasonably expect inflation to remain low and stable, they are able to make sound decisions regarding saving, borrowing, and investment, which contributes to a well-functioning economy. 
Taylor's 2009 book, "Getting Off Track: How Government Actions and Interventions Caused, Prolonged, and Worsened the Financial Crisis" was one of the first to examine the impact of the 2007-08 economic downturn.
His presentation title May 17 was "Getting Monetary Policy Bank on Track: Rates, Rules, and Tools."
He said the second preventative measure that could stave off inflation would be a guided "rules-based policy," a strict set of guidelines dictating future actions for the central bank.
Taylor added those rules should be understandable for markets. 
"Complicated rules are not that great. You can manipulate the numbers. You can say, 'Oh you used the wrong inflation rate,'" he said. 
"That can always happen, but the more you make it simple, the better it will be."
The rules could be those used by the Fed.
"What my remarks have indicated, I hope, is the interest rate would increase as inflation rises. That is why I think the Fed raised interest rates recently," he said. 
Taylor said the policy interest rate would increase if inflation rises. He said that's worked best in the past.
"What's not worked is being behind the curve," he said.
Taylor said his ideas present nothing more than a "contingency plan," as are all rules, but rules are important.
"If you follow a rules-based policy, it doesn't even have to be the one I indicated, but something like that. Something predictable. Something that people can understand. Something that markets can understand," Taylor said.
"Then you can have a debate about it and you'll have a better understanding of what it is," he said. 
"It can greatly reduce chances of large damaging change later, which we all want to avoid in the future."
Taylor received his bachelor's degree in economics from Princeton University and a doctorate in economics from Stanford University. 
The World Affairs Council of Jacksonville is a nonpartisan, nonprofit organization that promotes understanding of global issues and seeks to engage Northeast Florida citizens to be informed and actively informed and involved in solving them.
It met May 17 at the World Affairs Council Global Business Luncheon at The River Club in Downtown Jacksonville. It was hosted in partnership with The River Club.