Permitting for single-family homes in the first quarter of 2023 has yet to crack the 1,000 mark in any month, according to the Northeast Florida Builders Association. 
A total of 892 permits were issued in Duval, Clay, Nassau and St. Johns counties in April.
"There's nothing shocking in these numbers. We seem to be cruising this year in the 800s," said NEFBA Executive Officer Jessie Spradley.
A total of 3,276 permits were issued in January through April of 2023. During the same time period last year, 5,434 were issued.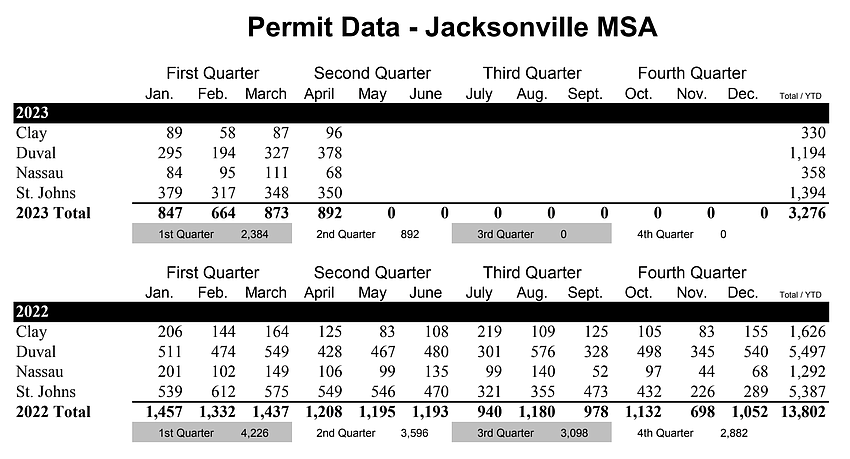 In 2019, before the coronavirus pandemic upended the market, a total of 840 permits were issued in April and 3,375 during the first four months of that year.
Comparing the month of April 2023 to April 2019 the market is 5% above the 2019 pace.
Though permitting in 2023 is lagging compared with 2022, April has been the best month in 2023. 
There were 96 permits issued in April in Clay County, up from 87 in March; 378 in Duval, up from 327 in March; and 350 in St. Johns, up from 348 in March. 
Nassau County showed the only decrease in the number of permits issued, with 68 in April down from 111 in March, a 38.7% drop.
The local forecast points to continued growth, Spradley said. That is in contrast to markets like Phoenix, where predictions have market prices falling by 18% by the third quarter, according to money.com.
"There are massive price drop-offs in Phoenix. In the South, we are insulated from dramatic price decreases. People are still moving here," he said.