One of Jacksonville's oldest Downtown Northbank riverfront headquarters wants a new look in lights.
Transportation company CSX proposes two replacement signs that each comprise the "CSX" letters and an image of a CSX train engine that can change colors.
Each letter and the train image are digital boards. The letters may change colors, presenting as a static color, for selected events or holidays.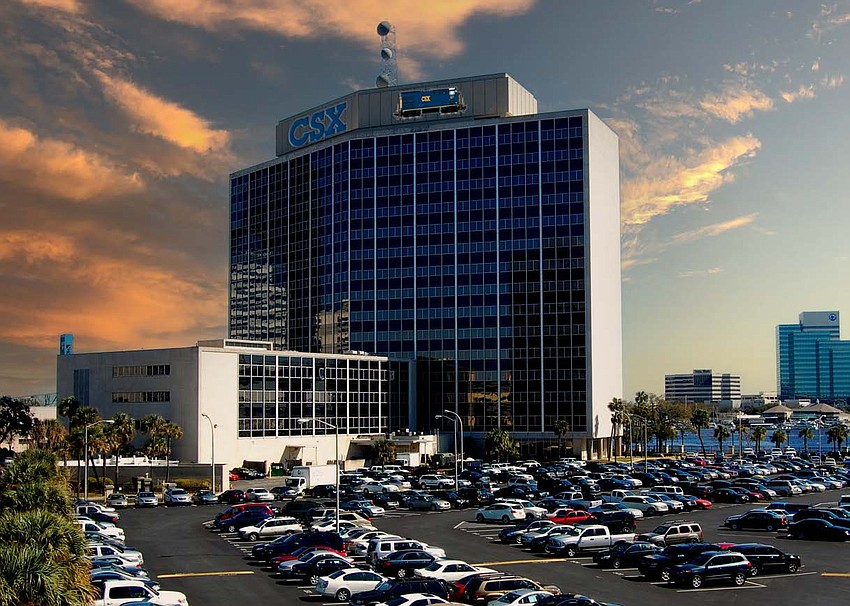 The city Downtown Development Review Board is scheduled Nov. 9 to review a permit application for a sign exception for two replacement signs on the CSX headquarters.
The Jacksonville-based railroad building is at 500 Water St. The 17-story structure was built in 1962 for Atlantic Coast Line Railroad, the predecessor of CSX.
Contractor Taylor Varn of Jacksonville-based Taylor Sign & Design Inc. is proposing two high-rise signs of 1,656 square feet each. 
The same sign is planned for each elevation, according to the DDRB staff report.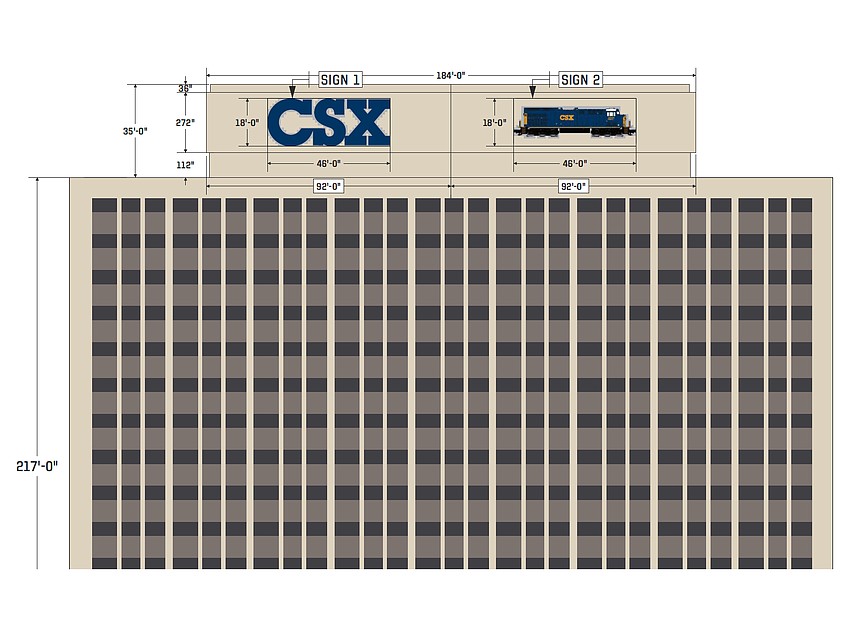 One sign would face the north into Downtown's Central Core. The other would face south to the St. Johns River. 
In total, the square footage of the signs are about 2.2% of the area of the building's facade and about 25.7% of the area of the top portion of the structure where the signage is located.
Each CSX and train engine element is 828 square feet, with the signage for each elevation totaling 1,656 square feet.
For buildings higher than five stories, the Downtown overlay zoning code allows for a building identification sign to be 10% of the total area of the facade fronting a street, or 400 square feet, whichever is less, according to the report. 

The total area of the CSX building facade is about 74,795 square feet; 10% of that number is 7,479 square feet, so the maximum of 400 square feet for a building identification wall sign would apply.
The building has a history of high-rise building identification signs that exceed the allowable 400 square feet, including the existing signage. 
DDRB approved a special sign exception for the existing signage on July 29, 2010. The approval was for two identification signs at 1,201 square feet each.
The DDRB staff is recommending approval of the application on the condition that the size of the proposed signage not exceed the square footage of the existing signs.
The DDRB is scheduled to meet at 2 p.m. Nov. 9 in Conference Room G4 at the Main Library at 303 N. Laura St.