Biggby Coffee is opening its third franchise in Florida on Nov. 14 at 8587 Beach Blvd. in South Jacksonville.
The Michigan-based chain has more than 350 franchises in 13 states. Biggby Coffee opened its first shops in Florida in Ormond Beach and Clearwater.
The Beach Boulevard location is between Killarney Drive and Grove Park Boulevard.
Spouses Kevin and Natalie Clark operate the Jacksonville store. They own the franchise through Cowford Coffee Corp. 
They came from the financial world and wanted to operate their own business, preferably in the food space.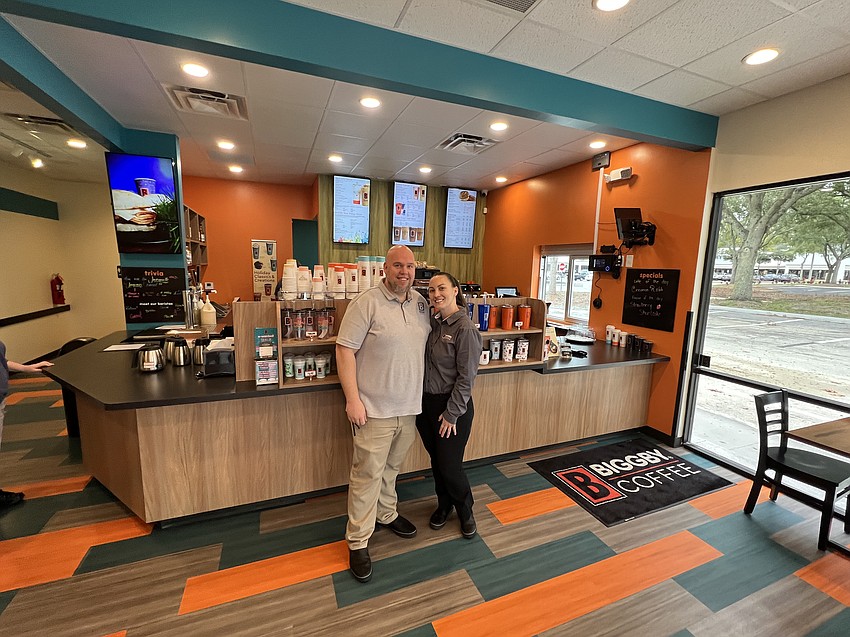 Natalie Clark's family operated several doughnut shops in the Dallas-Fort Worth area when she was younger. She spent many days after school and in the summers working for her family.
"In school they called me the doughnut girl because I smelled like doughnuts," she said.
The Clarks chose to partner with Biggby because it was Kevin's favorite coffee growing up in Michigan. 
Kevin Clark knows the products and likes the corporate mission.
"I've been in corporate America for 25 years now. I was really looking for a change," he said.
"I really want to create a place where people enjoy coming to work and where we can have a good culture."
The Beach Boulevard store will seat 18. The build-out, which includes a drive-thru window, cost between $500,000 and $600,000, including the $20,000 franchise fee. The shop has free Wi-Fi and a couple of secluded booths for those who want to work remotely.
The shop has 24 employees, most of them part-time. The Clarks are trying to hire workers with disabilities. 
Natalie's brother is legally blind and Kevin's mother worked with people with Down syndrome.
Mike McFall and Bob Fish founded Biggby Coffee in 1995. All of the stores are franchises. 
The Clarks have no immediate plans to branch out from the Beach Boulevard store.
Biggby Coffee sells specialty coffees, iced coffee, frozen drinks, smoothies, energy drinks, tea lattes and hot chocolate. Food choices include muffins, waffle sandwiches and bagel sandwiches. There are also coffee cups, mugs and travel containers for sale.
Hours are 5:30 a.m. to 8 p.m. Monday-Saturday and 7 a.m. to 8 p.m. Sunday.
In a city filled with coffee shop competition — corporate-owned as well as mom-and-pop operations — Kevin Clark said he is confident that the Biggby products will differentiate the shop from the rest and that the location is a good one.
"There are a lot of neighborhoods in this area and it is underserved and should have a coffee shop closer to home," he said.
"We put in the drive-thru because of how busy Beach Boulevard is."
While acquiring the franchise, the Clarks learned that they would be parents. Though they had been trying to start a family for several years, her pregnancy was unexpected. Their daughter is now 3 years old.
Natalie can see their daughter sharing the childhood that she had.
"I grew up with my parents doing something like this so I know she will be fine. She jumps right in and likes to help. She's so cute. She likes to clean and follow behind us and mimic whatever we are doing."