The Jacksonville Armada released renderings Nov. 15 of the soccer stadium it plans to build Downtown.
The Armada plans to break ground on the stadium next year and begin play there in 2025.
The renderings show a stadium with seating on four sides. Two of the sides have two-level covered tiers. There are lower, uncovered seating areas along the other two sides.
The Jacksonville City Council voted Nov. 14 to rezone 7.58 acres to Planned Unit Development to include the soccer entertainment complex as well as commercial, office and multifamily residential uses.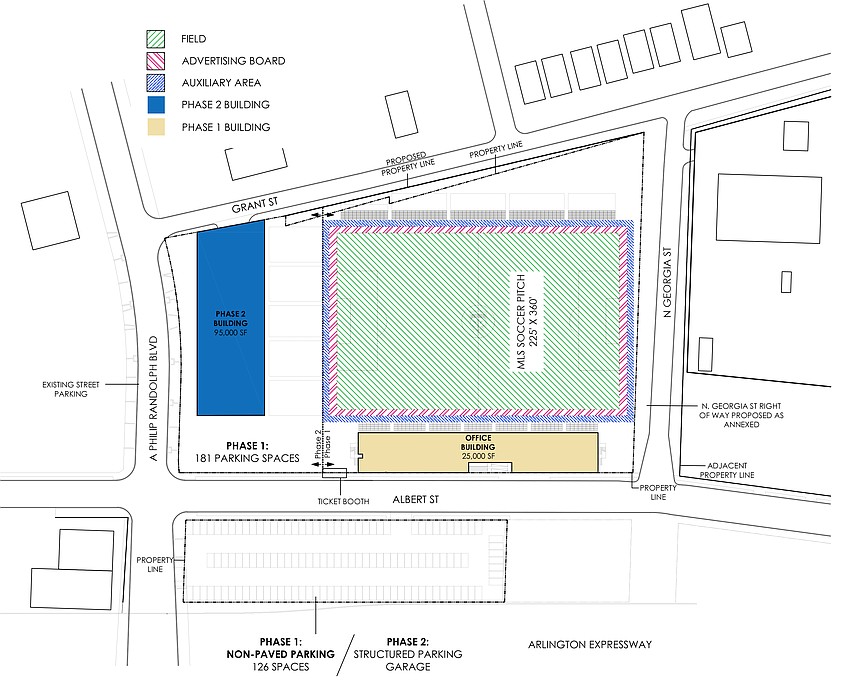 A conceptual map of the stadium shows 2,500 seats in Phase 1 of the project and 6,972 seats in Phase 2 for a total of 9,472 seats. The map says there are 307 parking spaces in Phase 1.
There is a 25,000-square-foot office building on the south side of the stadium in Phase 1 and a 95,000-square-foot building is shown on the west side of the stadium for Phase 2.
The site is in the Sports and Entertainment District at A. Philip Randolph Boulevard and Albert, Georgia, Grant, Spratt and Van Buren streets near the Arlington Expressway.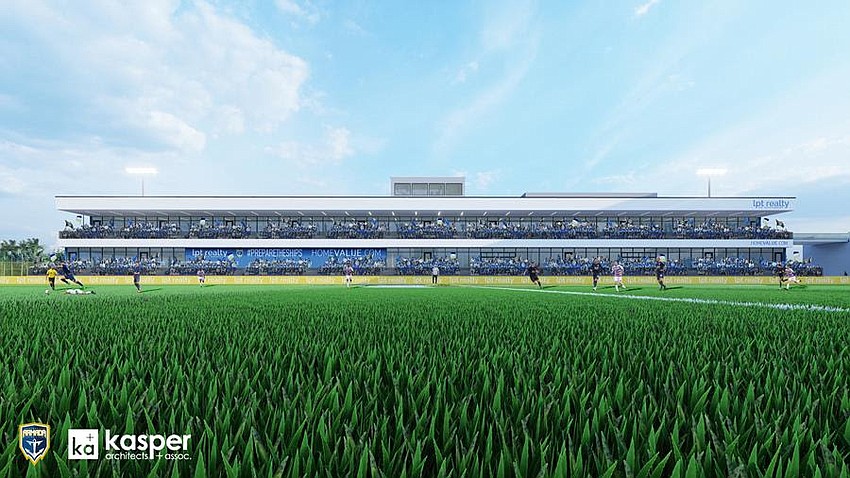 In March, Council agreed to sell a 5-acre property to the team owner for $1 for the stadium.
Council voted 16-0 to approve Ordinance 2023-0087 and the purchase agreement with team owner RP Sports Investment Inc. 
The deal commits RP Sports to build a stadium with a minimum 2,500 seats, a 25,000-square-foot office building and 100 parking spaces by July 31, 2025.
In September, the Armada announced its development team.
Stewart Green of Colt-Green Construction will lead the development team and Gilbane Building Company will be the construction partner.
The project legal team will be Driver, McAfee, Hawthorne & Diebenow, led by Steve Diebenow and Cyndy Trimmer.
Waitz & Moye was named the civil engineer for the project's site planning. Kasper architects + associates is the architect.
RP Sports founder Robert Palmer bought the Armada from the North American Soccer League in July 2017. Palmer is the founder and owner of Lake Mary-based mortgage brokerage RP Funding Inc.
The Armada plans to join the MLS NEXT Pro league and start play in 2025. That is a step up from the National Premier Soccer League under-23 team it currently fields.