A California-based manufacturer of military and commercial survival equipment took over a closed North Jacksonville plant for two subsidiaries, meeting several city targets for economic development:
Manufacturing; relocation and expansion; job creation; and, not a stated goal but an industry push, reusing a vacant building.
The Wing Group President and CEO Andrew Branagh relocated two manufacturing subsidiaries to Jacksonville's former Merita bread plant in North Jacksonville.
There, they are making survival gear for NASA, SpaceX, the military and commercial and retail customers.
"We shipped our first product out of the plant in March, and now we are rocking and rolling," Branagh said Sept. 13.
The signage in front of the building says it is The Wing Group, Mustang Survival and Patten Company.
Branagh relocated Mustang Survival Manufacturing Inc. from Jacksonville International Tradeport, where it had continued operating after Wing Group bought it from The Safariland Group in 2019.
He moved Patten from Lake Worth.
Now, both groups are based in Jacksonville, he said.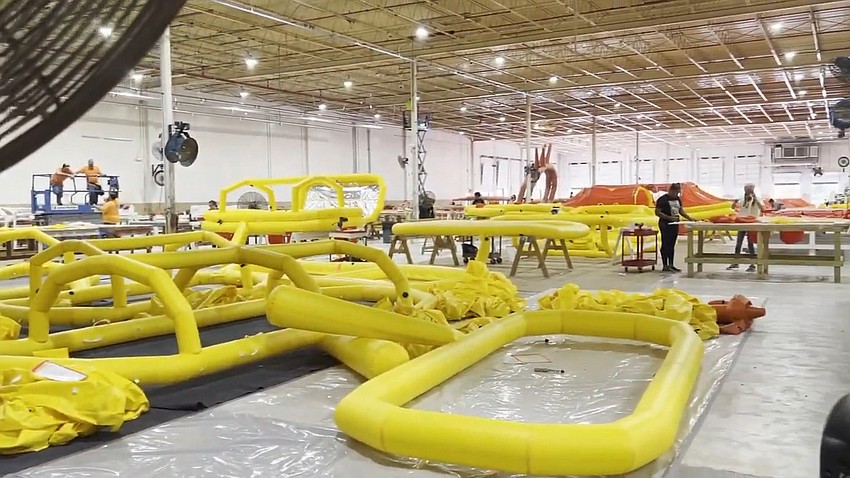 Branagh said 182 people work at the plant. Of those, about 60 were added since January. The others relocated with Mustang and Patten.
He expects to ramp up to 220 to 250 people by mid-2024.
"If I could get 40 trained people now, I would take them," he said.
"We are making things people's lives depend on."
With U.S. administrative offices in Lafayette, California, the Wing Group says it is the world leader in inflatable boats, life rafts, flotation, dry suits, technical apparel and other tactical and survival solutions for recreational, commercial and military customers.
Branagh said he started putting the group together in 2013. He started in California with 40 team members.
Now, with the retail, consumer and military businesses, the group has grown to 700 employees and sales of more than $90 million.
Branagh said the companies' products include life rafts for the U.S. Navy and other military uses.
He said the group is one of two military suppliers for the Navy's 25- and 50-person shipboard life rafts.
He said Patten products also include life rafts for NASA.\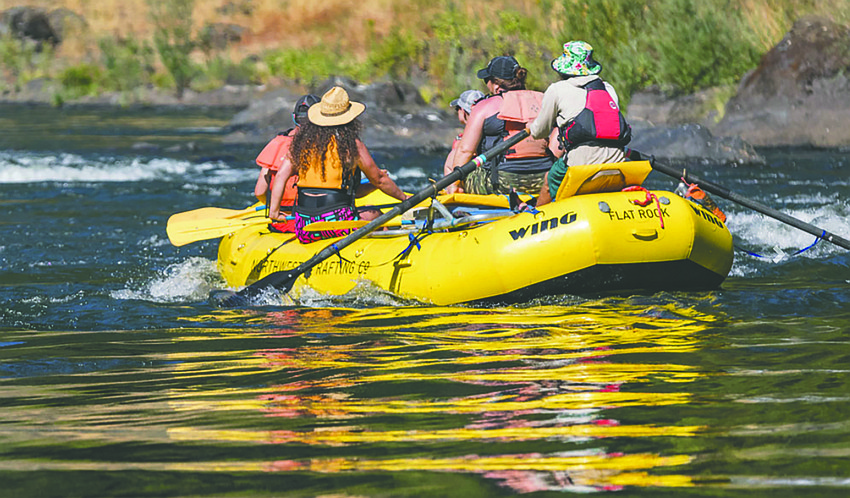 "Every manned spacecraft that the U.S. ever launched has included a Patten life raft," he said.
"We are making those here now."
He said Mustang also makes life jackets for the Navy used on the flight deck as well as all-weather dry suits.
"When you see a rescue swimmer, they are often wearing our products," he said.
Winggroup.com shows Jacksonville on its Wing Group Global Network map.
Other companies include Wing Inflatables in California; Fabtek in Washington; Henshaw Inflatables in the United Kingdom; and the international office in the UK.
Aaron Bowman, senior vice president of business development for JAXUSA Partnership, told the Northeast Florida Builders Association Sales & Marketing Council on Sept. 8 that the company is here.
Bowman was talking to the group about other companies that had announced moves or expansion.
"And then one that you've probably never heard of (that was) just officially brought in is The Wing Group. They make a lot of emergency equipment for aviation military (use), and they've moved into town," Bowman said.
JAXUSA is the economic development division of JAX Chamber.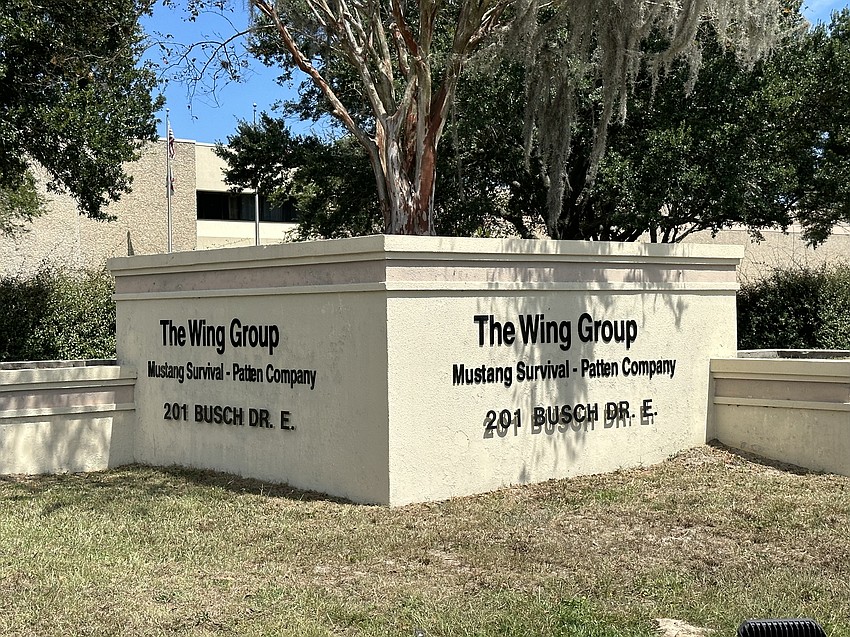 Branagh said City Council member Nick Howland has worked with Wing Group as a consultant and "is still a friend of the company."
Howland's Council biography says the Navy veteran relocated his family to Jacksonville for body armor manufacturer Armor Holdings Inc. Other experience includes being president of Patten Company.
Safariland was part of Jacksonville-based Armor Holdings Inc. before BAE Systems bought Armor in 2007. Armor's former CEO led an investment group that bought back Safariland in 2012.
Safariland is now a subsidiary of Jacksonville-based Cadre Holdings Inc., which went public in 2021
Branagh said JAXUSA Vice President of Business Development Greg Anderson also is a supporter.
Branagh said the company did not apply for government incentives programs, but might seek training assistance.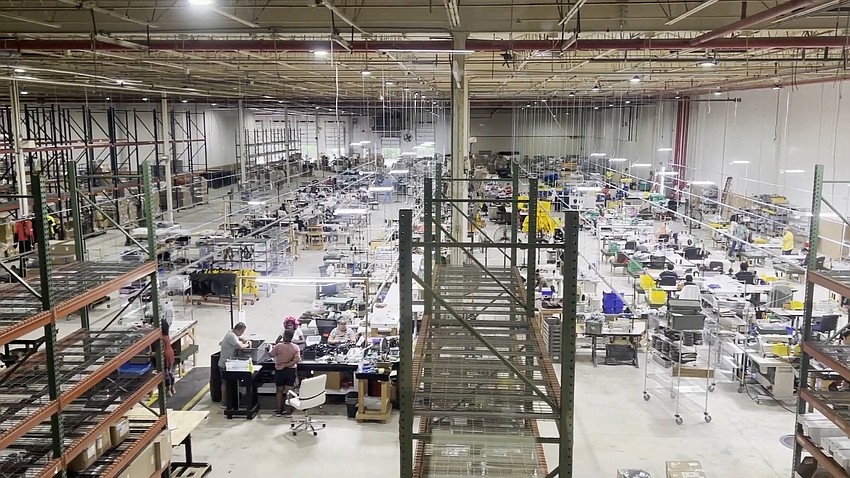 The building
The Wing Group has leased the closed bread plant in Imeson International Industrial Park in North Jacksonville.
Mustang Survival Manufacturing Inc. and The Patten Companies are leasing the 138,210-square-foot building at 201 Busch Drive E.
Imeson International Industrial Park is east of Main Street and south of Interstate 295. 
Branagh said the group looked at seven buildings, and with a dearth of new ones, found the 30-year-old vacant factory.
"I consider us lucky to get that plant. I love that it stands alone," he said, for security reasons.
He estimates a $2 million investment to start up in Jacksonville, including equipment, training and infrastructure development.
He said the building was unoccupied for about 10 years, so it needed work, including air conditioning, to make it usable and safe.
"The bones of the building were good," he said. 
It came with a new roof, but needed electrical service to meet Wing Group's industrial production needs.
Patten relocated first, packing up the equipment in Lake Worth and trucking it to Jacksonville.
Then Mustang moved from the Tradeport, where it had outgrown the space it had continued to use at Safariland.
"As we grew that business, there was nowhere to grow because it was inside their facility," Branagh said.
Wing Group started making tenant improvements at Imeson in January.
The city issued a Certificate of Use for Patten there May 25.
It also issued a mechanical permit Aug. 9 for a rooftop heating and air conditioning HVAC unit and exhaust fan at a cost of $86,000 for Patten.
It issued an electrical permit for an equipment hookup May 31 at $1,000 for Wing Group.
Mustang was here
Mustang Survival has history in Jacksonville.
Jacksonville-based The Safariland Group bought it in 2013 and sold it in June 2019 to The Wing Group.
Safariland provides safety and survivability products for the public safety, military, professional and outdoor markets.
Safariland is based at 13386 International Parkway in the Jacksonville International Tradeport, which is near Jacksonville International Airport.
That is where Mustang operated before moving to Imeson.
Jobs in Jacksonville
Wing Group is hiring for manufacturing and engineering positions.
Mustang Survival says that since 1967, it has been engineering high-performance marine gear for military, rescue personnel and law enforcement. 
It has posted jobs for a production manager, quality engineer, manufacturing engineer, project engineer, project design engineer, manufacturing administrator specialist for people and culture, RF machine operator, quality inspector, production associate and sewing machine mechanic.
The quality engineer post says:
"We are looking for an experienced Quality Engineer II or III to support Production Quality functions within our joint Mustang Survival and Patten Jacksonville, Florida facility."
A posting says the Mustang Survival brand "represents leading edge extreme environmental protection for elite users including rescue workers, coast guard, fighter jet pilots, fishermen, sailors, paddlers, and even NASA astronauts."
Another posting says:
"We have a state of the art, full manufacturing center to carefully craft our marine gear."
The Patten Companies said that Patten, founded in 1947, is the country's leading innovative designer and manufacturer of inflatable products for U.S. military, rescue and commercial applications.
It has posted a job for a CAD drafter.
Branagh said he considers Wing Group a gateway employer, meaning it trains employees who build skills.
"It is very technical to make a life raft for airplanes," he said.
"When you build a life raft, you have to learn how to make it and test it."
The property history
The property has been sold four times in 10 years as it sought a long-term tenant.
That came with The Wing Group.
Colliers Senior Vice President Guy Preston represented The Wing Group in leasing the space.
When the building was fully leased, Preston and Colliers Executive Vice President Ryan Vaught in Tampa represented the building owner, YMP Real Estate Management LLC and Whalley Capital Partners, in brokering a sale of it to Redfearn Capital.
Through AG-RC Busch Drive Property Owner L.L.C. of Delray Beach, Redfearn Capital of Delray Beach and Angelo Gordon & Co. L.P. of New York City paid $14.35 million for the property March 30.
It bought it from 201 Busch Partners LLC of Lauderdale Lakes. That LLC is led by YMP Real Estate Management LLC.
The plant was built in 1993.
The Hostess bakery, which made Merita brand bread and employed 128 people, and the company's other plants closed in November 2012.
Irving, Texas-based Hostess operated 36 bakeries and had 570 outlet stores when it filed for Chapter 11 bankruptcy reorganization in January 2012.
The property then began changing hands.
In July 2013, Interstate Brands Corp., the owner of Hostess Brands Inc., sold the property to Flowers Foods Inc., which bought it through Busch Drive Baking Co. of Jacksonville LLC for $4.39 million.
Thomasville, Georgia-based Flowers agreed to buy six Hostess Brands Inc. bread brands and 20 Hostess bakeries, including the Jacksonville plant, but did not say what it would do with them. Flowers already operated a bun and bread bakery in Jacksonville.
Flowers sold the former Merita plant in December 2020 to Gordon Brothers of Boston, Massachusetts, for $2 million.
Through Biddeford Holdings LLC, Gordon sold it in December 2021 to 201 Busch Partners LLC for $9.075 million.
Redfearn and Angelo Gordon & Co. then bought it this year.