Delta Apparel Inc., which bought the Salt Life retail brand in 2013, said it received an unsolicited offer to buy the lifestyle company founded in Jacksonville Beach.
Duluth, Georgia-based Delta said in an Oct. 2 news release its board of directors engaged a financial advisor to evaluate the offer.
"Our Board of Directors and management team are committed to maximizing value for Delta Apparel shareholders, and we believe it is in their best interests to conduct a thorough review of strategic options for our Salt Life business given the widespread interest in it," Delta CEO Bob Humphreys said in the release.
Salt Life was founded in 2003 by "four avid watermen from Jacksonville Beach," Delta says.
Delta bought the apparel brand for $37 million in 2013. It does not own the three Salt Life Food Shack restaurants in the Jacksonville area.
"The Salt Life team has done an excellent job in taking what was essentially a small regional brand with a primarily wholesale business when we acquired it in 2013 and growing it into a highly profitable business with over $60 million in revenue, a consumer base stretching across the United States and internationally, and a variety of new go-to-market strategies, product categories and revenue channels," Humphreys said.
Its flagship store remains in Jacksonville Beach, but Salt Life has expanded to 25 stores in nine states under Delta's ownership with products also sold through wholesale and online channels.
Salt Life accounted for $46.5 million of Delta's $323.9 million in revenue in the nine-month period ended July 1.
The company sells apparel under the Delta, Salt Life and Soffe brands.
The Salt Life business produced operating earnings of $6.5 million in the first nine months of the fiscal year but the entire company had a net operating loss of $11 million.
Delta said it will not comment further on the offer for Salt Life until an agreement is made or until its board's review of the offer is complete.
Delta's stock jumped higher after its announcement, which came after the market closed on Oct. 2., rising $1.99 to $8.58 on Oct. 3.
Superfit Foods up for sale by publicly traded owner
Another Jacksonville business that was acquired by a public company is being put up for sale.
Sadot Group Inc., formerly known as Muscle Maker Inc., said in an Oct. 3 letter to shareholders that it is "actively pursuing the sale of its Superfit Foods concept."
Superfit is a subscription-based fresh meal service based in Jacksonville that was acquired by Fort Worth, Texas-based Sadot in March 2021.
Sadot's operations include two restaurant chains, Muscle Maker and Pokemoto.
The company in November 2022 announced "a strategic pivot into the global agri-food supply chain industry" and in July 2023, its corporate name was changed from Muscle Maker to Sadot.
Sadot's agri-food business includes farm operations in Southern Africa and sourcing and trading operations for products such as soybean meal, wheat and corn.
On the restaurant side, it is focusing on growing Pokemoto while apparently deemphasizing Muscle Maker.
The company opened area Pokemoto restaurants in Orange Park and Baymeadows in April and said it now has 34 Pokemoto locations in 15 states, with a pipeline of 45 franchised locations sold but not yet opened.
Sadot said it closed two Muscle Maker locations and has two others listed for sale. It did not say the total number of Muscle Maker restaurants but its second-quarter report said it had 48 corporate-owned and franchised restaurants between the two concepts.
"Following our strategic pivot to the global food supply chain sector, we are fully engaged in the restructuring of our legacy restaurant operations," CEO Michael Roper said in the shareholder letter.
"By refranchising company-owned units and closing underperforming locations while focusing on growing Pokémoto through franchising, the Company is continuing its restructuring efforts with the goal of reducing annualized restaurant operating expenses and overhead while potentially increasing franchise royalty revenue," he said.
Sadot reported net income of $190,000 in the second quarter, which Roper said was its first-ever positive quarter.
Revenue was $160.3 million, with $157.6 million of that coming from commodity sales.
Sadot gave no other details about a potential sale of Superfit.
Fanatics Commerce appoints new CEO
Fanatics Inc. appointed a new CEO in September for its Jacksonville-based commerce division, but said he will work out of the company's Silicon Valley office.
Andrew Low Ah Kee, former president of online residential real estate company Opendoor Technologies Inc., was named CEO of Fanatics Commerce on Sept. 12.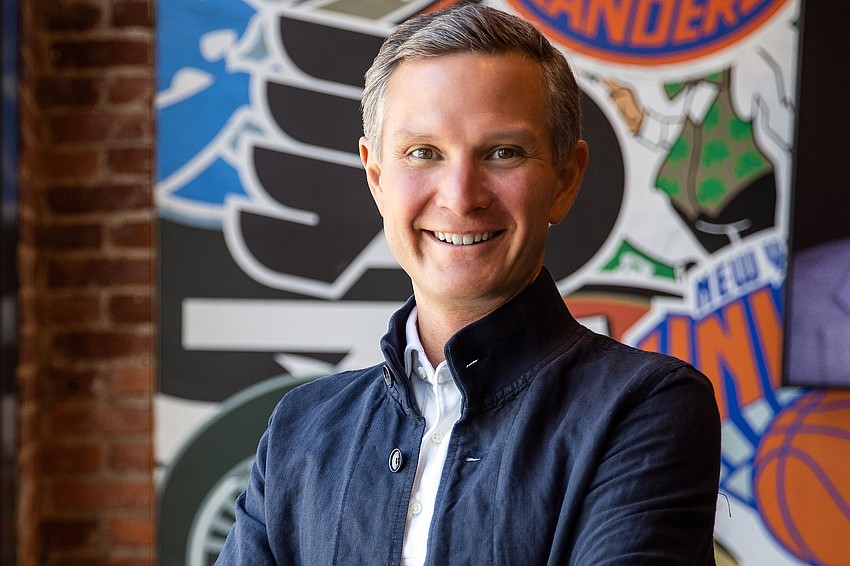 He replaced Doug Mack, who is retiring after nine years with the company. Mack also worked out of the California office.
Sports merchandising giant Fanatics was founded with a single store in the Orange Park Mall in 1995 and as the company became an online retailer, it was acquired in 2011 by a Philadelphia-based company run by current CEO Michael Rubin.
Rubin grew Fanatics into a dominant online sport merchandise retailer and has expanded into other areas.
Fanatics maintains the commerce division headquarters in Jacksonville. According to a CNBC story on Low Ah Kee's hiring, posted on the Fanatics website, the company has reorganized into three main business lines. The other two are betting and gaming, and collectibles.
CNBC said Fanatics produces $8 billion in annual revenue, with $5 billion from the commerce business, which sells mainly sports-related merchandise.
"As we focus on further building our Commerce business and doubling down on creating the best overall fan experience, we were looking for a proven executive who is obsessed with creating elite customer experiences, utilizing innovation for growth, scaling companies globally, producing strong financial results, building renowned brands and establishing strong teams and internal culture," Rubin said in a news release about Low Ah Kee's appointment.
Before working for Opendoor, Low Ah Kee was chief operating officer for Internet domain registration company GoDaddy Inc.
Besides helping grow the businesses, Low Ah Kee helped both Opendoor and GoDaddy go public, Fanatics said.
Fanatics, with an estimated valuation of more than $30 billion, is expected to go public at some point in the next year or two.
Mack's retirement was announced in an email sent by Rubin to employees on Aug. 2, according to a story by Yahoo Sports.
"Doug and I have had an open discussion that he would retire around the timing of our IPO, and the more we discussed it, we both agreed that it would make the most sense to bring in a new leader for Fanatics Commerce now," the email said, according to Yahoo.
"This way, the new CEO will be fully ramped up and up-to-speed before we get to an IPO, ensuring a consistency that is in the best interest of the business, our employees and our investors."
Manning Building Supplies acquired
US LBM announced Oct. 4 it acquired Manning Building Supplies, a Jacksonville-based provider of building products and manufactured components to professional builders.
Manning, founded in 1979, operates seven building materials distribution facilities in Florida and two truss manufacturing plants in Jacksonville and Ocala.
Buffalo Grove, Illinois-based US LBM is a national distributor of specialty building materials.
US LMB said the acquisition gives it 19 locations in Florida.
Terms of the deal were not announced.
Analyst downgrades title insurer Fidelity
With high interest rates continuing to lower new mortgage activity, Keefe, Bruyette & Woods analyst Bose George downgraded his rating on Jacksonville-based title insurance company Fidelity National Financial Inc.
George lowered his rating on Fidelity from "outperform" to "market perform" and reduced his price target for the stock by $2 to $43, with the stock trading at $41.30 at the time of his Oct. 1 report.
"Our lower rating reflects the limited upside (4%) to our new price target, which in turn is reflective of our lower EPS estimates that are primarily driven by lower order counts and a reduction in our expectations for future buyback activity," he said in a research note.
Two days after the downgrade, Fidelity's annuity and life insurance subsidiary F&G Annuities & Life Inc. held an investor day meeting in New York. Fidelity spun off 15% of F&G as a separate public company in December 2022, while continuing to own the other 85%.
"The company laid out its plan to double earnings over the next 5 years through a combination of asset growth, core margin expansion and owned distribution channel revenue growth," George said in a research note after the F&G meeting.
He said F&G's stock price could double if it achieves its goals, but he's unsure how much that will help Fidelity's stock price.
"While we came away feeling better about F&G's earnings outlook, we believe FNF shareholders remain uncertain about whether F&G can be fairly valued as part of FNF," George said.
Analyst rates FIS at 'market perform'
TD Cowen analyst Bryan Bergin initiated coverage of Jacksonville-based Fidelity National Information Services Inc., or FIS, with a "market perform" rating.
FIS, which was once spun off from Fidelity National Financial, announced three months ago it was selling off a controlling interest in its payments technology subsidiary Worldpay.
"FIS is at a crossroads as it executes the split of its heritage Banking and Capital Markets and Worldpay businesses, untangling a mega-merger that proved incompatible," Bergin said in his Oct. 5 report.
He said FIS "boasts a durable model with leading solutions in Banking and CM, and it's leaning into a cost transformation program, but ample uncertainty exists and near-term inflection is unlikely."