Northeast Florida's first Sanitas Medical Center is a step closer to opening early next year in Regency Park in Arlington.
The city issued a permit Sept. 27 for OliverSperry Renovation and Construction Inc. of Tallahassee to build-out more than 8,500 square feet of space for Sanitas at a cost of $3 million.
The site is in the previous Hobby Lobby at 9400 Atlantic Blvd., Unit 8. Gensler is the architect.  
Landlord Brixmor shows on a Regency Park Shopping Center site plan that Sanitas will lease 8,644 square feet. It is in the front corner of a former church space that occupied the vacated Hobby Lobby. It is near Crunch Fitness.
Plans show eight exam rooms, X-ray, ultrasound and other medical uses, along with space for a senior activity center.
Sanitas is affiliated with Florida Blue.
It accepts Florida Blue, original Medicare and self-paying patients.
The mysanitas.com site says its medical centers offer primary, advanced urgent and specialty care; telehealth and walk-in services, vaccinations, and more.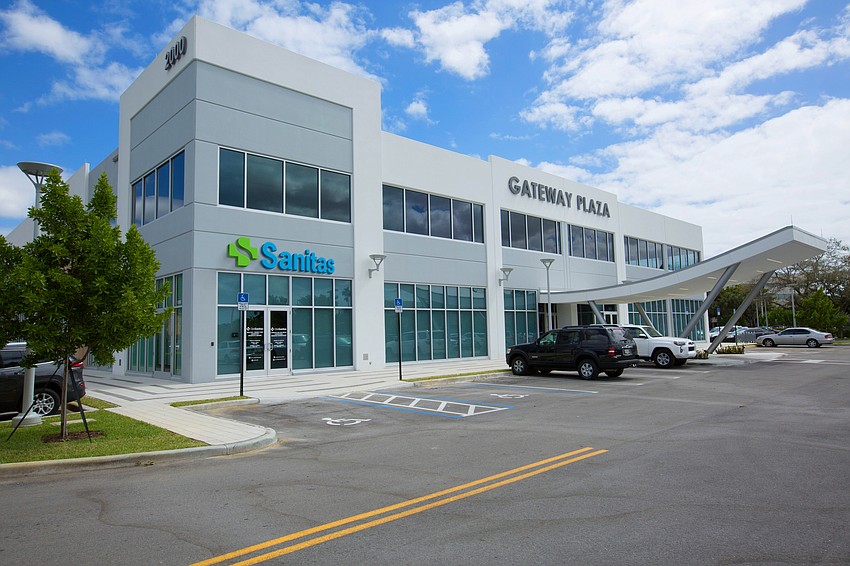 The site says that Florida Blue plan members "can rely on Sanitas as your in-network provider for primary, urgent and specialist care for the whole family. And as a Sanitas patient, you can depend on Florida Blue to provide comprehensive health insurance benefits designed for your needs."
Sanitas operates in Florida, New Jersey, Tennessee and Texas.
Its website shows it operates 45 offices in six Florida areas – Broward, Miami, Orlando, Palm Beach, Tallahassee and Tampa.
Florida Blue Senior Regional Communication Lead Aleizha Batson said previously that the Sanitas in Regency is the only one planned in Northeast Florida.
The Sanitas website says Colsanitas started in 1980 in Colombia as an insurance company and in the 1990s developed an infrastructure of hospitals, medical centers, lab, dental and vision centers.
It began expanding in 1994 that led to operations in Venezuela, Peru, Brazil and Mexico. It serves close to 3 million members and patients with operations in more than 800 cities. 
In 2014, it expanded into the U.S. through an alliance with GuideWell, which includes Florida Blue (Florida's Blue Cross and Blue Shield plan). 
In its first year, it opened three medical centers serving Miami-Dade County under the Sanitas brand to offer primary care, select specialty care, urgent care, laboratory and diagnostic services. 
By 2017, it grew to 11 locations, including nine in Florida in partnership with GuideWell.
"When you choose Sanitas and a qualifying Blue Cross Blue Shield plan, you can appreciate the benefits of our two companies working closely together," the site says.