Two attorneys were recognized Dec. 12 for their service to the community and to the federal court at the 13th annual Spirit of Giving Holiday Luncheon at The River Club.
The event is the annual December tradition for the Jacksonville Chapter of the Federal Bar Association.
U.S. District Judge Marcia Morales Howard introduced the 2019 recipients and presented the award plaques to attorney Michael Stanski and attorney Suzanne Judas, who became the federal court in Jacksonville's community outreach coordinator after she retired from the practice of law.
Howard said the recipients were selected for the award because "they exemplify the spirit of giving."
Michael Stanski
Stanski, founder of the Law Office of Michael Stanski, has been a member of the U.S. District Court Middle District of Florida for less than three years, but "this lawyer has already distinguished himself for his professionalism, his legal talent and his willingness to say 'yes' when called on by the court," Howard said.
She said Stanski has represented numerous clients on a pro bono basis in civil and criminal actions before the federal court.
Stanski is a U.S. Army veteran who was deployed to Afghanistan, Iraq and Kuwait and later served as a special agent in the U.S. Secret Service.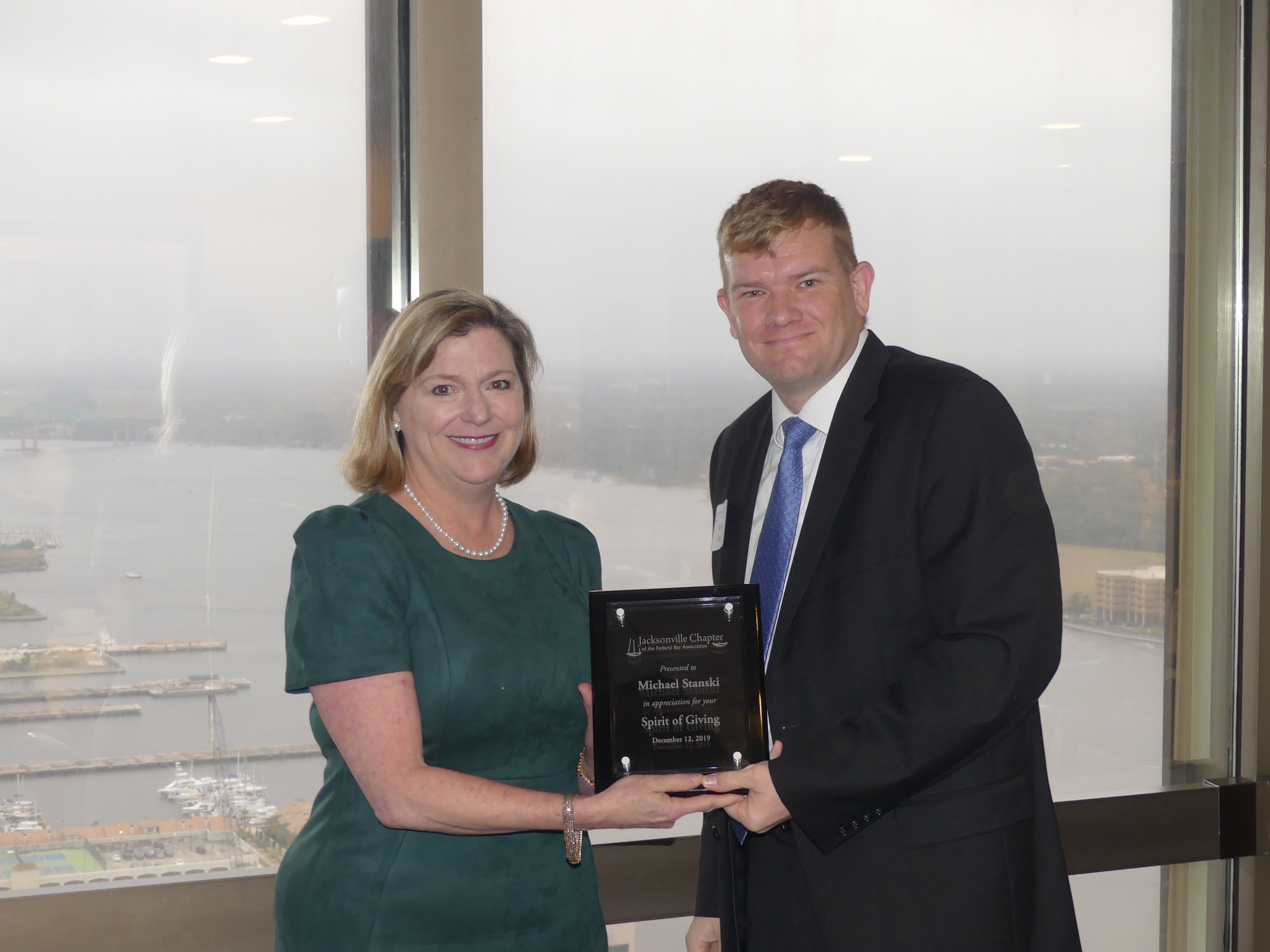 While helping grade entries in the federal court's 2018 High School Essay Contest, Stanski read an essay written by a student whose circumstances indicated he might need a mentor.
"Michael could have let it go, but instead he contacted the court, received permission from the student's parent, and now a year and a half later, he is still involved with this student, who is preparing for college and exploring careers in federal law enforcement with Michael's help and encouragement," Howard said.
Suzanne Judas
When Judas retired from the Holland & Knight law firm in September 2017, she could have chosen to "ride off into the sunset or relax at her vacation home in the mountains," Howard said.
Instead, Judas began helping educate the community about the justice system and its role in American government.
Howard cited civics education programs Judas has coordinated for the court, including a law camp for middle and high school students, a high school mock trial competition, the annual High School Essay Contest and taking naturalization ceremonies outside the courthouse to the Cummer Museum of Art and Gardens and during halftime at Jacksonville Jaguars games.
"We've been able to do things we never imagined we even would try to do," Howard said.
Gunster shareholder Mike Freed was the keynote speaker at the awards luncheon and explained how Freed to Run, his annual running of six daily marathons from Tallahassee to Jacksonville, has raised awareness of the justice gap.
"Six marathons in six days gets people's attention," Freed said. "But it's impactful only because others have joined the journey."
Now in its third year, sponsors contribute donations that benefit the North Florida Medical Legal Partnership at Jacksonville Area Legal Aid. Matched at 125% by Baptist Health, donations are building an endowment that provides civil legal services free of charge to pediatric patients and their families.
"Freed to Run gets the attention, but the great work JALA does every day is what's important," Freed said.
He is scheduled to cross the finish line on the lawn in front of the Duval County Courthouse at about 4 p.m. Dec. 20.