City Council member Lori Boyer says she's interested in leading the Downtown Investment Authority when her final term on the legislative body concludes in July.  
"I think it is known that I have an interest," she said Monday. "I am a believer in the opportunity in Downtown Jacksonville right now."
Boyer represents District 5, which comprises the San Marco and Downtown Southbank areas. She is term-limited from running again. 
Boyer said she quietly has been seeking input from DIA board members and other city officials about leading the agency. 
The DIA acts as the master developer for Downtown, LaVilla, Brooklyn and the Southbank.
The agency, created in 2012 by former Mayor Alvin Brown, has been without a full-time CEO since Oct. 1 when Aundra Wallace stepped down to lead the JAXUSA Partnership at JAX Chamber. 
In November, the DIA contracted with executive search firm Jorgenson Consulting Inc. to help identify the next CEO. 
Brian Hughes is interim CEO. He also is Mayor Lenny Curry's chief of staff and has said he isn't interested in the permanent DIA role. 
Boyer is one of a few council members who regularly engages with the DIA and the Downtown Development Review Board, which oversees design standards and construction within the DIA boundaries. 
Council President Aaron Bowman appointed Boyer as council liaison to the DIA, meaning she's been closely involved in conversations about Downtown development. 
"They haven't contacted me," Boyer said about Jorgenson. She said that's not surprising since the firm is just beginning the search. 
Boyer also said she's not going to get in the way of another qualified candidate. 
"If they find some great person from outside that brings some skills to the table or some information or contacts that don't exist in Jacksonville and they think that's a better leader for the DIA, so be it," she said. 
Boyer was elected to council in 2011 and 2015. She served as council president in 2016-17 and chaired prominent standing committees, including two years leading the Land Use and Zoning Committee. 
During much of her legal career outside of city government, Boyer has focused on land use, environmental issues, real estate and property management, construction law and contracts, and issues facing Downtown. 
She is spearheading a revamp of Downtown zoning and design standards and has advocated for, and is currently developing, changes to the Northbank and Southbank Riverwalk trails along the St. Johns River. 
Boyer is one of eight council members who will not return to office this summer because of term limits. 
"I'll still be here, you know, to help in one form or another," Boyer said. "I'm not going anywhere."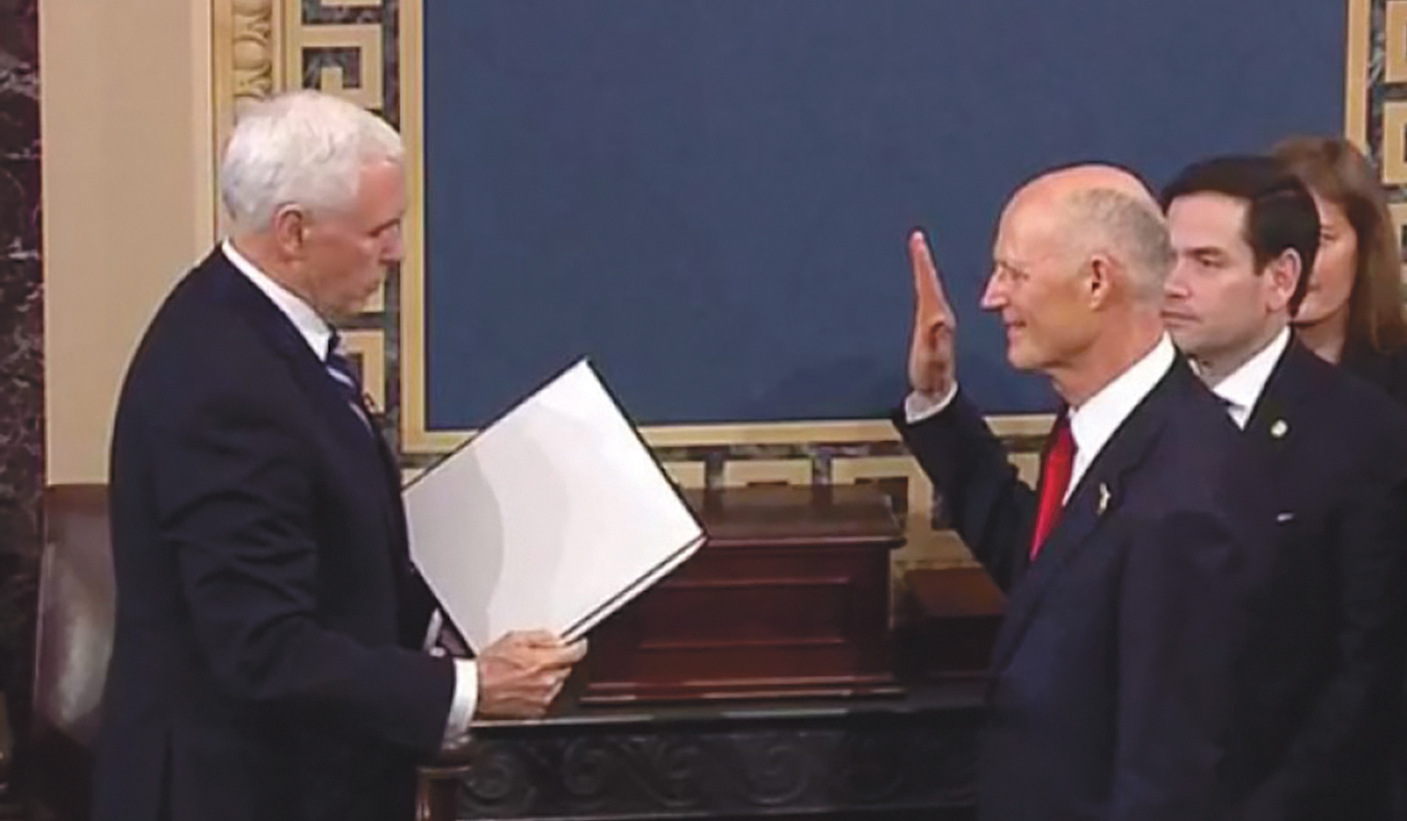 Gov. Ron DeSantis, Sen. Rick Scott sworn in 
At 66 years old, Rick Scott is the most junior member of the U.S. Senate. 
He was sworn in by Vice President Mike Pence during a ceremony Tuesday in Washington, D.C.
Senate Majority Leader Mitch McConnell allowed Scott to take his oath of office days after most of his new colleagues because he did not want to step down from his role before his term ended Monday as Florida's governor.
The Naples Republican narrowly defeated Democrat Bill Nelson in the Nov. 6 election. Nelson held the seat since 2000. 
Scott's election is historic. For the first time since Florida voters began electing U.S. senators in 1913, Republicans hold both seats. 
Scott probably is best known for operating the governor's office like a CEO, focusing on job creation, economic development and tourism. He was a strong proponent of incentives for corporations seeking to expand or establish a presence in Florida. 
During his first Senate term, Scott will serve on the Committee on Commerce, Science and Transportation; the Armed Services Committee; the Committee on the Budget; the Committee on Homeland Security and Government Affairs; as well as the Special Committee on Aging.
In the last few days of his governorship, Scott nominated 80 Floridians to serve on boards and commissions, a noteworthy move considering his successor also is a Republican. 
Ron DeSantis, 40, became Florida's 46th governor after defeating Democrat and Tallahassee mayor Andrew Gillum in November. 
DeSantis comes to Tallahassee after serving in Congress, representing an area just south of Jacksonville. He is a former Navy lawyer. 
Early on, DeSantis tethered his primary and general election campaigns to an endorsement by President Donald Trump. DeSantis secured the Republican nomination over former Florida Agriculture Commissioner Adam Putnam. 
His inaugural address included themes from his campaign – stopping "judicial activism" on the Florida Supreme Court, addressing Florida's environmental issues and improving security in public schools.