The Department of Homeland Security began assisting the Jacksonville Sheriff's Office and the Jacksonville Fire and Rescue Department on Monday to close Jacksonville's internet cafes. 
City documents show inspectors visited 86 of the 173 previously known Jacksonville cafes — commonly called adult arcades — and issued 48 cease-and-desist letters by Tuesday afternoon. Some of the sites visited had closed while others now have a different use.
According to city Deputy Chief Administrative Officer Stephanie Burch, all notices and initial stops at the arcades will be complete by Monday.
The city has deemed simulated gambling devices used in the arcades to be a public nuisance. The cease-and-desist order gives the business five days from the date on the letter to stop using the machines or face a fine of up to $250 for each simulated gambling device in operation.
The letter also states that the arcade properties "may be condemned or otherwise terminated as a public nuisance" should the business owners continue to use simulated gambling devices.
In a 10-9 vote, City Council approved a bill Oct. 8 that calls for an immediate end to the use of simulated gambling devices by commercial businesses. Mayor Lenny Curry signed the bill into law Friday.
It amends Ordinance 2019-209-E approved in May that gave adult arcades until Feb. 1 to come into compliance.
Neither bill orders the arcades to close, but opponents argue the city's action will remove their primary source of revenue.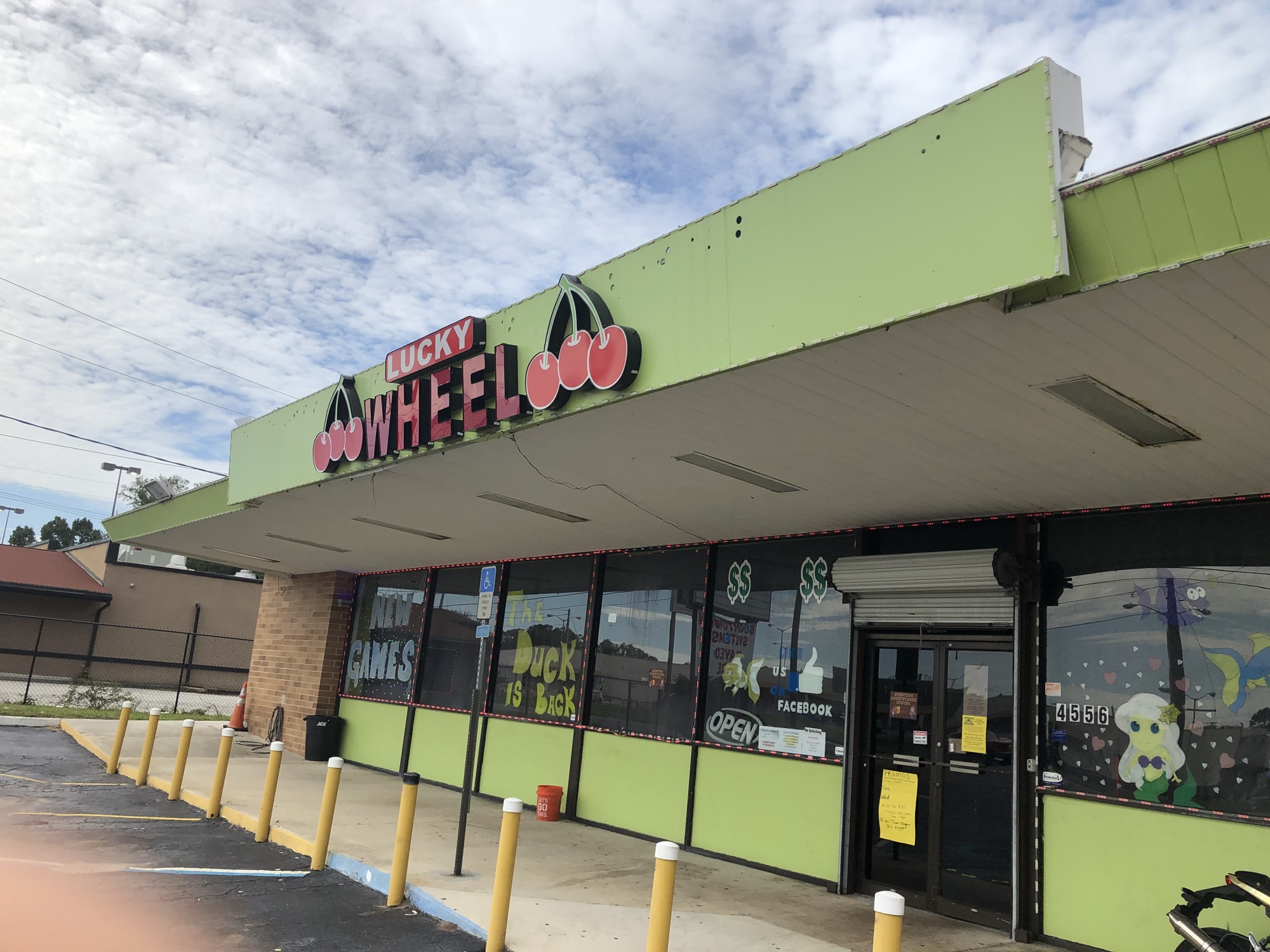 An employee of the Lucky Wheel Arcade at 4556 Blanding Blvd. declined to comment Tuesday, but confirmed a cease-and-desist letter was taped to the building door when he opened at 11 a.m. Across the street, Wynn Zone Internet and Office Services was closed Tuesday, but JSO and city inspectors left a letter on the door.
Those arcades are in Council District 9, represented by Garrett Dennis. He supported the May 28 bill but voted against immediately ending simulated gambling. 
He argues the city's actions violate the arcade owners' due process and called the enforcement action heavy-handed. 
"To move that date up is little disingenuous, and it's wrong that all of those people are out of work. We will have a lot of vacant properties and, I think, more crime," he said.
Attorney Kelly Mathis filed a lawsuit Oct. 1 in the 4th Judicial Circuit Court on behalf of three Jacksonville cafe owners arguing that point. The suit has been moved to federal court at the request of the city's Office of General Counsel.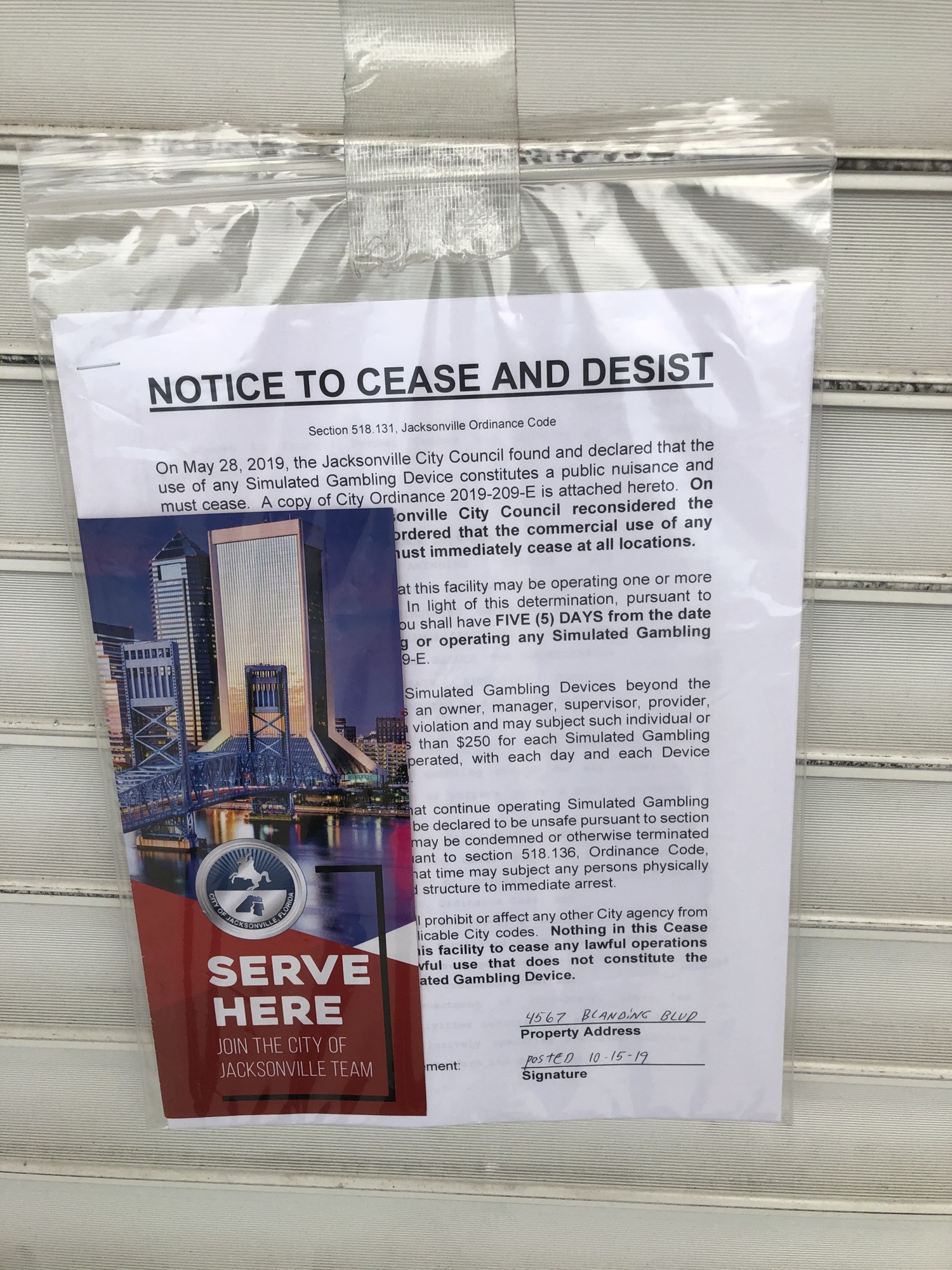 Council member LeAnna Cumber said before the Oct. 8 vote that closing the arcades is a public safety issue and the legislation is necessary because of continued criminal activity at the arcades since 2019-209-E was enacted, "including robberies, murders and deaths."
Council member Brenda Priestly Jackson said more than 2,700 workers will be affected.
Council members Aaron Bowman and Ju'Coby Pittman, who supported the immediate closures, announced a partnership with CareerSource Northeast Florida and Goodwill Industries to hold a job fair Oct. 24 for arcade employees who lost their jobs as a result of the Council's action.
The 9 a.m. to 2 p.m. fair at the Emmett Reed Community Center, 1093 W. Sixth St., will hire for warehouse, laundry, retail, e-commerce, janitorial, call center, security, hospitality, manufacturing and other jobs.
Bowman said they want to help arcade employees transition into "a viable career." 
Council members Joyce Morgan and  Priestly Jackson opposed the bill. Morgan calls for direct financial assistance from the city to arcade employees.