The Jacksonville Chapter of the Federal Bar Association met Dec. 11 for its holiday tradition, the Spirit of Giving luncheon. 
It was the 14th annual meeting; the first virtual.
"This year's event is a little different. There's no three-course meal at The River Club and we're not able to shake hands," said chapter President-elect Jeremy Ches.
"But we're not going to lose any of the meaning or purpose. It's about what each of you give to those in need."
Each year, the chapter recognizes one civil practitioner and one criminal practitioner for outstanding service to the community and legal profession.
Kodak, Talbot honored
Before she presented this year's civil practice recipient, U.S. District Judge Marcia Morales Howard recognized the attorneys who gave their time and expertise in 2020 to serve others.
"Particularly those who join the court's Pro Bono Panel and take cases," Howard said.
Howard introduced Corrine Hodak, a personal injury and medical malpractice litigator and founder of Corrine C. Hodak P.A.
Howard cited Hodak's help in coordinating the American Bar Association's 14th Amendment Law Day exhibit in Jacksonville. Because of COVID-19, the public display was postponed and then canceled. Hodak helped produce a videotaped exhibit tour and explanation that was distributed to schools in Northeast Florida.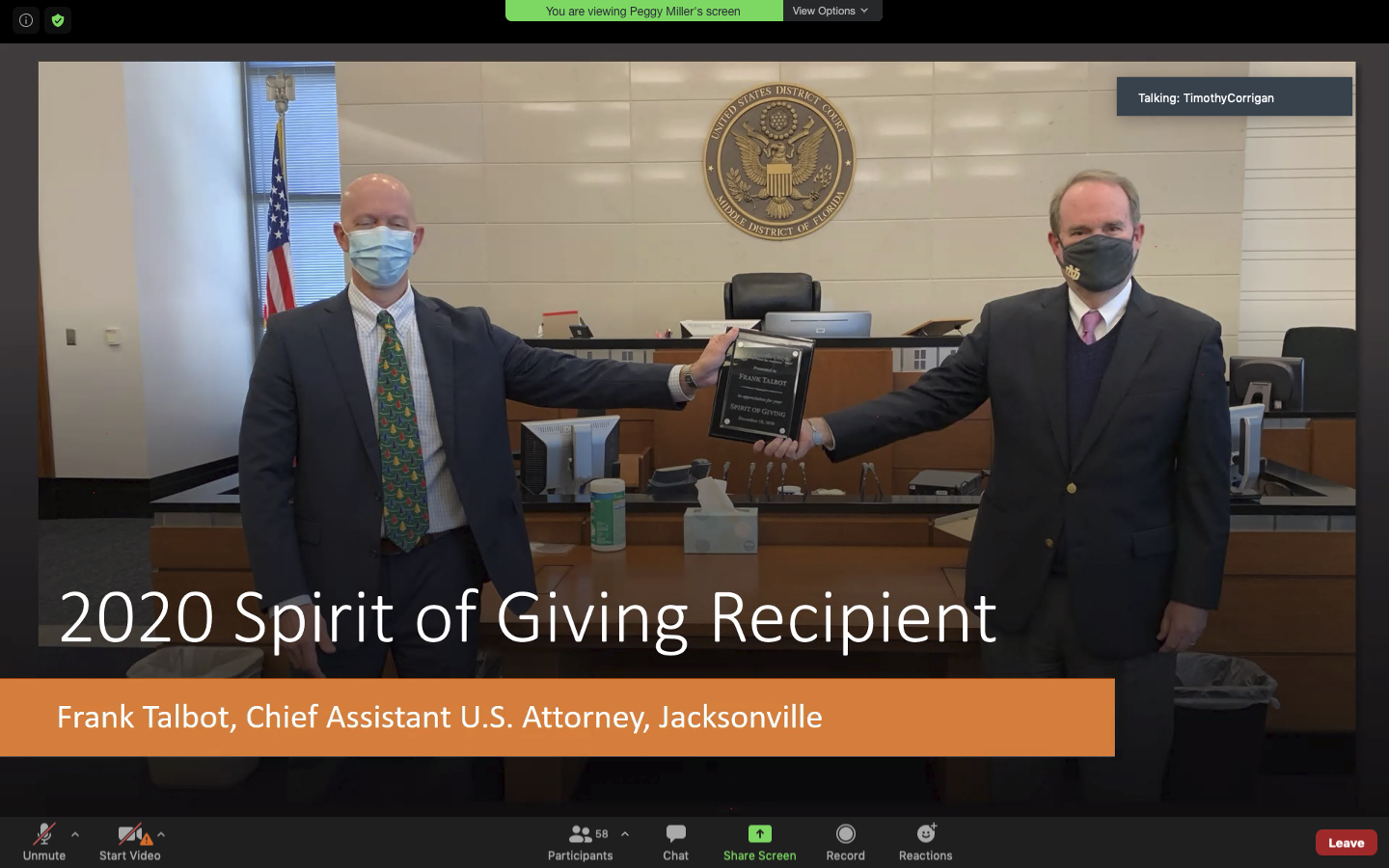 She also helped produce a virtual education program focused on the 7th Amendment during 2020 and served as president of the Jacksonville Chapter of the American Board of Trial Advocates.
Hodak also volunteered to be the special magistrate for the 4th Judicial Circuit's remote civil jury trial pilot program in August and September.
"I don't know when she sleeps," Howard said.
Chief U.S. District Judge Timothy Corrigan introduced this year's criminal law practitioner, Assistant U.S. Attorney Frank Talbot.
Talbot works with the U.S. Justice Department's Project Safe Neighborhoods violent crime prevention program and is a regular speaker at presentations for inmates in reentry programs.
"What makes Frank really stand out is his commitment to educating high school students in Northeast Florida," Corrigan said, citing Talbot's guided courthouse tours and law camp activities.
"He's empowering students to make a difference in their communities and in their careers," Corrigan said.
Keynote speaker
Federal Bar Association board member Laura Lambert introduced keynote speaker, Khalil Osiris. Lambert is director of the Juvenile Division in the State Attorney's Office for the 4th Judicial Circuit.
Osiris is founder of Reflecting Freedom Network, a nonprofit that provides educational opportunities for people affected by incarceration.
His presentation was about abundance, gratitude and kindness and how embracing those traits can change a person's life and the world around them.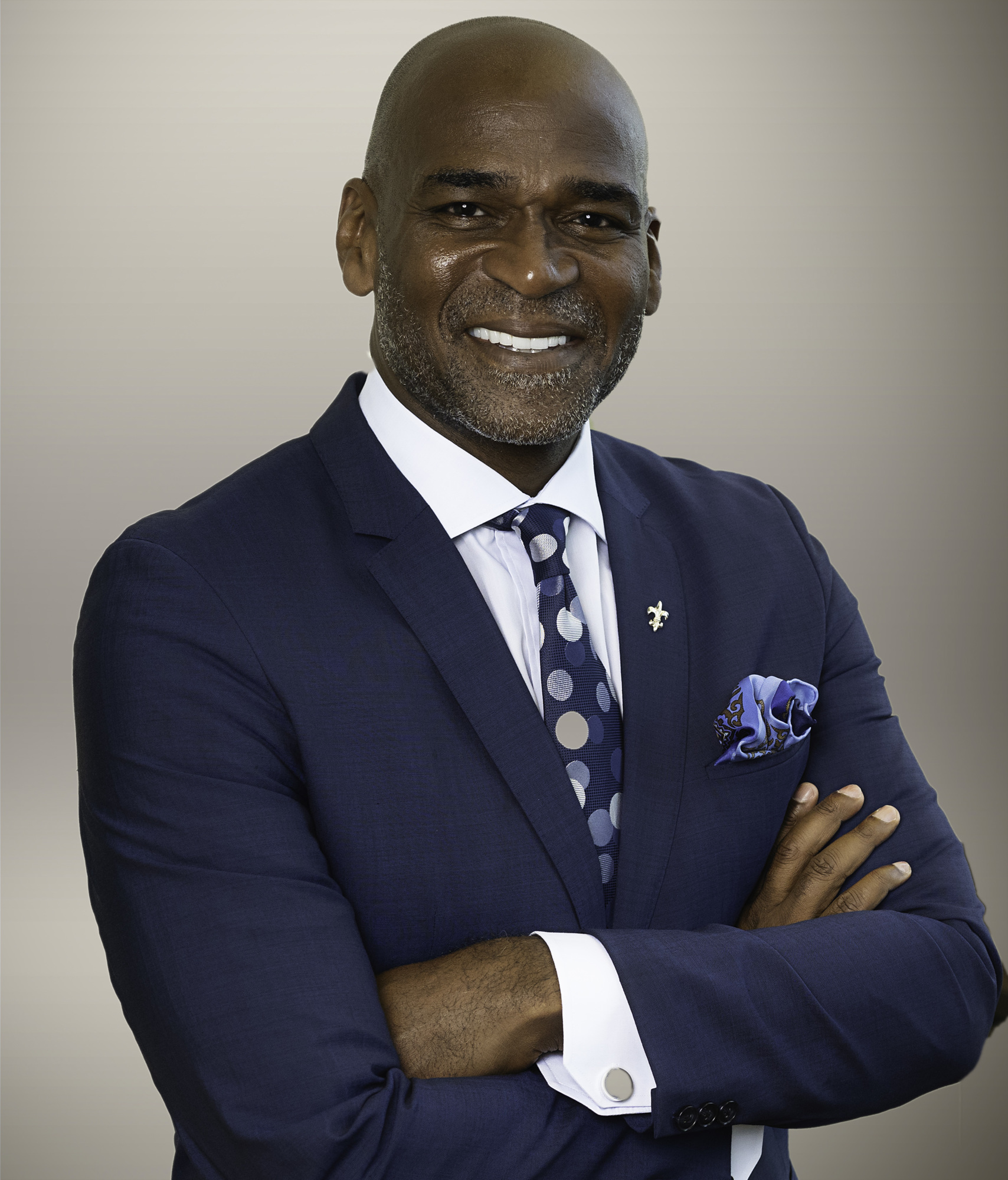 "Abundance is having more than you need. Every human being is born with abundance. Remember your abundance and operate from a state of gratitude," Osiris said.
Coming to that conclusion represents the full circle for Osiris.
He said he had amazing parents and a great education. He was a student-athlete who always thought he would succeed.
Then life took a different direction.
Growing up at the end of the civil rights movement, Osiris said he became interested in the Black Panther Party.
"I wasn't as socially active as others, but I felt it was the right thing to do," he said.
The more I learned about what was wrong in the world, the angrier I became."
Anger evolved into delinquency. At 17, Osiris robbed a drugstore. He was arrested, found guilty and sentenced to prison.
"I was an angry young man who had no remorse," he said.
In prison, he said he "met violent men in a violent environment. I began to think about how violent I would become in order to survive. I was horrified," Osiris said.
He was stabbed by a member of the Aryan Brotherhood, but told prison officials that he fell and landed on a sharp object to avoid implicating his hostile fellow inmates.
"To tell the truth would have been a death sentence. It was distorted thinking. That process changed me. I discovered I too could become a cannibal," Osiris said.
When he was released from the hospital, he was placed temporarily in solitary confinement. When he returned to maximum security, he stabbed a member of the Aryan Brotherhood.
After serving five years in prison, Osiris was paroled at age 22 and left with a new outlook on life.
"I was a premeditated criminalized person with no regard for rules or the law. None of that was relevant," he said.
Osiris took advantage of his freedom to return to breaking the law.
He went on a three-year crime spree. He eventually was arrested again and convicted, and this time, sentenced to 15-75 years in prison at age 25.
His turnaround began when he remembered what his grandmother always told him when he was a child: "She said I was bigger than my problems. She said hold yourself accountable for the best you are."
Osiris said he realized his second term in prison was "essentially a life sentence" and it was time for him to change.
"I decided I would take that sentence and use it as an opportunity. I realized I needed to correct some things about myself," he said.
He served 15 years of his second sentence. When he was released in 1999, he was 40 years old and had spent all of his adult life, except the three years after his first parole, in prison.
"I was told I had about a 10% chance to succeed," Osiris said.
He was determined to beat those odds. Osiris went to the public library and opened an email account. He made some business cards that said "education consultant" and decided he wanted to share his life story to help others avoid his mistakes.
Osiris walked into the Urban League office in Dayton, Ohio, and asked if he could work with people who had been incarcerated.
He had written "South Ohio Corrections Facility" on his application in the job experience space.
"They asked me if I was a guard or maybe an assistant warden. I said no – incarcerated."
As fate would have it, the interviewer had a son with a history of domestic violence who likely was on his way to arrest and prison. He asked Osiris if he would talk to the young man, which he did.
That was his first success story and it changed his life, Osiris said.
He began working with other former inmates and began the career path he's maintained for 20 years.
"Within two months, they created a full-time position for me. I was doing what I was passionate about."
In addition to establishing his nonprofit, Osiris is an author, a member of the Nelson Mandela Foundation board of directors and creator of a re-entry program used in 70 prisons and at Operation New Hope in Jacksonville.