The Jacksonville Planning Commission on Jan. 9 approved a zoning variance for the proposed Wawa convenience store at northeast University Boulevard and Arlington Road. 
The variance allows Wawa to build three driveways on the block with one each to University Boulevard and Marcheck and Commerce streets. The driveway on University Boulevard will be limited to vehicles entering the property.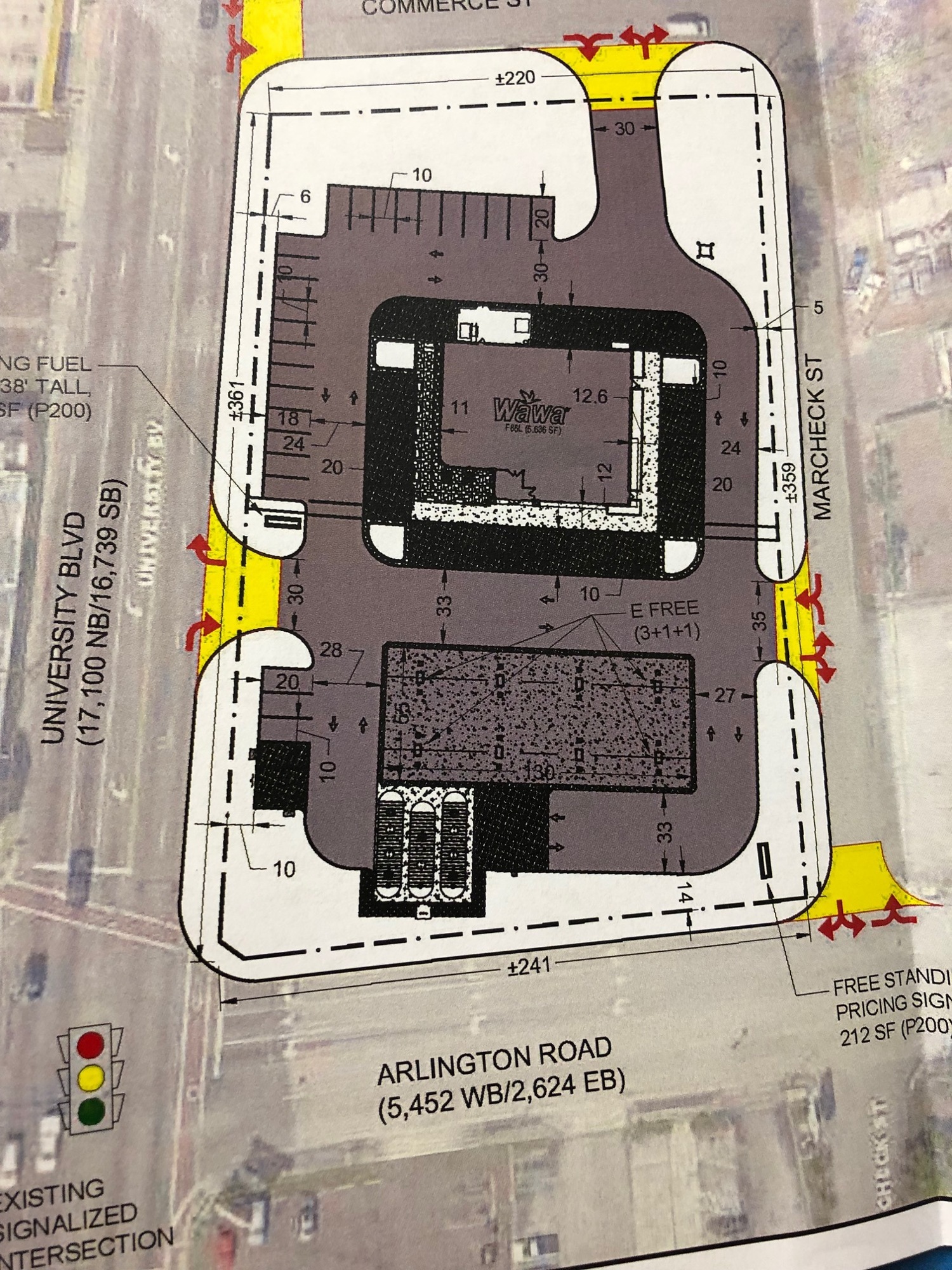 Wawa needed a variance because the Renew Arlington Community Redevelopment Area Zoning Overlay allows only one driveway per parcel.
The commission approved a companion administrative deviation to increase the required number of off-street parking spaces from 41 to 50 spaces. 
The Renew Arlington CRA Advisory Board recommended approval of both items in December. 
Zoning exception
The planning commission approved zoning exceptions for:
• Philadelphia-based goPuff, under the name GoBrands Inc., at 6639 Southpoint Parkway, Nos. 104-105, between Salisbury and Bowden roads, to sell beer and wine for off-premises consumption from an industrial business park zoning district. GoBrands is a on-demand digital delivery service of convenience and grocery goods.
Minor modification to a planned unit development
The planning commission approved a minor modification for:
• Parkwood LLC along the east side of Philips Highway, between Baycenter Road and Baymeadows Way West, to revise the approved 2007 planned unit development site plan and confirm the permitted use of a gymnasium with a cafeteria in a school.
Land use amendments and rezoning recommendations
The planning commission recommended approval of land use changes and rezonings for:
• Ordinance 2019-788, which seeks a large-scale land use amendment for 25.99 acres at 6156 Old Kings Road, north of Pickettville Road, from low density residential to recreation and open space and conservation to bring the existing Thompson Mill RV Park nonconforming use into compliance. Companion Ordinance 2019-789 would rezone 45.22 acres from residential rural-acre and residential low density-60 to planned unit development. The changes preserve about 9.5 acres of wetlands and allow 292 RV sites. The RV park has been operating since the 1930s, first as a motor court and then as an RV park.
• Ordinance 2019-838, which seeks a small-scale land use amendment for 1.86 acres at 11971 Pulaski Road, north of Miller Circle North, from low density residential to community/general commercial to bring the plant nursery business into land use compliance. Companion Ordinance 2019-839 would change the zoning from residential low density-60 to commercial community/general-1 for the same reason.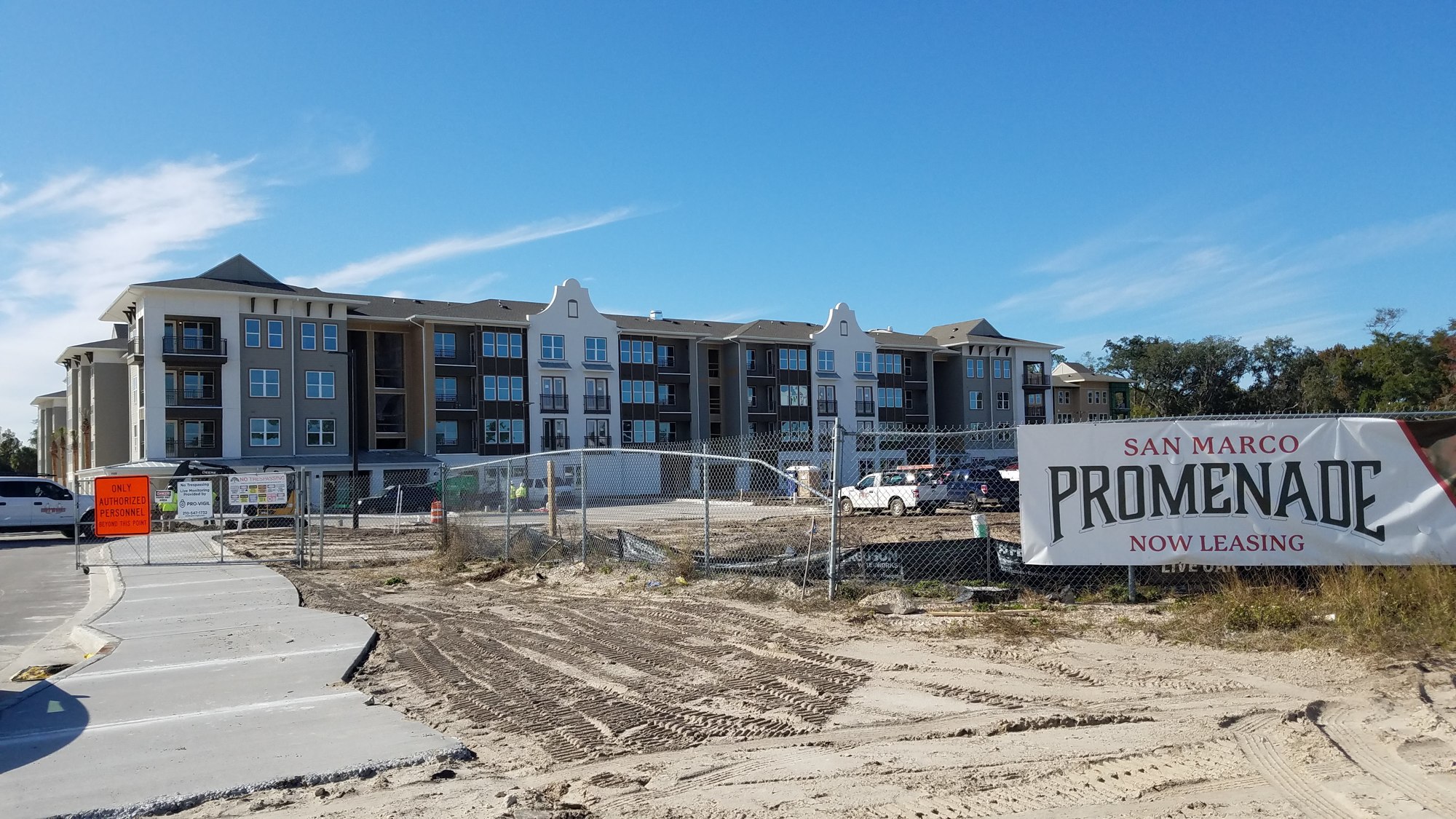 • Ordinance 2019-842, which seeks to rezone about 17.28 acres known as the San Marco Promenade mixed-use development at 2600 Philips Highway and 1905 Promenade Way from a planned unit development enacted in 2008 to PUD. The move revises the site plan and deletes the development schedule for Phase 2 to allow the remaining residential units to be built before the commercial portion of the development. Under the current PUD, developer Chance Partners would be required to build 10,000 square feet of commercial use along Philips Highway prior to constructing 224 additional apartment units in the second phase. The developer said it has been unable to secure interest from potential tenants and requests to proceed with the second phase of the apartments.
Land use amendments and rezonings require approval by the City Council Land Use and Zoning Committee and then the full council.