Businesses and organizations that traditionally depended on face-to-face contact with clients and members have had to adjust to the social distancing required with the COVID-19 pandemic.
For the Jacksonville Bar Association, the transition to virtual communication led to becoming part of a statewide network of voluntary Bar associations.
The JBA is working with 10 similar attorney organizations in Central and South Florida and in Tallahassee.
They are sharing their virtual CLE programs to make more content available to lawyers in their service areas.
"We're not competing with each other for members. We look at each other as partners," said Craig Shoup, JBA executive director.
By making the JBA's content available statewide, it makes its members and seminar presenters more visible to lawyers in the other cities. 
By having the other associations' content available to JBA members, it provides more choices for CLE hours.
The selection of programs may be viewed in the Online Store at jaxbar.org.
The virtual platforms the JBA uses can allow as many as 250 people to participate in a virtual event. More capacity can be added for an event if needed, Shoup said.
In addition to general membership meetings, CLE programs and seminars, the association provides more than 20 virtual standing committee, board of governors and Young Lawyers Section meetings each month.
"We're about providing the most value to our members. It's working," Shoup said.
JBA virtual meeting and seminar July 29
The Jacksonville Bar Association's next virtual meeting begins at noon July 29.
Attorney David Sacks will discuss "mindfulness" and suggest ways to reduce the stress associated with practicing law.
The 2020-21 board of governors will be sworn into office.
The meeting is approved by The Florida Bar for 0.5 CLE hours.
Immediately after the meeting, the JBA will feature the 18th annual – and first virtual – Ehrlich Trial Advocacy Seminar presented by Prevail Case Management Software.
Topics include jury selection, the attorney as teacher, cross-examination, closing argument and post-verdict issues.
The Florida Bar has approved 4.0 CLE credits and 4.0 certification credits in appellate practice, civil trial, criminal appellate law and criminal trial law.
Visit jaxbar.org by July 27 to register for the events.
Jury trials on hold indefinitely
The Florida Bar reports that it is unlikely the courts will soon return to normal operation when it comes to jury trials.
During a July 17 meeting of the board of governors, state Supreme Court Chief Justice Charles Canady said plans for a phased reopening based on local conditions have been dealt a setback by the resurgence of COVID-19 in Florida.
"The idea of getting back to jury trials any time in the foreseeable future, in a way that is going to be at all like we had before this hit us, is probably unrealistic," Canady said.
Canady repeated his pledge to avoid unnecessary risk when it comes to lifting his March order suspending jury trials.
"Some places are in much worse shape than others, but this has not been a really rosy picture anywhere," he said.
"It's not like we can say that there is a circuit in the state where the virus, to at least a certain extent, has not been on the march."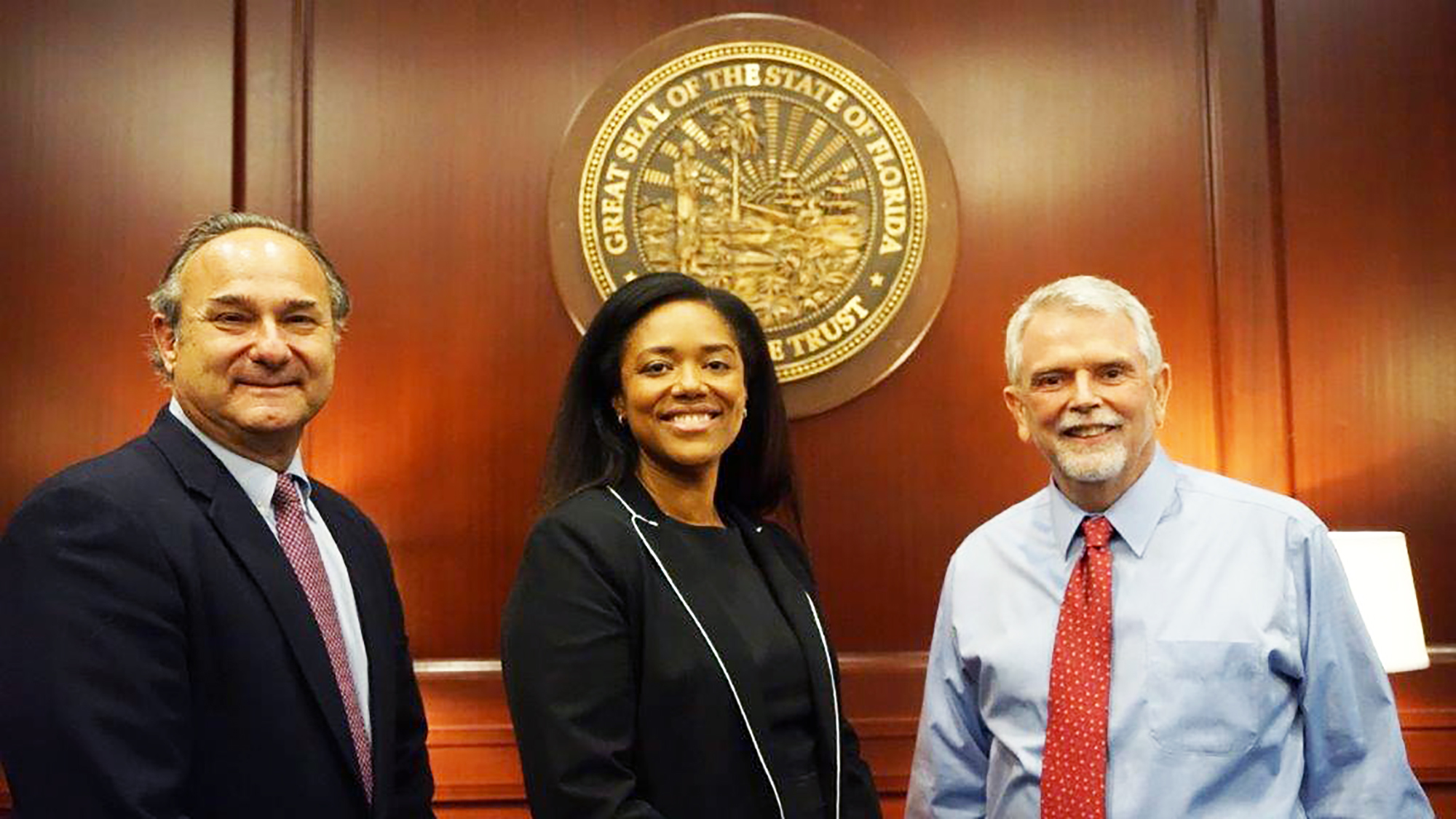 Kite sworn in
From left, Duval County Judge Gary Flower, Duval County Judge London Kite and 4th Circuit Chief Judge Mark Mahon. Mahon swore in Kite to the bench July 16 to succeed Duval County Judge Anthony Salem, who was appointed to the Circuit Court after Judge Linda McCallum retired.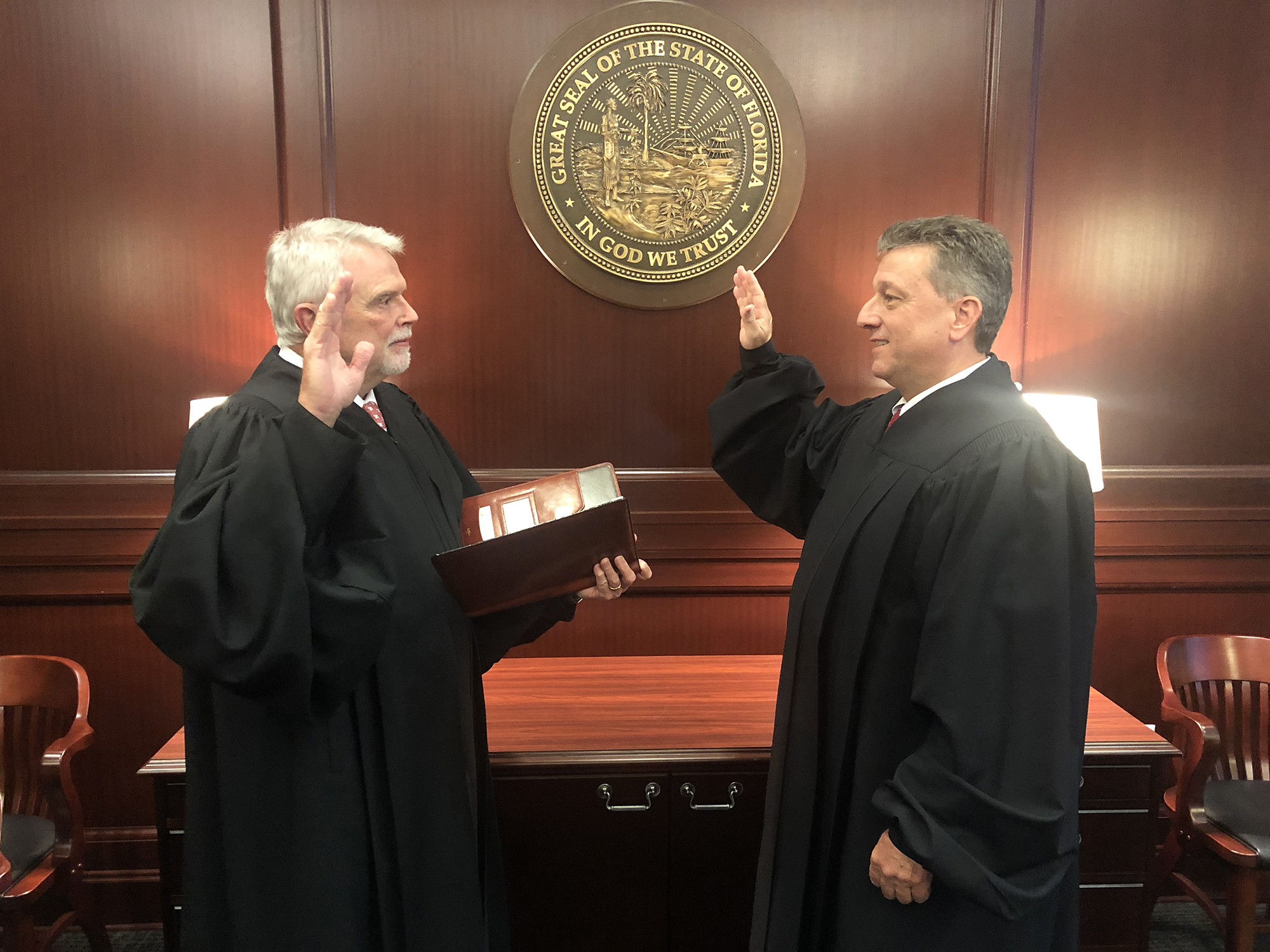 Barket takes the oath
Fourth Circuit Chief Judge Mark Mahon, left, administered the oath of office July 15 to General Magistrate Garrett Barket. He succeeded Magistrate Robin Lanigan, who was appointed to the Duval County Court after the retirement of Duval County Judge Pauline Drake.