Mayor Lenny Curry ordered all social gathering places in Duval County to limit admittance to 50 people as city officials try to limit the spread of COVID-19.
The order applies to bars, restaurants, churches, movie theaters and gathering places that have a city-issued certificate of occupancy beyond 50 people.
City Director of Public Affairs Nikki Kimbleton said in a follow-up phone interview that the rule is enforced for all "nonessential retail" outlets.
The mayor announced the executive order March 16 during a special City Council meeting at City Hall.
"I was extremely disturbed and disappointed to see private businesses and patrons facilitating events and gathering with massive amounts of people," Curry said. "Bars and restaurants filled to capacity or beyond may be good for the bottom line in the short run, but they are sending the wrong message about this crisis.
"To continue adding to the threat of rapid transmission by allowing people to cram into bars, restaurants, churches and other places of gathering is irresponsible. It must be curtailed," Curry said.  
For Duval County shopping malls, Kimbleton said the rule does not extend to the mall as a whole. Individual businesses that lease space must comply.
Fitness facilities and gyms also are asked to limit their capacity to 50 people. 
City officials said capacity limits include staff and employees. The limits exclude grocery stores and "anything that does not involve our food supply," Curry said.
Office buildings, manufacturing facilities, warehouses and other businesses not relying on social event gatherings are exempt from the restrictions, but Curry advises businesses to have employees perform duties from home or "a more isolated place if possible."
The order is effective at 5 p.m. March 16 and does not have an expiration date.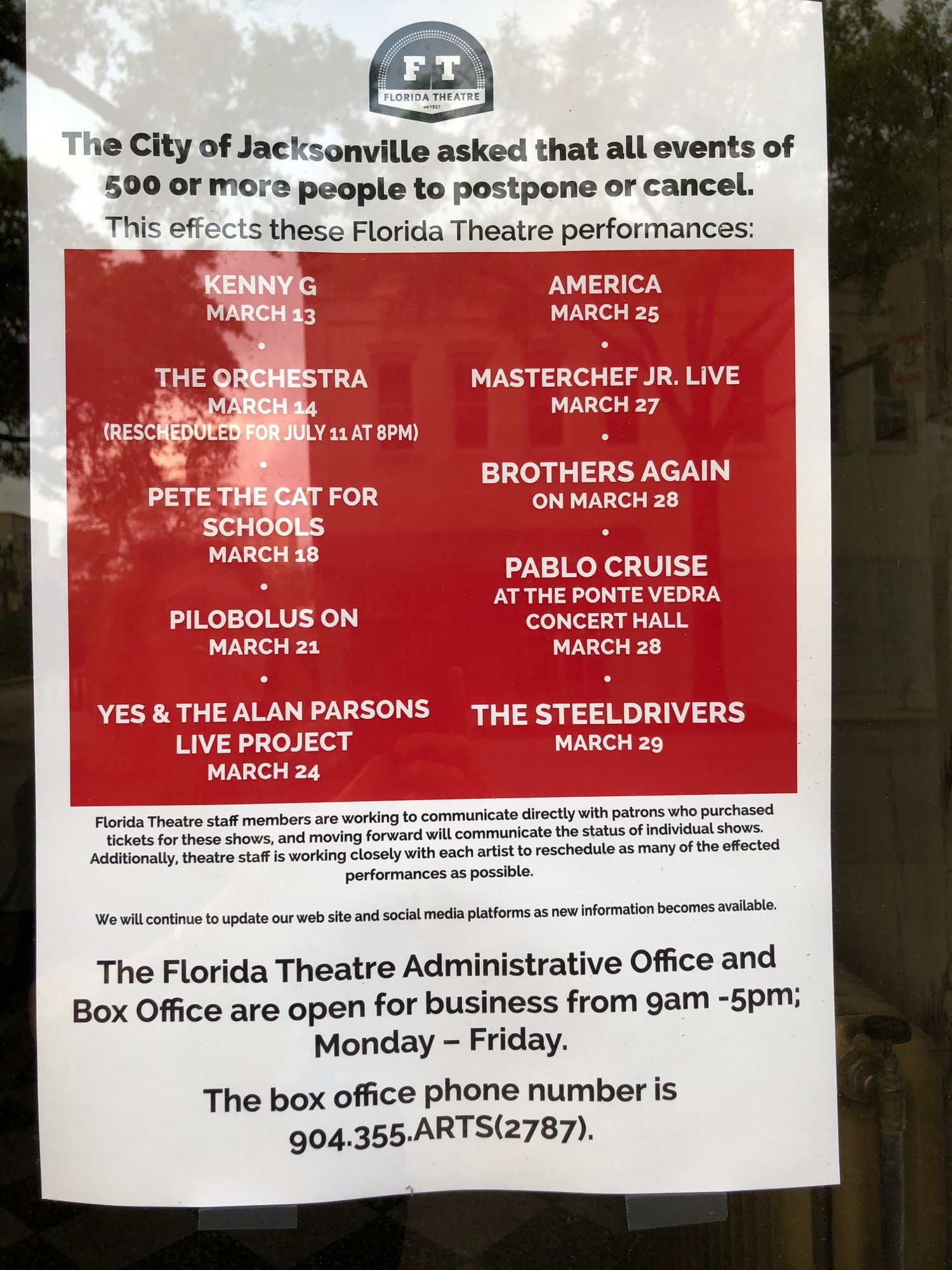 Curry's directive adds to city event venue closures announced March 13. The mayor ordered The Times-Union Center for Performing Arts, VyStar Veterans Memorial Arena, TIAA Bank Field, 121 Financial Ballpark and the Prime Osborn Convention Center close. Curry said that closures extended to city parks and libraries and the Jacksonville Zoo.
Curry said his order is in line with guidance released March 15 by the Centers for Disease Control and Prevention in Atlanta, which recommends that events and mass gatherings of more than 50 people be canceled for eight weeks throughout the United States.
Restaurant reaction
Area businesses were quick to react to the new limits.
Prati Italia near St. Johns Town Center intends to follow the city's 50-person occupancy guidelines.
"Our plan at this time is to remain open and continue to serve guests in whatever capacity we are able to and monitor the situation as it unfolds and further guidelines are provided by the CDC and government agencies," said Prati Italia's owners, Chef Tom Gray and Sarah Marie Johnston, in a statement. 
Wicked Barley Brewing company announced on Facebook it will keep normal operating hours, but limit its occupancy to 50 customers. It will do so with "limited, regulated seating." The beer garden and patio will be closed until further notice.
Wicked Barley is open for to-go orders, but will offer only curbside pickup.
Enforcement
In a news release after the news conference, Jacksonville officials said businesses that don't follow the regulations could be shut down by the city, but they were not immediately clear about which department would do that.
Curry said the restrictions could go further if the local spread of COVID-19 worsens. He declined to detail what those additional actions could be.
"We'll cross that bridge when we get to it — if we get there," he said. "Hopefully we don't get there."
Direct aid for businesses
Direct aid could be made available to businesses that experience revenue loss if the closures take a long time. Curry said he's working with federal officials with funding. He said local officials are considering adding city money to the effort.
What the program would look like is undetermined, Curry said.
"We are exploring the possibility of city dollars to be helpful as well, but we have not reached specific decisions," Curry said.
The Florida Department of Health announced there were four confirmed cases of COVID-19 in Duval County as of noon March 16. 
Jacksonville Fire and Rescue Department Chief Keith Powers said during the news conference that five first responders dispatched to a Town Center-area assisted living facility to treat an 83-year-old patient, later confirmed to have COVID-19, are not exhibiting symptoms. 
Powers said they will remain quarantined until the 14-day incubation period has expired.
JEA vote dropped
Less than an hour before the Council's March 16 meeting, Council President Scott Wilson amended the agenda to drop action on the confirmation of the next JEA board.
In the city's attempts to limit the public exposure to the new coronavirus, Council committee and full meetings were canceled until April 6, so Wilson wanted to vote on the confirmations.
Wilson said, although five JEA board members submitted their resignations to Curry on Jan. 28, four members are still serving at the mayor's request.
Wilson was planning to discharge the resolutions to confirm the seven JEA board appointees from the Council Rules Committee, which intended to vote on the candidates March 17. 
JEA has been without a permanent governing board since the members' Jan. 28 announcement. Of the six seated members, one's term was ending and the others resigned.
The utility also is without a permanent chief executive office because the board voted Dec. 17 to put former CEO Aaron Zahn on paid administrative leave. He was fired by the board for cause Jan. 28.
A failed attempt to privatize the utility shook public confidence in the board, which voted Dec. 24 to end its Invitation to Negotiate with nine private companies.
Curry announced seven new appointments Feb. 11.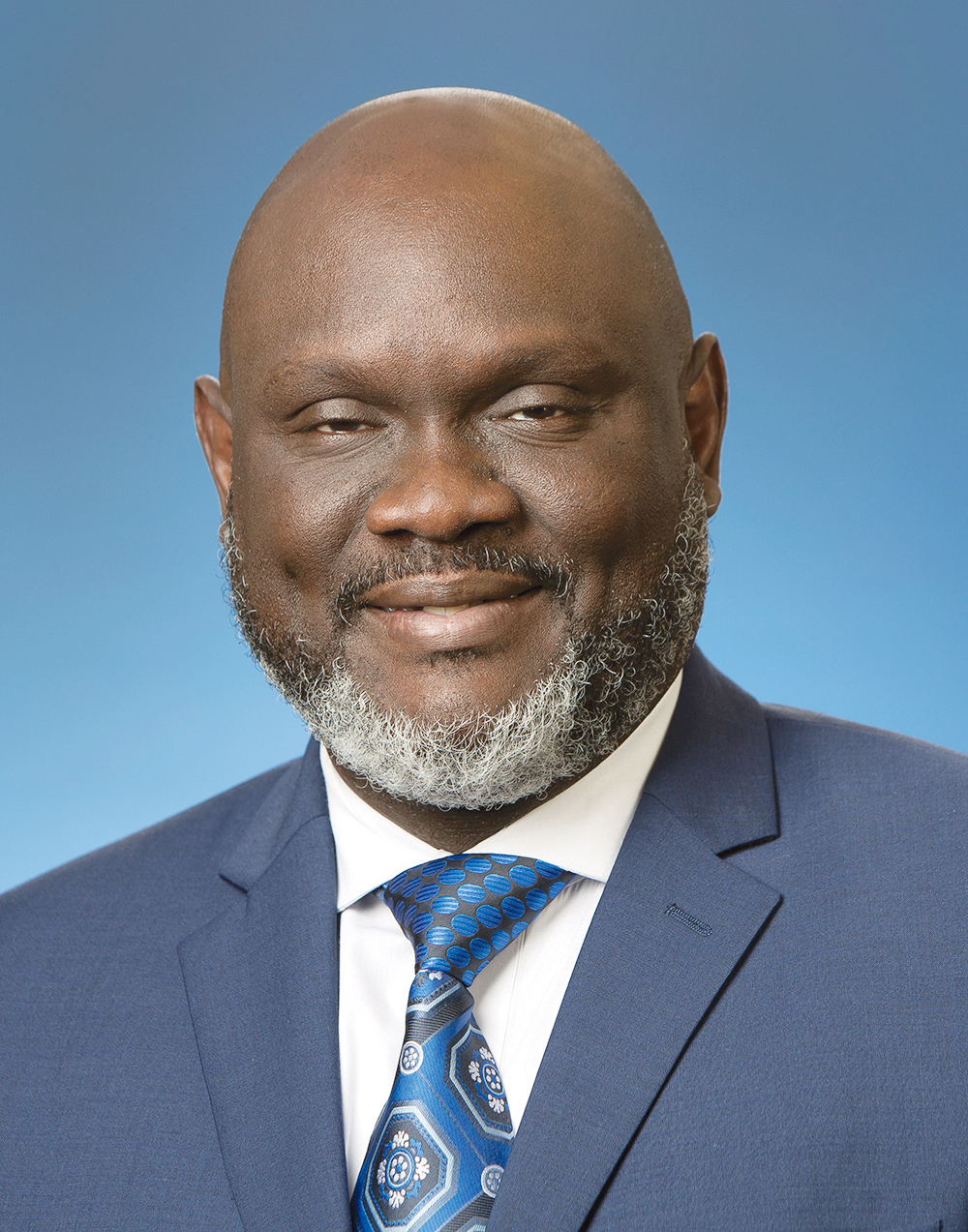 Council member tests positive
Absent from the March 16 meeting was At-Large Group 5 Council member Sam Newby, who the city announced March 15 is being treated at St. Vincent's Hospital after testing positive for COVID-19. Curry said via email that Newby's health is improving.
Council member Randy White visited Newby at the hospital March 13 and is now self-quarantining.
Only five Council members attended the March 16 meeting in person, with 13 joining via a conference phone line.