The deal between Shad Khan's Jacksonville Jaguars and Mayor Lenny Curry's administration for the $445 million mixed-use Lot J development calls for nearly half of the project to be paid for with taxpayer money. 
That will require City Council approval before one dollar is spent.
Eleven of Jacksonville's 19 Council members attended the joint city-Jaguars news conference Oct. 5 to announce the Lot J project. Council President Tommy Hazouri and member LeAnna Cumber sent statements of support, read by Curry during the event at Daily's Place Flex Field.
Several Council members confirmed Oct. 6 that Jaguars President Mark Lamping and attorney Paul Harden met with them individually about the proposed mixed-use residential, office, hotel and entertainment complex west of TIAA Bank Field.
Lamping and Khan have been the public face of Lot J since the concept was announced in 2018, but the Jaguars are equal development partners with Baltimore, Maryland-based The Cordish Companies. 
Council Finance Committee Chair Matt Carlucci, who did not attend the event, said Oct. 6 he suspects the $218 million to $233 million city incentives package will be approved.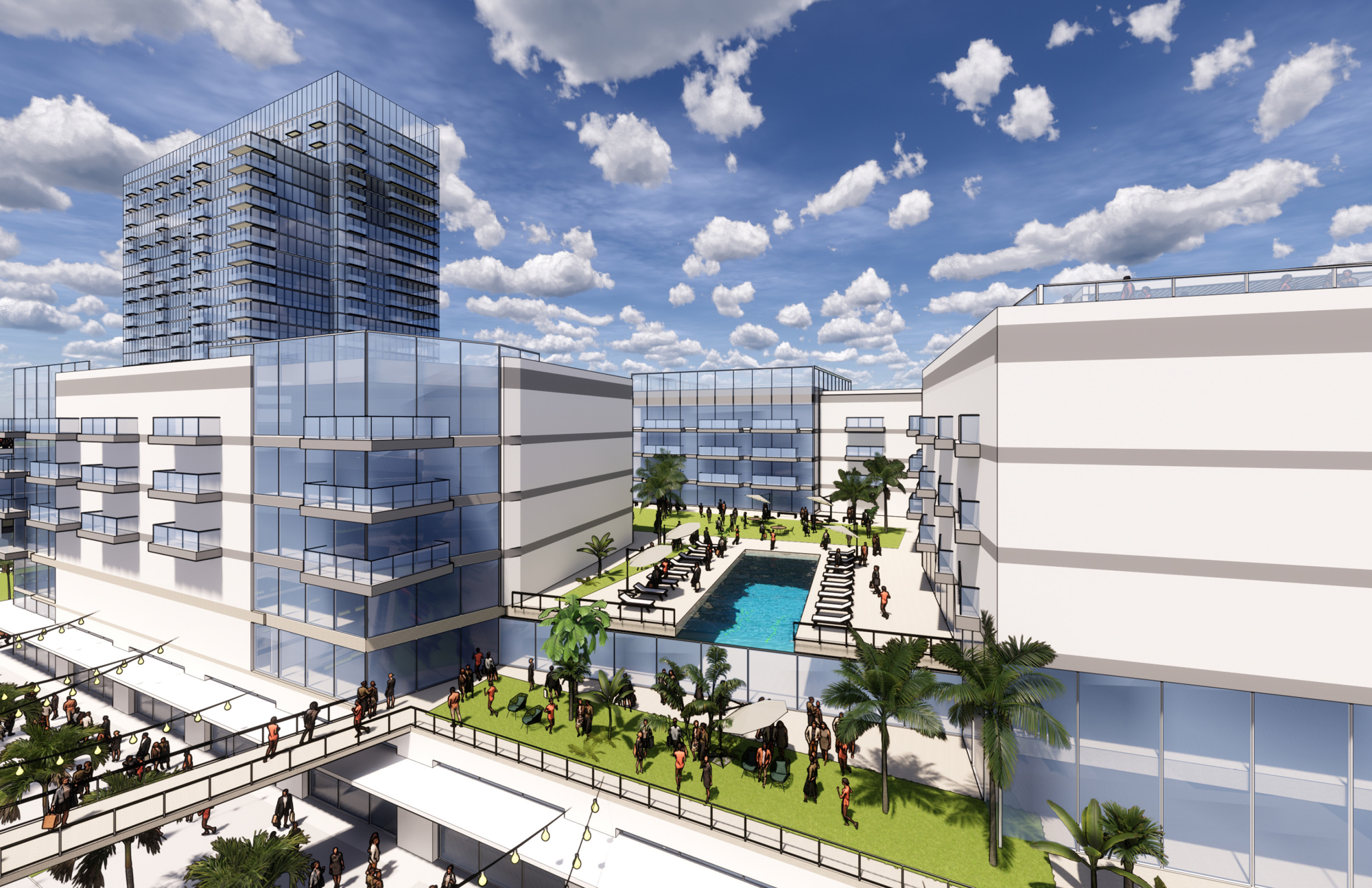 "My initial impression at first blush — I still have a lot more work to do on it — I thought it looked good. It's a lot of money. I want to know how we're going to come up with that money, period," Carlucci said.
The legislation was expected to be filed with Council as early as Oct. 7. The term sheet released after the event includes city borrowing and tax rebates to pay for $152.7 million in direct public contributions.
Carlucci said he doesn't want the Lot J debate to take the focus off infrastructure needs in Jacksonville neighborhoods. 
"I would like to see us use this opportunity and really see us drill down on priorities for the city of Jacksonville," Carlucci said. "The person living in a house with a failing septic tank and no curb and gutter is not going to be jumping all up and down about Lot J."
He wants to determine how best to address those issues.
"I think we need to work really hard to do both of these things in a comprehensive way and that takes money," he said.
During the Council's July budget debate, Carlucci proposed a ¼-mill property tax increase that would have generated an estimated $16.6 million. 
One of Carlucci's questions is how borrowing for Lot J will impact the city's bonding capacity for future projects. 
In any event, Carlucci considers the NFL franchise essential for Jacksonville's identity and economy.
"We must never lose the Jaguars in Jacksonville, and whether Lot J is one of those things that must happen to keep the Jaguars, I don't know," Carlucci said.
Return on investment
Council Finance Committee Vice Chair Randy DeFoor didn't attend the Lot J announcement. 
She is undecided on the proposed city incentives deal but wants it coupled with a commitment by Khan to keep the Jaguars in Jacksonville through the life of the deal. 
The term sheet does not clearly define an end date for the eventual development agreement. 
She said tax revenue from Lot J needs to provide a return to the city large enough to cover any revenue bond payments created by the incentives.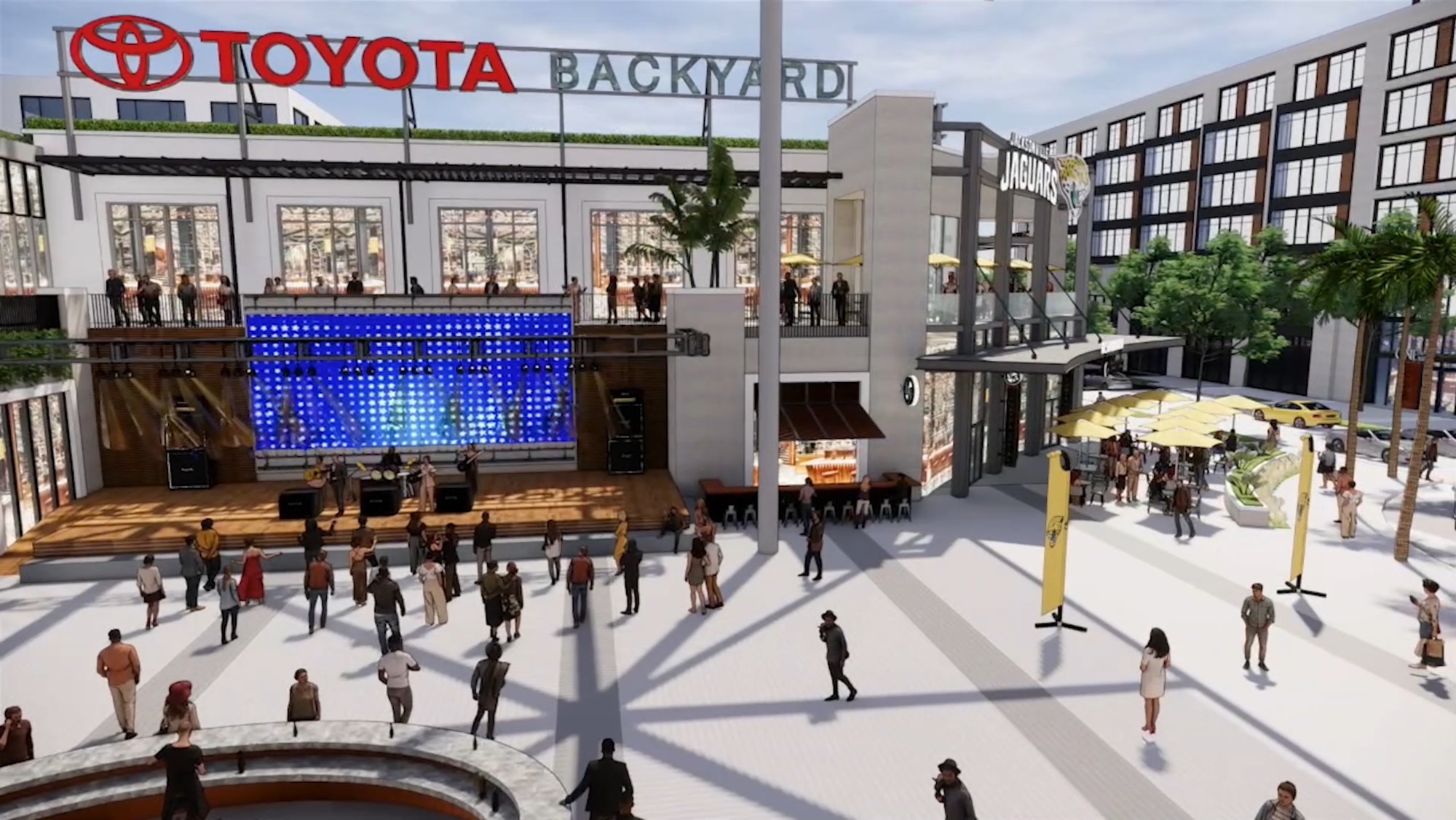 The Lot J public financing package commits the city to the maximum $152.7 million direct contribution, but that excludes a $65.5 million, no-interest loan and another $15.1 million for additional parking costs that could be decided later.
Curry said the city would borrow to pay for the $77.5 million in site infrastructure improvements and $50 million for construction of the Live! District entertainment center.
The mayor expects Lot J would provide $100 million in annual economic impact to the city. 
DeFoor likes the use of revenue bonds for infrastructure, but said she wants more information.
"I need an economic model showing what the city is going to receive," DeFoor said. 
The Curry administration proposed a 20-year, 75% property tax rebate as a Recapture Enhanced Value Grant and completion payments for the hotel and two mid-rise residential buildings at Lot J totaling no more than $25 million. 
"There's a REV grant for 75%, so what will we receive for 25%? I don't know," DeFoor said. "How much sales tax are they estimating? These are the kind of things I need."
The city will own the infrastructure and the parking at Lot J. The deal gives the city parking revenue from daily transient parkers and from special events including NFL games; the Florida-Georgia game; the Taxslayer Gator Bowl; Monster Jam; and other stadium events.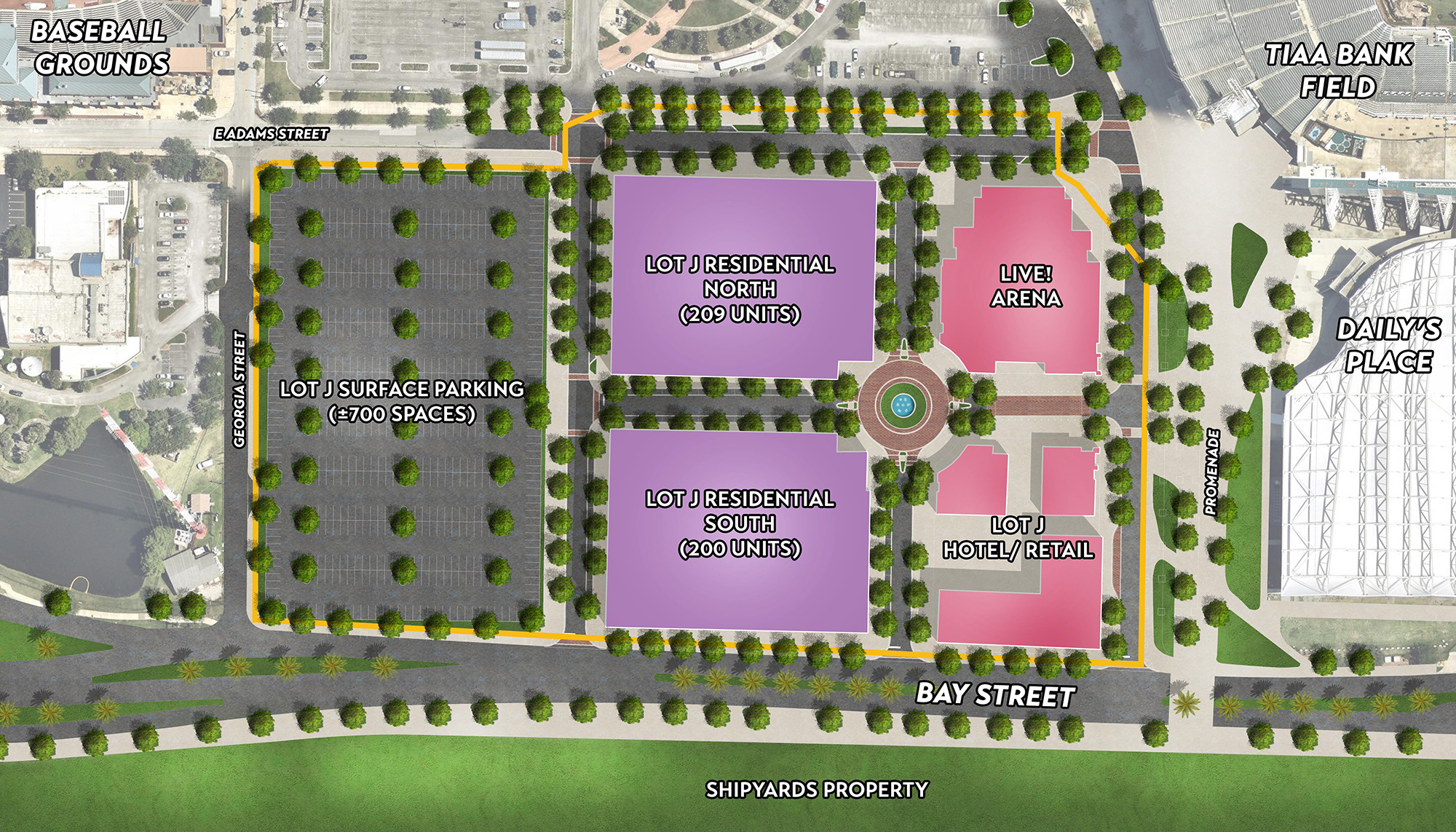 If the legislation passes, Lamping said in an Oct. 7 email he expects site work to begin in the first half of 2021 and the project to be completed within 36 months. The city could start collecting property taxes by 2024. 
The timeline could change. The term sheet states Lot J construction will finish within 48 months of vertical construction commencing. There are exceptions for "events and circumstances outside of the developer's control," including another pandemic, changing sea levels and climate change. 
The deal leaves room to delay building the hotel by up to 24 months if market conditions are not favorable. 
The U.S. hospitality industry took a hit to revenue and profits in 2020 because of the COVID-19 pandemic. 
Lamping said factors to delay the hotel would be mutually agreed upon by the city, Jaguars and Cordish with more details in a future development agreement.
The Jaguars president said the development team plans to release a resiliency study in the coming weeks that will address flooding, storm surge and sea-level rise impacts at Lot J.
DeFoor also questions the $65.5 million loan promised to the developer. 
City spokesperson Nikki Kimbleton said in an email Oct. 6 that the "breadbox loan" would be repaid through growth on a $13.1 million trust funded by the developer. The city cannot touch the trust earnings until the account reaches $65.5 million or after 50 years.
Local feedback
DeFoor said she shares the concerns of some Jacksonville residents who question whether the time is right to provide taxpayer incentives up to $233 million.
In addition to responding to the global pandemic, the city is working on neighborhood infrastructure.
Lamping said that a development project's long-term impact requires economic viability. He said a project of Lot J's scope "does not happen without a private-public partnership."
"The agreement is outstanding for Jacksonville, and the benefits to the community, both tangible and intangible, are many," Lamping said. "There will be construction jobs, temporary jobs and permanent jobs that will pay good wages and provide career opportunities that, if not for this project, would not exist."
Lamping said the project will create opportunities for small and emerging businesses.
"It will considerably strengthen our candidacy in attracting conventions and major national events that are difference-makers for Jacksonville. And, it will create a new element to downtown Jacksonville that residents will be proud to call theirs, whether they live, work or enjoy time downtown."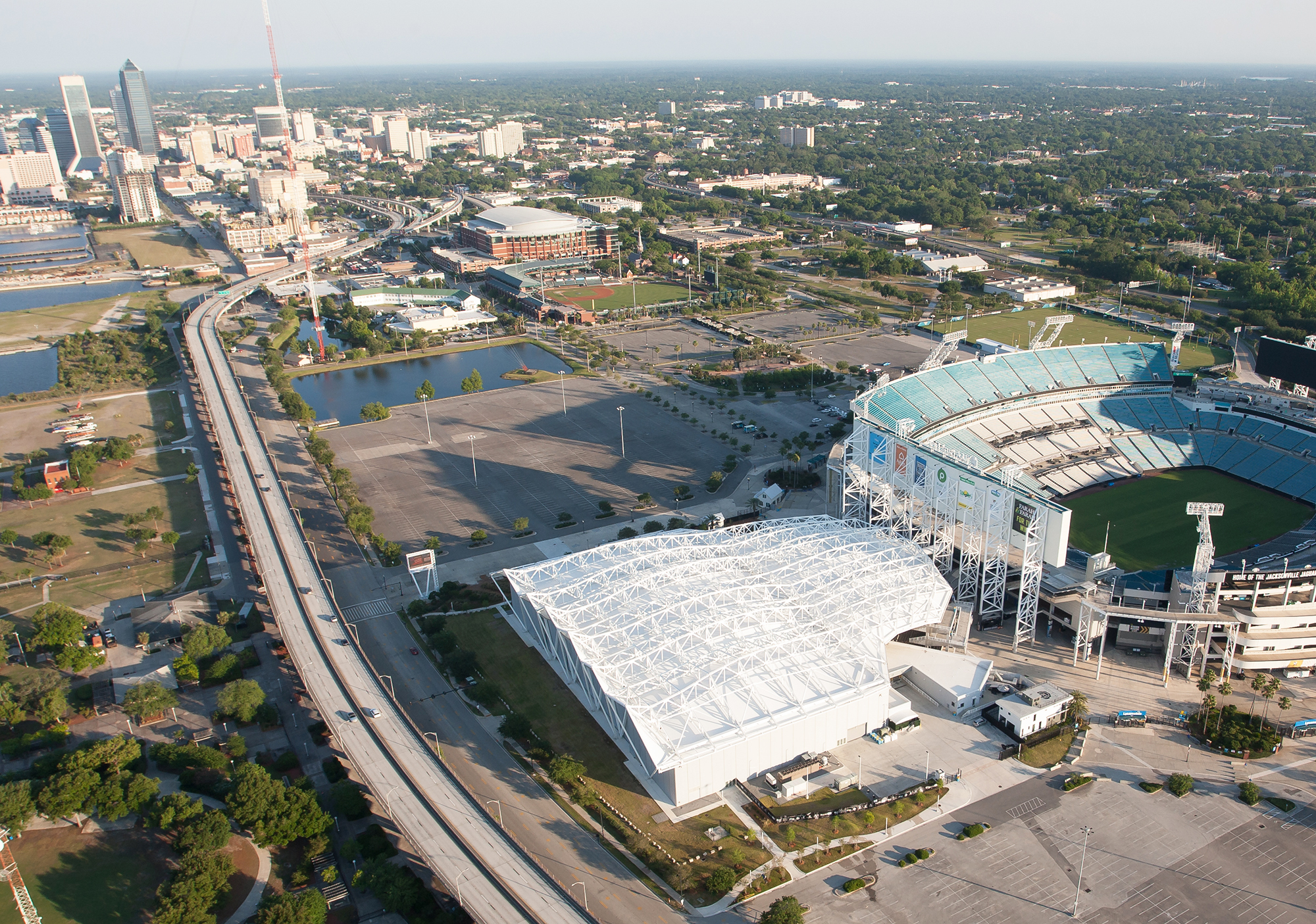 Community impact and jobs
Council member Brenda Priestly Jackson represents District 10, one of the most culturally diverse districts in Duval County.
She said after the Oct. 5 event that she was "hopeful and encouraged" by the presentation. 
Her "line in the sand" is an assurance from the Jaguars that current Duval County residents will be hired for the jobs, she said.
Curry and the Jaguars said Lot J would create 2,300 construction jobs and 1,000 permanent jobs.
"My focus is on residents. Everyday Jacksonville folks. So, are we going to give them above a living wage, jobs long-term here to support their families? That's what I want to see," Priestly Jackson said.
She wants a set percentage of people employed at Lot J to be residents of Duval County before construction.
The Jaguars committed in the Oct. 5 presentation to contract 25% or more with woman- and minority-owned businesses and small and emerging enterprises.
The developer intends to release a summary of the economic impact report commissioned by the Jaguars and Cordish in the coming weeks, according to Lamping. 
He said the report will contain an estimated range of wages for permanent jobs.