The Jacksonville City Council rejected an attempt Dec. 14 led by member LeAnna Cumber to repeal the 6-cent increase and extension of Duval County's Local Option Gas Tax that takes effect Jan. 1.
The Council voted 13-5 against Cumber's emergency Ordinance 2021-876 that would have canceled increasing the tax that will total 12 cents. It will fund nearly $1 billion in road, drainage and other infrastructure projects. 
Cumber's repeal bill was supported by the same Council members who voted against the gas tax increase when it was approved in May. 
The gas tax plan splits the additional 6 cents and the projects it funds between the city with the Jacksonville Transportation Authority. 
The tax proceeds include $132 million for the 30-mile Emerald Trail and $247 million for JTA's proposed plan to modernize and extend the Downtown Skyway with automated, nonrail vehicles.
Council members Rory Diamond, Danny Becton, Randy DeFoor and Al Ferraro joined Cumber in voting to repeal the tax.
The bill would have required a 12-vote supermajority of the Council to pass.
Mayor Lenny Curry, then-Council President Tommy Hazouri and JTA advocated for the tax increase earlier this year, branding it the Jobs for Jax Program that they said will create 7,640 construction jobs.
Cumber filed her bill days after Gov. Ron DeSantis announced his plan Nov. 22 to ask the Florida Legislature for $1 billion in statewide gas tax relief to help lower gas and fuel costs that he says are driven by U.S. inflationary pressures.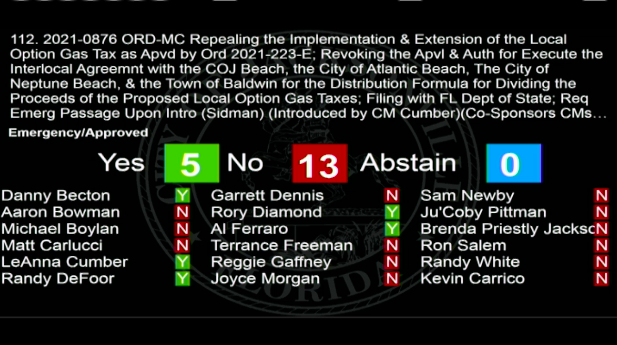 During a Nov. 24 interview, Cumber made a similar argument that the gas tax was regressive and adding to then-rising gas prices. She added that the city could fund the gas tax projects from $13 billion Florida expects to receive from a federal $1 trillion bipartisan infrastructure bill signed by President Biden on Nov. 15.  
According to a report Dec. 13 by AAA, U.S. gas prices have fallen slightly despite a slight rebound in crude oil prices. 
"Gas prices tend to fall a bit this time of year due to the shorter days and less robust demand," AAA spokesperson Andrew Gross said in the report. 
"And this trend was assisted by the recent steep drop in oil prices due to fears over the (COVID-19) omicron variant. But the variant's impact on pricing appears to be fading, so it remains to be seen if oil prices stabilize or move higher."
AAA reported Florida's average gas price Dec. 14 was $3.256 per gallon. That was below the national average of $3.323 per gallon. 
Hazouri and Curry campaigned for the gas tax bill that they said allowed the city to fund a companion bill to allocate $100 million to remove failing septic tanks in underserved Jacksonville neighborhoods. That legislation was approved 18-0.
Hazouri died Sept. 11 of complications related to his lung transplant surgery in July 2020.
In a tweet after the Dec. 14 vote, Curry thanked Council for retaining the new gas tax to fund the infrastructure improvements. 
"I believe in keeping promises," Curry wrote. 
"To ensure that happens, we have identified the revenue needed to make these investments. We were all are elected to make the tough choices, and that's what it takes to build a better Jacksonville."