Jacksonville-based Sweet Pete's says on its website that the "sweet dining experience" called "Fizzies & Fare" will open soon at the 400 N. Hogan St. building in Downtown Jacksonville where its candy shop is based.
"Enjoy light bites, cover-the-top milkshakes, champagne cocktails, & more in a bubbly and whimsical space," says sweetpetescandy.com.
The menu describes its offerings as shareables, salads, sammies n' such, dogs, sides 'n extras and a lil' fizzies menu.
Among the offerings are wings, fries, chicken salads, burgers, sandwiches, hot dogs and more, including a vegan burger, vegan bratwurst and dairy-free cheese.
Prices start at $5 for a wedge salad, $6, for a corndog, $8 for a BLT and go up to $13.50 for the Fizzies' Impossible burger, the most expensive entree on the menu. Kids' meals are $5 and $6. 
The dessert menu includes ice cream scoops, sundaes, floats, shakes, a banana split and more. Coming soon are a $10 Guinness Float, Sparking Sorbet Float and Sangria Sorbet Float.
A single scoop of ice cream is $3.50. Sundaes start at $5.50 and "Crazy Shakes" are $12.
A $55 Farrell's Zoo comprises 30 scoops of ice cream and toppings, including animal crackers.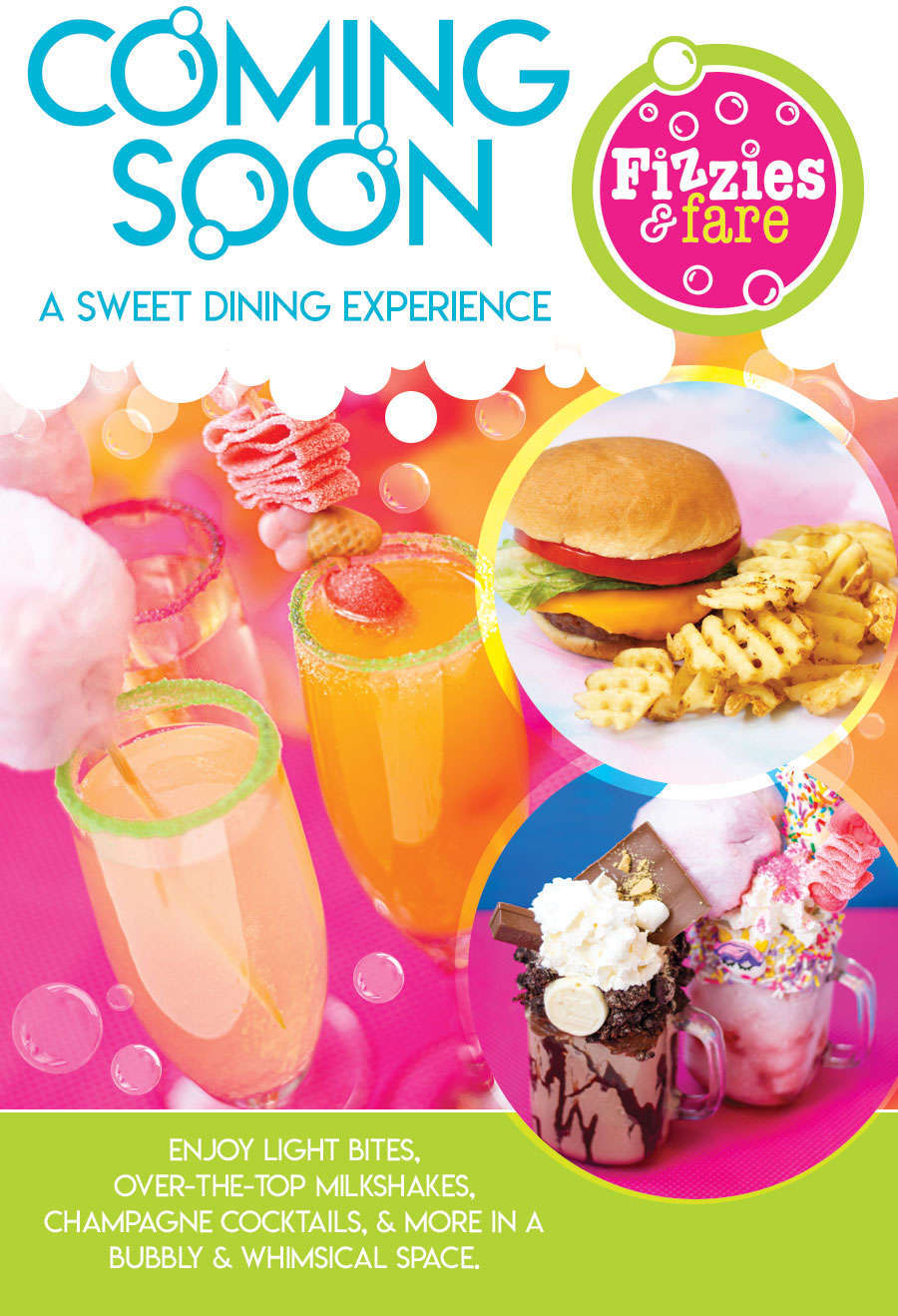 The site says the Fizzies & Fare Cafe will be first come, first serve but has one table for eight to 12 people that can be reserved.
There also is a private party room within the restaurant for up to 30 people that can be reserved.
Information is at the website.
Alex Sifakis, president of building owner JWB Real Estate Capital, said July 5 that Sweet Pete's started a restaurant concept and that it will have a bar like the previous tenants.
Sweet Pete's anchors the historic three-story Seminole Building across from City Hall,
The first-floor features a Sweet Pete's candy shop, seasonally decorated lobby and the restaurant space. It also has a candy factory.
Duval County property records show the structure was built in 1909. It operated for decades as the private Seminole Club. It closed, was reopened for a time and then closed again before its current use.
In July 2014, TV reality star Marcus Lemonis paid $550,000 for the structure. He renovated it and moved Sweet Pete's, in which he is a partner, from Springfield. Lemonis hosts "The Profit."
Lemonis continues to own Sweet Pete's in partnership with its founders, Peter and Allison Behringer.
The Candy Apple Café initially operated in the restaurant space but did not reopen after the building closed temporarily in 2018 for repairs. Lemonis, based in Chicago, then briefly operated MLG – Marcus Lemonis Grill – in the building.
The 10/Six Grille opened in October 2019 until the pandemic forced it to close in March 2020.
Lemonis sold the building in January 2020 to Jacksonville-based JWB Real Estate Capital for $1.7 million.
The three-story, 22,500-square-foot building is anchored by Sweet Pete's and the restaurant on the first floor, Sweet Pete's on the second floor; and event rental space on the third floor.
JWB Real Estate Capital also bought the neighboring Federal Reserve and Baptist Convention buildings at Hogan and Church streets and is creating a campus of retail, apartment, business and event uses.
The campus anchors an area now called the North Core of Downtown.