Perkins & Will Inc., with its proposed 151-foot-tall "Jax" sculpture, was selected July 22 to design a public riverfront park at the former Jacksonville Landing site. 
The city Professional Services Evaluation Committee voted 3-0  to choose the Chicago-based firm over two others that also submitted designs.
The selection concluded a nine-month competition by the Downtown Investment Authority and the city Parks, Recreation and Community Services Department. 
The centerpiece of the Perkins & Will design is a polished stainless steel "Jax" sculpture by Orlando-based international artist JEFRE. Perkins & Will said in an email that multiple studios worked on the project.
The design includes River Plaza; a living shoreline with a rain garden and marine plants on the river bulkhead; an open lawn; a playground; and "micro plazas" at park entrances at Laura and Hogan streets.
A proposed pavilion near the Main Street Bridge would have a hotel and indoor and outdoor dining.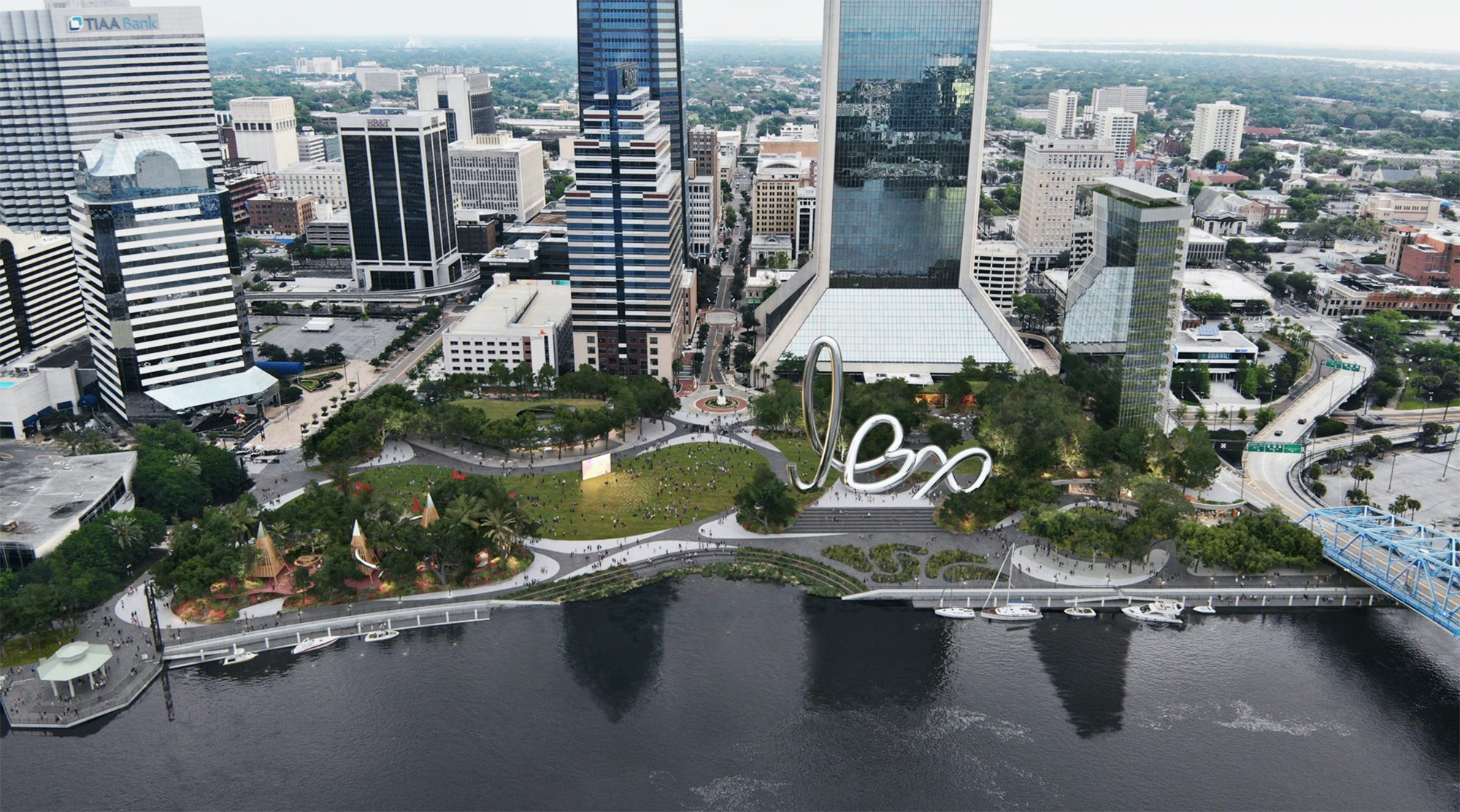 "To me, it becomes the symbol of Downtown and it becomes the gathering place for everyone," DIA CEO Lori Boyer said. 
"The Landing was that once upon a time in the 1980s right after it was constructed. I think this gives us the opportunity for it to become that again and become that in a way that has more durability."
Perkins & Will outscored Cambridge, Massachusetts-based Agency Landscape + Planning LLC and Olin Partnership Ltd. of Philadelphia.
Boyer and parks department Director Daryl Joesph judged the submissions.
City Procurement Division Chief Greg Pease, city Senior Manager, Debt and Investments Paul Barrett, and city Deputy General Counsel David Migut were on the evaluation committee.
"Love it or hate it," Boyer said JEFRE's sculpture generated the most public feedback of the three designs. She said that exposure is what DIA and city officials want.
"I think it really indicates its iconic nature," she said. 
"If you have something everybody is talking about, then that draws people to see it, causes people to get photographs taken with it," Boyer said.
Perkins & Will estimates its design will cost $22 million to $29 million, including  $11 million to $18 million for the sculpture.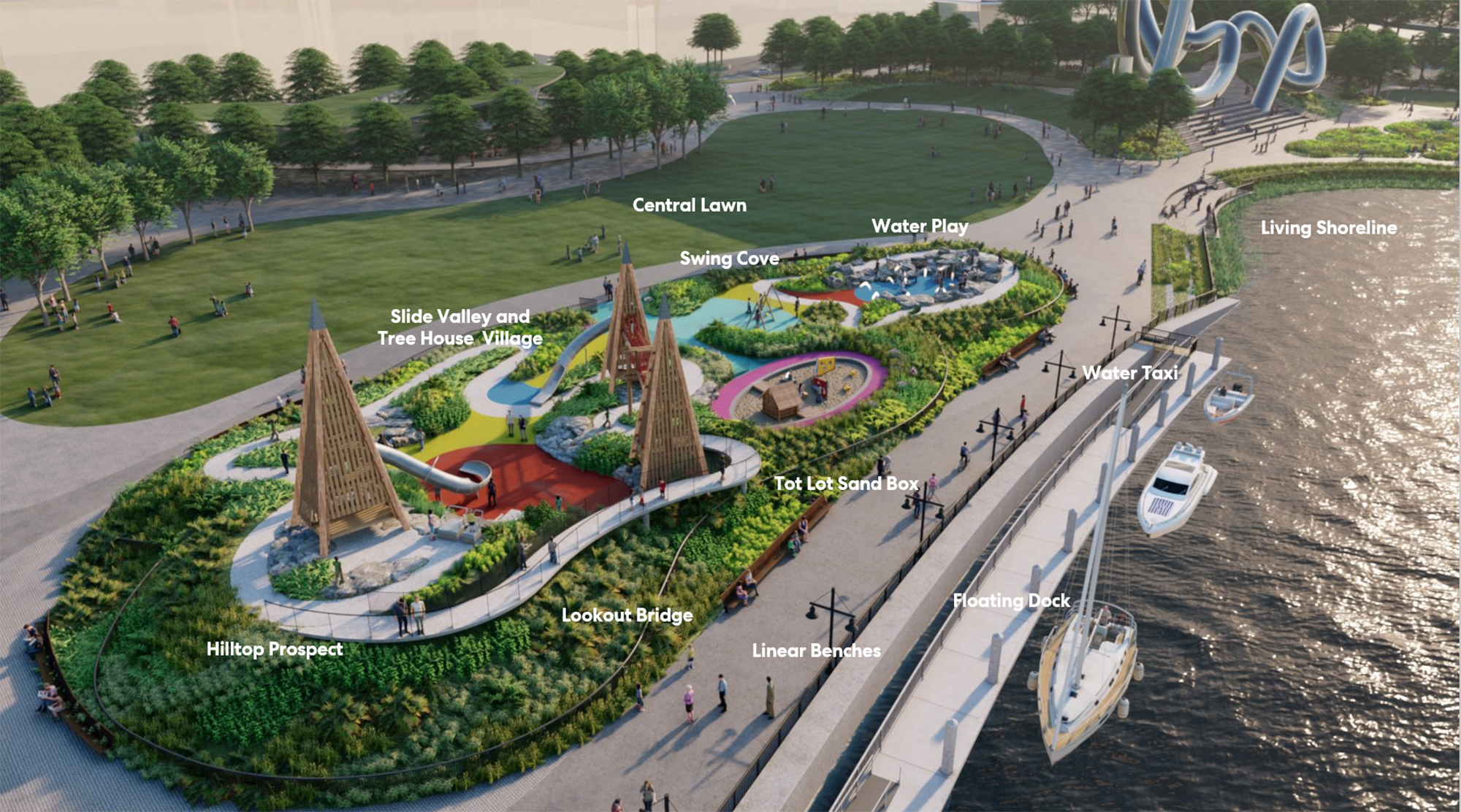 City Council previously approved $1.25 million as part of Mayor Lenny Curry's 2020 and 2021 capital improvement plans for the site's design process. Another $1 million is pending in Curry's 2022 budget proposal.
The city awarded each of the three firms $125,000 to complete 50% of the design work for a minimum 4.5-acre park. 
Perkins & Will said during the competition's public presentations June 24 that its final design could take a year to finish. 
Boyer said a final construction budget could come before Council next year.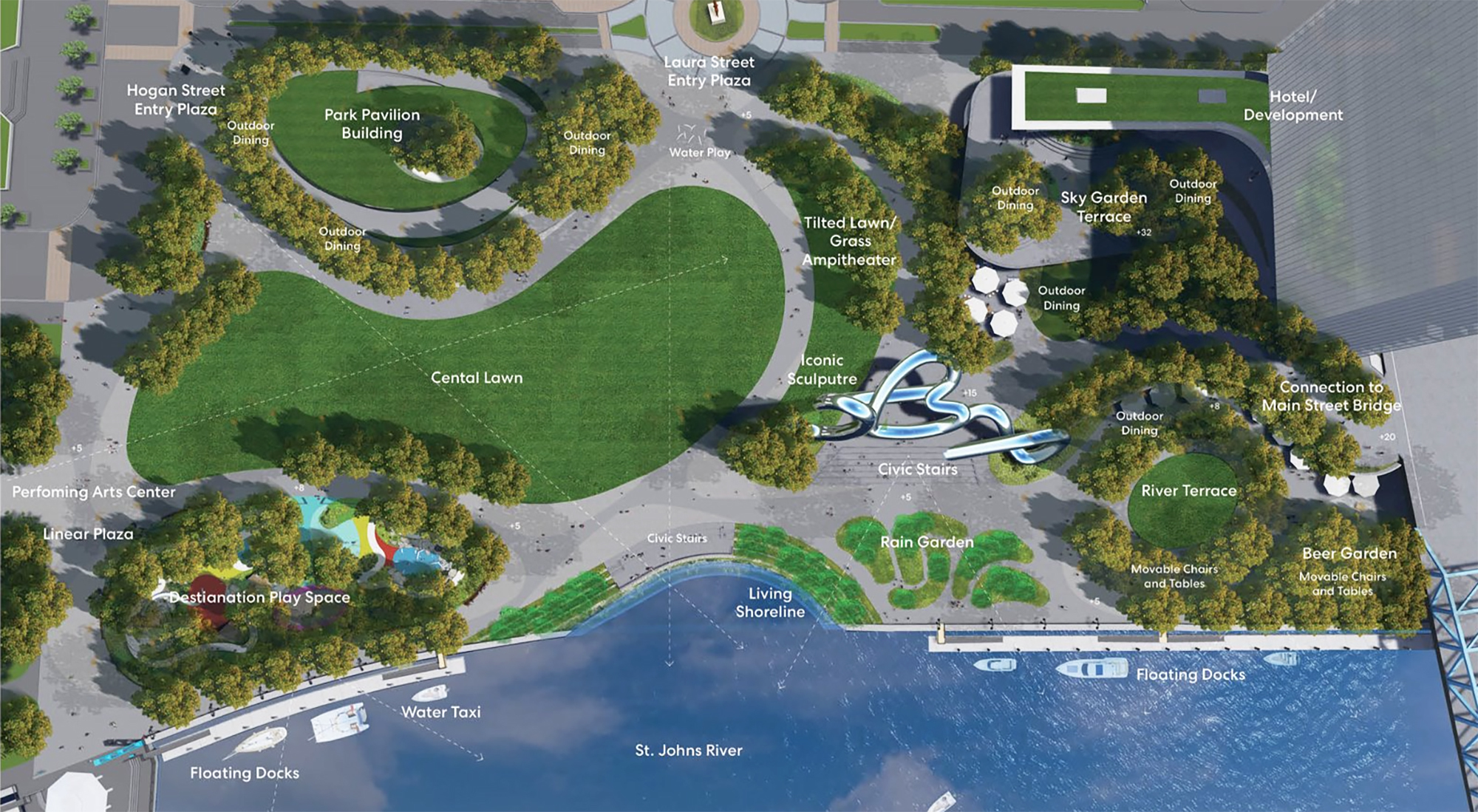 According to Boyer, the final cost to build the park will vary depending on changes to the design in the negotiations and the possibility of realigning Independent Drive to add more land to the park space — an element in all three proposals. 
Before the vote, Boyer noted similarities between the Perkins & Will and Agency designs including a 12- to 17-story high-rise hotel with terrace restaurants on the northeast corner of the 7.64-acre site. 
Boyer intends to discuss the design commonalities with the DIA board as early as next week and could release a request for proposals for private development at the site before the park design is complete. 
Joseph scored Agency's design slightly higher. He said he liked the firm's concept of a "Sunset Hill" that would allow for river and park vistas.
He told the committee July 22 he is comfortable with the final selection and what the city now calls Riverfront Plaza will not be a "cookie-cutter park."
"There was a tremendous amount of (public) input that was provided, so this project is not going to be designed within a box," Joseph said.
His and Boyer's scoring sheets show Perkins & Will averaged 100 out of 115 points while Agency had 97.5 points. 
Individually, Boyer scored Perkins & Will at 105 while Joseph gave the firm 95 points. Boyer gave Agency 88 points while Joseph awarded the firm 107.
Perkins & Will outscored the other two firms by eight to 10 points on the art piece, which Boyer said put the firm "over the top."
"We're looking forward to making sure it looks good, not just day one but as we move forward through the years," Joseph said.
 Perkins & Will has 26 studios in the U.S., Canada, Brazil and China, according to its website. A company spokesperson said the Atlanta and Miami studios worked on the Jacksonville project.