The Downtown Investment Authority board could debate and vote on Jacksonville Jaguars owner Shad Khan's proposed Four Seasons hotel project near TIAA Bank Field in a special meeting July 7, according to DIA CEO Lori Boyer. 
She announced the possible approval timeline June 16 during the DIA's monthly board meeting. 
Boyer said the agency's Real Estate and Property Disposition Committee would consider Khan's $321 million development proposal for the 8-acre former Kids Kampus park property June 25 and move to the full board July 7.
Khan's plan for the Kids Kampus site includes a 176-room and 25 residential-unit Four Seasons, a city-owned marina and facilities building and a six-floor office building.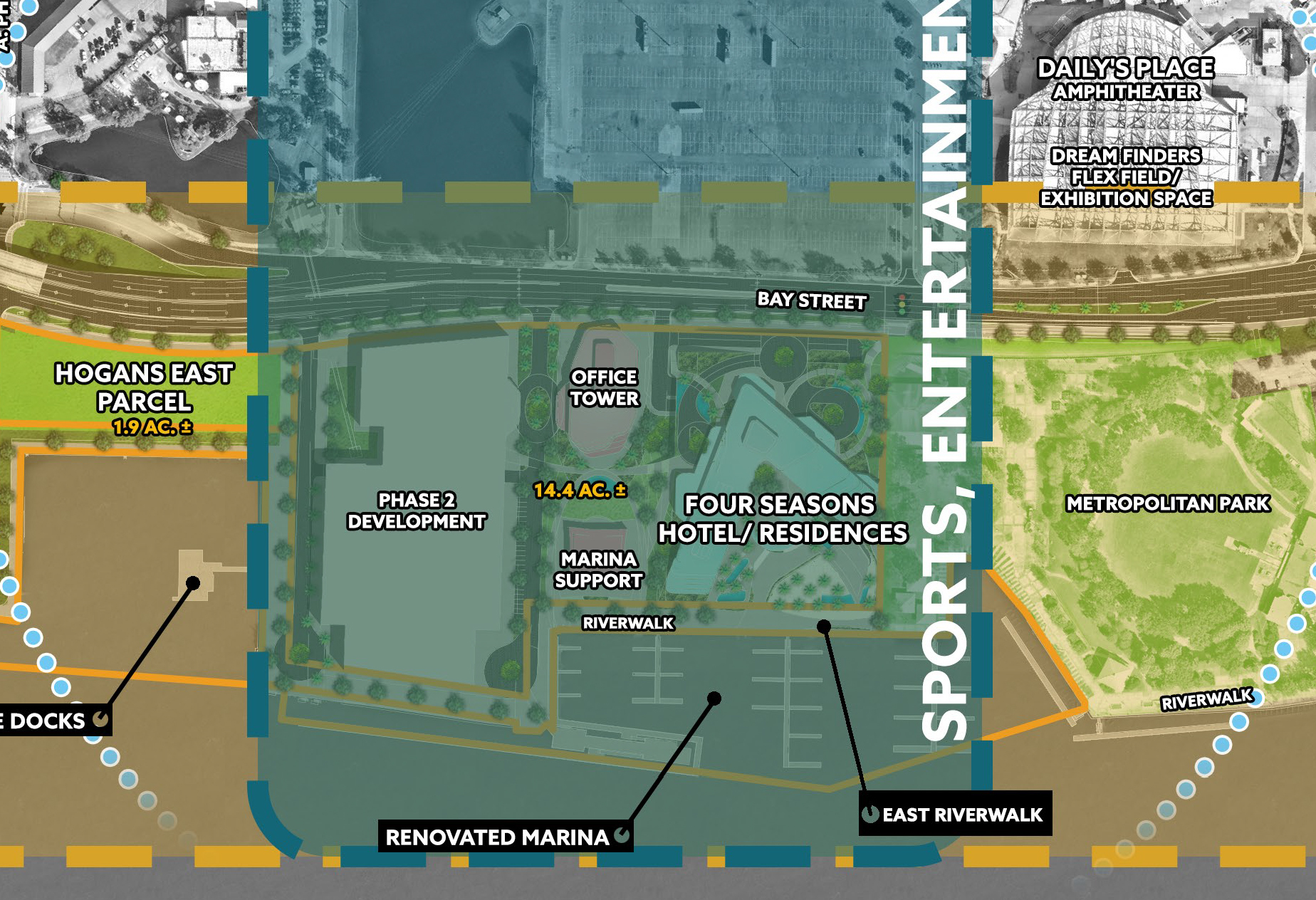 The city code requires the DIA to issue a 30-day notice of disposition before any city-owned property is sold or given to a private developer for an unsolicited bid. 
If no other comparable offers are received, the DIA and City Council can act on a development agreement with the Jaguars. 
Phase two on what DIA staff is calling "Shipyards East" would focus on a 42,000-square-foot orthopedic sports medicine campus owned by Baptist Health, with the Jaguars building15,000 square feet of street-level retail space and a more than 200-space parking structure and possible residential units.
Boyer said June 16 phase two will not be under consideration at either meeting.
Public meeting notices were not issued as of 5 p.m. June 16.
Kids Kampus is part of the city-owned 24.7-acre Metropolitan Park. 
A proposal by Khan and his development company, Iguana Investments Florida LLC, does not include a 14.32-acre Metropolitan Park parcel that is restricted by a 1981 National Park Service grant.
Jaguars President Mark Lamping said June 3 during the team's Shipyards announcement that Khan plans to donate $4 million over the next 20 years to maintain Metropolitan Park. 
However, there are restrictions on the riverfront Kids Kampus that the DIA and city will have to resolve before officials can open the land for private development. 
Boyer said June 8 she thinks that a $1.5 million Florida Department of Environmental Protection grant awarded in 1985 that restricts Kids Kampus, intended to fund marina work on the St. Johns River, will be easier to renegotiate.
The DIA commissioned the nonprofit Jessie Ball duPont Fund for a master plan to program public Downtown riverfront space. 
Council unanimously approved a $60,000 contribution to the study June 8.
Boyer said the 10.3 acres of vacant Shipyards land west of the proposed relocation site for the Museum of Science and History could be converted into public park space to replace Kids Kampus. The grant stipulates the parkland needs to be of comparable size.
She said the park space would be a link between Downtown's Central Core and the Sports and Entertainment District. 
Boyer said the DIA has approached state environment department officials to understand the grant terms and has not pitched a design. 
"I would expect the entire parcel west of Hogan Creeks would be considered for parks development," she said June 8.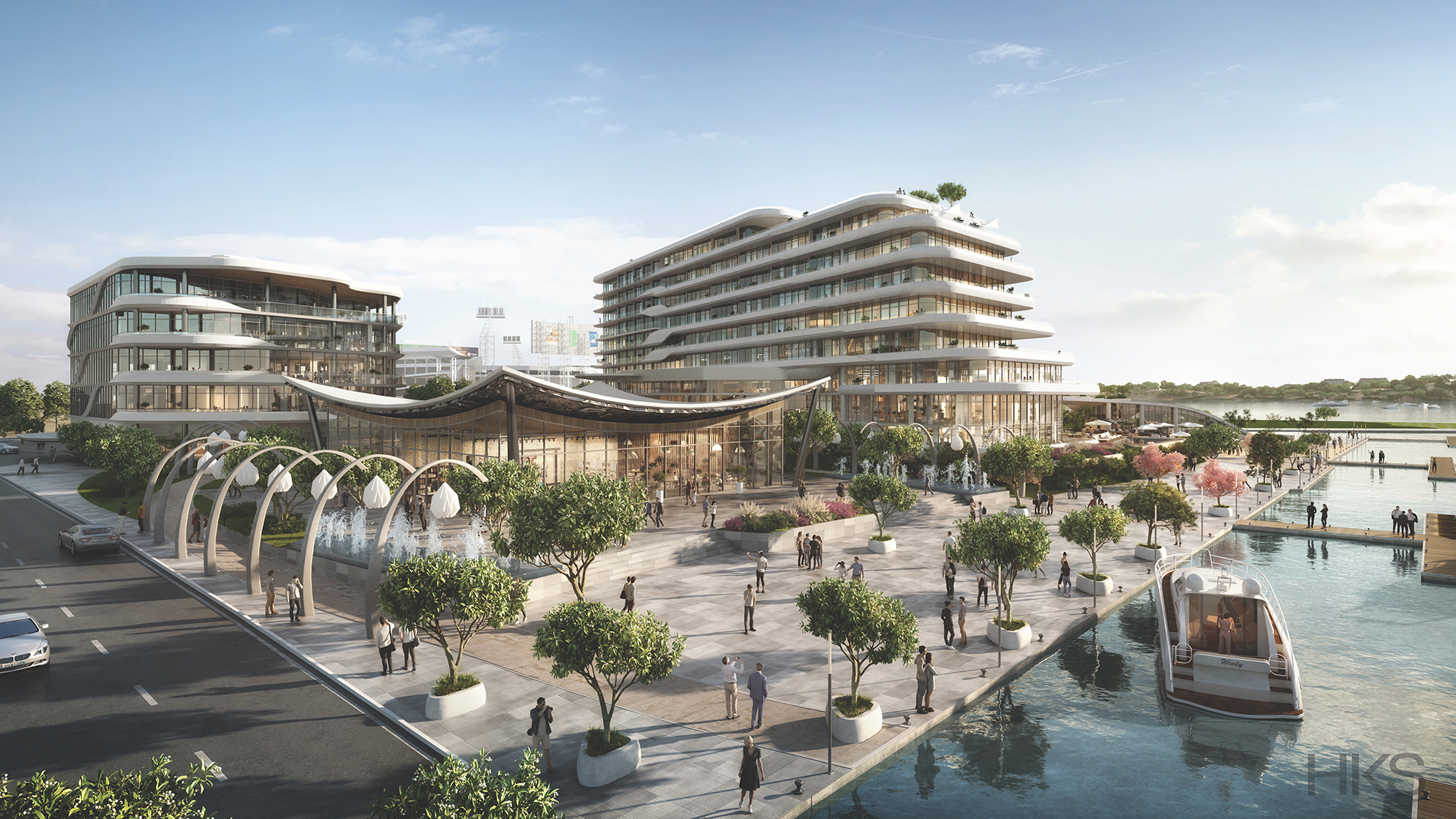 "Potentially, there could still be a private development pad for a restaurant or something like that, but that would clearly be designed to further activate the park," Boyer said. 
"To me, those things are valuable adjacent to a park." 
The 36-year-old grant's payback amount has compounded over time and Boyer said it is up to $20 million to $21 million today. 
Unlike the federal grant on Metropolitan Park, the city has the option to repay that money to the state but Boyer said city officials have "no intention" of giving the state the $21 million to release Kids Kampus.
She hopes that a fully designed park west of Hogans Creek will convince state officials to allow the land swap. 
A draft term sheet provided by DIA shows that Iguana is negotiating a $93.58 million tax, grant and infrastructure incentives package with the DIA for the $321 million Shipyards phase one. 
Iguana is negotiating a public-private partnership for a $120 million football performance center with Mayor Lenny Curry's administration and likely will not go through DIA, according to Boyer. She said this is because the proposed location near TIAA Bank Field's Gate 2 is part of the Jaguars' existing city lease which is enforced by mayoral administrations.