Being an attorney involves, among other skills, appearing in court, swearing solemn oaths and understanding the nuances of language and the law.
Students in the inaugural class of the Jacksonville University College of Law experienced that in the first few days of their three years of study.
The tone for the Class of 2025 was set at the college's formal convocation Aug. 5 at the Duval County Courthouse. 
The ceremony was attended by university and college of law administrators and faculty and the students' families as well as members of the Jacksonville legal community.
"This is a leap of faith for JU that I know is going to pay dividends," said 4th Circuit Chief Judge Mark Mahon as he opened the proceeding.
JU President Tim Cost provided a history of the university's 88-year path toward a law school, an initiative rooted in the institution's establishment in 1934 as William J. Porter University.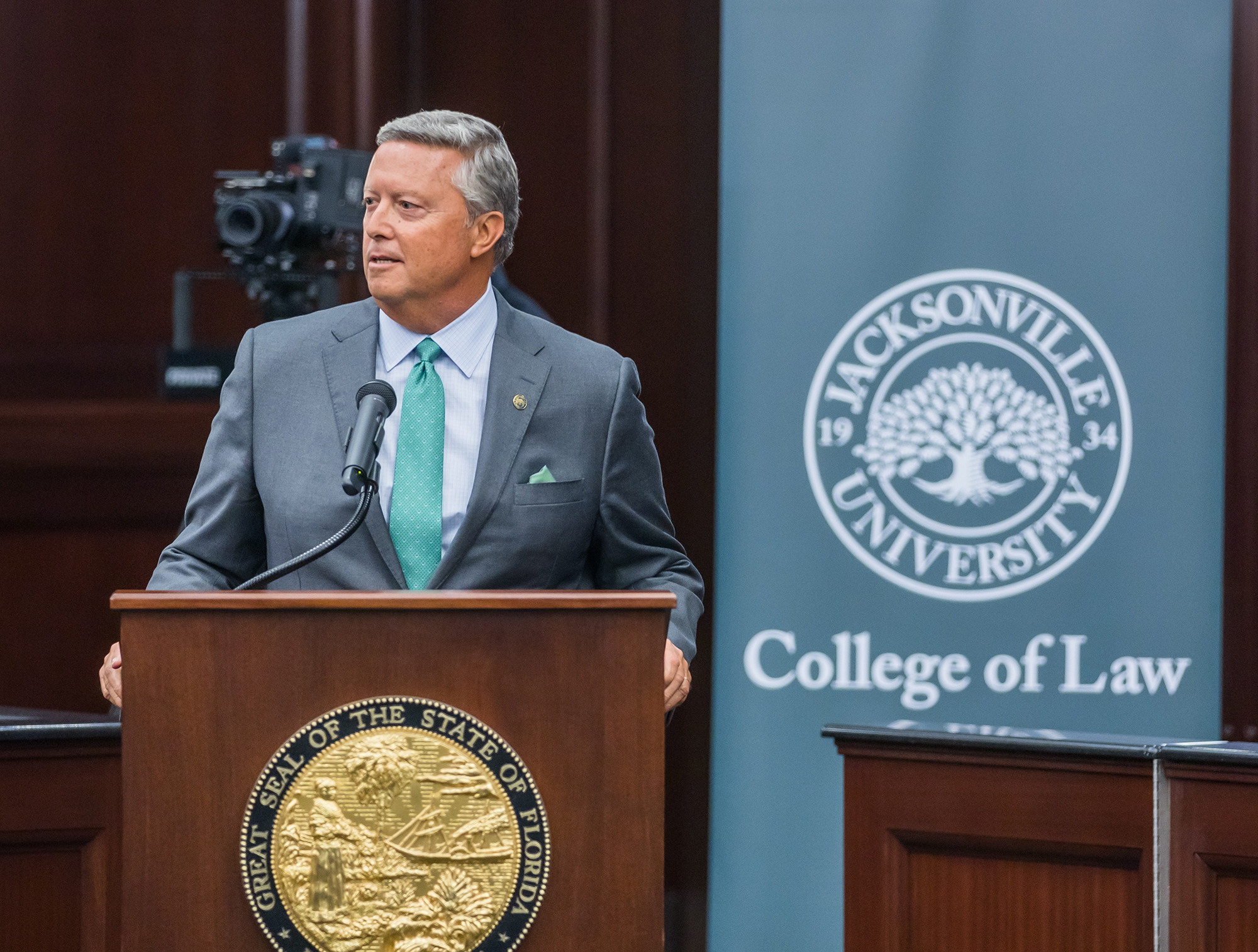 "Jacksonville University was founded by a judge. Early writings contemplate teaching the great art of the law," Cost said.
The path to make the commitment to a college of law began soon after Cost became JU president.
"When I came here to my alma mater in 2012, we were the largest city in America without the kind of law school that we are launching today. We are all behind you 100%. We are going to do everything right," Cost said.
The law school at Jacksonville University is the city's second.
Florida Coastal School of Law, a for-profit institution, was founded in 1996 and closed in 2021 after the U.S. Department of Education revoked its access to federal student loans. The American Bar Association allowed its students to complete their education at other law schools.
JU College of Law Dean Nicholas Allard also spoke of the university's commitment.
"Our faculty and university feel a heavy responsibility and obligation to you to demonstrate that your bold – and I believe, shrewd – decision to begin your legal career with us was warranted," Allard said.
He said that while all law schools teach, JU is committed also to inspire its student to carry with them a code of ethics to guide their legally trained minds.
"That's important. It matters. It's how our small school can leverage its effect," Allard said.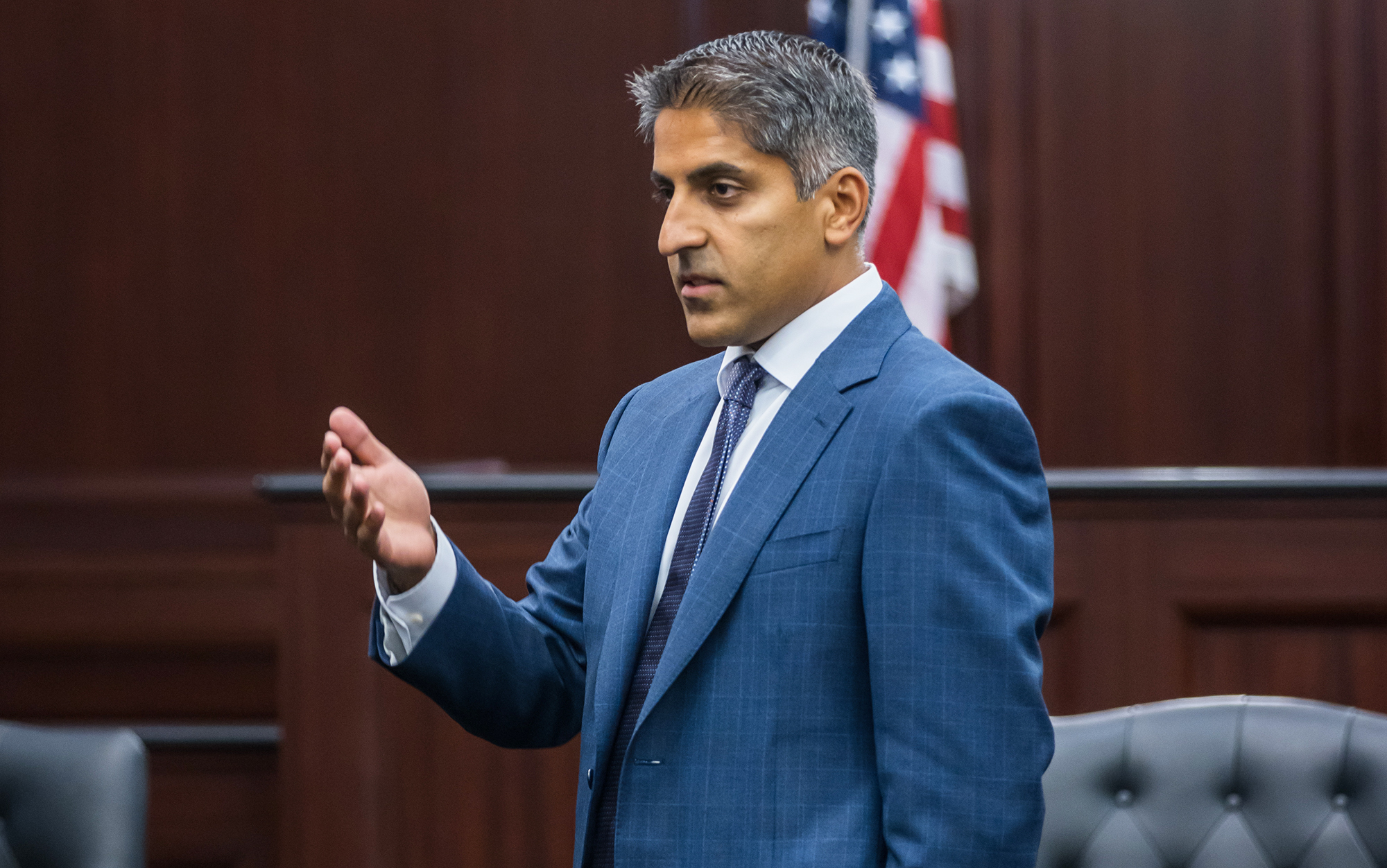 Jacksonville Bar Association President Fraz Ahmed offered his assessment of the new law school.
"This is an historic day. You could not have asked for a better group to guide you where you want to go," Ahmed said.
Ahmed is a 2006 graduate of Florida Coastal School of Law.
He spoke of how his career grew since joining the JBA about 20 years ago and made a commitment to the students.
"When I came to Jacksonville, from the day I got to law school, I built strong connections. Bar leaders helped guide me and wanted to see me succeed. Feel free to reach out to me and the board of governors and we invite you to the JBA's events to help you make connections."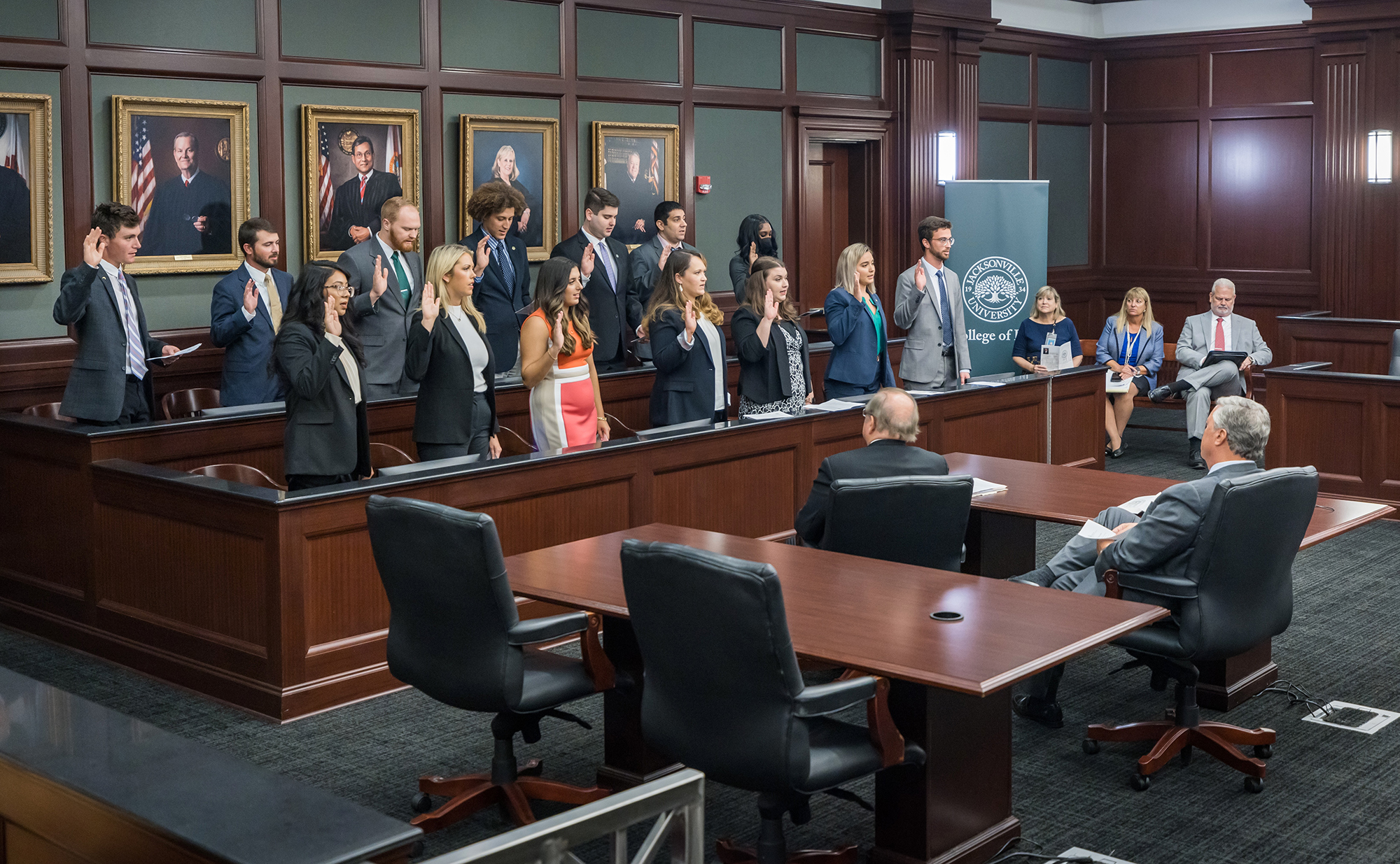 'This pledge I take freely'
To conclude the ceremony, Vice Dean Margaret Dees administered the college's Oath of Professionalism, witnessed by the court, Bar leaders, the college's administration and faculty and the students' families:
"As I begin the study of law, I acknowledge that my role in the legal profession is a privilege that comes with responsibilities. 
"Accordingly, I pledge to always conduct myself with dignity and civility. I will show respect and kindness toward my classmates, professors, staff and all other people.
"I understand that my actions and words reflect not only upon myself, but upon the Jacksonville University College of Law and the legal profession.
"I promise to prepare diligently for my classes to develop the competency and character expected of me from those who seek my aid in times of need. I will seek opportunities to provide leadership and to serve my community with confidence, integrity, and ethics.
"I vow to conduct myself in accordance with and abide by the Jacksonville University Academic Integrity Pledge and the Student Code of Conduct. This pledge I take freely and upon my honor, with sincerity and resolve."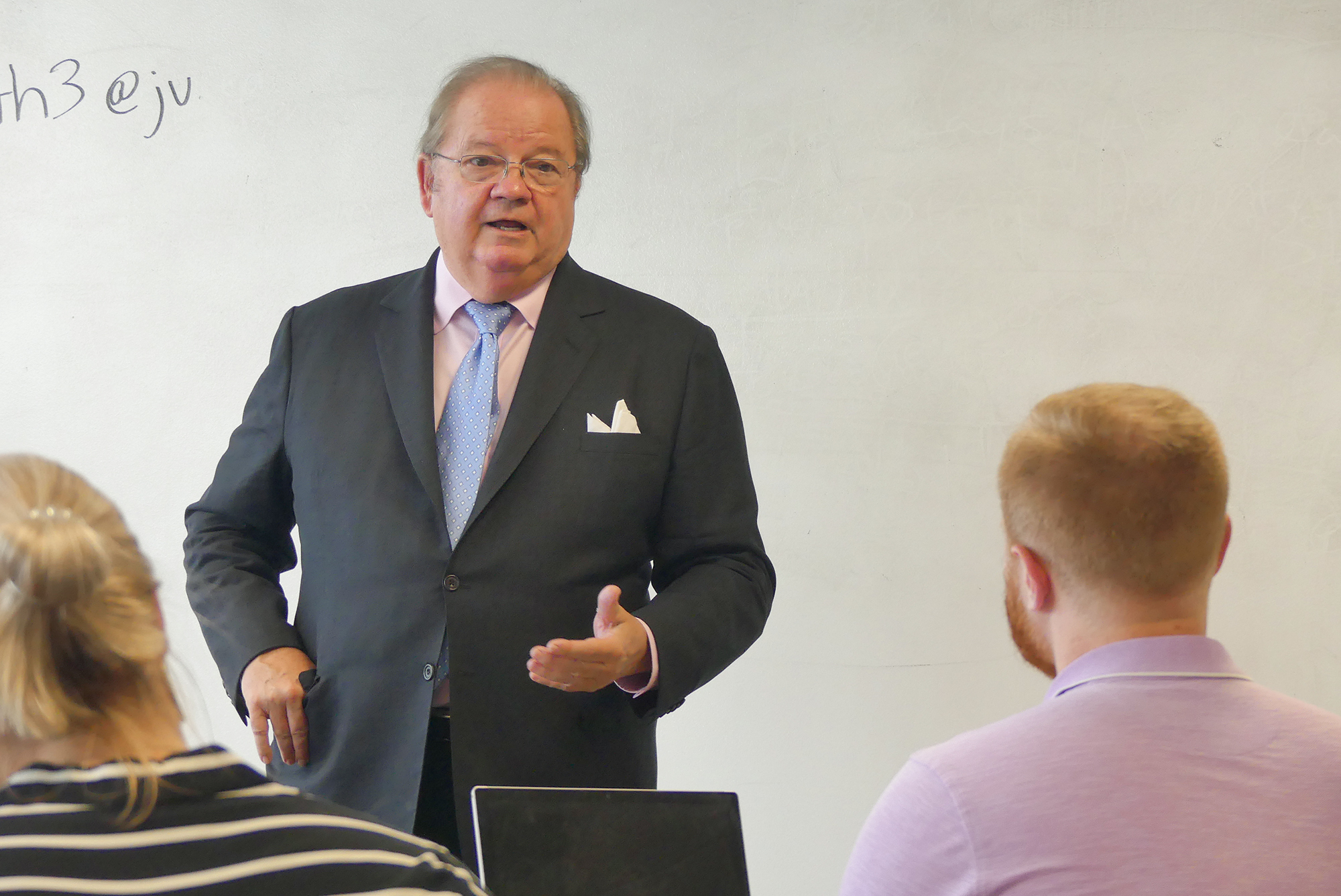 'We are going to get through this together'
Classes began Aug. 8 at JU's Downtown campus on the 18th floor in VyStar Tower at 76 S. Laura St.
On the second day of the inaugural fall term, Allard took on the role of professor. 
In more than four hours over two days, he presented an overview of what the students can expect in the next three years on the path to graduation, passing the Bar exam and beginning their professional careers.
He explained that attorneys have to develop a talent for thinking and responding quickly and there is a point of procedure that judges prefer when an attorney is appearing before them.
"Lawyers speak on their feet. When you are in this class, when you speak, stand up. There is great power in that and you've got to get used to doing it.
"No other law school begins with that lesson," Allard said.
The U.S. Constitution is the foundation of America because it provides the same rule book and law for all citizens, Allard said.
"You are beginning to prepare to become the guardians of our constitutional democratic system of self-government," he said.
"The future of democracy cannot be taken for granted. Nothing is ever perfect and we have critical issues before us. Lawyers will be the architects of bridges that bring us together."
Allard advised the students that the law is one of the few professions that can be learned better collaboratively than alone.
"Make sure everybody looks out for everybody else. We are going to get through this together. This law school is starting small. It never will be gigantic, but we will make this city and region proud. We will have an outside impact and it will be lasting," Allard said.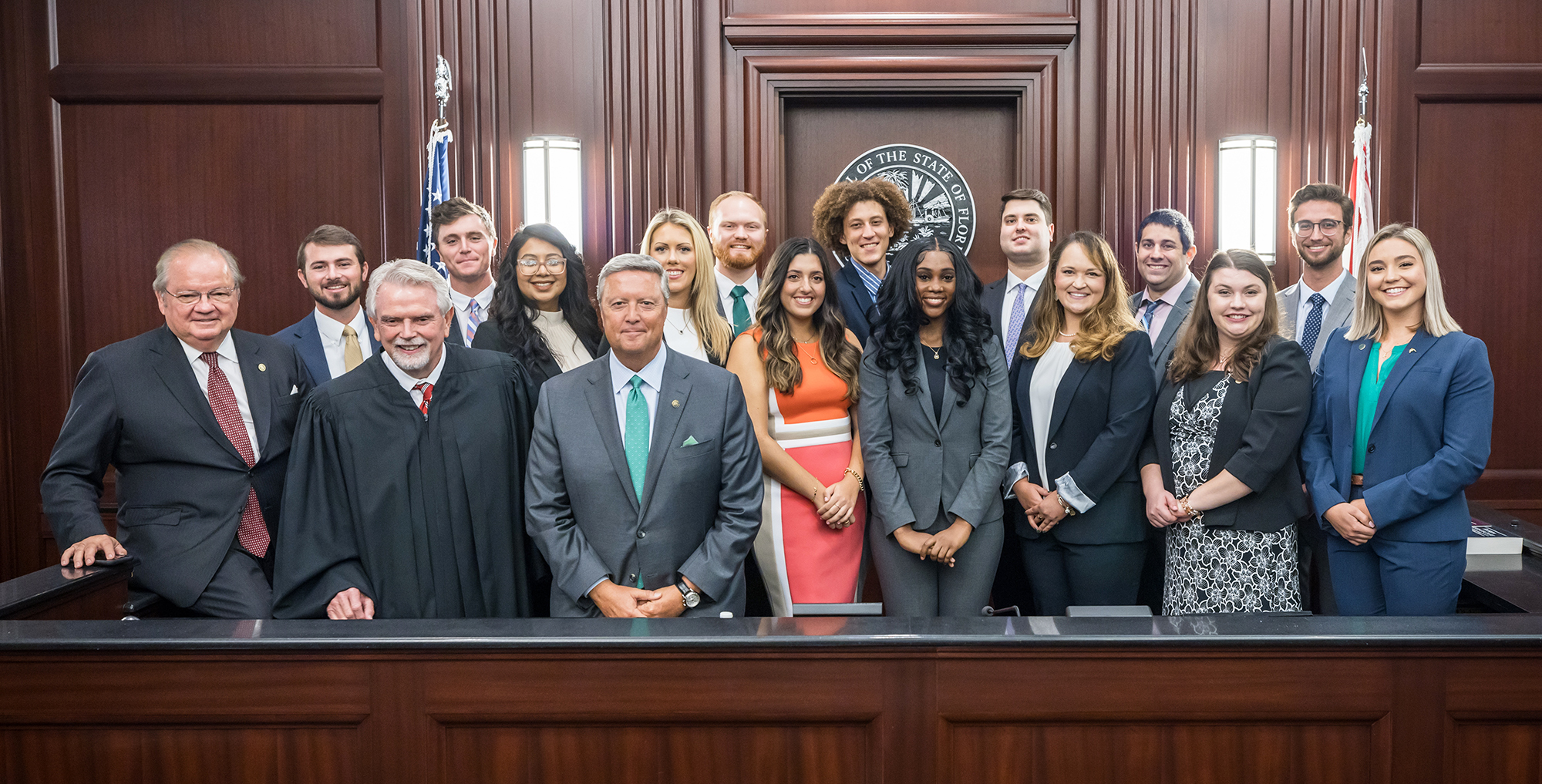 Above: Jacksonville University College of Law Dean Nicholas Allard, far left, 4th Circuit Chief Judge Mark Mahon, JU President Tim Cost and the first-year students enrolled in the college's Class of 2025: From left, Matthew Majors, Jake Navin, Keiry Soto Chavez, Leah O'Reilly, Andrew-Paul Griffis, Marisa Materazzi, Dominic Martin, Lauren Fisher, Alexander Wicks, Audrey Shannon, Joseph Oliva, Sydney Schmidt, Ethan Katz and Randi Alt.