Jacksonville University President Tim Cost said Feb. 28 the institution's decision to launch a College of Law meets demand from Fortune 500 companies to recruit talent and leadership with a legal background. 
At a news conference at City Hall, Cost and Mayor Lenny Curry announced JU's plans to open a law school in Downtown Jacksonville in the fall with $5 million in city backing.
The JU president said Jacksonville-based companies, including Fidelity National Information Services Inc., Florida Blue and Black Knight Inc., look for leadership with a legal education. 
Cost said about 10% of Fortune 500 CEOs have a Juris Doctor degree.
"The timing is always good if there's an opportunity. But there were times when going into the law school business, maybe eight or 10 years ago,  was not as smart as it is today. So we're glad to match it with the need," Cost said.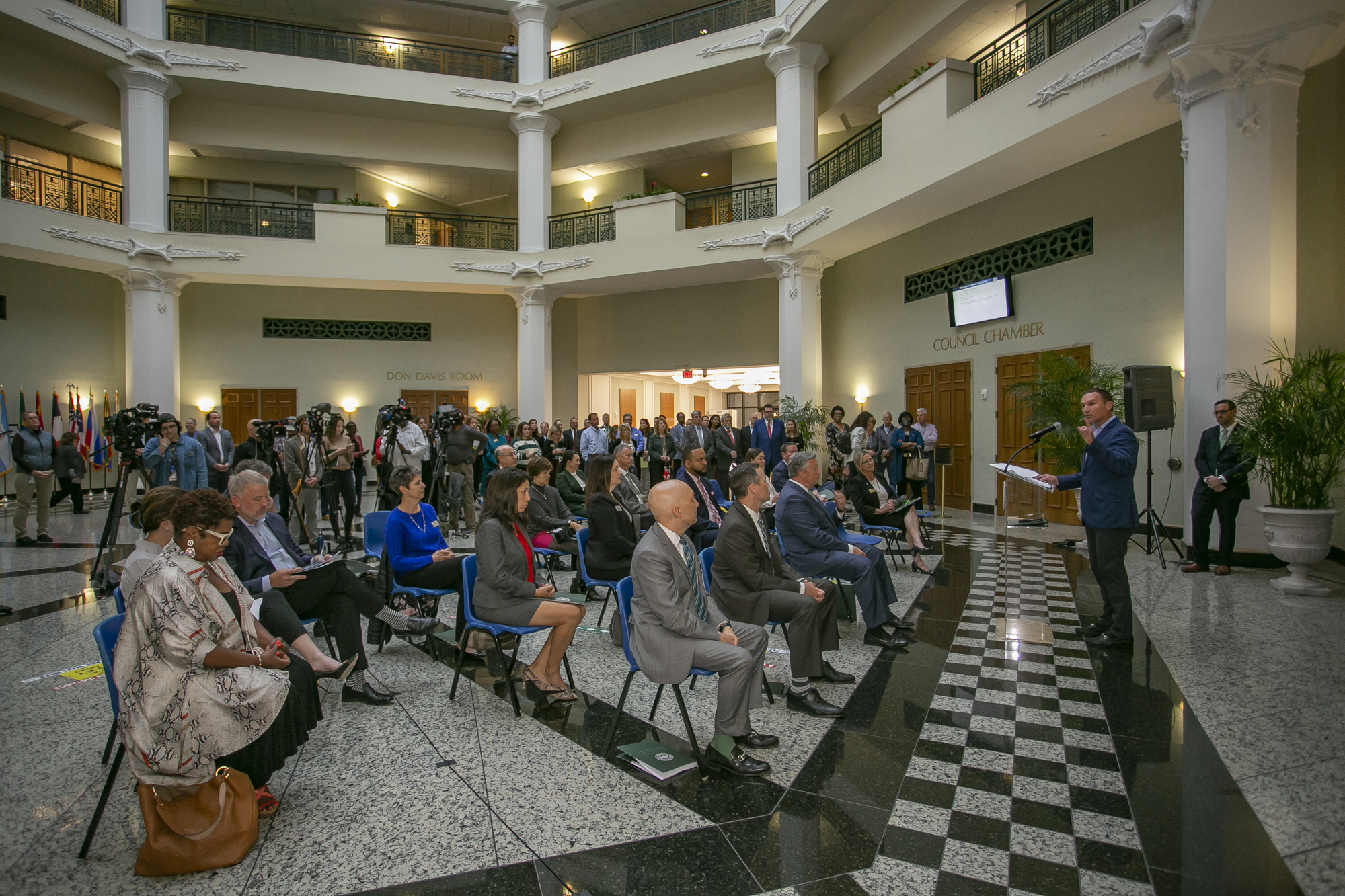 "We talked to the business people, that's what they need." 
The school says it is accepting applications. For more information, visit ju.edu/law.
Tuition is $36,000 with a $14,400 scholarship opportunity for every student, Cost said.
JU hopes to have additional private scholarships to lower costs further by fall of 2024.
"The academic standards will be high and the tuition will be competitive," Cost said.
Cost said the Jacksonville University College of Law will connect with the core disciplines it already teaches.
"We're trying to link them (students) to what we teach well and what, I think, we're known for here — business, health care, technology, marine science, criminal justice and public policy," he said. 
City commits $5 million
Curry said the city will commit $5 million in public funding to help JU launch the school in VyStar Tower at 76 S. Laura St.
According to Cost, JU has 15,000 square feet of leased space that will be used for the school. The high-rise is home to JU's Downtown Campus, where it has 19 offices, two collaboration spaces and four classrooms on the 18th floor of the 23-story tower.
The school said in a news release that the College of Law will offer a three-year Juris Doctor degree and begin the accreditation process in the spring of 2023.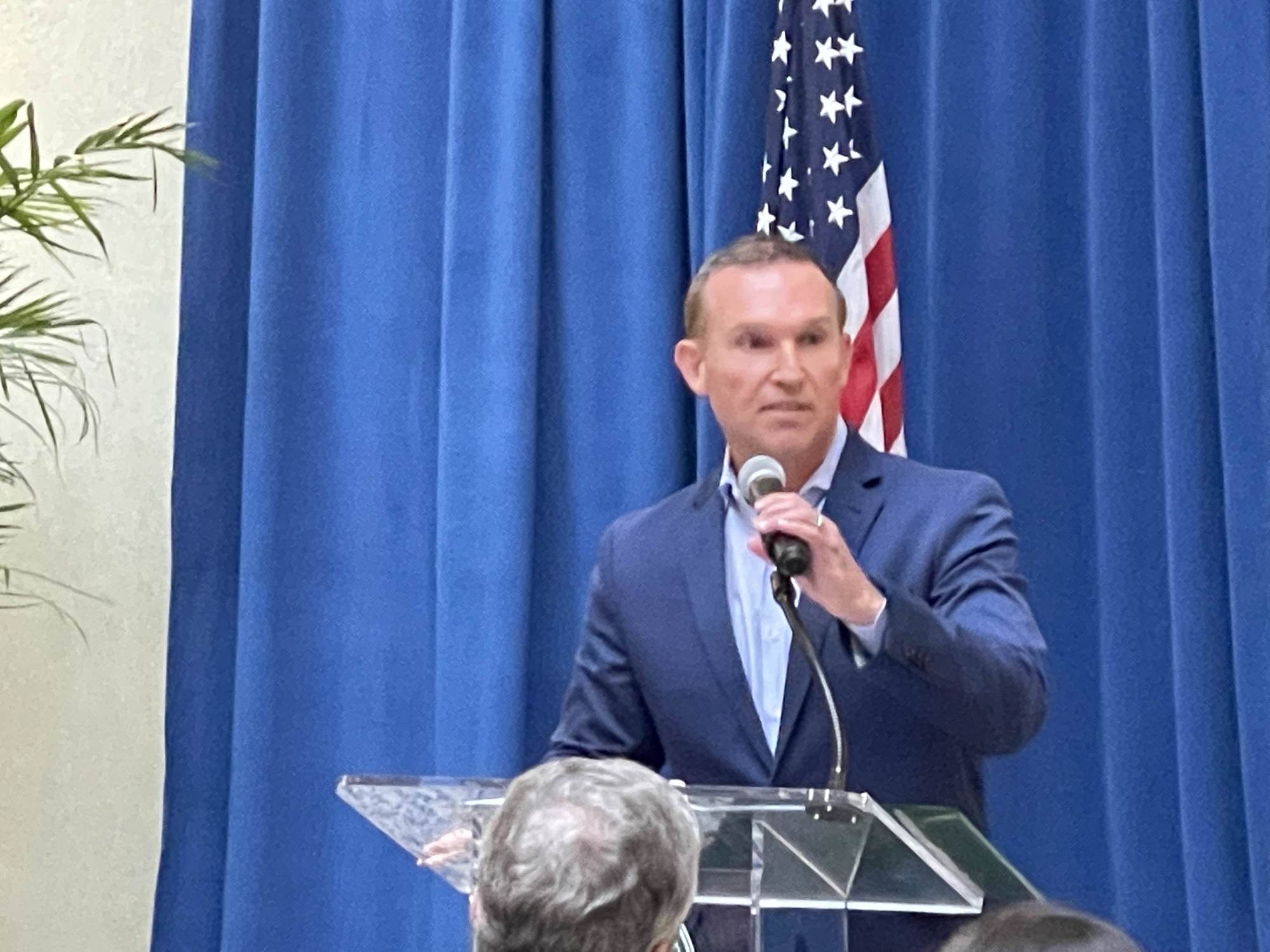 Cost said JU's goal is to achieve conditional approval of accreditation by 2024 when the first class graduates, which he called standard practice.
It will be JU's fifth college and doctoral program since the institution was founded 88 years ago and the state of Florida's first new law college in 20 years, Cost said.
Cost said JU expects the inaugural class to have 20-30 students, growing to 400 students by 2027. 
The city's $5 million will come as a grant for the first year with a continuing loan, Curry said. 
JU leadership and city officials did not say how the city dollars will be used.
The Curry administration will have to file legislation with City Council to approve the appropriation. 
The mayor did not say how the city intends to pay for the investment.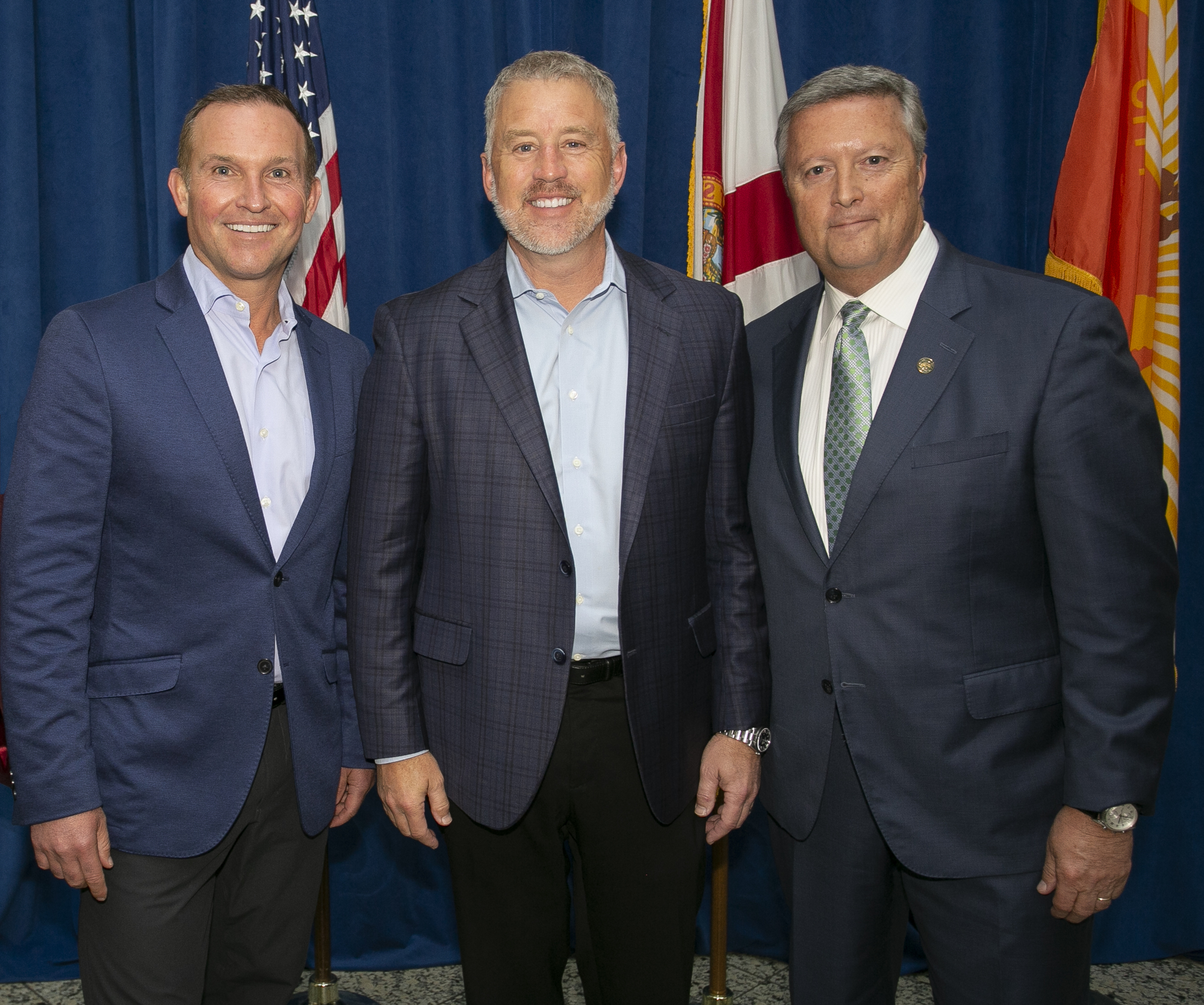 City Director of Public Affairs Nikki Kimbleton said after the event that loans in the incentives package would be forgivable but the city is working on the details. 
Cost said after the announcement that JU was not ready to discuss the structure of the deal.
"This is not just an investment in a storied Jacksonville institution, but it's an investment in our youth, our professionals and our growth as a regional hub," Curry said at the news conference.
Cost said there is a team actively searching for candidates for the college's founding dean and faculty. He did not disclose the search team members Feb. 28. 
Former City General Counsel Rick Mullaney, founding director of the JU Public Policy Institute, said the JU College of Law will aid clerkships and administration for area judges as well as the broader legal community. 
Mullaney compared the announcement to other recent public sector investments including the Duval County Public Schools half-cent sales tax to fund facilities improvements and the city's 6-cent local option gas tax increase to pay for transportation infrastructure needs.
"They seem unrelated, but they are related in the sense that Jacksonville wants to move forward," he said. 
"It's an investment in our future, and it's an investment that's going to pay big dividends down the road."
Florida Coastal
Curry and Cost said the college will address Jacksonville's position as the largest U.S. city without a law school. 
Jacksonville lost Florida Coastal School of Law in early August after the U.S. Department of Education revoked the private, for-profit school's access to the Title IV student loan program.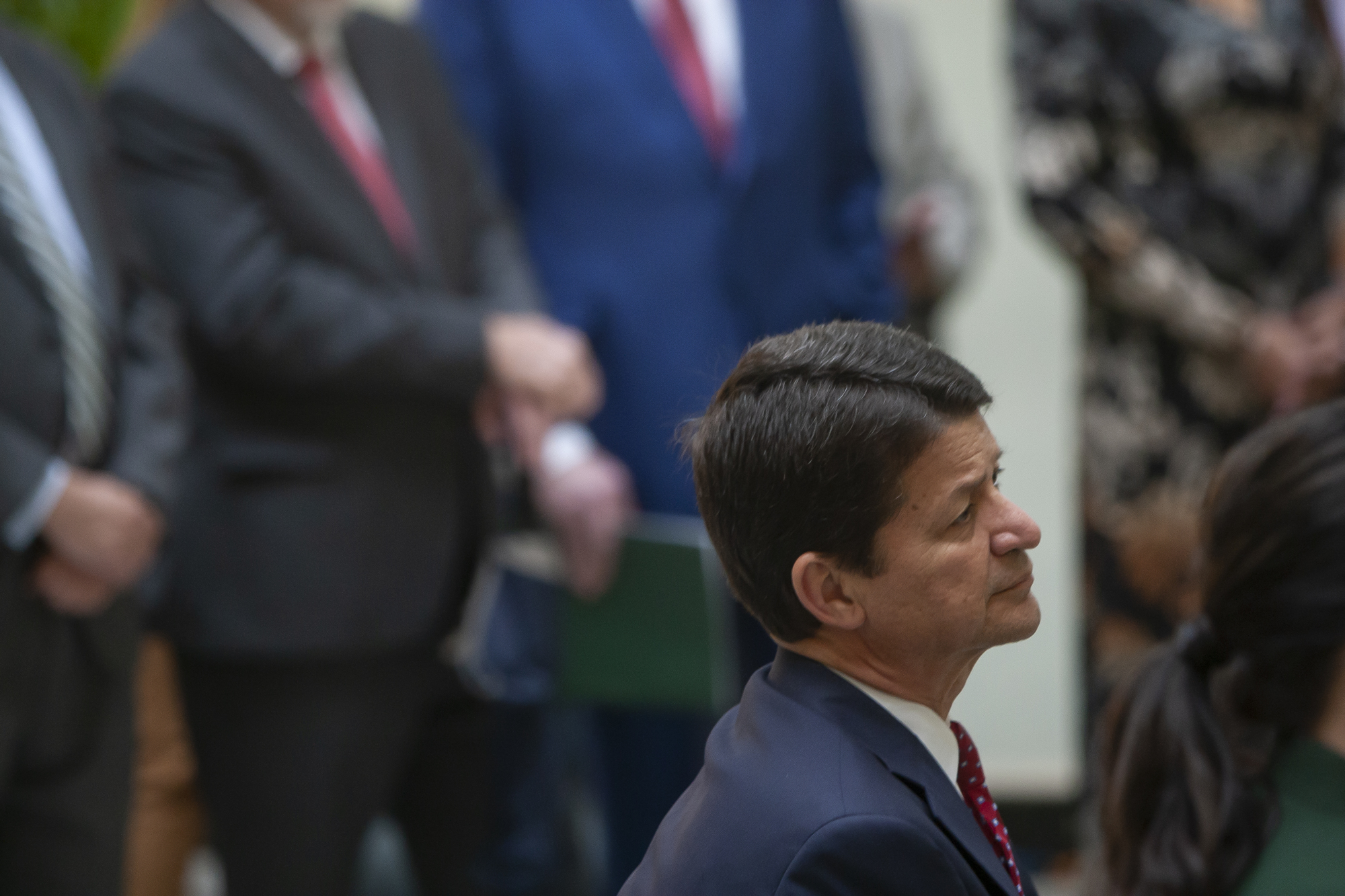 Mullaney said Florida Coastal came to Jacksonville in 1996, in part, because the city was without a law school. 
The school also has been under accreditation scrutiny from the American Bar Association regarding admission standards and student outcomes, particularly the percentage of Florida Coastal graduates who passed the Florida Bar exam, as low as 25% in February 2017.
In the July 2021 Bar exam, 15 Florida Coastal graduates sat for the exam. Eight passed, 53.3% compared with the overall pass rate of 71.6% for the 11 law schools in Florida.
Only St. Thomas University College of Law had a lower pass percentage in July than Florida Coastal, 50.8%.
Results for the Feb. 22-23 exam have not been published.
Florida Coastal was one of three law schools operated by InfiLaw, a consortium of for-profit law schools owned by Chicago-based Sterling Partners. Charlotte School of Law in North Carolina closed in August 2018. 
Arizona Summit in Phoenix reached an agreement with the ABA to close at the end of the spring 2020 semester.
Years in the making
JU has been communicating with Council members about the College of Law proposal, according to Cost.
Several Council members attended the event in the City Hall atrium.
They included Council members Joyce Morgan and Ron Salem, who represent the Arlington neighborhood where JU established its main campus more than 70 years ago.
Council Vice President Terrance Freeman and members Brenda Priestly Jackson, Randy DeFoor, Michael Boylan and Ju'Coby Pittman also attended.
Cost told news reporters JU has been "having conversations" about creating a college of law for more than five years and Florida Coastal's closure did not impact the timing of JU's announcement.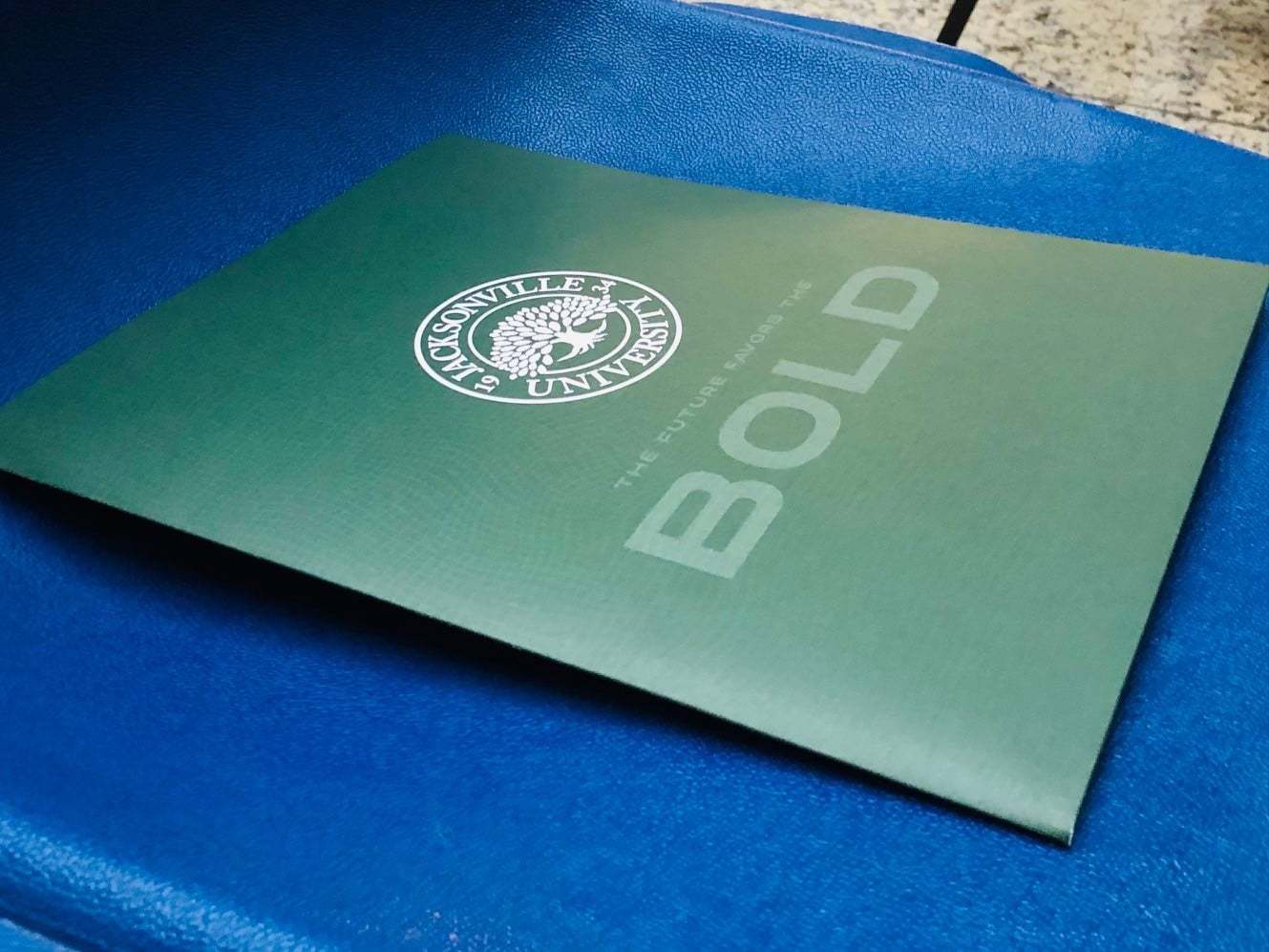 "What went on with any other school didn't really move us forward and move us back, although we knew them (Florida Coastal) very well and always enjoyed talking to them. We had a partnership with them with a joint J.D. master's in public policy, which we'll now do ourselves."
Hints of a JU law school came in January 2018 when Jacksonville Jaguars President Mark Lamping told real estate brokers about the master plan designs to lure Amazon.com's second headquarters when more Downtown possibilities emerged.
"We focused on a lot of things other than just office space and the hotel rooms, which came with their specs," Lamping said of the design, shown in a video released Dec. 14, 2017, by the JAXUSA Partnership economic development division of JAX Chamber.
"Where do you put a major health care, wellness center? Where do you put those things that the workforce that they're bringing in are going to want to do as it relates to continued personal development?" he asked.
"So things like moving the engineering school of the University of North Florida from its current campus (to) Downtown. Working with JU if they have a law school, moving that Downtown," he said.
"It's a natural conversation," JU President Tim Cost said Feb. 7, 2018, but it was not one that had risen to the level of action.
Cost said then that he considers it a natural conversation because JU, a private liberal arts and science university, has been asked by community and industry leaders whether it would consider a medical or dental or veterinary school, considering its concentration in health sciences.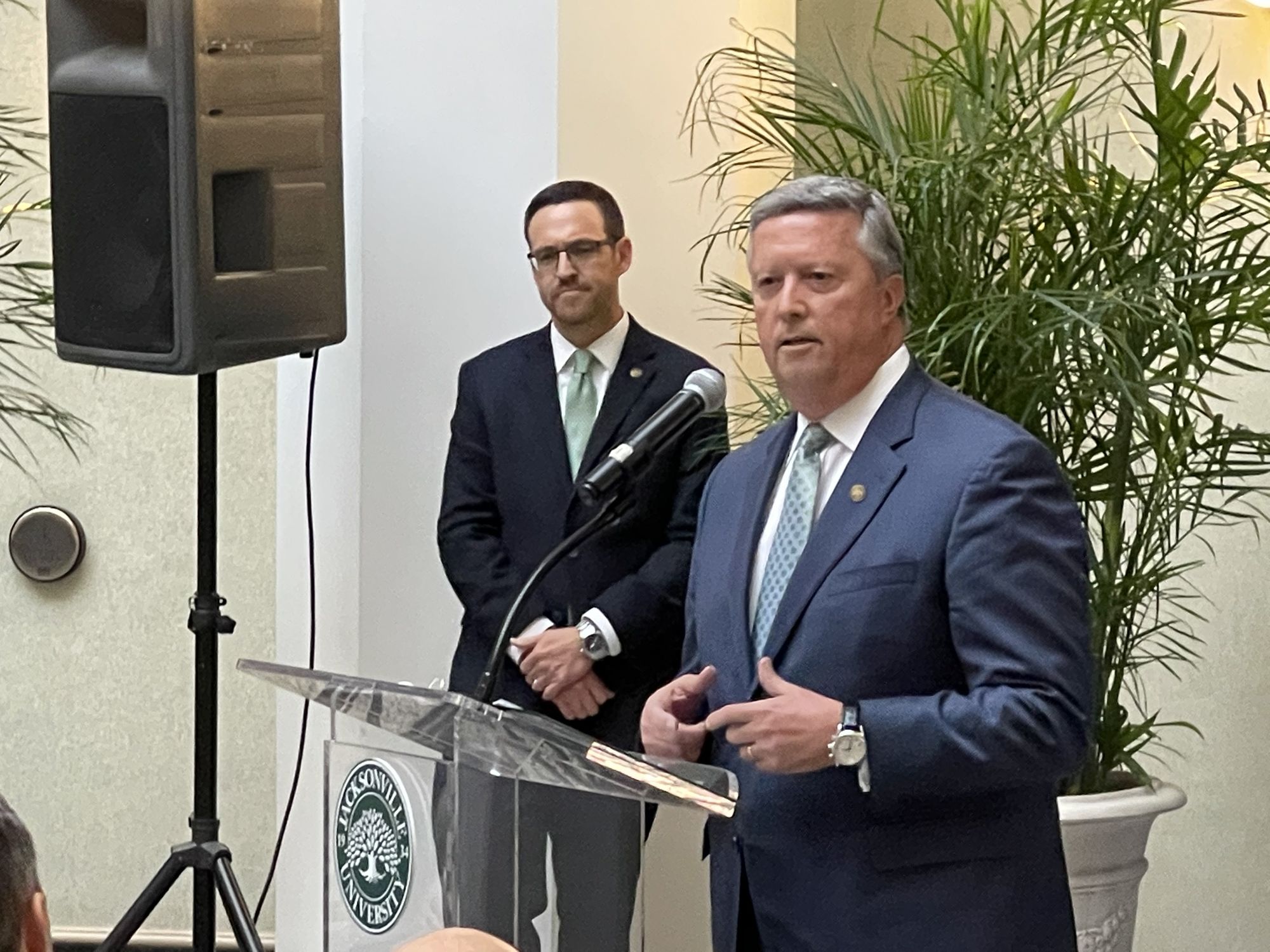 A law school is part of that line of thinking.
The law school consideration comes from two sources, Cost said then.
One, the private, for-profit, then-22-year-old Florida Coastal School of Law faced pressures because of its students' Bar exam passage rate compared with other law schools.
"When I came to town, Florida Coastal of Law was in a different part of its life cycle," said Cost, who became JU president in 2013.
"Would JU ever think about that?" he said he was asked regarding a law school.
Second, JU infuses law into its courses, including at its Public Policy Institute, which is led by Mullaney, also a former assistant state attorney.
"For a school like ours to consider this seriously, we need to consider our role," Cost said. 
"JU has dozens of graduates over the years who have gone on to law school successfully, including many who are now judges."
He said legal studies would be much more integrated in what JU teaches, such as business, policy, economics and health, and a law program could provide a pathway for students in law.
"We would be smaller. We would be premier," he said.
Cost acknowledged that moving or creating more JU programs Downtown would fit within its mission to bring more students and vitality into the core city.
Associate Editor Max Marbut, Managing Editor Monty Zickuhr and Editor Karen Brune Mathis contributed to this report.