With industrial space facing a tight 3.5% vacancy in Northeast Florida, NorthPoint Development is preparing to build the 217,268-square-foot Building E at Park 295 Industrial Park in Northwest Jacksonville for completion by year-end.
That comes as Alta Marketing leases the entire 435,943-square-foot Building D under development.
The 175-acre Park 295 has 139 developable acres at southwest Interstate 295 and Duval Road.
Park 295 owners plan about 1.7 million square feet of industrial development among five buildings.
Underscoring the demand for warehouse and logistics services in Jacksonville, landlord NorthPoint and representative Newmark Phoenix Realty Group has leased about 81% of that total space in four years.
Three of the five buildings are fully leased; Building E is under construction and available for lease; and Building A awaits development as a build-to-suit for lease to a tenant.
NorthPoint Development of  Kansas City, Missouri, is the developer. The architect is StudioNorth Architecture, part of NorthPoint. Kimley-Horn and Associates Inc. is the civil engineer.
Through NP Jacksonville Industrial LLC, NorthPoint paid almost $4.77 million in August 2018 for the property.
Newmark Phoenix Realty Group Senior Vice President Richard Antczak, President and principal John Richardson and Senior Vice President and principal Ladson Montgomery are the agents.
Here is the update on the structures.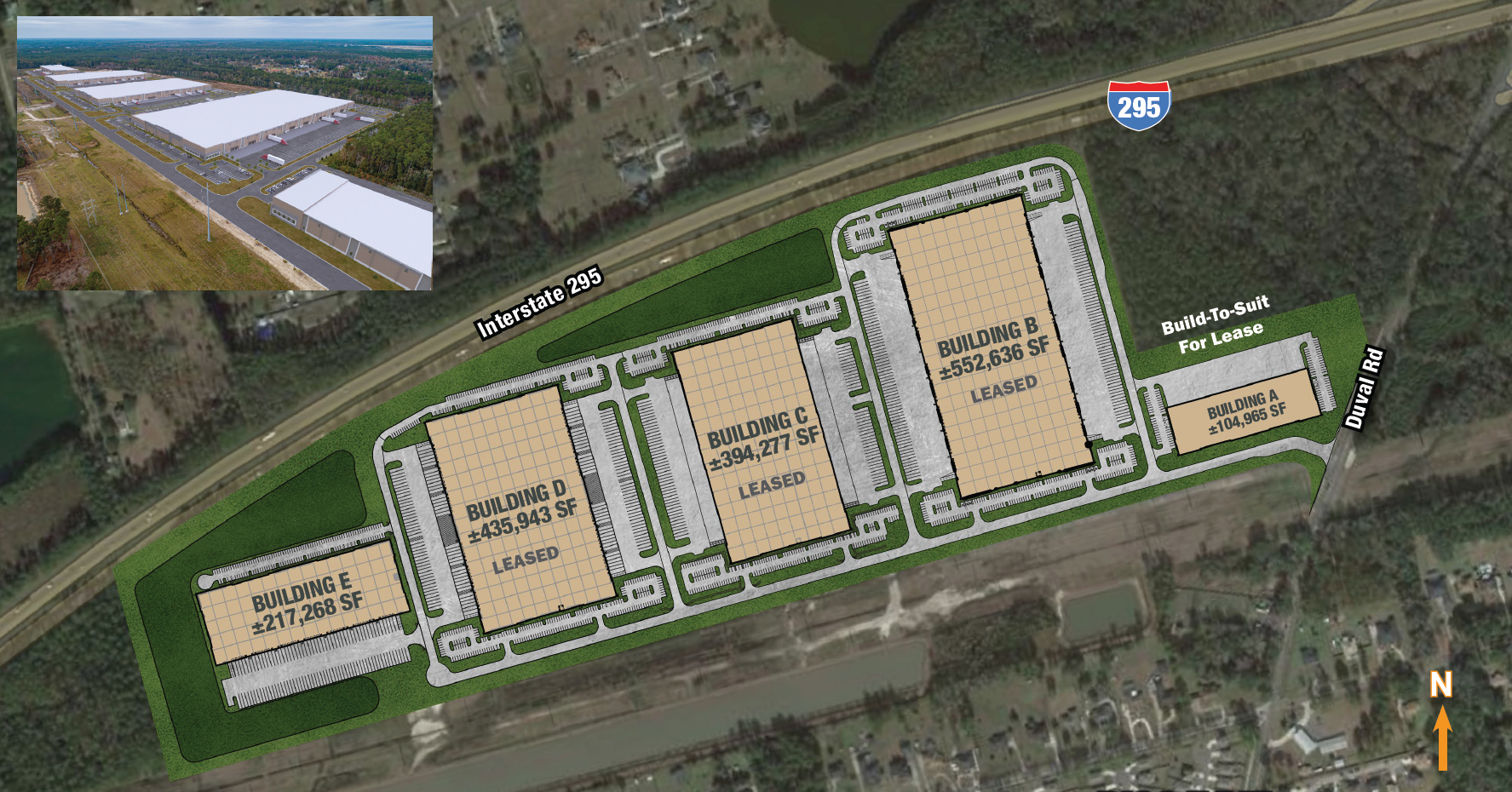 Building E: Under construction and available for lease
217,268 square feet
2895 Ignition Drive
The city issued a foundation permit May 24 at a construction cost of $1.53 million and is reviewing a building permit at a cost of $11.4 million.
James R. Vannoy & Sons Construction Co. Inc. of Jefferson, North Carolina, is the contractor.
Building D: Fully leased
435,943 square feet
2845 Ignition Drive
California-based Alta Warehousing & Logistics will lease the 435,943-square-foot Building D.
Industry sources identified Alta Warehousing as the tenant. It also is included in the second-quarter 2022 market report by the CBRE real estate firm.
Alta Warehousing, based in Fontana, California, near Los Angeles, is a family-owned and operated third-party logistics company that works with the beverage industry. 
The company, founded in 1991, says it provides warehousing and logistics for alcoholic and nonalcoholic beverage brands. It manages more than $70 million in inventory and thousands of shipments annually.
"We are one of Southern California's most trusted third-party logistics providers. By focusing exclusively on the beverage industry, we offer everyday low-cost solutions to our clients' needs which include: monthly storage, e-commerce fulfillment, repacking/reworking, and local freight," says altawarehousing.com.
The company has not responded to calls and emails for comment.
The city issued a permit April 21 for Vannoy to build the foundation on 23.19 acres at a cost of $2.6 million.
Building C: Fully leased
394,277 square feet
2737 Ignition Drive
Southeastern Metals Co. leased 210,540 square feet. Vannoy is the contractor for the almost $2.66 million build-out.
The city is reviewing a permit request for Marcone Appliance Parts Co. in 62,895 square feet at a job cost of $455,000. Lay Duckworth Construction is the contractor.
The city also is reviewing a permit for Arrowhead Engineered Products in 120,842 square feet of space at a construction cost of $1.9 million. Vannoy is the contractor. 
Arrowhead Engineered Products announced in September 2021 it bought Red Hawk, a wholesale supplier of golf cart parts and accessories to more than 2,200 retail dealers across the country and internationally.
Arrowhead was leasing 66,000 square feet at 4601 Bulls Bay Highway. Red Hawk was in 72,000 square feet at 1720 Lewis Industrial Drive. Both are in West Jacksonville. They will combine in Building C.
Building B: Fully leased
552,636 square feet
2629 Ignition Drive
The distribution center is fully leased by medical supplies distributor Sarnova, power company APR Energy, Ulta Beauty Inc. and Quiet 3PF.
Building A: Build-to-suit for lease only
104,965 square feet, conceptual
Ignition Drive
Construction has not begun.