Sleiman Enterprises proposes turning the closed Bealls store in Southside Commons into a center for electric vehicle repairs for an unidentified EV manufacturer.
Sleiman Enterprises Chief Operating Officer Michael McNaughton said July 27 the user and use is confidential so he has no comment about the project.
The 80,000-square-foot Bealls clothing, accessories and home decor store was converted into a lower-price R.M. Bealls before it closed in early 2020. It is a free-standing building.
Sleiman Enterprises explored the idea of an indoor shooting range there but did not move ahead with that.
Southside Commons is at 651 Commerce Center Drive, north of Regency Square Mall in the Arlington area. Anchor tenants include The Church of Eleven22, Planet Fitness, Ross and Michaels.
Through Southside Retail LLC, Jacksonville-based Sleiman, which owns the shopping center, wants to rezone about 4.89 acres of the 22.9-acre property for a planned unit development called "E Auto PUD."
The rezoning would serve "to add major auto repair to (the) list of permitted uses."
It said minor auto repair and service garages are permitted in the existing planned unit development.
"However, as the proposed support center is for electric vehicles, the major auto repair will not include the oils and others fluids that have environmental impacts."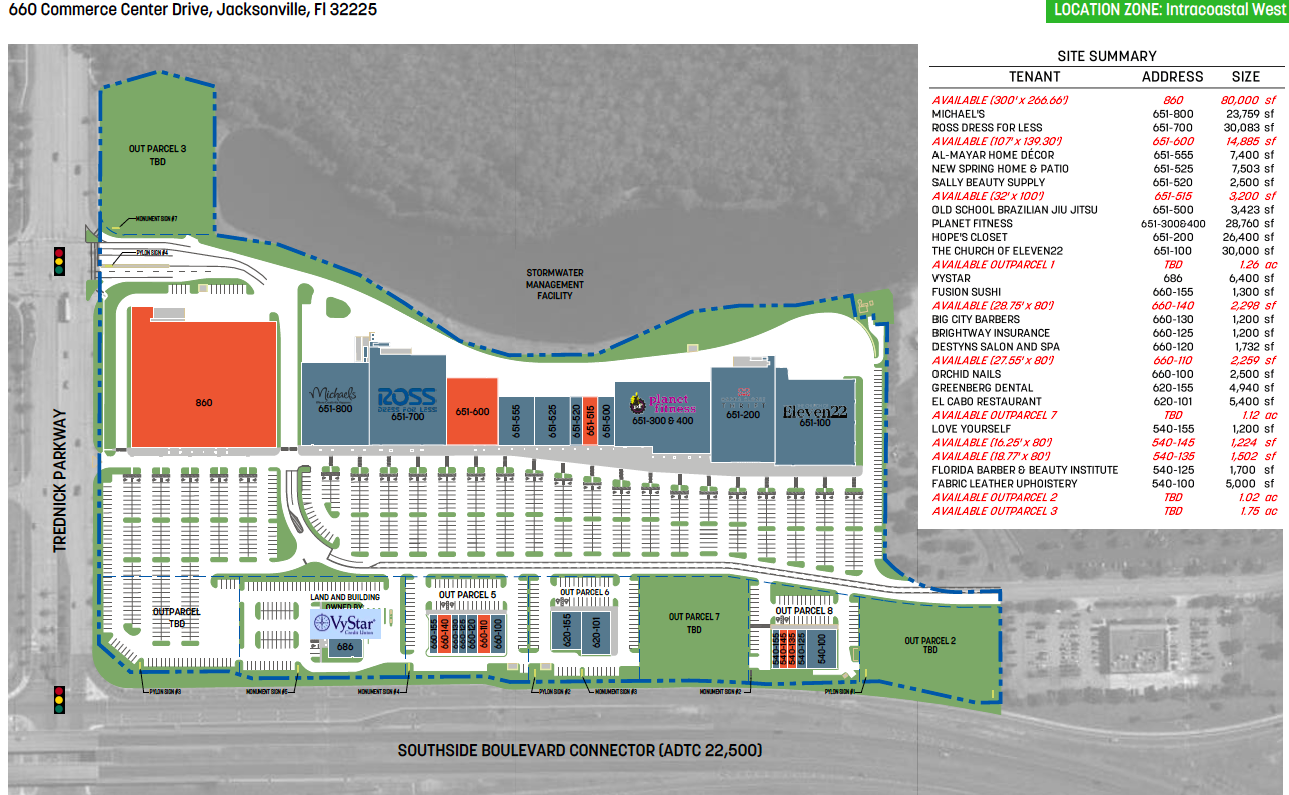 A May 31 written description says the PUD also would allow outdoor vehicle storage limited to autos for repair service.
"The PUD will permit the reuse of an existing 80,000 square foot vacant big box retailer, that has been empty since 2019," says the description.
"In the era of smaller retail buildings and online shopping, this building has been very difficult to reuse and or backfill," it says.
"However, this international electric vehicle manufacturer would occupy the entire space, refurbishing the building for their specific need with all work being conducted indoors."
The major repairs include removal and disassembly of engines, removal of body panels, major mechanical work and body repair.
"While the combustion engine requires various oils and fluids for operation, the modern electronic vehicle is quite different, much cleaner and creates little or no noise," the description says.
It says the proposed use "is far less intensive than a conventional Major Automotive Repair facility as the repairs are limited to Electric Vehicles only, significantly reducing noise, fumes, and environmental impacts normally associated with such use."
The description says all other components of the PUD would remain.
Sleiman Enterprises filed the application July 20. It is scheduled at the Jacksonville Planning Commission on Aug. 18 and, based on the resulting recommendation, would start in City Council review.
It is Ordinance 2022-0556.
While no carmaker is identified in the proposal, Sleiman Enterprises has an association with Tesla, considered the world's largest EV manufacturer.
Sleiman Enterprises owns Atlantic North, the commercial development where a Tesla Inc. Service Center is cleared for construction with site-clearing and building permits totaling $9.3 million in job costs.
Tesla plans a sales, delivery and service center in Atlantic North, which is at northwest Atlantic and Kernan boulevards in East Arlington.
The city issued a permit July 14 for Vision General Contractors of GA LLC to build the 45,505-square-foot center at 11650 Abess Blvd. at a cost of $6.3 million. A June 3 permit approved a $3 million project for grading and site work.
The project is planned on a cleared 6.32-acre site.
Plans show a retail showroom and lounge, 15 service bays, 10 wall-charger spaces and two Supercharger spaces. In the U.S., only Teslas can use Superchargers.
Austin-based Tesla has been operating a showroom at St. Johns Town Center and a service center at 7818 Philips Highway.
In August 2016, Tesla applied for a permit to renovate 18,180 square feet of space at 7818 Philips Highway for a service and sales center.
The Electrek news website that covers the EV industry reported July 6 that Tesla reported delivering just more than 250,000 vehicles in its second quarter, its first down quarter in two years due to a factory shutdown in Shanghai.
"It adds up to Tesla having delivered 564,743 electric vehicles in the first half of 2022," it said.