Countywide parks and quality of life
$50 million 
In 2021, City Council President Sam Newby created a committee for members to propose parks and quality-of-life projects. Mayor Lenny Curry's proposed 2022-23 Capital Improvement Plan includes the second round of the combined $100 million for the initiative. Council will decide where the money will be spent later in the 2022-23 term.
Sports facilities
$34 million
Curry's final Capital Improvement Plan puts $24 million toward the city's $60 million portion of the Jaguars' $120 million training and practice facility, Miller Electric Center. It also invests $10 million for upgrades to 121 Financial Ballpark to help the Jacksonville Jumbo Shrimp meet facility standards required by Major League Baseball to remain a AAA ball club. The administration is asking Council for an additional $14.8 million over the next two years for the ballpark. Both facilities are city-owned. 
The Shipyards
$26.2 million
The city wants to revamp Metropolitan Park and create a second destination park on the city-owned Shipyards property on the Downtown riverfront. The combined $26.2 million also will rebuild the park's marine fire station and extend the Northbank Riverwalk. The projects are meant to complement and facilitate Jacksonville Jaguars' owner Shad Khan's $371 million Four Seasons hotel project and the Museum of Science & History's plans to move to the Northbank. The five-year Capital Improvement Plan calls for another $13 million for Metropolitan Park, $10 million for the Riverwalk and $3 million for the fire station and related projects in 2023-24.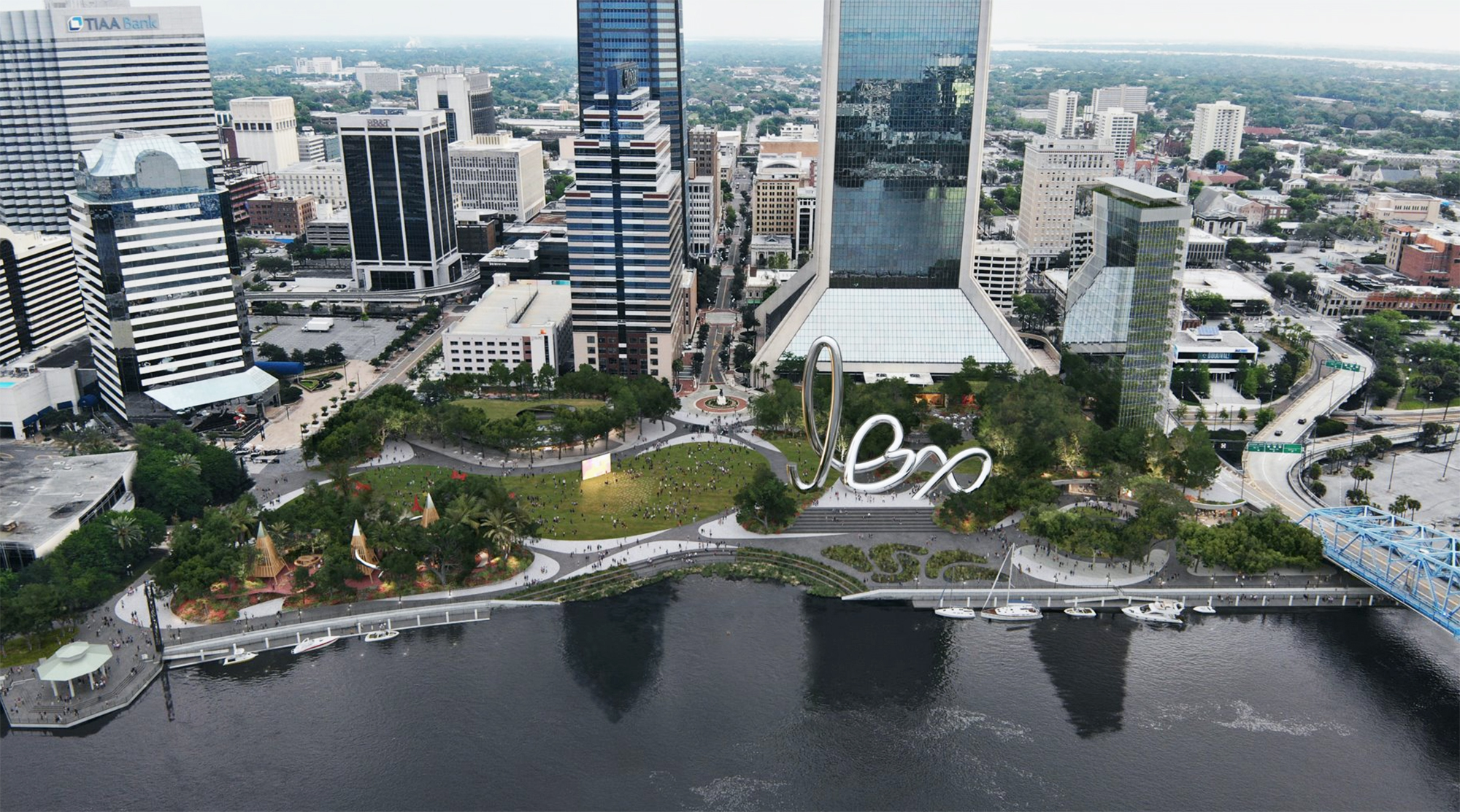 Riverfront Plaza
$25 million
Perkins & Will Inc. is expected to release a final design later this year for a nearly 7-acre "signature" city park at the former Jacksonville Landing that could include a beer garden; a "destination" playground; open lawns; outdoor dining; and a variation of the "Jax" sculpture by Orlando-based artist Jefre Manuel. The $25 million requested by the Downtown Investment Authority to construct the park previously was planned to be spread out over two years.
UF Health Jacksonville
$20 million
The funding continues a six-year, $120 million commitment the Curry administration made in July 2018 to help pay for infrastructure and facility improvements to the medical center north of Downtown. 
McCoys Creek & Riverwalk improvements
$18.6 million
The city committed $105.4 million for a multiyear effort to restore the natural flow of McCoys Creek, rebuild its greenway and connect it to Groundwork Jacksonville's 30-mile Emerald Trail under construction. The $18.6 million will reroute where the creek empties into the St. Johns River at the former Florida Times-Union site in Brooklyn, allowing Atlanta-based Fuqua Development LLC and partner TriBridge Residential to build a $182.2 million apartment and retail project anchored by a Whole Foods grocery store.