The state is awarding Callahan $4 million from the Job Growth Grant Fund to help finance a clean water plant at Crawford Diamond Industrial Park in Nassau County. 
Gov. Ron DeSantis announced the award June 20 at a news conference in Nassau County with local and state officials.
DeSantis said the project is expected to create more than 2,000 manufacturing and related jobs at the 1,814-acre certified megasite.
The governor and JAXUSA Partnership President Aundra Wallace touted Crawford Diamond's access to railroad and interstate highway infrastructure, as well as its proximity to JaxPort and the Port of Savannah, as draws for prospective manufacturing tenants.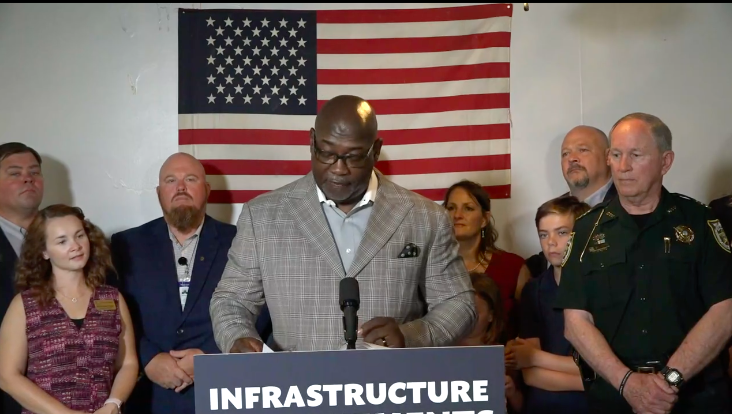 "We want to have more of an industrial base in the state of Florida. We want to be able to expand manufacturing," DeSantis said. 
Crawford Diamond has been approved for up to 10.5 million square feet of industrial uses that can include manufacturing, assembly, warehousing and distribution as well as use as an intermodal inland port or logistics center.
The governor said the plant would increase the industrial park's clean water capacity by 3 million gallons per day and have $25 million in economic impact.
Wallace said two prospective tenants are considering Crawford Diamond. They could create 400 to 800 jobs. 
He did not identify the companies but said they could bring $200 million to $400 million in private investment. 
"The appeal of doing business in Florida has been especially evident over the last few years as companies are searching for a lower cost of doing business, desirable infrastructure and an available and skilled workforce," Wallace said.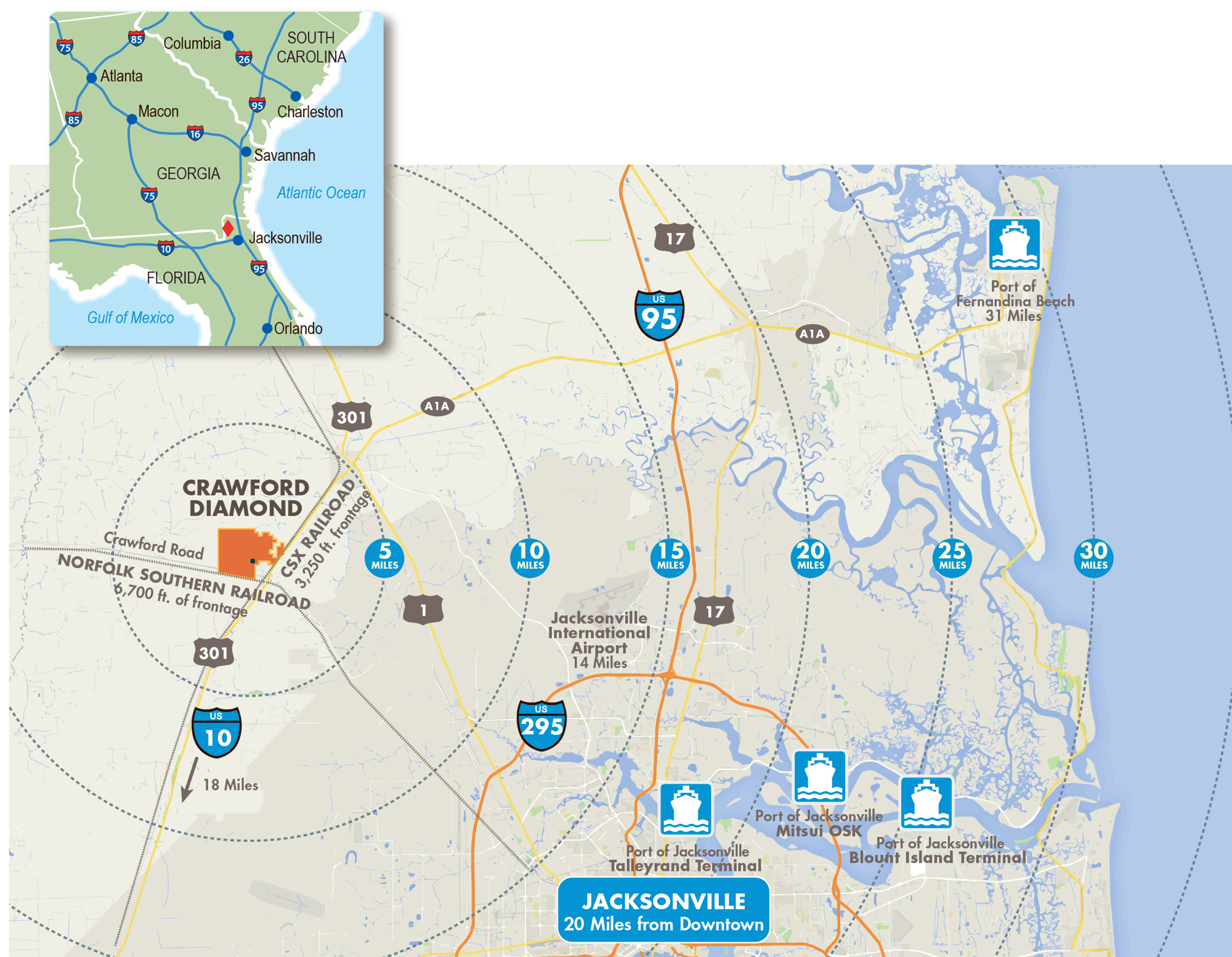 JAXUSA Partnership is the economic development arm of JAX Chamber.
Florida Power & Light Co. owns about 1,310 acres of Crawford Diamond. 
The Juno Beach-based utility bought the bulk of the 1,814-acre park in September 2017 from Yulee-based Rayonier Inc. for $13.1 million.
The FPL website for Crawford Diamond says 500 acres are planned for industrial use and 1,300 acres are designated for solar generation.
Crawford Diamond is in west Nassau County along U.S. 301 and south of U.S. 1, between Interstate 95 and I-10. The CSX and Norfolk Southern rail lines cross at the property.
FPL spokesperson Florencia Olivera said in an email June 20 that the fresh water plant is a public project by the Town of Callahan and the utility is not involved in its development. 
"FPL's Office of Economic Development continues to work with leaders from Nassau County and the Town of Callahan to promote the Crawford Diamond site to potential companies across the country," Olivera said.
"The funding announced today will add to the infrastructure already being built on the site and will hopefully result in job creation and capital investment for this region in the future," she said.
In September 2017, utility spokesman Stephen Heiman said the utility "is always planning ahead to ensure we are prepared to meet the needs of our customers in the future."
"Accordingly, we routinely purchase parcels that we believe would help us meet those needs, whether they be for distribution facilities, a service center or a solar power plant," he said at the time.
The utility serves about 4.9 million customer accounts, about 10 million people, across about half the state. It is a subsidiary of NextEra Energy Inc. 
Rayonier Director of Strategic Communications Alejandro Barbero said June 20 that Rayonier is not involved in the water plant project, but the company supports infrastructure development that promotes economic growth in Nassau County.