The Jacksonville City Council in June 28 signed off on a rezoning request for the proposed $46 million Sulzbacher Enterprise Village campus in Northwest Jacksonville.
The project will complete the housing and social service provider's relocation out of Downtown.
The nonprofit Sulzbacher, which serves people experiencing homelessness, says when the new campus is complete in two to three years it will offer social services, health care, job training and on-site job placement for residents.
Council voted 18-0 to approve rezoning of 16.88 acres on Walgreen Road, west of Interstate 95 and east of Brentwood Golf Course.
Sulzbacher board Chair Darnell Smith, Florida Blue North Florida Market president, thanked Council members for acknowledging what he and others have called a housing crisis in Jacksonville. 
"When you look at the long-term vision of what we're trying to do, it's not just creating the housing component," Smith said. 
"We're trying to also bring jobs. We bring jobs, we bring health care and we bring housing. And we help people find their way back home. That's the work that we want to do."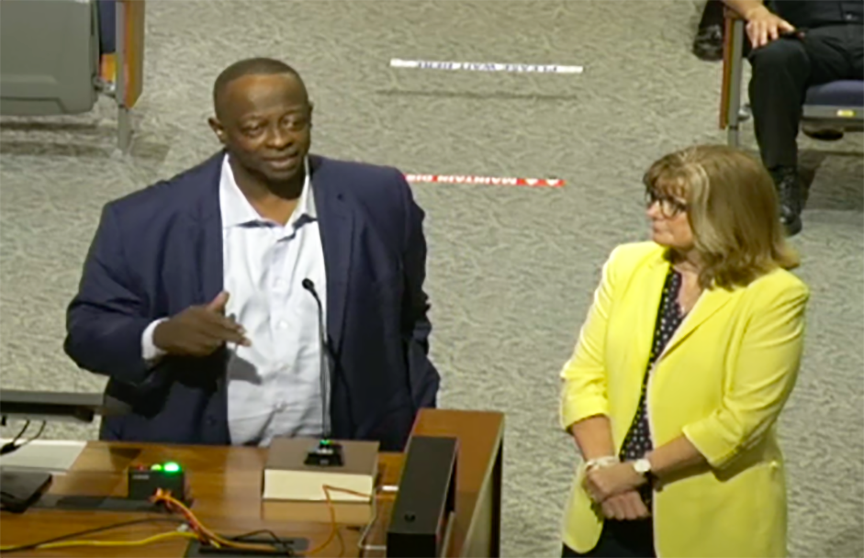 Council's vote rezoned the property from light industrial and commercial community general to planned unit development that allows residential development. 
Plans show the campus will include a 60,000-square-foot administration building with short-term housing; 60,000 square feet of transitional workforce housing; a 45,000-square-foot community clinic and respite care building; and a 7,600-square-foot center for job skills training.
The design also shows a 100,000-square-foot building designated for a new manufacturing facility that will provide employment for Sulzbacher clients and others in the community.
Sulzbacher Enterprise Village will have 100 studio and one-bedroom units and 80 temporary emergency units, Sulzbacher Center President and CEO Cindy Funkhouser said.
The project received pushback from residents near the proposed site. Council member Ju'Coby Pittman, who represents District 8, said June 28 she initially did not support locating the Enterprise Village in that area. 
"For all of the residents and concerned residents that came out … you always have to consider bringing something good. Just because we haven't had it in the community doesn't mean it's not good for the community," Pittman said. 
"We have to start somewhere, and somewhere is bringing housing to the community." 
Council member Garrett Dennis, who is liaison to the Jacksonville Housing Authority, said 86,000 people in Duval County are on the waiting list for Section 8 housing vouchers.
Funkhouser said June 29 that could be a 15-year waiting list. 
Smith told Council that Enterprise Village is a step in the Sulzbacher's goal of addressing city housing concerns.  
"Sometimes when we try to show up in communities, they see one thing — these people used to be homeless, and they don't want these people in their communities," Smith said. 
"Well, the thing that they don't understand is these people came from their communities, and all we're trying to do is help them find their way back home." 
Funkhouser said June 17 that the enterprise project has been in the works since the nonprofit opened Sulzbacher Village nearly four years ago. 
That community is at 5455 Springfield Blvd., where the organization provides transitional housing and services to women and families experiencing homelessness.
Sulzbacher has been at its Downtown location at 611 E. Adams St. since 1995. It is in year 28 of a 35-year lease with the city and pays $1 per year, Funkhouser said.
According to Funkhouser, Sulzbacher is working with residential developer The Vestcor Companies for the workforce housing. For job skills it is working with Florida State College at Jacksonville and Goodwill of North Florida.
The nonprofit is working to raise the money to build the project that Funkhouser says includes government tax credits. 
According to Funkhouser, the manufacturing facility is the second phase of Enterprise Village and will cost about $10 million. It is a planned partnership with an Idaho-based company that manufacturers components for modular workforce housing.
Funkhouser did not identify the company but said Sulzbacher leadership plans to visit the company's headquarters within the next month. 
"At this point, now the work really begins to get all the funding in place and really get going," she said.
The pandemic, supply chain issues and inflation are causing rental rates to rise and exacerbating Jacksonville's affordable housing problem, Funkhouser said. 
She said Vestcor and Ability Housing are the only developers in the city that specialize in affordable housing. 
"The housing inventory that was affordable is no longer affordable," Funkhouser said. 
"We're facing a huge crisis in Jacksonville, and the county as well, in affordable housing." 
Associate Editor Max Marbut contributed to this report.