Gov. Ron DeSantis said March 3 that the Singapore-based global ocean carrier Sea Lead Shipping Pte Ltd. will bring its first U.S. East Coast container service to Jacksonville.
DeSantis made the announcement during a news conference at JaxPort with CEO Eric Green, Mayor Lenny Curry, a representative from Sea Lead and other local and state officials.
According to a JaxPort news release, Sea Lead will use the SSA Jacksonville Container Terminal at Blount Island Marine Terminal as a last port of call on the company's Asia East Coast rotation. 
Sea Lead's rotation will connect JaxPort to four locations in Asia with arrivals every two weeks, the release says. The first will be May 7, with the 6,661-TEU container ship Hakuna Matata.
TEU means twenty equipment unit, based on the volume of a 20-foot shipping container.
Sea Lead plans to include JaxPort in a port rotation with Nansha, Ningbo and Qingdao, China; South Korea; Norfolk, Virginia; Newark, New Jersey; and Charleston, South Carolina. 
Sea Lead currently serves the Port of Long Beach, California. The company used the site to launch its transpacific service in June 2021, according to JaxPort.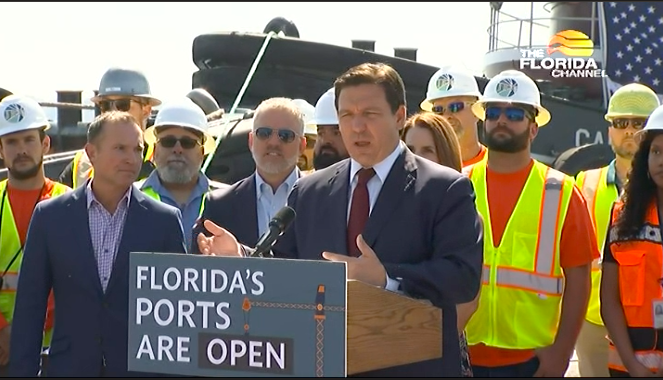 A report Feb. 9 by Bloomberg.com said Long Beach and the Port of Los Angeles account for 40% of seabound imports in the U.S. 
DeSantis said during the event that Sea Lead wanted to avoid port backups in California. 
"Port congestion has been a challenge for everyone recently and the AEC will allow us to service ports that are more efficient for our customers, Sea Lead Managing Director Cho Kit Wei said in the release. 
"We are confident that the market and our partners will respond well to the service, and we look forward to developing strong partnerships on this trade land," he said.
JaxPort officials said Sea Lead's operation will be able to use the 47-foot channel expected to be complete later this year and more than $200 million in enhancements underway to modernize Blount Island.
The Jacksonville shipping channel in the St. Johns River is being deepened from 40 to 47 feet from the Atlantic Ocean to Blount Island to handle larger vessels and increase Asian container traffic. 
"This new service, and the jobs and economic impact it brings to Jacksonville, is a direct result of the dedication and foresight of our elected officials who have invested in a deeper channel and infrastructure upgrades to enable JAXPORT to serve a wider variety of vessels," Green said in the release.
Pramod Raj, a representative for Sea Lead, said the company wants the expansion to be part of a long-term relationship with JaxPort.
March 4 was the second time since October that DeSantis traveled to JaxPort as a backdrop for his push to reroute more ocean cargo to Florida to avoid congestion at other U.S. ports. 
At JaxPort, he cited increases in materials shipping like steel and wood products to the Port Miami and Port Manatee in Tampa that DeSantis said typically would flow into West Coast ports. 
The Port of Charleston, South Carolina, also has been experiencing backups, according to media reports.
As of March 3, there were 25 cargo ships anchored offshore waiting to come into port, according to WCIV ABC News 4, Charleston.
Meanwhile, Bloomberg reported the West Coast backup is receding. 
The news agency said as of Feb. 8 the number of container carriers in the queue to enter the ports of Los Angeles and Long Beach totaled 78, the lowest level since November and down from a peak of 109 a month ago.