The Jacksonville City Council signed off on a rezoning request by The Vestcor Companies Inc. for the proposed $56.5 million Madison Palms affordable housing project on Merrill Road in Arlington. 
Council voted 14-3 on Nov. 22 to rezone, with conditions, a former church property at 8300 Merrill Road to planned unit development.
The site plan by Bold Line Design filed with Ordinance 2022-0713 shows the 240-unit community in eight three-story buildings on 12.16 acres. There are 425 surface parking spaces.
Ryan Hoover, president of Vestcor subsidiary TVC Development, said in October that the apartments will be reserved for people making 100% or less of the adjusted area median income. That is $58,000 per year for a single person and $86,000 for a household of four.
Council Vice President Ron Salem and Council members LeAnna Cumber and Joyce Morgan voted against the bill. Morgan represents Arlington and Salem lives there.
Salem and Morgan brought up an error in the Planning and Development Department staff report that said that the traffic on that segment of Merrill Road is at 63.7% capacity when it is actually at 123%.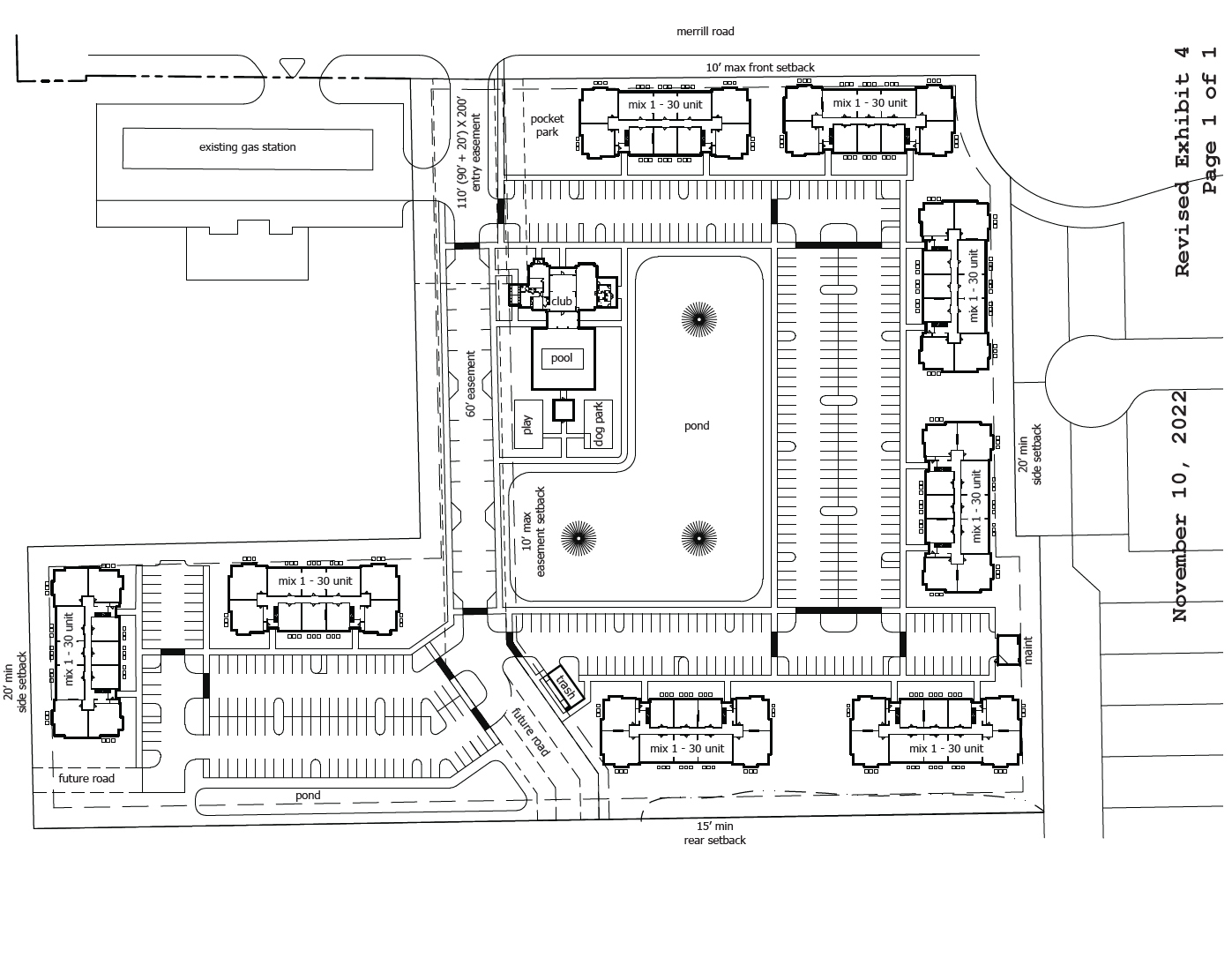 Salem said the error was not corrected before the Greater Arlington Beaches Citizens Planning Advisory Committee or the Renew Arlington Community Redevelopment Area Board made their decisions to support the project. 
The Council Land Use and Zoning Committee did have the correct traffic information when it passed 5-0 on Nov. 15.
Morgan and Salem said city code allows Council to consider the traffic impact when approving a rezoning. 
Madison Palms will comprise 96 one-, 96 two- and 48 three-bedroom units that are set aside for various income levels.
There will be 132 units for households at or below 100% of the area median income.
Vestcor plans 97 units for households at or below 60% of the median income, $35,000 for one person and up to $50,000 for a family of four.
Eleven units are for households at or below 33% of the median income, $19,000 for a single tenant and up to $27,000 for a four-person household.
Council's vote comes two weeks after it unanimously approved a $5 million, 17-year loan at 1% to help finance the project. 
City officials hope the financial support and loan, which is well below market interest rates, will add to Jacksonville's limited supply of affordable housing. 
City lawmakers followed the recommendations of the Jacksonville Planning Commission, which recommended the rezoning 5-0 on Oct. 6 with some conditions. 
Vestcor is required to provide a traffic study of the project with the civil site plan review unless the city chief traffic engineer determines it is not needed.
The developer cannot relocate the site access to Merrill Road or the adjacent RaceTrac gas station. The Council said the development cannot use borrow pits during construction or include commercial/retail at the site. 
Vestcor has the property under contract from Lakeview Christian Fellowship Inc., formerly Merrill Road Baptist Church and Christian Ministry Center Inc., according to Hoover.
The Jacksonville-based multifamily housing developer's funding model in the past decade for its affordable and workforce apartment projects, such as Lofts at LaVilla and Lofts at Jefferson Station Downtown, relies on low-income housing tax credits from the state of Florida. 
For Madison Palms, Vestcor plans to secure tax credits, but the funding also includes a $25.5 million mortgage; $5 million in general partner equity; $21 million in investor equity; and the $5 million city loan, which will act as a second mortgage. 
Hoover said Oct. 19 the city loan is necessary because tax credit equity does not cover the same percentage of project costs as it did before the coronavirus pandemic. 
The developer told the city that construction would begin Nov. 1, 2023, and be completed by March 1, 2025.