Pain management is a passion for Phyllis Hendry, a pediatric emergency medical physician.
Since joining UF Health Jacksonville in 1989, Hendry has held multiple titles in multiple initiatives.
She was a founding medical director for a regional pediatric hospice and palliative program, Community PedsCare, from 2005-07 and medical director for the Florida Department of Health's EMS for Children program from 1999-2005. She continues to serve on the Florida EMSC Advisory Committee.
One of her most recognized programs is the Pain Assessment and Management Initiative. Hendry is the principal investigator of the program.
"We're trying to give patients and their caregivers and families alternatives to opioids for pain management," Hendry said. "We really want to do something that helps the patient."
Hendry started the program in 2014 with her colleague, Dr. Sophia Sheikh, and they wanted to improve pain management in the emergency department. 
They initially targeted caregivers but the program has evolved to more direct involvement with the patients. 
The explosion of opioid addiction, which Hendry says is at a serious level in Jacksonville, created the need for the Pain Assessment and Management Initiative.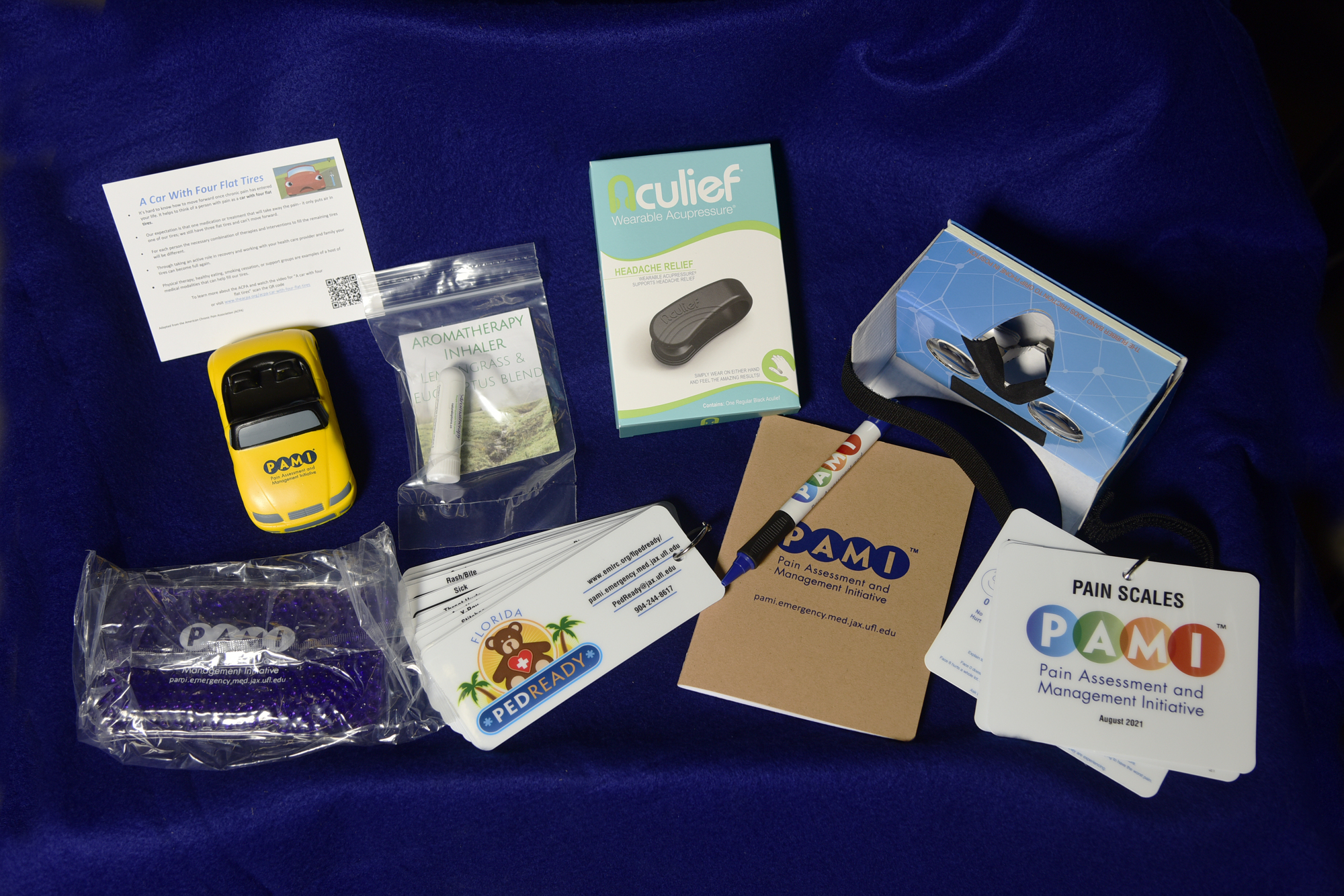 The opioid crisis and rising addiction is a result of patients who are not properly instructed about how to deal with acute and chronic pain after a life-altering injury, she said.
Hendry said patients have little knowledge or experience in dealing with life-changing physical challenges.
"If that pain gets out of control, it actually can cause changes to your brain. It interrupts your sleep, you're worried about missing work. It creates this whole vicious cycle," she said.
"Part of it (PAMI) for acute pain is learning how to manage it right off the bat so you don't ever get to the point to where you need opioids or other medication for chronic pain," she said.
"How do you deal with that where you can go back to work and not take medication?" 
The program developed a "Distraction Toolkit" with items such as squeeze toys, gel packs, aroma therapy, virtual reality therapy and other items to distract the patient who is suffering pain. 
The toolkit works on the premise that the brain can concentrate only on one thing or thought at a time. 
When patients see the items and start to handle them with the oversight of a "coach" – who is a hospital medical professional – they can be distracted from the pain. 
A lot of the initial work is at the hospital as the patient is about to be discharged. Sometimes the patients are in the hospital for surgery.
Hendry said those are key times because patients are stable and can understand the messaging better than when they are in a state of trauma.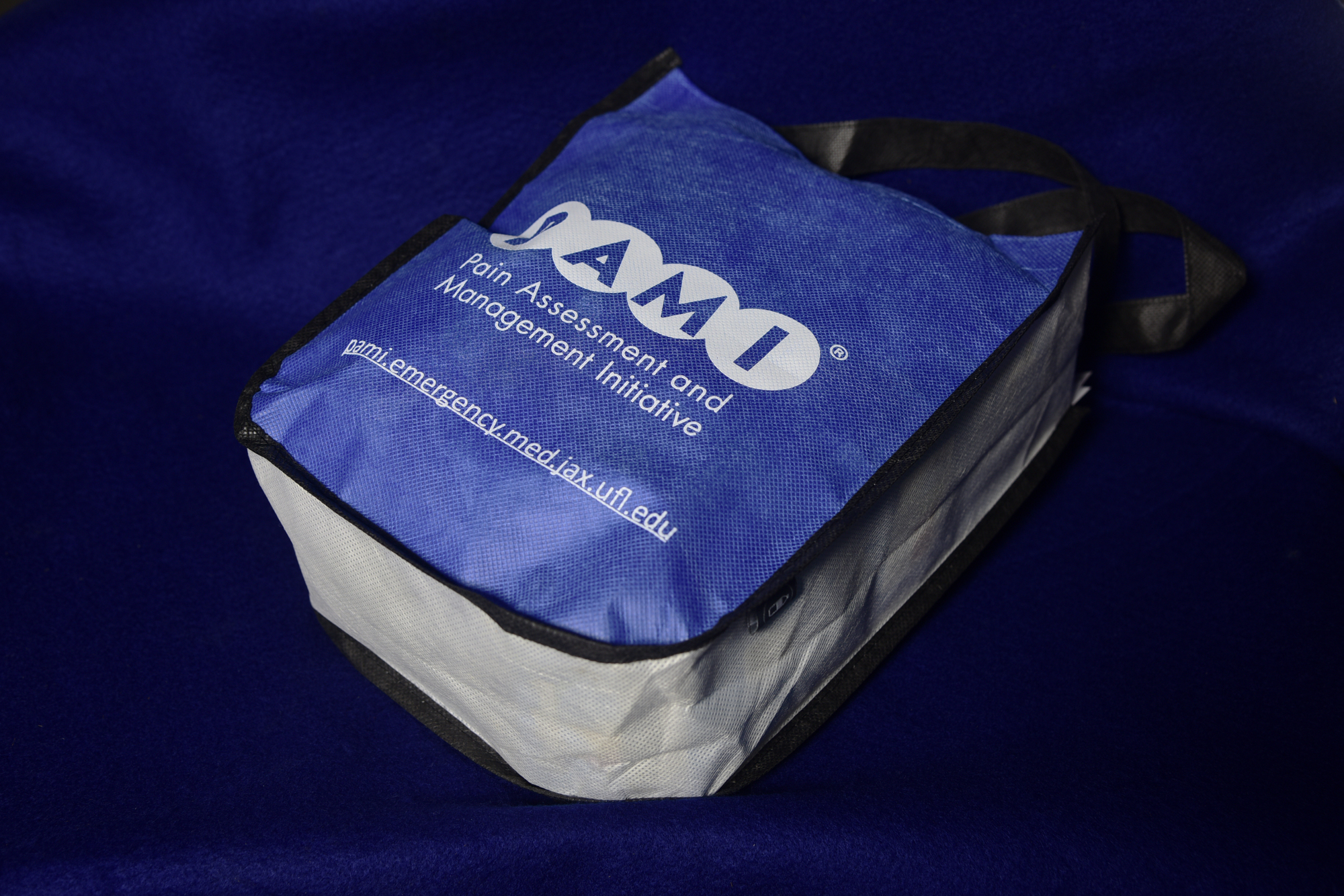 In a hospital setting and in the emergency areas, sometimes there are not enough pain doctors to see everyone after initial emergency treatment. 
That's where the program is effective. 
"We talk to them about what kind of pain they have. What causes their pain and we go over what kind of over-the-counter (treatments) there are, topical treatments, we go over all of those things," Hendry said.
While traditional trauma injuries are the bulk of the work, Hendry said the COVID-19 epidemic has added to the need for the program with patients who have long COVID symptoms well after the infection has subsided.
Lung pain, body aches and other symptoms can persist after the initial infection.
She enjoys seeing the program thrive and expand to other facilities around the United States.
"I don't like seeing people suffering. I don't like seeing people being treated badly. I don't like seeing people that can't get the resources they need. I've always enjoyed working in an underserved population or with a population with a lot of challenges," Hendry said. 
"I like to build programs."