The Downtown Investment Authority board approved cash incentives April 19 to the landlord and owners of a proposed fantasy novel-inspired speakeasy restaurant and a pub-style nightclub to help with build-out costs in vacant spaces along Bay Street. 
In separate votes, the board voted 7-0 to award a $171,700 grant for Pagemaster Inn LLC and a $100,000 grant for Liberty Bay Operations LLC, owner of Waypoint Liquors & Pub. 
The landlord for both projects, Liberty Bay Properties LLC, is also listed as beneficiary of the grant awards.
The money from the DIA Food and Beverage Retail Enhancement Program will help finance interior build-out for Waypoint and Pagemaster Inn and Tavern in a historic building at 333 and 327 E. Bay St.
The bar concepts are linked to investor Jon Mroz, the managing partner of 327 E. Bay LLC, which owns the commercial storefronts comprising Live Bar, Myth Nightclub and Element Bistro + Bar.
Before their vote, board members questioned Mroz about his public safety plan for a proposed packaged to-go beer and spirits sales floor in Waypoint after fielding concerns from residents of the neighboring Plaza Condominiums at Berkman Plaza & Marina.
Via Zoom, Mroz told the DIA he intends for Waypoint to be an upscale establishment and will have security guards wearing suit and ties at the door to monitor loitering and any negative activity at or near the business. 
Package sales do not qualify for DIA food and beverage program incentives, so the business owners and city compliance staff will have to show that the taxpayer money for Waypoint are used only for build-out expenses related to the pub portion of the facility, the report says.
The staff report and state records show Mroz is the managing partner of the Waypoint landlord and tenant companies.
According to a DIA staff report, Pagemaster will be owned and operated by business manager Jordan Creel and kitchen lead Vanizia Wilson, who is co-owner of Jacksonville-based Food Addictz on the Run. 
Pagemaster will comprise a retail storefront "that specializes in selling fantasy novels, games, and memorabilia with an attached speakeasy that will sell beverages and liquor along with unique food pairings," the report says.
Waypoint project construction manager Emerald C's Development  Inc. told DIA staff it estimates build-out costs for the pub and packaged liquor store will be $1.056 million.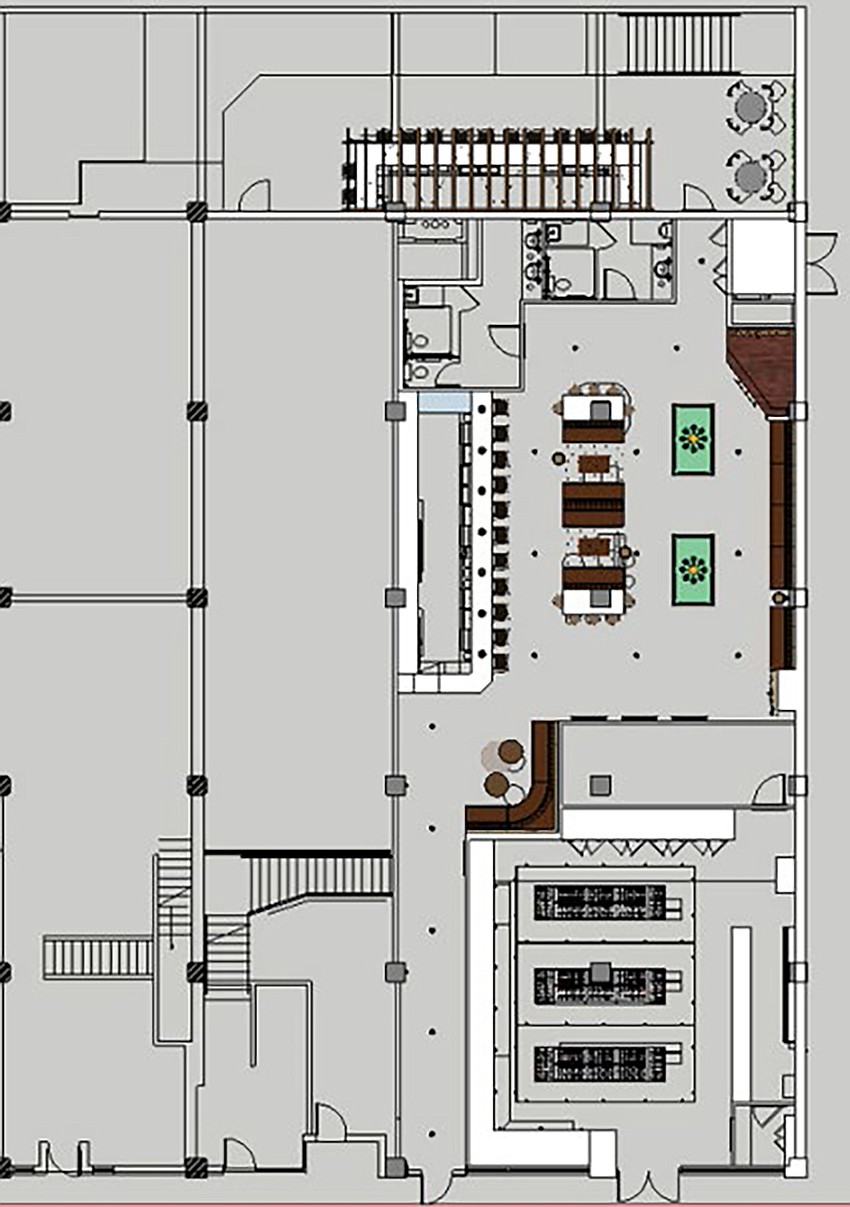 The report says the pub bar space will cost about $821,359 to build-out with $653,890 of that eligible for city incentives.
For Pagemaster, plans show an 850-square-foot portion of the 3,303-square-foot space will be sectioned off to serve as a bookstore and entrance to the speakeasy. 
"The entrance to the speakeasy will be lined with floating bookshelves covering many of the walls, tavern-style chandeliers hanging from the ceiling, and natural wood and brick accents that will be visible throughout the space," the DIA report says.
The report says Pagemaster will have a 10-seat bar and high-top tables, dining and open areas and a private room. 
Hota Design Studio LLC of Jacksonville told DIA staff the project's estimated build-out will cost $638,242, of which $521,868 is eligible for DIA incentives. 
Only the speakeasy/restaurant portion of the project is eligible for the DIA food and beverage incentives. The bookstore is not.
The build-out dollars are the second round of city incentives linked to the property.
In March, the DIA board voted 6-0 for a $1.655 million forgivable and deferred principal loan package to 327 E. Bay LLC to complete a $7.412 million structural and code compliance rehab of the historic building. 
That deal needs City Council approval before the Mroz company is awarded the incentives.
Mroz is co-owner of Nightlife Innovations Inc. formed in 2016. 
"(Jon Mroz) and his partners have a combined 80 years of experience in the restaurant and bar industry, and they specialize in management and marketing," said a DIA staff report in March.