City Council President Terrance Freeman said Feb. 1 he will reopen the Council Special Investigatory Committee on JEA Matters after recent media reports detailed emails that appear to contradict Council member LeAnna Cumber's public disclosure in the 2019 attempt to sell the city-owned utility. 
In a news release Feb. 1, Freeman said relaunching the committee is meant "to ensure to the people of Jacksonville that they (their) City government was not deceived by any bidders or elected officials during the investigation into the attempted sale of JEA."
The attempt to privatize Jacksonville's municipal electric and water utility sparked an FBI investigation that resulted in federal conspiracy and wire fraud charges in March 2022 against fired JEA Managing Director and CEO Aaron Zahn and CFO Ryan Wannemacher. 
Emails obtained by The Florida Times-Union show Cumber's husband, Husein Cumber, met and communicated with people working to advance what became a proposal by JEA Public Power Partners to pay a concession fee for the contract to manage JEA while it remained publicly owned.
JEA Public Power Partners, which was a consortium of Bernhard Capital Partners, Emera Inc. and Suez SA, was one of nine companies that negotiated with JEA and city officials during a failed Invitation to Negotiate to buy the utility. 
Council President Scott Wilson ordered the Council special investigatory committee in January 2020 and it was extended by his successor, Tommy Hazouri. 
The committee's yearlong investigation produced dozens of interviews and sworn statements with JEA executives, consultants, companies that bid to buy JEA and officials in Mayor Lenny Curry's administration. 
It also produced a 132-page final report and 242-page chronology and led Council to make changes to JEA's charter to safeguard against privatization attempts. 
Eighteen of the 19 Council members filed a voluntary relationship disclosure statement as part of the investigation.
In her disclosure, filed March 2, 2021, three months after the committee's final report, Cumber said, "I have no conflicts regarding JEA and the ITN." 
"I had no discussion with Mr. Zahn or Mayor Curry regarding privatization. I did meet in my City Hall office with JEA Management, JEA Government Affairs and (then-Curry Chief of Staff) Jordan Elsbury on the following dates to discuss generally the potential for change of control or reorganization of JEA: August 7, 2019; October 21, 2019; November 22, 2019; and December 4, 2019."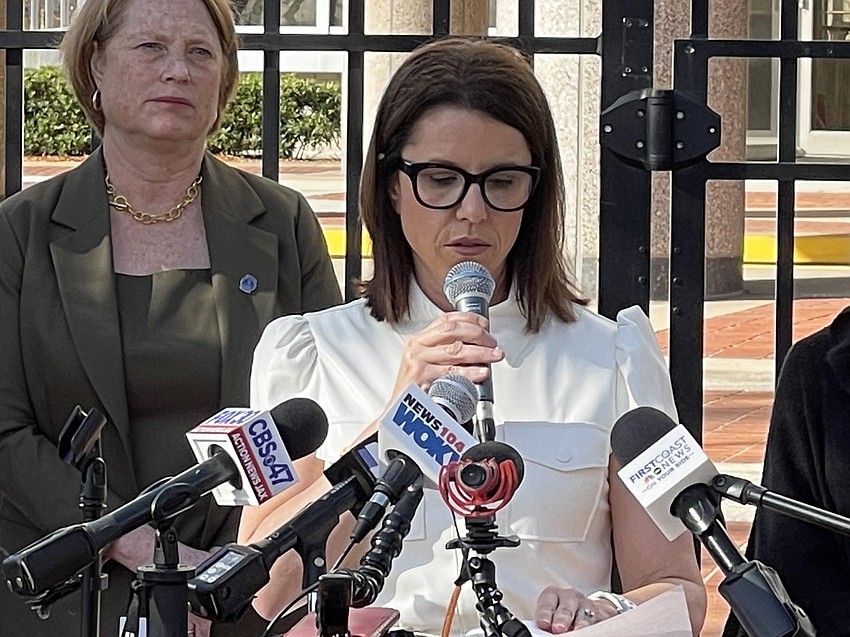 Cumber's letter said she met with JEA union representatives to discuss pension legislation and with Council-contracted attorney Steve Busey regarding the Council vote to approve his contract. 
Council member Aaron Bowman did not file a disclosure.
Allegations that Cumber, a Republican 2023 mayoral candidate, did not disclose her husband's work related to the JEA sale is the focus of a recent campaign ad released by Building a Better Economy, the political committee of her GOP rival and JAX Chamber CEO Daniel Davis.
Cumber's political committee JAX First has a competing campaign ad claiming Davis took money from JEA to push privatization, a reference to a 2018 JAX Infrastructure Innovation Summit that featured Zahn and that the chamber helped organize. 
Cumber's attorney, Daniel Nunn, provided a statement in response to Freeman reopening the committee:  
"This manufactured controversy exposes the lengths to which Mayor Curry and his chosen successor will go to win. As a lawyer who investigated the JEA scandal, I found no misconduct by any member of the City Council.
"If the SIC (Special Investigatory Committee) is to be re-opened, it should also explore the non-disclosure by Chamber employee Aaron Bowman, the job offer to (former City Council member) Garrett Dennis, and what the administration knew about it. There is other information that has not yet been made public if the SIC reconvenes." 
Nunn, with Nelson Mullins Riley & Scarborough, provided research and testimony to the first Council JEA investigative committee. 
Bowman is senior vice president of business development for JAXUSA Partnership, the economic development division of JAX Chamber.
According to the Times-Union, Cumber would not say whether she knew about her husband's interactions when she submitted her disclosure. 
But LeAnna Cumber told the newspaper that she and Husein Cumber knew the FBI's JEA investigation was ongoing and that they were providing the agency with information. 
"We already knew there was an FBI investigation going on and protecting that investigation was my top priority," Cumber told the Times-Union.
When asked Feb. 1 whether he has received political pressure to restart the committee to investigate Cumber's disclosure, Freeman said his order is "not about politics, it's about principles." 
The committee will retain the subpoena power it held in the 2020 investigation, according to the news release.
The release says the committee is charged to:
• Investigate whether the Committee was deceived or misled by Council member Cumber or JEA Public Power Partners responding to subpoenas or making disclosures.
• Ascertain whether Council member Cumber attempted to use her official position to influence the ITN process for personal gain; and  
• Propose legislation to ensure that such deceptions, if any, do not impede the work of any future investigatory committee.
"This allows the Council member to clear the record," Freeman said.
Freeman said he plans to name the committee members and more details about its charge in a future news release.
He said the committee will likely have three members and an alternate. 
It's unclear if the new committee will again hire an outside attorney to advise Council members in their investigation and conduct witness interviews, but Freeman said he would allow committee members to make the decision.
Council approved a contract with Jacksonville-based law firm Smith Hulsey & Busey capped at $1.85 million for the yearlong investigation into the JEA sale attempt. The firm also drafted the final report and chronology for the committee.
"When there is a scenario that arises bringing confusion, bringing a process that allows clarity is what is needed," Freeman said.