The Jacksonville Housing Authority board approved a $44.5 million plan to finance and work with two for-profit development firms to build 152 single-family homes in Duval County.
The board approved the deals at its Jan. 30 meeting.
In the first, JHA will contract with Jacksonville-based Chase Properties Inc. to build 102 town homes for $33 million on a 19.04-acre site at Normandy Boulevard and Nathan Hale Road in West Jacksonville, southeast of Baldwin. 
A PowerPoint presentation from JHA says Chase is asking for $2.376 million to buy the land for the 102-unit Normandy project. It will be paid in cash.
According to a Feb. 2 news release, the city housing authority will issue revenue bonds to pay for build-out of the town homes, which JHA will own and manage after construction is complete. 
The JHA presentation says 20% of the rental town homes will be affordable housing and the other 80% will be market rate.
Bold Line Design is the project architect.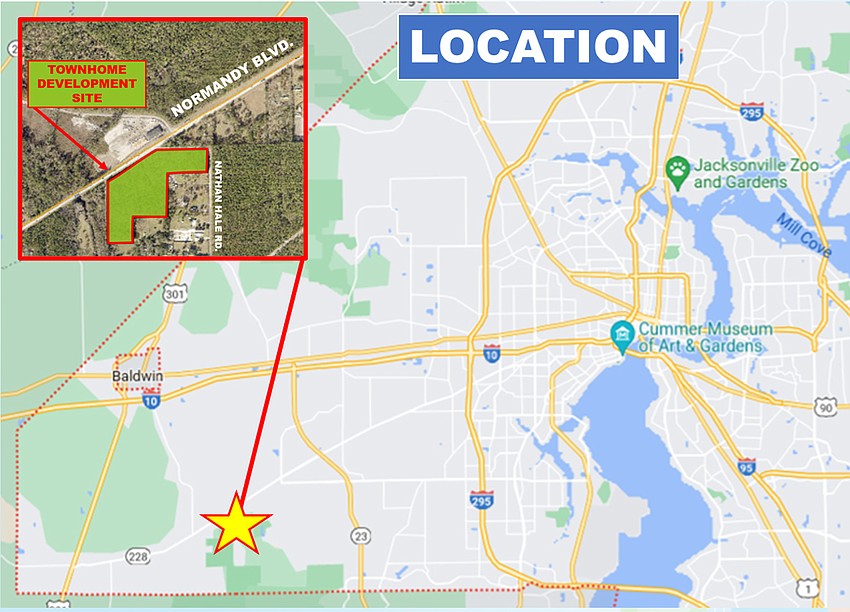 JWB deal
In a separate agreement, the board agreed to an $11.5 million deal with JWB Real Estate Capital LLC for 50 single-family homes in eight Jacksonville ZIP codes. 
A map provided by JHA shows the largest concentrations of homes will be in 32209 in Northwest Jacksonville and 32211 in Arlington, which will have 15 and 14 houses, respectively.
The specific sites were not identified.
The presentation says JHA will buy 30 of the completed homes from JWB with $7.09 million in cash at a discounted market value and will have equity in the properties. The remainder of the cost will be financed through revenue bonds.
JWB will build 25 three-bedroom, 22 four-bedroom, and three two-bedroom houses for JHA.
The cost breaks down to $230,000 per home.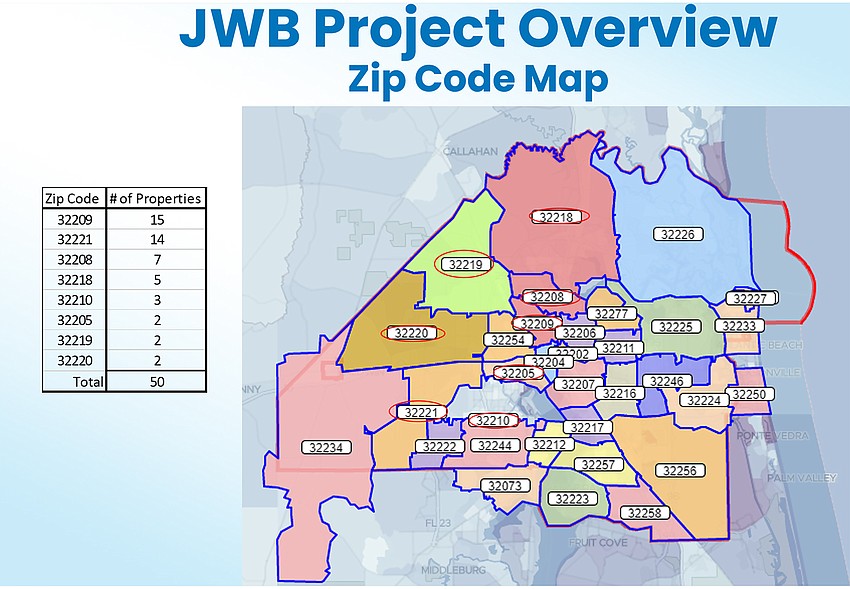 'A drop in the bucket'
JHA officials hope the projects will help with Jacksonville's affordable housing deficit. 
"While these two projects are a drop in the bucket of what's needed in Jacksonville, it's a start," JHA Chairman Chris Walker said in the release. 
"By advancing these new housing projects the JHA Board of Commissioners is letting the community know that we're doing something to address the problem. This has never been done before in Duval County." 
Chase Properties has operated as a commercial and residential property developer in the Jacksonville area since 1993 and is led by President Mike Balanky. 
JWB started buying, renovating and flipping rental properties in 2006.
It is now a rental manager, develops new single and multifamily homes citywide and has been adapting historic properties Downtown. 
It is controlled by co-founders President Alex Sifakis and Chief Marketing Officer Greg Cohen; CFO Adam Rigel; and COO Adam Eiseman.