Days after light projection was used to display a swastika on the facade of the CSX Corp. headquarters Downtown, Jacksonville City Council members filed two identical bills to combat hate speech that would make similar acts illegal without the building owner's consent. 
The bills filed Jan. 18 by Council member LeAnna Cumber and Council President Terrance Freeman would prohibit the projection of images onto private structures without the owner's consent. 
The legislation says "projections of text, graphics, logos, or artwork onto a building, structure or any other place (including public spaces) without the consent of the owner or person in control of the building, structure or space shall constitute blight and graffiti." 
If arrested and convicted under the provision, those involved could face a second-degree misdemeanor, which carries a minimum $2,000 fine and up to 60 days in jail.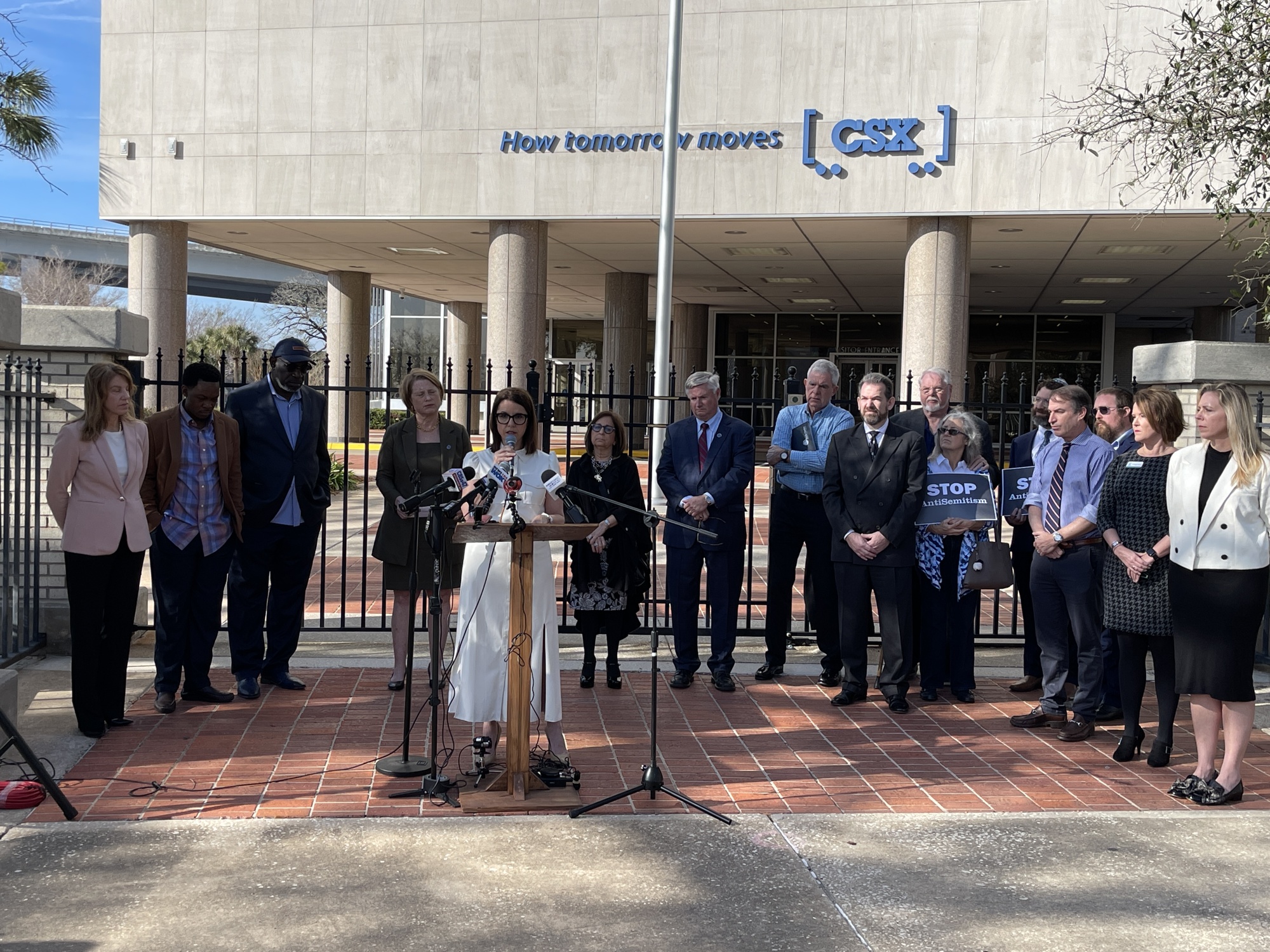 Dueling news conferences
Cumber and Freeman held separate news conferences Jan. 19 to announce the effort to combat antisemitic hate speech in Duval County. 
Rabbis, clergy and members of several Jacksonville area Jewish community groups attended Cumber's announcement at 10 a.m. outside the CSX building. Council members Matt Carlucci, Michael Boylan, Randy DeFoor and Reggie Gaffney Jr. attended with her.
"Antisemitism is as old as time. It's nothing new. But we need and must find every legal avenue to stop it," Cumber said. 
"These evil antisemitic messages that are being displayed here in Jacksonville are starting to spread throughout the state of Florida." 
The District 5 Council member said she began working on the bill after Adam Chaskin, CEO of the Jewish Community Alliance, contacted her Jan. 15 asking Council to take action against the rising instances of hate speech.  
"We felt it was time to do more than talk about it," Chaskin said at Cumber's news conference. 
"We know this won't be the thing that stops hate, but it will be one thing that makes it that much harder," he said.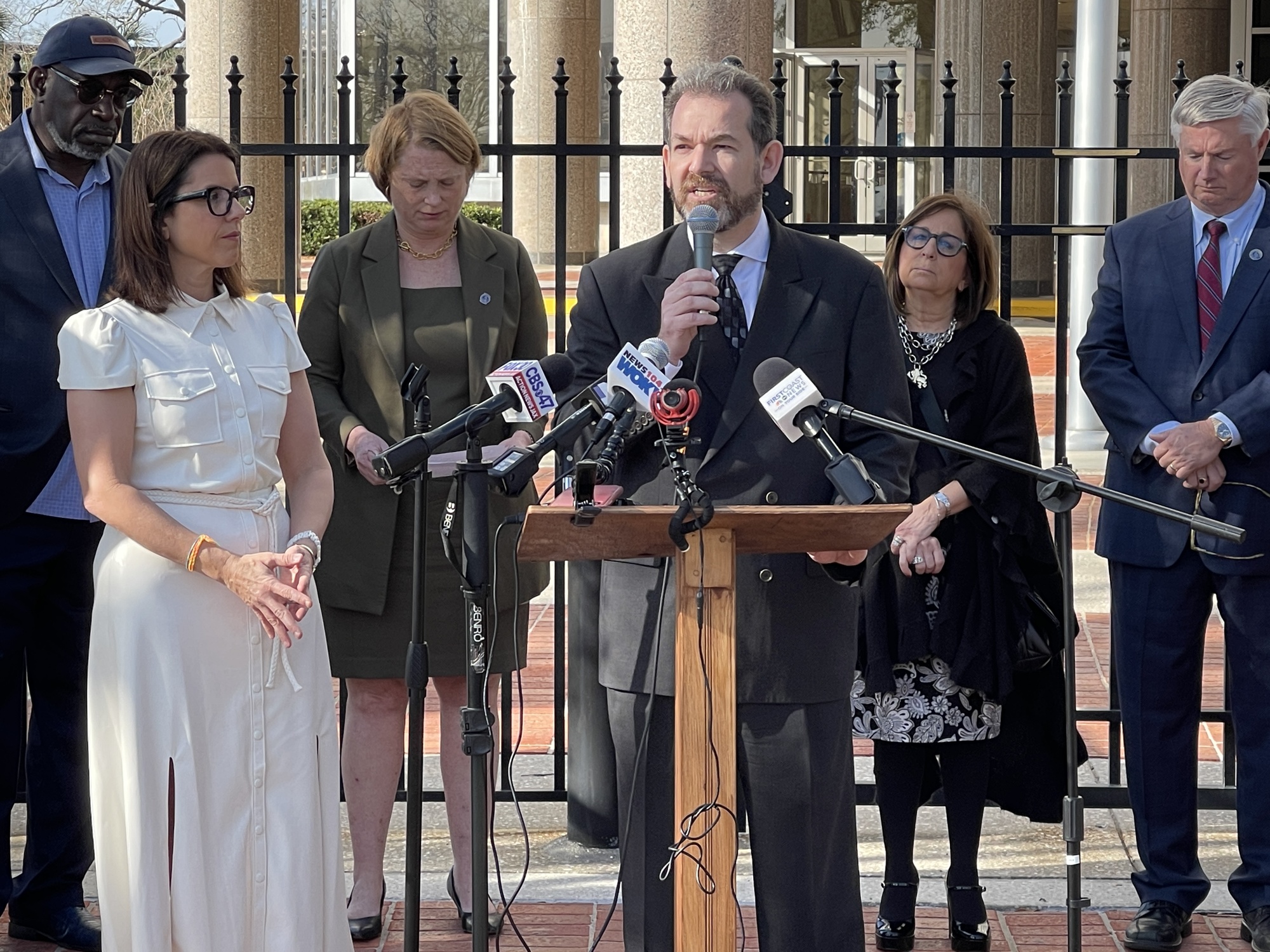 "It brings attention to it, so this community can come together around this issue — not just antisemitism, but around hate in general, to help stomp it out where it exists and let everyone know this in not acceptable." 
CSX Vice President of Corporate Communications Bryan Tucker said he was notified about the antisemitic projection on the company's building Jan. 14 while he was at TIAA Bank Field watching the final play of the Jacksonville Jaguars playoff victory.
"I went from excitement to being completely crestfallen and sad for our city and angry. And we immediately condemned what we all saw," Tucker said. 
The Jacksonville-based Fortune 500 transportation company released its official statement Jan. 15: 
"CSX condemns in the strongest terms the antisemitic symbol depicted in the images of our building on January 14. The images are shocking and hurtful, and in no way represent our organization or CSX employees. CSX has been in contact with law enforcement and we will cooperate in any way we can to aid the investigation into this matter."
During his 9 a.m. City Hall news conference, Freeman said he believes the bill does not violate the U.S Constitution's First Amendment right to free speech. 
Although the bills are a response to antisemitic hate speech, the legislation encompasses any type of speech projected onto private property without the owner's consent.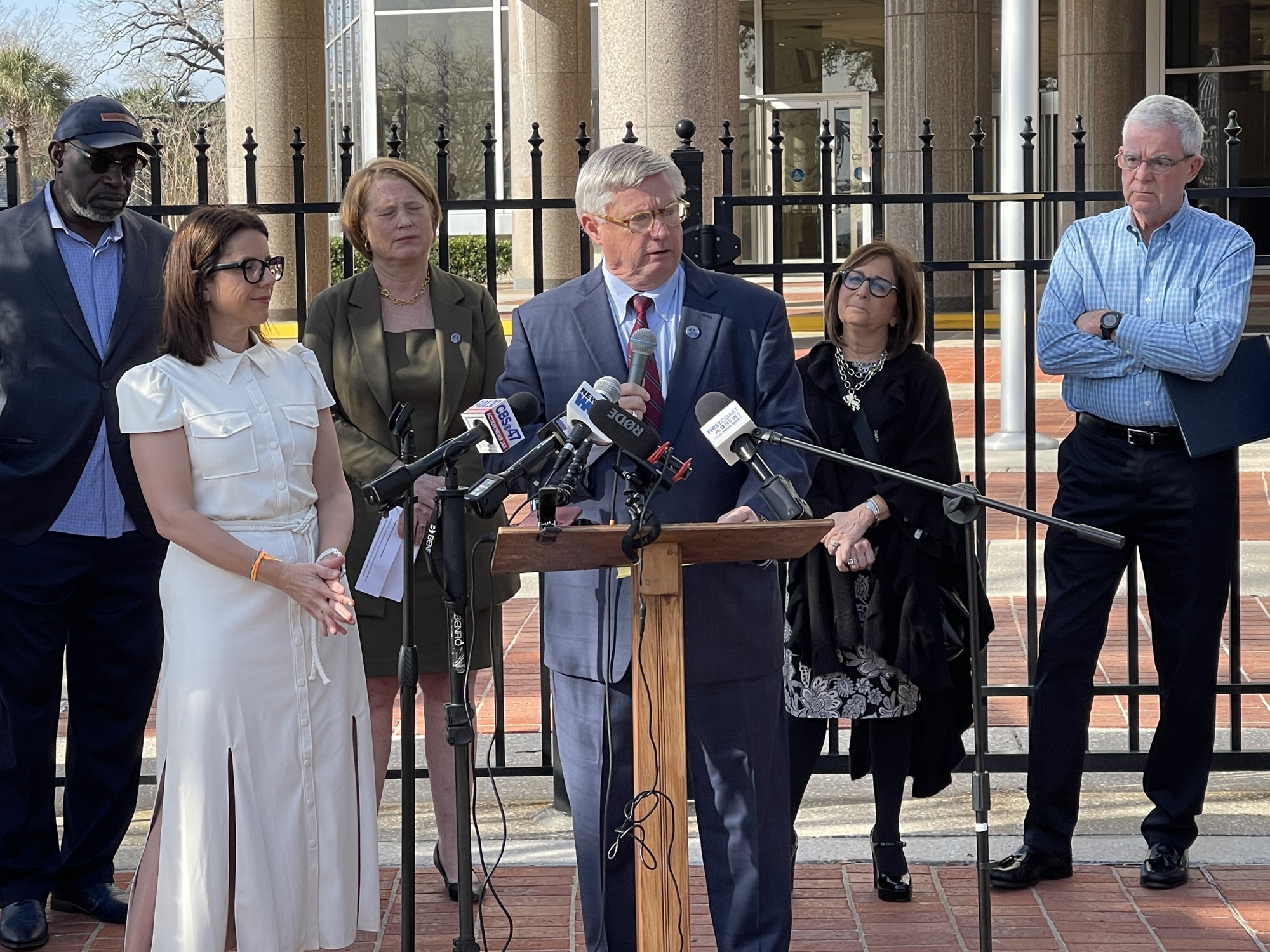 "It won't change the hearts and minds of those who hate but it will, however, set a clear and common sense guardrail," Freeman said.
Council member Rory Diamond, who is listed as a co-sponsor on both bills by Cumber and Freeman, said after the City Hall event that there could be a second piece of legislation in the future that could define a permitted process addressing speech projected on publicly owned properties.
 "When you get to a public building, it's a lot more complicated when it comes to the First Amendment because you could argue that it's a public forum," Diamond said. 
"I suspect there will be a part-two bill where we try to target it with a permitting process which is fair and neutral. But we did this one first because it's obviously a problem." 
High-profile incidents
Immediately after what appeared to be a swastika and cross projected on the CSX headquarters began to circulate Jan. 14 on social media, it was unclear whether it was authentic or an online hoax. 
Jacksonville Sheriff T.K. Waters confirmed during Freeman's news conference that the department believes the projection occurred. 
"From all the information that I've been given, it's a real image and we have an idea of who did it," Waters said.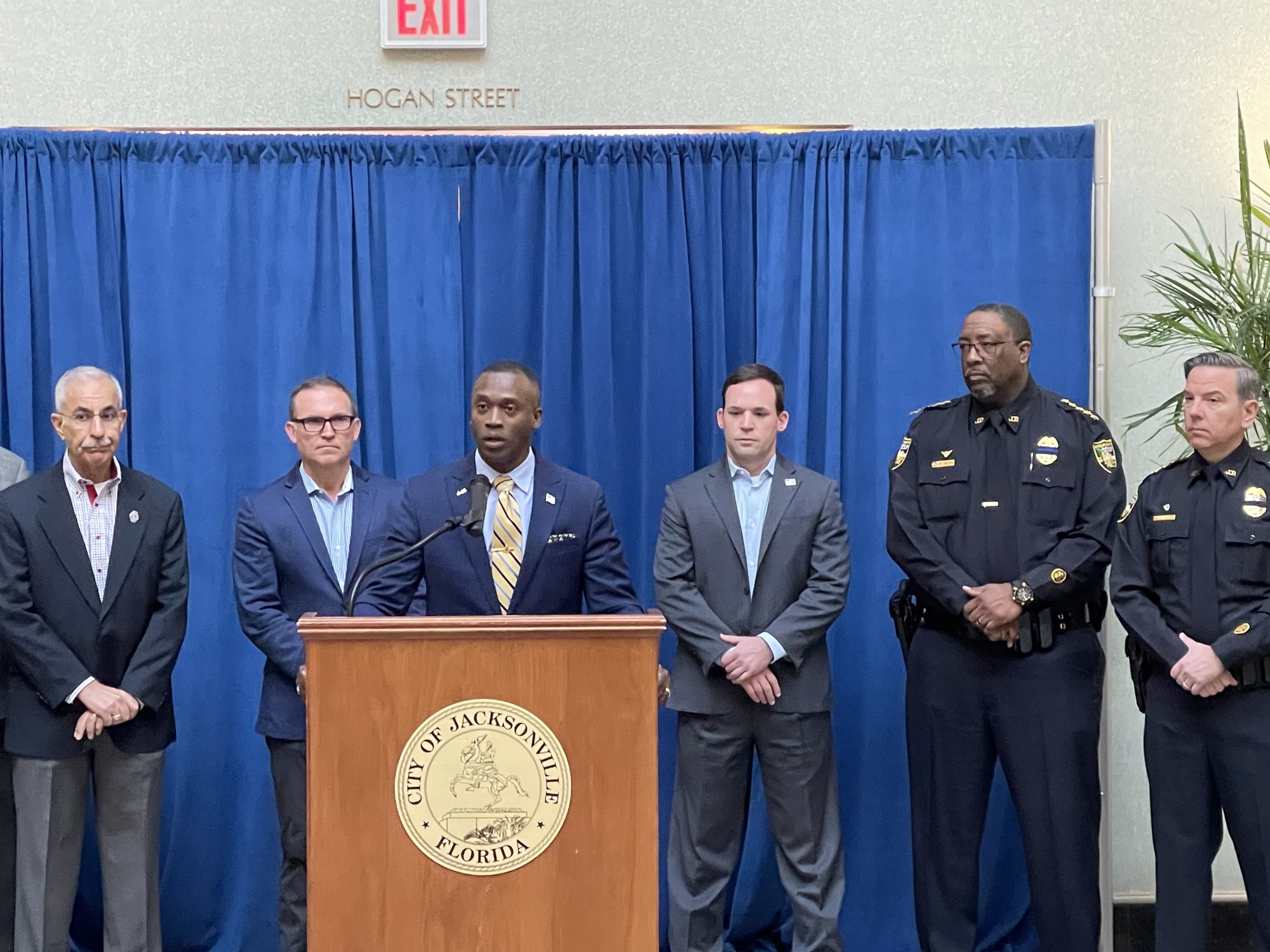 The incident at CSX follows similar incidents in October during the annual Florida-Georgia game where scrolling projections that said "Kanye was right about the Jews" were displayed on the city-owned TIAA Bank Field and the privately owned residential apartment high-rise at 11 E. Forsyth St. Downtown
Daily Record news partner News4Jax.com reported Oct. 29 that another antisemitic message displayed on banners that read "End Jewish Supremacy in America" and "Honk if you know it's the Jews" hung from an overpass on the Westside off Chaffee Road and Interstate 10.
Cumber cited a string of instances of hate speech in Jacksonville over the last six months. 
She referred to an incident where individuals associated with hate group the Goyim Defense League distributed antisemitic propaganda in residential areas. In September, a sticky note with a swastika was left on of the dorm room door of a Jewish student at the University of North Florida.
Waters said JSO investigators know who was responsible for some of the instances of hate speech but did not identify any groups of individuals.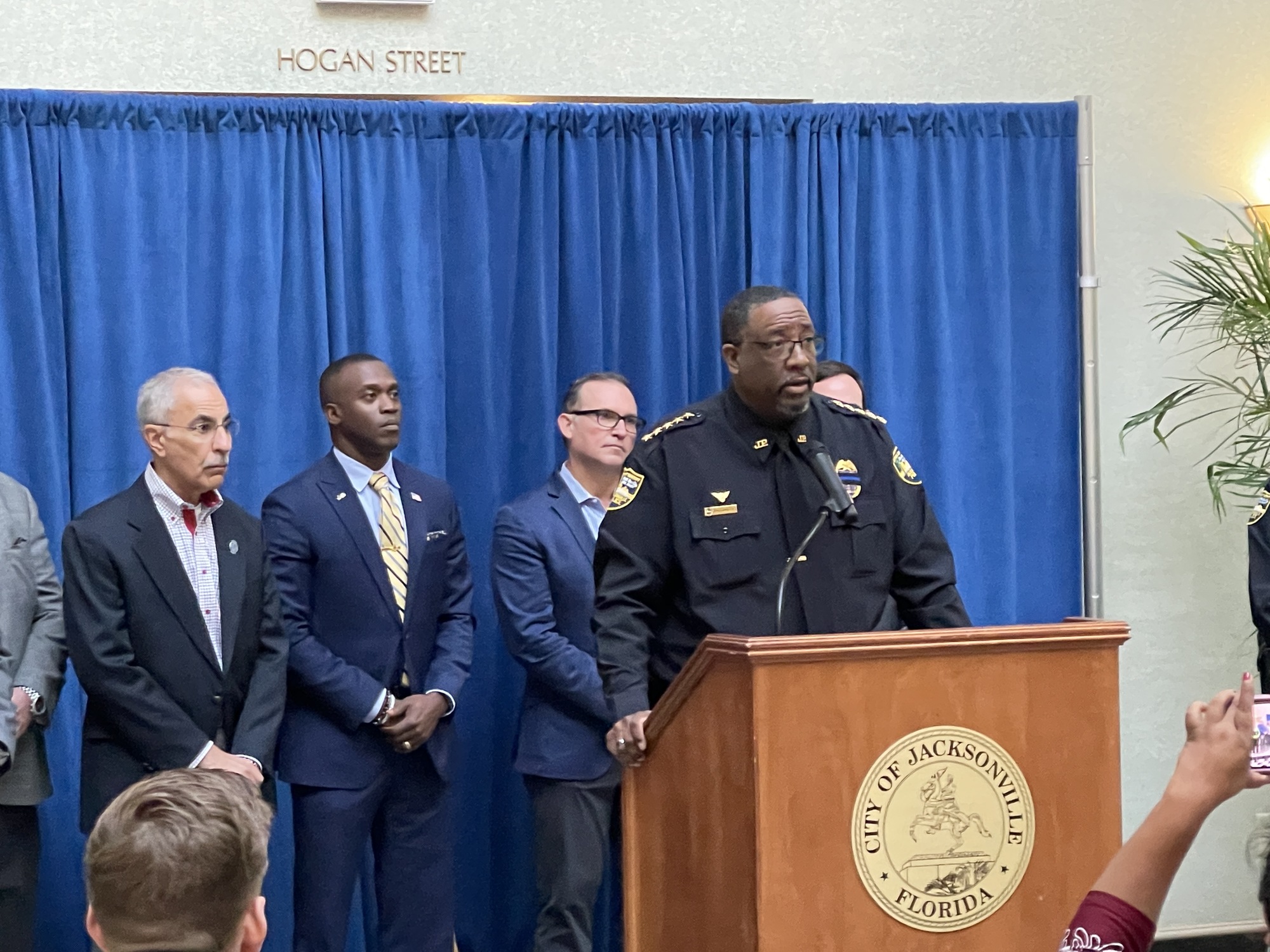 He said he met with the office's chief of Homeland Security to develop an enforcement strategy if the bill passes.
Many of the incidents involving projected messages have taken place while Jacksonville was in the national spotlight for high-profile sporting events.
The latest incident at CSX occurred as the Jaguars hosted the Los Angeles Chargers in the NFL's AFC Wild Card playoff game broadcast nationally in prime time on ESPN. 
"I am so tired of a handful of people that are filled with hate projecting images onto our city, particularly when we're having big national events, trying to demonstrate this may represent who we are as a city, and it doesn't." Mayor Lenny Curry said at Freeman's news conference.
Cumber co-introduced her bill with Carlucci.
Ten Council members have signed onto Freeman's bill: Council Vice President Ron Salem and members Sam Newby; Diamond; Ju'Coby Pittman; Tyrona Clark-Murray; Nick Howland; Danny Becton; Joyce Morgan; and Aaron Bowman, along with Freeman.
Both bills were filed as emergencies and are expected to be voted on Jan. 24.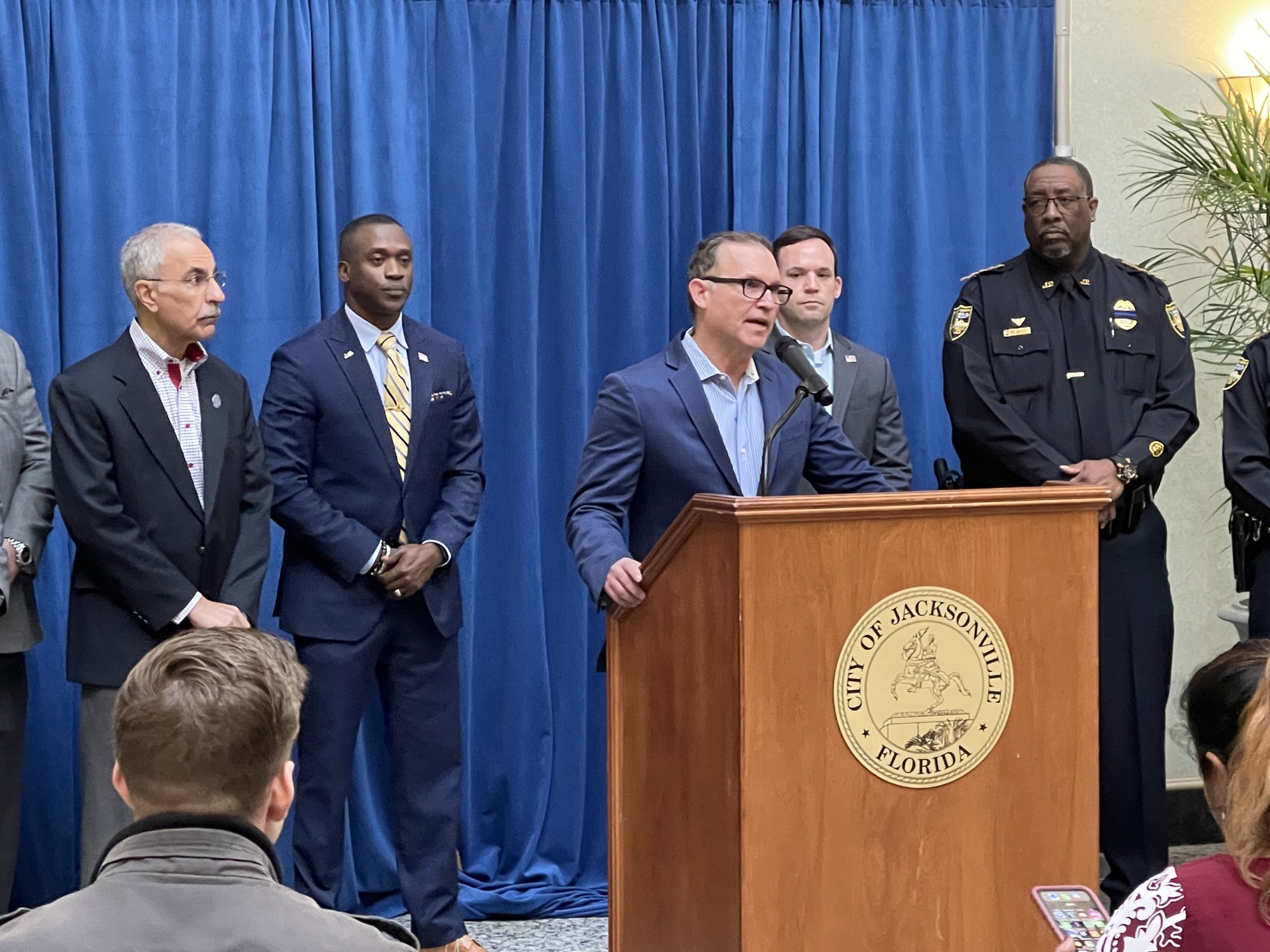 The politics of credit 
It is atypical for Council members to file legislation with identical language, but who filed it first was a topic during both news conferences. 
The city Office of General Counsel helps Council members draft legislation, but Florida Sunshine Laws prevent elected officials from discussing possible legislative actions with each other outside of noticed meetings.
Diamond took to Twitter Jan. 16 responding to calls to file a bill outlawing projections without building owner consent. 
Cumber, who is running for Jacksonville mayor, told reporters Jan. 19 that she filed her bill first in response to her conversation with Chaskin.
When asked why he would file an identical bill after Cumber, Freeman noted that more than half the 19-member Council had signed onto his bill "displaying that this Council is unified." 
"We have an issue that is impacting our city. We have a process and a plan now to address it and it's going to be addressed. Who gets the credit? That shouldn't matter," Freeman said.
Carlucci defended Cumber on Jan. 19. He said he also spoke to Chaskin but decided to sign onto Cumber's bill after he was told it was drafted.
"I didn't introduce my own bill, I didn't go out on Twitter. She hasn't been out on Twitter. She introduced the bill first and she did the hard work," Carlucci said.
Cumber filed legislation Jan. 18, a few hours before Freeman filed his version with identical language. 
Time stamps on the legislation provided by the General Counsel's Office through a public records request Cumber's bill was filed first with the city Legislative Services Office. 
The time stamp on Cumber's bill says it was submitted at 9:32 a.m. Jan. 18. The time stamp shows Freeman's bill was filed at 1:44 p.m. Jan. 18.
Freeman's bill is labeled Ordinance 2023-44 and Cumber's is Ordinance 2023-48.