On July 19, 2022, Nicholas Allard was announced as Jacksonville University's first law school dean.
The following month, 14 students — seven men and seven women — began their first of three years of classes toward a Juris Doctor at the JU College of Law campus, established on the 18th floor of VyStar Tower Downtown
With final exams administered May 3 and the academic year concluded, the law school is completing the makeup of its fall 2023 class. 
"It's hard to imagine having a better first year," Allard said.
"We had very high expectations and they exceeded them. They did an extraordinary thing. They all excelled academically. And that's not easy."
Allard also has been working on three significant steps:
• Accreditation by the American Bar Association.
• Preparing for a new Downtown campus location.
• Enrolling the second class.
ABA accreditation
Allard said American Bar Association accreditation is a "laser-beam" focus, which he said is also "well in hand."
Accreditation by the American Bar Association is necessary because it ensures uniformity in legal education and practice nationwide.
Students who attend an ABA-accredited law school are eligible to sit for the bar exam in any state.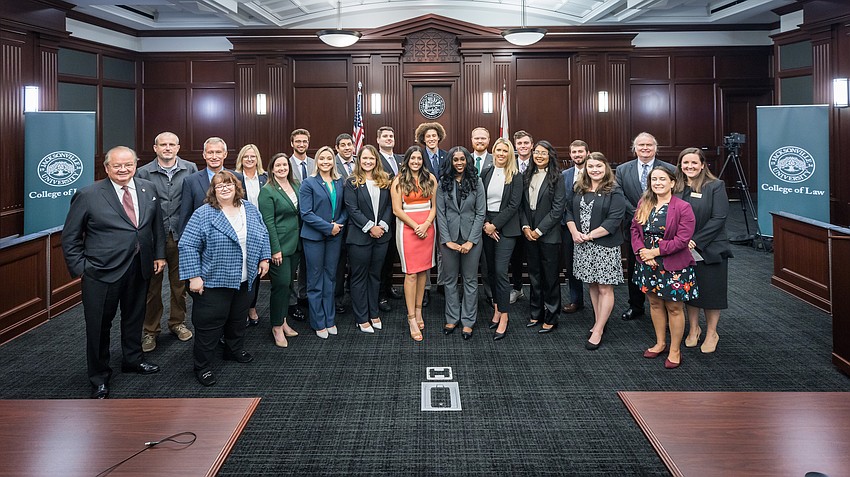 The first students will complete the three-year law school curriculum and graduate in May 2025.
In March JU notified the ABA of its intention to seek provisional accreditation and requested the earliest possible ABA accreditation team site visit, which is scheduled in early October.
"We hope to complete the process in 2024 with provisional accreditation, one year before the first cohort graduates," Allard said.
Campus location
The law school began at JU's leased space on the 18th floor at VyStar Tower Downtown at 76 S. Laura St. Allard said a new permanent location for the school is on the way. 
He declined to say where but said it is Downtown near the Duval County Courthouse.
"By moving into this new permanent location, the law school will provide Jacksonville a vibrant part of its infrastructure," he said.
A JU representative said the VyStar Tower location was always meant to be temporary. The college hopes to move into the permanent space in about a year.
In May 2022, the Jacksonville City Council agreed to provide $2.5 million to help JU fund the creation of its new College of Law Downtown.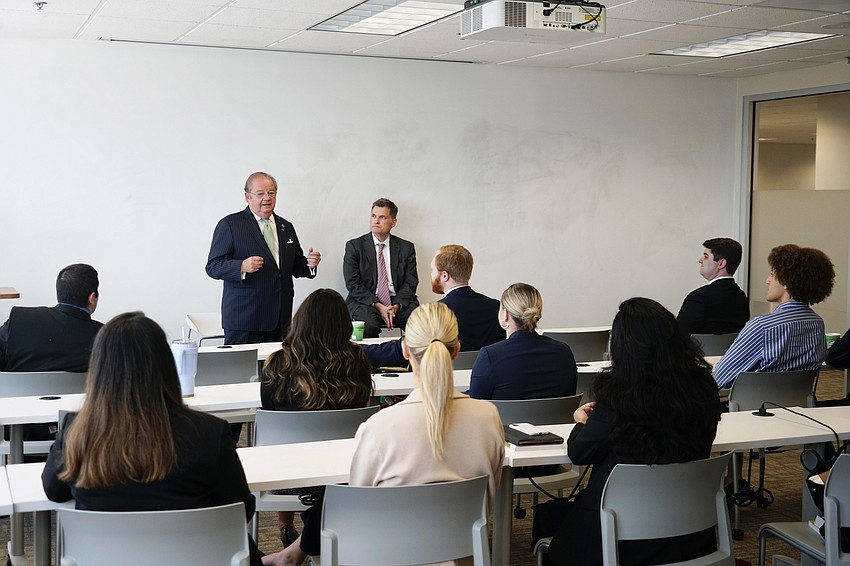 Ordinance 2022-0317 included half of the $5 million Mayor Lenny Curry's administration committed to the JU College of Law during a public announcement in February 2022.
JU President Tim Cost told the Council Finance Committee on May 17, 2022, that JU is continuing "aggressive" private fundraising for the college and the city investment will help cover initial operating expenses. 
Cost said in May 2022 that JU was speaking with city Downtown Investment Authority CEO Lori Boyer about possible locations for the campus after its first two years in VyStar Tower.
When the college is at full capacity, JU expects 400 to 450 students, staff and faculty to seek housing Downtown. 
The second class 
JU  said the law school already has 20 students for the fall 2023 class.
It said it has about 70% more applicants than it did last year at this time, which is about 200 more.
The priority deadline is June 1, but the college will accept applications up to the start of classes and possibly after that, including those who intend to take the LSAT — the Law School Admission Test  — in June.
"It's very strong. Very competitive," Allard said.
Nearly 250 potential students submitted applications for the first class.
JU said previously its goal is to achieve conditional approval of accreditation by 2024 before the first class graduates.
Tuition, listed on ju.edu/law, is $36,000 annually for three years. The website also states that 100% of the inaugural class would receive a merit scholarship from $7,200 to $14,400. 
The first year
College of Law Vice Dean and Director of External Engagement Margaret Dees said in May 2022 that JU conducted a feasibility study in 2019 before establishing the college. 
Jacksonville lost its only law school, Florida Coastal School of Law, in August 2021 after the U.S. Department of Education revoked the private, for-profit school's access to the Title IV student loan program. Florida Coastal School of Law opened in 1996.
Allard said he was "immediately impressed" with JU's preparation and research into starting a law school.
"That's what did it for me. Just like people are really taking notice of the (Jacksonville) Jaguars," he said.
"People are going to take notice of us."
Allard's background
Allard received his J.D. from Yale Law School and a bachelor's from Princeton University's Woodrow Wilson School of Public and International Affairs. He is a Rhodes scholar and holds a master's in Politics, Philosophy, and Economics from Oxford University. 
While serving on Princeton University's Alumni Council Executive Committee, Allard chaired the Committee on Awards for Service to Princeton, the Committee on Nominating Alumni Trustees, and the Princeton Schools Committee of more than 8,000 alumni who interview applicants from around the world. 
Allard was dean from 2012-18 and president from 2014-18 at Brooklyn Law School in New York City where he also was a tenured professor.
While there, he launched initiatives designed to make legal education more affordable, accessible and valuable, a news release said.
Before joining Brooklyn Law School, Allard chaired the Public Policy Department and the Government Advocacy Practice Group at Patton Boggs in Washington, D.C.
 Before joining Patton Boggs, he was a partner at Latham & Watkins where he helped establish the firm's Global Government Relations Group.
Reflections on inaugural year
Allard called the JU College of Law's progress "exhilarating."
"It's because of the incredibly strong foundation after years of preparation and the enormous support and enthusiasm of the Jacksonville community," he said.
Allard credited JU's legacy and reputation as fueling the law school's early support.
He said that while the school is taking note of legal best practices, it is equally, if not more so, focused on a new school of thought.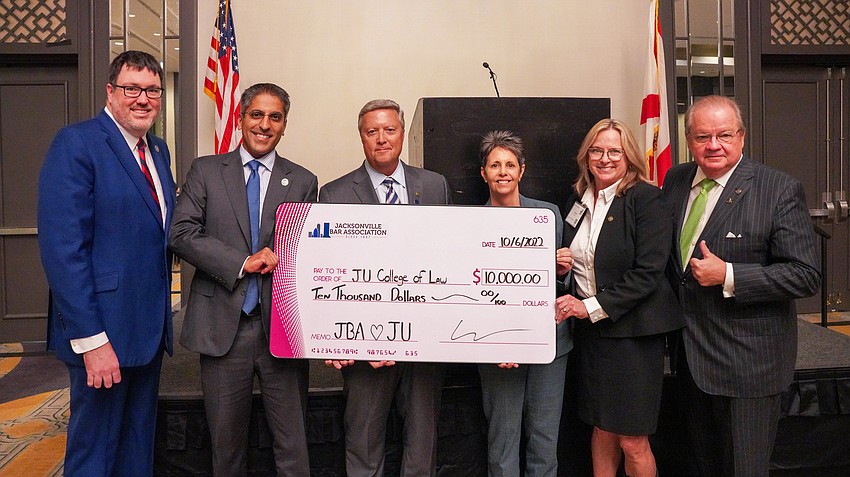 "Law schools don't really teach teamwork," he said. 
"They don't teach people how to adapt and adjust. The language typically is about being job ready."
Allard added that practical skills are "infused" into the school's curriculum.
"From the very first day, never let anyone say we wasted any time getting you into a courtroom," he said.
"We're getting better all the time," he said. "We're shooting for an A+."
Allard said the college wants to have an "outsized impact."
He said all of the students have summer jobs. Every student made it through the first year and they "excelled," he said.
"When you come here, you cannot hide," he said. "You are one of 14 students. Everyone is called on."
Allard said the students independently organized the school's law journal, mock trial team, service projects and other programs. They are also engaged in admissions outreach.
"They are listening and learning," he said.
The JBA
Craig Shoup, executive director of the Jacksonville Bar Association, called the first class "JU Law's Fabulous 14."
"This historic group of students are the future of the local legal community here in North Florida that we have been fostering since 1897," he said. The JBA was established that year.
"This special group of law students have all been members of the Jacksonville Bar Association and have been engaged in our local Bar events."
Shoup said JU has been a partner with the JBA to connect with the Jacksonville legal community.
"We look forward to their second year and the new classes of law students to come."