Gov. Ron DeSantis told news reporters during a May 2 event at JaxPort's Cruise Terminal that he's "favorably disposed" to the University of Florida's proposal to build a health and financial technology graduate center in or near Downtown Jacksonville. 
The Jacksonville City Council agreed in March to contribute $50 million over the next three years for the center estimated to cost $150 million to $200 million.
The governor's response to a reporter's question if he supports the project came three days after the Florida House and Senate Conference Committee on Higher Education Appropriations agreed to include $75 million in the state budget to help fund the center.
DeSantis's comments May 2 were his first public display of approval for the graduate center that UF and city of Jacksonville officials say will bring graduate-level programs to support local workforce demand for biomedical technology, health applications of artificial intelligence, patient quality and safety, health care administration and fintech expertise.
"Gainesville, University of Florida, good stuff. They're doing a good job. But 95% of the people leave Gainesville when they graduate. Probably even more than that. If they're going to move, they can move to Atlanta or Charlotte just as easy as they can Jacksonville, Miami or, wherever, Tampa," DeSantis said.
"If you have these programs in an area that has the industry there around it and that is allowed to develop, then there's going to be just inertia," he said. "People are going to be able to do their studies and then they'll just go right into the local economy."
Speaker of the Florida House Rep. Paul Renner added that having a top five university — UF is ranked No. 5 in U.S. News & World Report's 2022-23 top public schools rankings — would add to Jacksonville's workforce.
"What the University of Florida doesn't have is a big city like Jacksonville being based in Gainesville and what Jacksonville doesn't have is a top five university in Jacksonville," Renner said. "So this is a big win-win for both."
The state leaders made their comments at a news conference after a bill-signing ceremony at JaxPort on House Bill 3, which bans consideration of environmental, social and governance in the state's procurement and fiscal processes. 
The verbal support by DeSantis and Renner was bolstered by what appears to be an agreement by state House and Senate lawmakers to include $75 million for the UF center in the state's 2023-24 fiscal year budget. 
The money was included in an amendment to Senate Bill 2500 on budget appropriations updated May 2. It is an increase from the $50 million originally sought by Florida House Rep. Wyman Duggan, R-Jacksonville, and Sen. Tracie Davis, D-Jacksonville.
The $75 million from the state would bring the total committed to the project to $175 million.
That $75 million would go to the state university's Board of Governors to put toward the project. The university is also looking for $50 million in local private contributions. 
In total, UF officials told Jacksonville officials it woulds secure $100 million for design and construction from sources other than the city of Jacksonville for the project. 
The city said it would contribute $50 million.
Mayor Lenny Curry, UF President Ben Sasse and university Board of Trustees Chair Mori Hosseini announced the possibility of a UF graduate center in Jacksonville on Feb. 7 at City Hall. 
Council voted 16-1 in March to provide $20 million in the current fiscal year for capital expenses including studies, planning, design and other soft costs to explore establishing the center.
That bill states the city's intention to invest an additional $30 million in fiscal years 2024 and 2025, but that will require additional Council approval.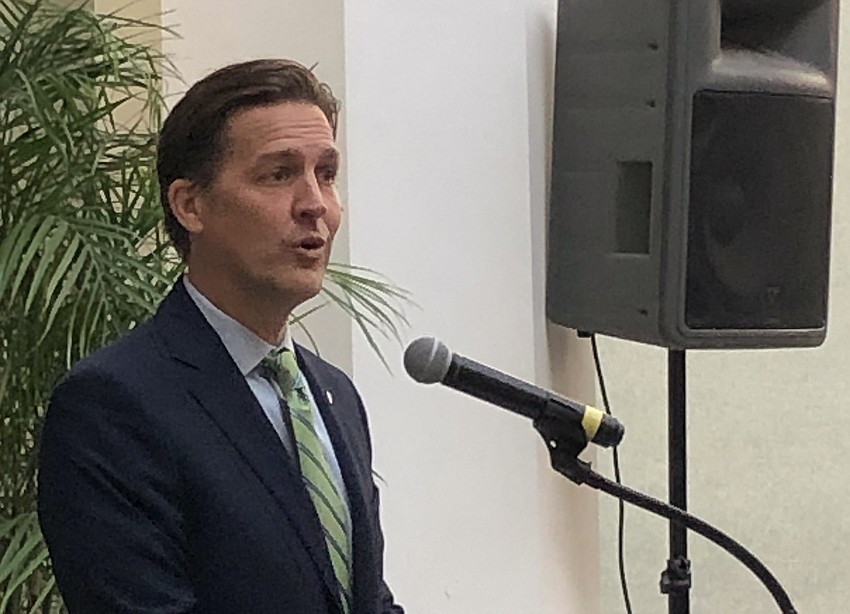 Officials with UF and Mayor Lenny Curry's administration told Council in March that they are working to secure the $50 million in private sector support to expand UF into Jacksonville.
UF Vice President for Government and Community Relations Mark Kaplan said at that time that initial target estimates are 1,000 students enrolled at the graduate center by year 10.
DeSantis said May 2 he had not seen the UF graduate center funding line item, which he would have the authority to veto before signing the final budget bill later this year. 
Council members made changes to the initial proposal to ensure the graduate center will be completed no later than five years after work begins on the project site that has yet to be determined. 
The city deal would expire no later than 10 years after both parties execute the agreement. 
Because UF officials haven't determined a location, Council members added a provision to the term sheet to limit the site search to a 2-mile radius beyond the Downtown Investment Authority's Community Redevelopment Areas to keep the center in or near Downtown.
Sites that have been proposed are the Florida State College of at Jacksonville Downtown Campus and the Greater Jacksonville Agricultural Fairgrounds near TIAA Bank Field. 
The fairgrounds is under contract for purchase by Jacksonville Jaguars owner Shad Khan.
UF has also not released curriculum details for the graduate center and has not released plans for the building.
DeSantis said cities like Boston, Chicago and areas of the U.S. like Silicon Valley in California benefit from proximity to highly rated universities and are able to retain graduates as residents to grow the local economy.
"I think that there's a clear vision of how this could be successful, and I think there's been huge support from the local community which really makes a difference," DeSantis said. 
"I know the city, but I think a lot of people in the private sector are supportive of this initiative and I think there's a lot of potential there."