The University of North Florida is attempting to complete financing by fall to start construction early next year on a 520-bed dorm for honors students.
Media Relations Manager Amanda Ennis said April 24 the honors residence hall will be north of the existing parking lot that is next to the Osprey Fountains residential hall.
The site is along Osprey Ridge Road off of Kernan Boulevard.
It is designated housing for first-year honors students and includes social and educational programming "designed to help students feel connected to the Hicks Honors College and have a smooth transition into college," Ennis said.
Ennis said the Hicks Honors College is an interdisciplinary program for high-achieving students that emphasizes experiential and active learning in small classes.
The new residence hall will enhance the Honors Living Learning Community and provide additional rooms/beds for the overall housing community, Ennis said.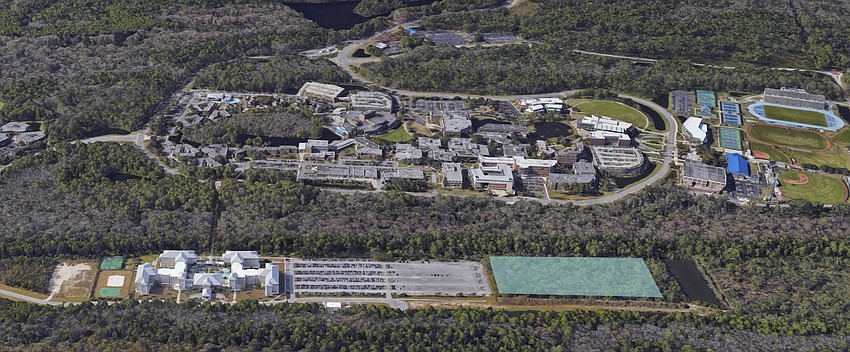 She said revenue bonds secured by the revenue received from the overall housing system will be issued to finance the project.
Ennis said it was too early in the design process for a rendering.
UNF's goal is to complete the project by fall 2025.
Ennis said the dorm will comprise four floors with four wings.
There will be a first-floor connection between the wings that consists of a lobby, multipurpose room, central laundry, convenience store and central mail room, she said.
There also are residence hall director apartments and administrative offices along with other operations that include mechanical, electrical and storage.
Ennis said there will be 46 two-bedroom, one-bath, double-occupancy suites that provide 184 beds.
There will be 80 two-bedroom, one-bath, single-occupancy suites providing 160 beds.
There also will be 40 four-bedroom, one-bath "super suites" that include a kitchenette with a sink and counter, creating 160 beds.
Those 504 beds plus the 16 resident director suites total 520 beds.
There is a lounge with a kitchen on each floor that the two wings will share.
There also are study rooms at the end of each wing on each floor, Ennis said.
There will be exterior amenities for recreation.
City utility JEA issued a service availability letter April 17.
Hanson Professional Services Inc. is the civil engineer.
Harvard Jolly Architecture is the architect.
 UNF had about 3,700 residents during the spring semester. The overall UNF population is just below 17,000 total students, Ennis said.
The UNF.edu site says Osprey Fountains, the university's second newest housing complex, opened to UNF students in August 2009. 
The five-story, 385,000-square-foot Osprey Fountains building provides housing for 1,000 students. 
Osprey Fountains offers single- and double-room (four- and six-bed) suites with two bathrooms and high-speed data access and cable in each bedroom, as well as private rooms, offering a private bathroom.